Shopping for Mother's Day gifts can one of the harder holidays because there is an unspoken pressure to find a thoughtful, personal gift for the mothers, caregivers, and angel mamas in your life. Since I am not a crafty DIYer myself, I must rely on the Etsy doers of the world to come up with creative ideas and beautiful designs. If you are searching for a Mother's Day gift for an outdoor loving mountain mama, I've scrubbed the depths of the Etsy rabbit hole and compiled my favorite finds! And if you're a mountain mama yourself reading this, forward this along to someone who needs to see this for YOU! And there is also no shame in buying yourself a Mother's Day gift! I may have just bought a new hat while "doing my research."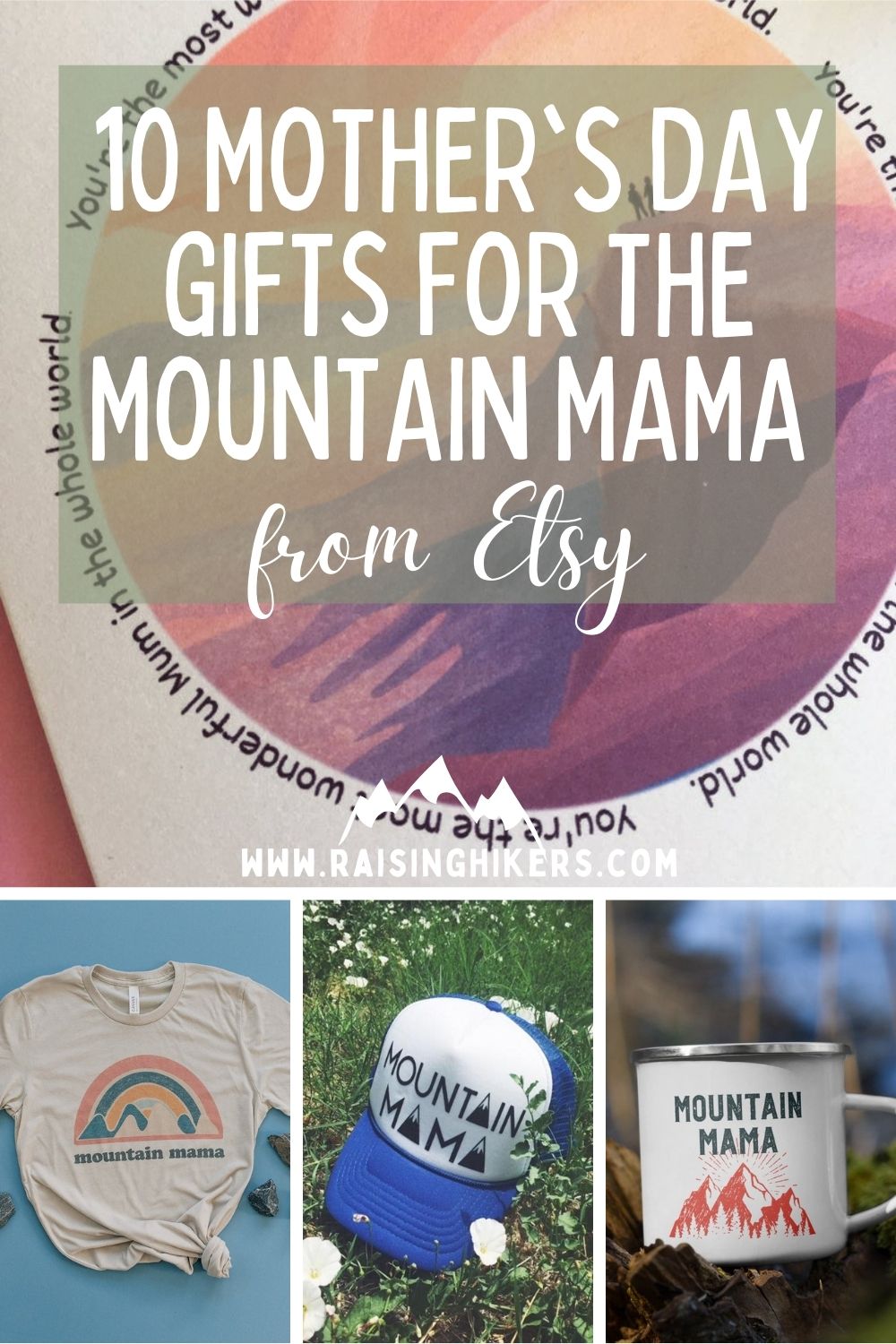 Thoughtful Mother's Day Gifts for the Mountain Mama from Etsy
1) HATS
Hats are the way to my heart (tied with socks so spoiler alert for #2 on the list!). Hats are a must for hikers, or mamas who don't have time or energy for a daily shower! So why not treat your mountain mama with a stylish mountain lover hat for on and off the trails.
2) SOCKS
I just love socks. In this Colorado weather, I wear hiking boots or snow boots a lot, so cute socks have become one of those items I can't have too much of.
3) Personalized Art 
I love these! It's so fun to capture a family's moment in time, and especially with these beautiful mountain backdrops.
4) Clothes
There are functional mountain clothes, and there are cute mountain clothes. These fall in the "cute category", but still a much needed category for a mountain mama!
5) Coffee Mugs, wine glasses, and water bottles
Whether the mountain mama in your life is running on coffee, relaxing with wine, or hydrating with water, these cute vessels with do the trick.
6) Self-Care
After a long hike, or climbing the mountain of parenthood, a little self-care is needed. I love Epsom salt baths for sore muscles, so these self-care boxes or Epsom salt bundles are a great way to let your mountain mama pamper herself. And I just couldn't resist with the last one because moms also need a good laugh. This gift will guarantee a smile.
7) Home Decor
Mountain lovers want their home (or camper) to reflect their love for the outdoors. These mountain designs will make any outdoor lover feel more at home.
8) Jewelry
I am personally not a fan of jewelry, but I think jewelry can be a beautiful way to express love—because they are items that can be worn and kept close to the heart every day.
9) Eco friendly gifts
Chances are if she is a mountain mama, she cares a great deal about this Earth. These face wipes are a wonderful way to replace disposable makeup wipes. Or give a cute new reusable tote! And the pee pads…if you know what it's like to be a woman in the woods, you know.
10) Mother's Day Cards
I have saved every Mother's Day card I was given since I became a mother. Most mothers don't hear the words "You are an amazing mom" enough, so I think giving cards and telling a mom in your life how much you appreciate what they do is more important than any gift. These cards are the kind that a mother will keep.
You can find my full list of (even more!) Mountain Mama Mother's Day ideas in my Etsy Favorites List. Comment below with your favorites!