I've been itching for a mom getaway for a while. I love my kids, and I especially love adventuring with them in tow, but I also appreciate how necessary (and fulfilling) adult time with mom friends is. While I am fortunate to spend a decent amount of time surrounded by mom friends, it's usually when kids are present, so the conversations are not always as authentic, engaging, or relaxing. I recently read that researchers even say that taking a trip with your friends can improve mental health and long-term happiness. It works for me!! So, now that you know you want to take that ladies' trip, the questions are where to go and what to do? When considering the location and itinerary for our moms getaway this past weekend, The Broadmoor checked all of the boxes—adventurous excursions, classy atmosphere, relaxing amenities, incredible food and drink options, and plenty to do (without driving anywhere!). Our ladies weekend included both thrill and relaxation, with activities that ranged from ziplining 500 feet in the air and relaxing in a eucalyptus steam room after a massage. It really was the best of both worlds! If you are looking to treat yourself or to spoil a mom in your life, this itinerary is a dream come true.
Thank you to The Broadmoor Hotel for hosting us, all opinions are my own.
The Broadmoor is a Forbes Five-Star and AAA Five-Diamond historic hotel. Nestled into base of Cheyenne Mountain in Colorado Springs, Colorado, the resort is located 10 miles from the Colorado Springs Airport and 90 miles from Denver International Airport. While you are at the base of the mountains in Colorado, you will feel more like you've been transported to Lake Como, Italy. The architecture, lakefront views, luxury, food, and ambiance have the touch of European vacation. If you are visiting The Broadmoor with your family, consider these ideas.
Soaring Adventures Ziplining
A Thrilling experience on our Moms Getaway at The Broadmoor
When planning a weekend for adventure moms, Soaring Adventures must be included! This experience was a 10 out of 10! This is a saying a lot because I am not going to lie—I was terrified to do this. I love hiking to the top of mountains, but I also have an intense fear of heights. I was excited about this adventure because I knew (in theory) that I would love it, but I was also nervous that I would be so scared that it wouldn't be fun. The combination of the incredible guides, the smart way that the course is designed, and the company of my badass mom friends resulted in a successful adventure (with NO tears or panic attacks!!).
The thrill of the course starts in the van as we climbed a steep, windy, bumpy dirt road on the side of the mountain to reach the top of the course. We then hiked down to the "ground school" where harnessed in, learned the safety basics, and tested our new skills. Looking back, the Broadmoor's attention to safety and the robustness of the harness rigging have the nonintuitive result of making a zipline 500 ft above a canyon safer than our commute from Denver to Colorado Springs.
There are two options for the courses—the woods course and fins course. We did the fins, which is a bit more "go big or go home," since it's the one that ziplines across the canyon. The course is designed in such a way that it eases you into the big stuff. Each zipline gets progressively longer and faster—topping out at 1800 feet long and speeds at up to 50 miles per hour. It is legit. But the first 3 are in the woods and allow you to get comfortable with the harness and the ziplining sensation. Regardless, ziplines 4 and 5 are exhilarating (and terrifying!), but an incredible experience.
The scariest part of the course are the suspension bridges in between ziplines 3 and 4. I was stiff as a statue crossing these bridges, and I likely only got 20% of the experience because I would only look straight ahead. But I made it, and I honestly didn't know if I would be able to take that first step—and keep putting one foot in front of the other.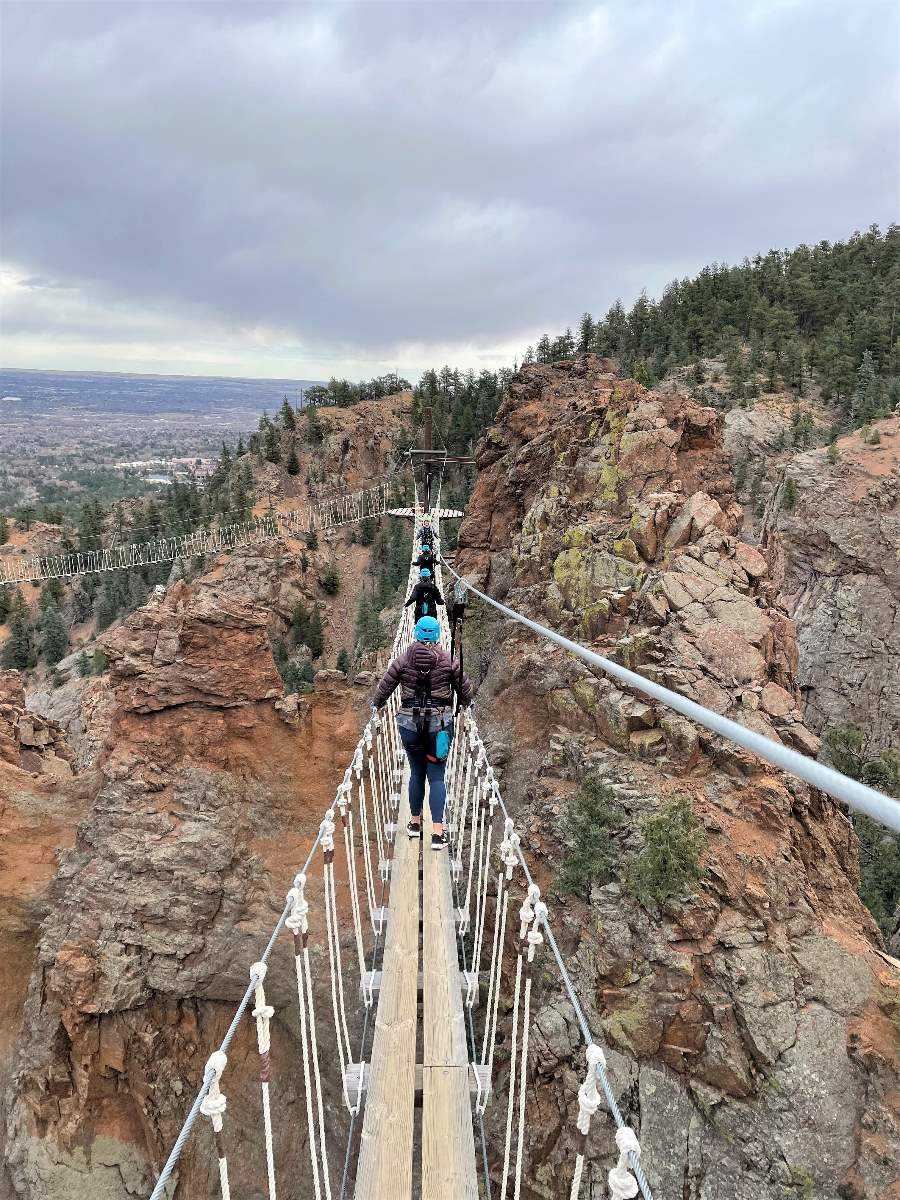 Once you have crossed the bridges, the two intense ziplines commence. The first crosses the entire canyon, soaring 500 feet above the ground floor. The final one is the longest and fastest, but it isn't as high. They were intense and I felt so relieved, exhilarated, and excited that we had all made it. I honestly could not have done it without our guides, Ken and Derek, who brought the perfect mix of safety, attentiveness, emotional support, and humor.
Once you've reached the end of the course, the last thrill is dropping 180 feet via an assisted rappel. Even though I had already conquered so many fears, this last challenge was the most difficult because it required me stepping off the platform. Once taking that step, it was an easy ride down to the canyon floor. You land right at the base of the iconic Seven Falls, so I highly recommend spending the rest of the day exploring the falls and the hiking trails that begin atop the 224 steps. Or you can do as we did and head back to The Bar (buzzing with adrenaline) for a celebratory lunch and "cheers" for what we had just accomplished.
SOARING ADVENTURES VIDEO
Pictures don't capture the scale or the thrill, so check out this video!
The Broadmoor Spa
Getting Pampered on our Moms Getaway at The Broadmoor
After the exhilarating experience of soaring 500 feet above South Cheyenne Mountain, we were all ready for a little relaxation. The Broadmoor Spa was just what we needed —rejuvenating, tranquil, and visually stunning. When reserving a treatment, you get access to all of the amenities, so we spent a couple of hours soaking in the experience. When we first arrived, we sipped on rose as we took in the views overlooking the golf course in the Mountain View Room—filled with light snacks and fruit infused water. My treatment was the Signature Massage, which focused on the full body and helped relieve my stress and tension (of parenthood or gripping to the zipline handlebars? Both, I'm sure.). A couple of the moms got a facial and were equally pleased with their serene experience. They were literally glowing! After our treatments, we rotated between the oxygen room, dry sauna, and eucalyptus steam room. The customer service, ambience, and overall experience surpassed my expectations, and I would definitely recommend including this in a ladies' weekend itinerary. As an adventure mom, I don't usually choose this type of activity on vacation, but it created a beautiful balance to the outdoor experiences we included on our trip. At the very least, soak in the hot tub at the vintage indoor pool in the winter or the outdoor infinity pool in the summer. Both are included in your resort stay!
Nightlife for a Moms Getaway at The Broadmoor
Dining, Drinking, and Fun
I am not a food blogger but as a food lover, I can tell you that dining at The Broadmoor is a culinary treat. On our first night, we thoroughly enjoyed our fine dining experience at Ristorante Del Lago. I recommend ordering the Chef's Selection for a wide variety of authentic Italian cuisine—including salumi and formaggio (meats and cheeses) flown in from Italy, fresh in-house made pasta, authentic entrees, and delicious desserts. After dinner, we were stuffed so we changed into comfy clothed and "worked off our meal" with a fun round of bowling, just down the hall in Broadmoor West at Play.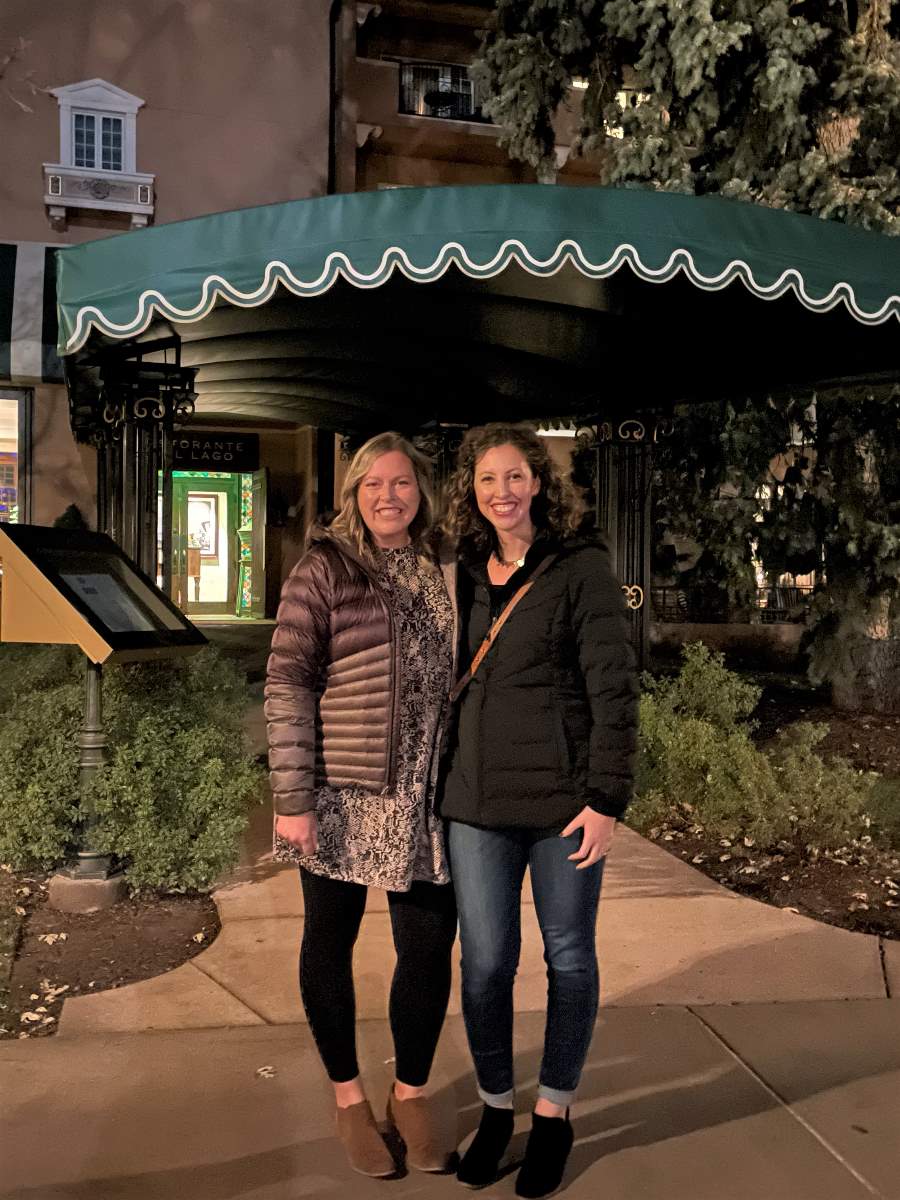 On our second night, we headed to The Golden Bee for food and entertainment in a jolly old English setting. In addition to yummy entrees, we had our eye set on two menu items (the Colossal Pretzel Twist and the Warm Cast Iron Chocolate Chip Cookie). Both exceeded our high expectations! Another iconic item that caught our eye was the half yard and full yard of draught beer. While none of us braved these extremely tall glasses of beer, we enjoyed watching them get delivered to nearby tables and were certain that our husbands would have been all over this tradition. Instead, we extended our dinner with cocktails and stayed for the nightly sing-a-long that kicks off every night at 9:00pm. As a karaoke lover, this was right up my alley and the perfect surprise for our ladies' weekend.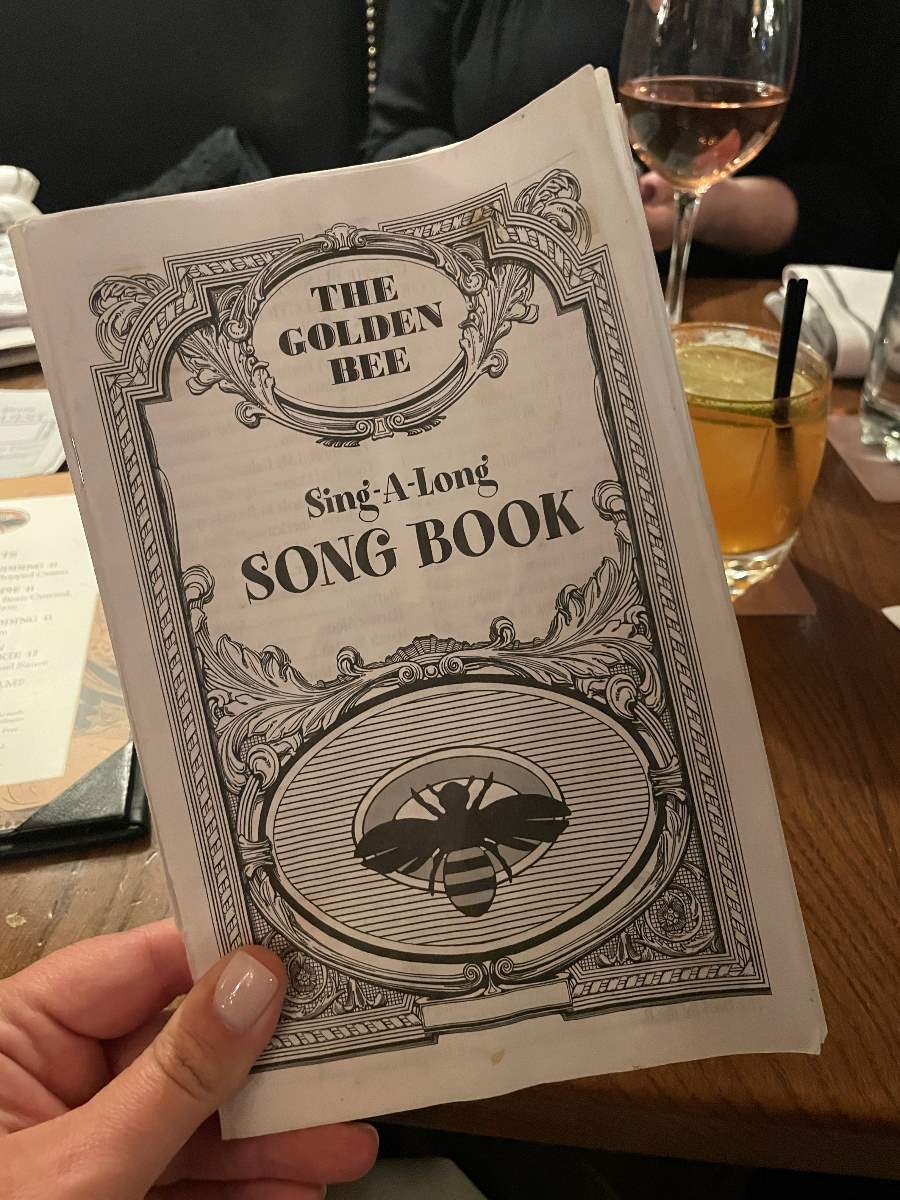 Speaking of that sweet cookie, I would be remiss not to mention the delicious desserts, gelato, handmade chocolates, and pastries at the Parisian Patisserie, Café Julie's.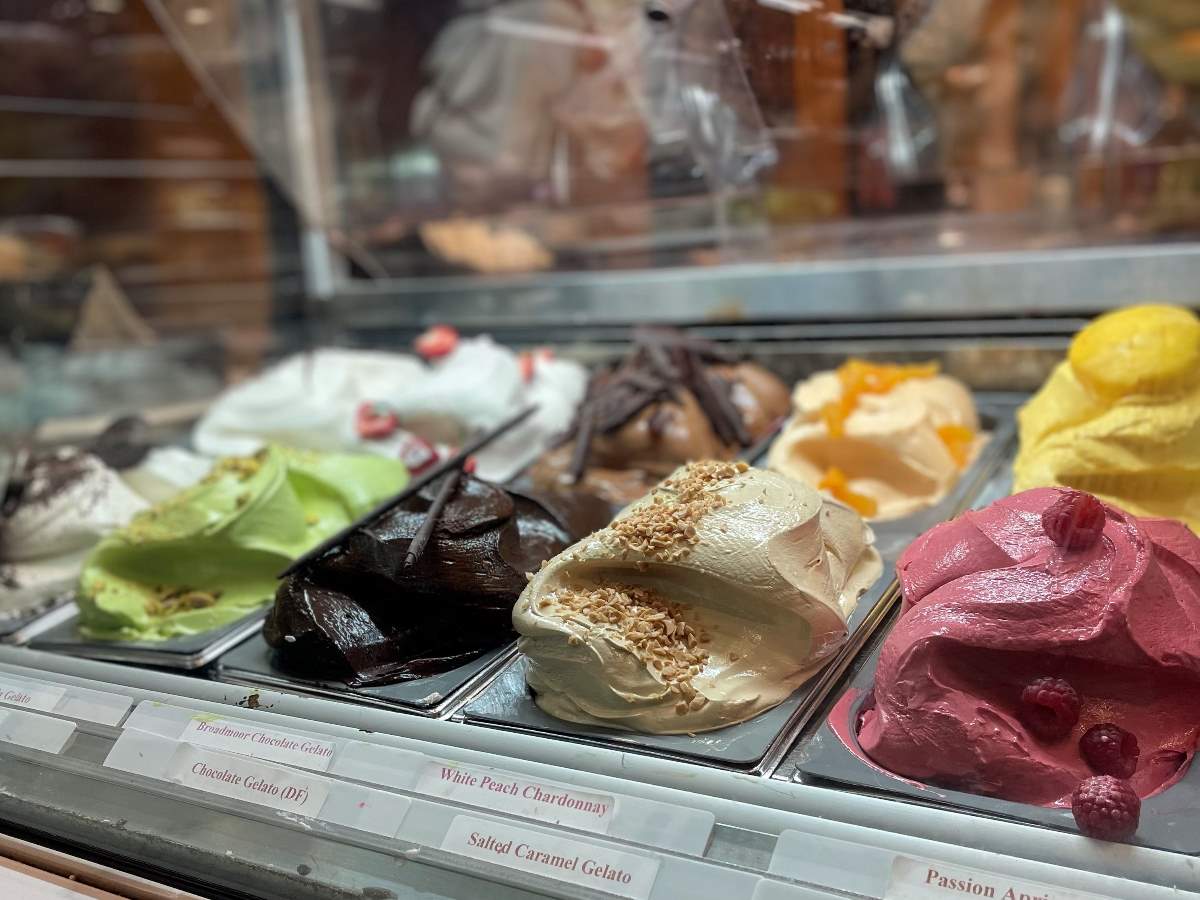 The best part of "nightlife" as a mom is uninterrupted sleep, so you'll be happy to rest your head in the beautiful rooms or suites. This was our view…
Hiking on our Moms Getaway at the Broadmoor
Getting movement, fresh air, and experiencing nature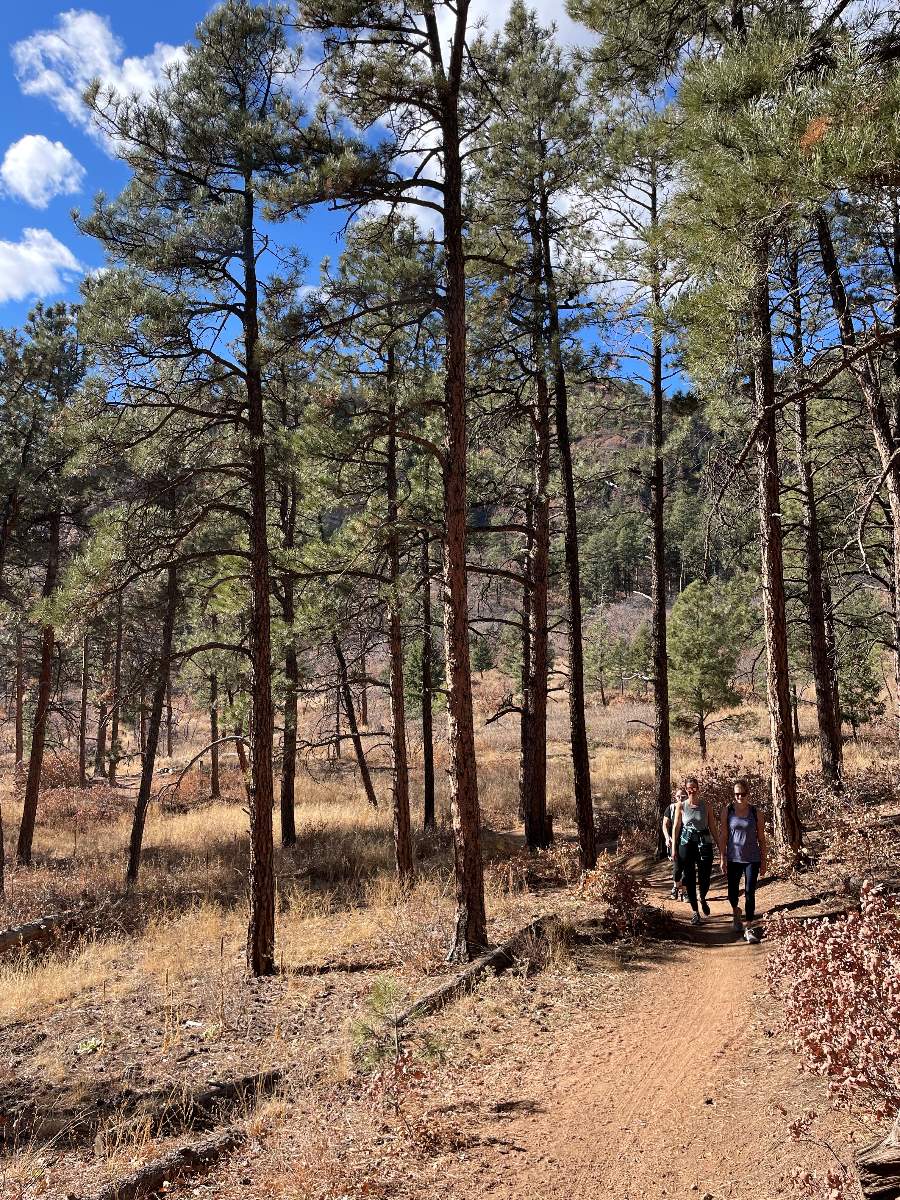 With filling meals, delicious drinks, and decadent desserts every night, we wanted to start our mornings with movement and fresh air. Plus, as much as I love hiking with kids, there is something fulfilling (and rare) about hiking with your friends kid-free! Good news is that there are a number of hiking options available in walking distance from hotel. The closest trails are in the Stratton Open Space, which is a fifteen-minute walk from the hotel's west entrance and consists of 318 acres of open space. Here are walking directions from the hotel. You can pick up a trail map from the concierge with lots of options, but I also recommend a GPS app like AllTrails as the map can be difficult to understand if you are new to navigation.
If you are wanting movement and fresh air without leaving the resort, (or you are too conditioned to waking up at 5am because of your kids!), walking around the grounds and particularly the lake are a beautiful option.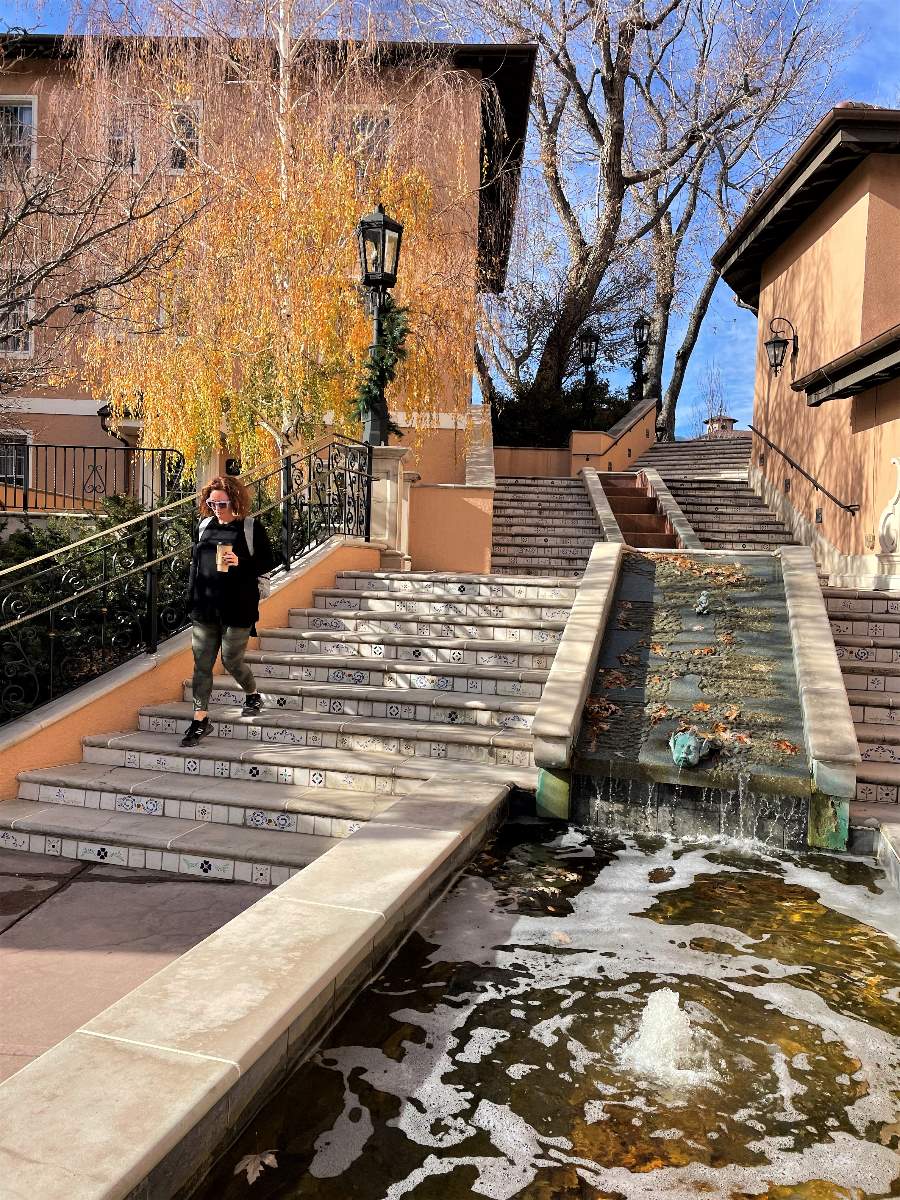 OVERALL EXPERIENCE ON OUR MOMS GETAWAY AT THE BROADMOOR
Our overall experience at The Broadmoor was a dream! The location was perfect, the hospitality was superb, the food was delicious, and the mix of adventure and relaxation allowed for pampering and an adrenaline rush. 
This time with friends was much needed and I always feel that I am a better parent when I make that time for myself. Did we talk about our kids? Yes. Did we miss them? Yes. Did we appreciate the time without them? YES!
If you are interested in planning a staycation, vacation, family trip, or moms getaway at The Broadmoor, visit my below posts with more adventurous activities (or pin for later!).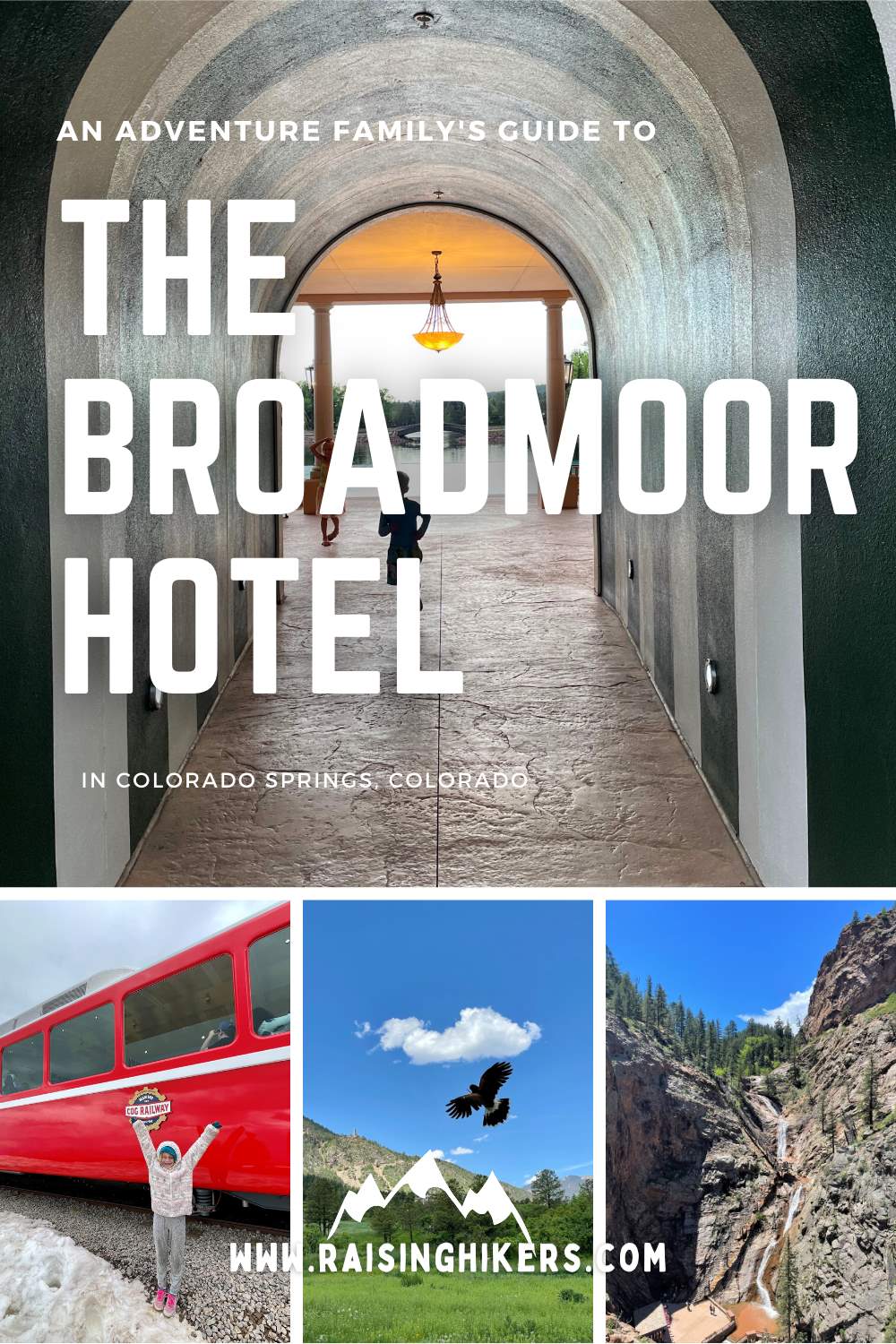 While you are in the area, you may also want to check out these adventurous Colorado Springs hikes! 
Hiking Manitou Incline in Colorado Springs
Hiking the Colorado Paint Mines Near Colorado Springs