NEWS FOR GRAND TETON NATIONAL PARK CAMPING
Before I dive into the best kid hikes in Grand Teton National Park, I want to ensure you have heard the news announced earlier this year regarding camping in Grand Tetons. All campsites in Grand Teton National Park will now be reservable through recreation.gov. This is big news for 2021! See my post about Camping in Grand Teton National Park for more details, campground overviews, and instructions on how to reserve campsites!
BEAUTIFUL WYOMING – NOT kid hikes in GRAND TETON NATIONAL PARK YET, BUT BEAR WITH ME
I am going to take one more detour before diving into the best kid hikes in Grand Teton National Park to give some context on my Wyoming experiences. I will start by saying I was a huge fan after my first trip to Wyoming. I first visited Wyoming for our honeymoon in 2012. Bryce and I road tripped to Many Glacier Lodge in Glacier National Park in Montana for the first portion of our vacation, and then backpacked in the Beartooth area on the Northern border of Wyoming for the last night. Besides our first fight as a married couple when Bryce intentionally left out the trail mix on our hike to Grinnell Glacier because it was our short hike day (of 9 miles), the Glacier portion of our honeymoon was amazing. However, after hiking 21 miles one day and 9 miles the next, let's just say it was not the ideal time to "rough it" by backpacking in Wyoming.
I was ready for the portion of my honeymoon where I am lying on the beach with a drink in my hand. Oh yeah, that is not the vacationer that I married! Needless to say, I was not fresh and ready to take on the Beartooths so my face looked like this much of the hike. It was beautiful though, it really was. And windy. I remember the wind and my feet hurting. But I am sure it was beautiful. Don't I look like I am loving life?
Despite, my negative first impression of the magical state of Wyoming, I agreed to another backpacking trip two years later in the Wind River Range, which is closer to the middle of the state, to give Wyoming another chance. We had just found out we were pregnant with Emerson so this was my first pregnant outdoor adventure, and it was definitely an adventure! We were not prepared for the amount of snow we encountered in July, but once we figured out the river crossings and the snow-covered trail, we were rewarded with my favorite camping spot of all time, pictured below.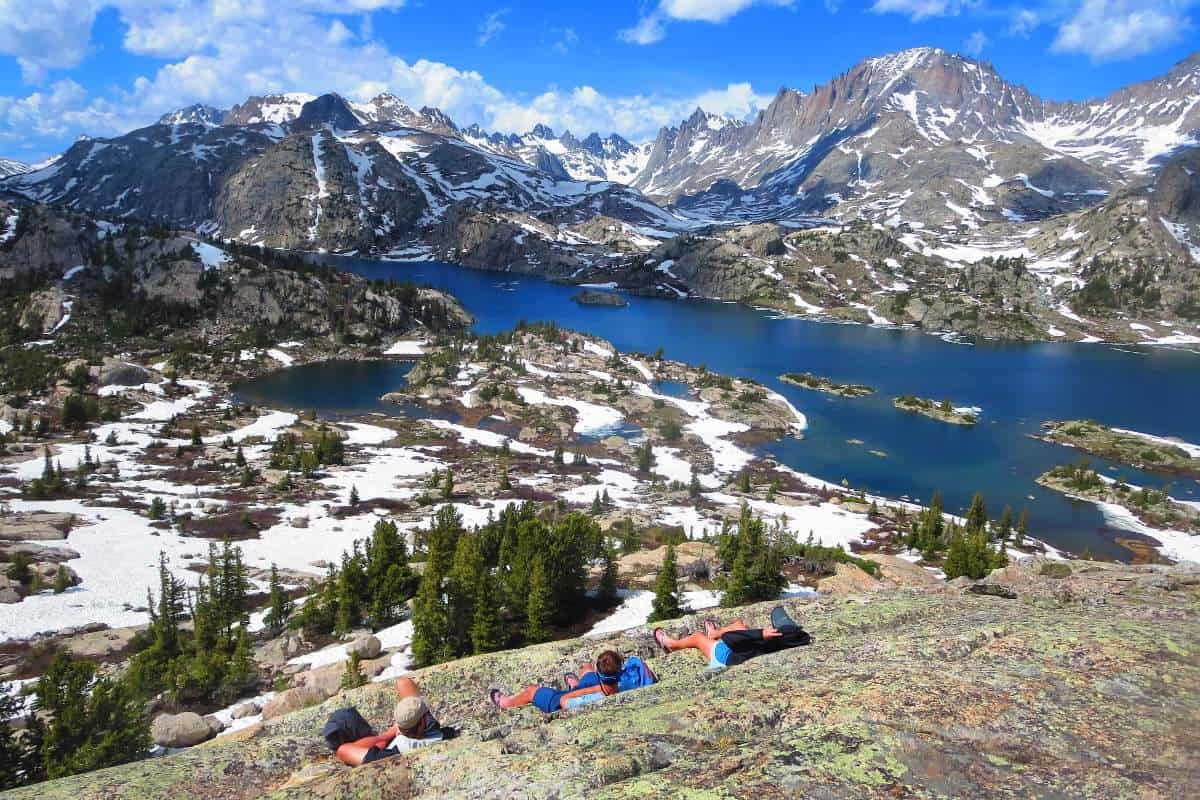 At this point, Wyoming was starting to grow on me. On our way out of the Wind Rivers, we made a quick one night stop by Grand Teton National Park since I was the only one in our group who had never seen it. WOW! The first time you see the mountains approaching Grand Teton National Park, I dare you to say anything other than "wow."
I was blown away with that view above and could not wait to plan our trip to really explore the Tetons. Unfortunately, life happened, and I would have to wait as it took us nearly six years to finally return—and this time we had two kids in tow! Below is our researched and executed plan for kids hikes in Grand Teton National Park from our trip this past summer. 
BEST KID HIKES IN GRAND TETON NATIONAL PARK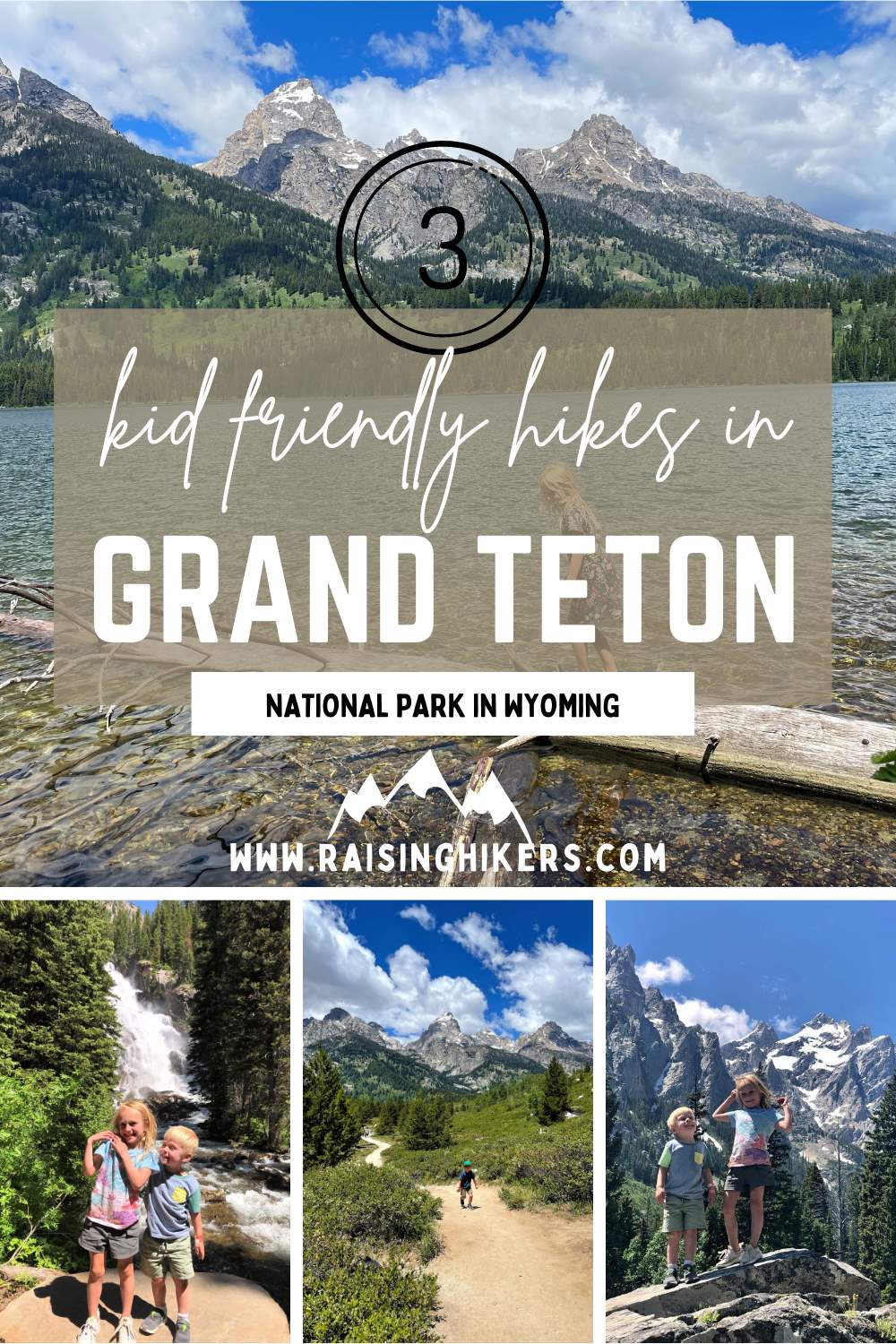 Alright, let's dive in! Grand Teton National Park is situated in the northwest corner of Wyoming, south of Yellowstone National Park. The scenic drives and photo opportunities in the park, along with the kid hikes I recommend, are to the east of the towering Teton Range that appears to rise straight up from the lakes below. The largest mountain peaks you see are the Grant Teton, Teewinot Mountain, and Mount Owen on the south end and Mount Moran to the north. These two kid hikes are the best in Grand Teton National Park because they have the beautiful Teton Range backdrop, a variety of features (lakes, waterfalls, views), and are both around 4 miles or less—which is our ideal length for little legs.
STRING LAKE TO LEIGH LAKE HIKE
Miles:  4.1 miles (anywhere from 2 miles to 8 miles, see below)
Elevation gain: 77 feet
Type: Out and back
Time (including long stop for lunch): 3 hours and 45 minutes (1 hour and 35 minutes of moving time)
Dog friendly: No
Bathrooms at trailhead: Yes 
Cost: This hike is within Grand Teton National Park, so you must have a park pass. A 7-day pass is $35 per vehicle, or $70 for an annual pass.  
To access this trail, park at the North end of Jenny lake you follow the signs to string lake. Go to the very end of that road for String lake, which is a popular stand-up paddle boarding destination, also the endpoint of the Teton Crest Trail. If you are looking for an epic backpacking adventure, check out Bryce's brother trip on the Teton Crest Trail. If you are looking for a day hike with a mellow vibe, stick with me here.
The start of this hike is at String Lake, which when we were there in July felt like a summer party. The color of the lake is a bright green and perfectly clear. It tends to get warmer than other lakes due to its shallow water which makes it a popular hangout destination for stand-up paddle boards, floaties, and brave swimmers (it was still cold in July!). This hangout scene was a strange juxtaposition of the party vibe against the natural landscape. On one hand, I was annoyed by the giant flamingo floaties tainting this majestic backdrop, and on the other hand I was wishing I were having a beer and jumping in. Overall, this is not an area I would choose to hang out as I was not feeling the vibe, but the difference of the solitude you can find by hiking less than a mile towards Leigh Lake was just what we wanted. If that sounds like more your style, continue north like we did.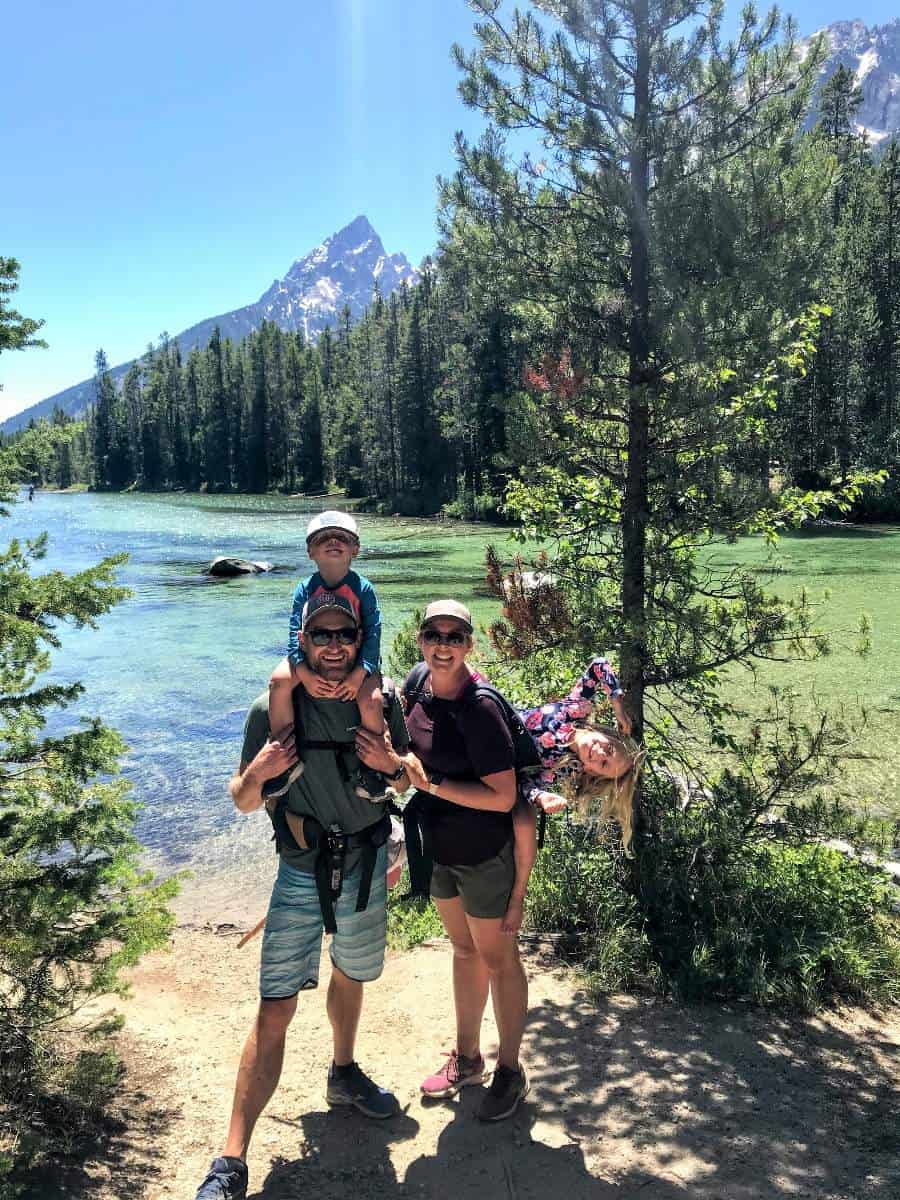 As you are hiking north along String Lake, you will come to a bridge on your left at 0.8 miles. Stay right to continue towards Leigh Lake. That bridge will instead take you towards Paintbrush Canyon or you can loop you around back to String Lake. That route can be found on AllTrails. But our favorite part of this hike was Leigh Lake, so stay right. Leigh Lake has breathtaking water—both in beauty and in temperature as it was a little colder than String Lake. This didn't stop the kids from playing in the water any chance they got. Emerson was happy that she chose to hike in a swimsuit.
At this point of the hike, you can choose when to turn around whenever you prefer. The full out and back to the end of the trail will take you to Bearpaw and Trapper Lake (which is also a backpacking destination). The beauty of this hike with kids is you can stop anywhere along the way or turn back when kids require you to, since you get the glory of the lake as early as 1 mile in. I recommend pushing 2 miles before heading back as we found that the further along Leigh Lake we hiked, the more remote it felt and the farther we were from the String Lake crowds. At 2 miles, we picked an epic lunch spot on a secluded beach. This was our little slice of paradise right off the trail. We hung here for a while, eating our lunch and soaking our feet in the crystal-clear water before heading back.
I recommend timing this hike to have your destination be "lunch" on the lake. That gave it a nice logical turn around point since there otherwise isn't a true end to this hike (that is a kid friendly distance). It also means you will be getting out early enough to beat the crowds that will fill the String Lake parking lot as it gets warmer later in the day.
Pros
Beautiful viewpoints of the lake in front of the Teton Range
Crystal-clear water in both String Lake and Leigh Lake
Snack and lunch break opportunities by the lake
Flat and easy for kids 
Shade on the trail
Not nearly as busy as other hikes in the park, once you break away from the String Lake crowds, this trail feels a lot less traveled.
CONS
Parking could be challenging as you are competing with the String Lake.
No waterfalls or meadows—while beautiful, there is a lack of variety of the views so could be "boring" for kids. However, the lake fun balances that as long as they like throwing rocks and getting their feet wet.
A portion of the trail has forest between the trail and the lake, blocking the views of the lake (which is what we specifically came for, which is the only reason I mention it).
Worth It?
Yes! The color of the water and the views across the lake were amazing!
Would I go back?
Yes! This is the type of spot I would plan for the second day, perhaps after a bigger hike the first day. In fact, when we return this summer, I plan to return to this area for Stand Up Paddle boarding and paddle from String Lake over to the same beach spot on Leigh Lake. We have this Inflatable SUP and we have been really happy with it.  We also have this electric pump that I think is critical in stepping up your inflatable game—unless you are looking for an extra workout as pumping these things by hand is no small task.
DRIVING DIRECTIONS TO STRING LAKE TO LEIGH LAKE HIKE
There are multiple entrances into the park, but we enter from the Moran entrance since we are travelling from Colorado. From the Moran entrance, head north on Highway 191 for 5 miles, then turn left on Teton Park Road. Pass the Jackson Lake Dam and continue for about 9 miles until Jenny Lake Road, turn right. This is a one-way road you will follow for 1.6 miles. Note: this road has a couple of the best mountain view pullouts for photo opportunities with the Grand Tetons in the backdrop. Turn right on String Lake Road and pass the String Lake Trailhead on your left. Continue for 0.4 miles to the North parking lot.
INSPIRATION POINT AND HIDDEN FALLS
Miles:  3.5 miles (with a lot of extra side adventures–closer to 2 miles if staying on trail)
Elevation gain: 594 feet
Type: Loop
Dog friendly: No
Bathrooms at trailhead: Yes, only on the Jenny Lake Visitor Center side. There is no bathroom at the boat launch on either side of the lake.
Cost: This hike is within Grand Teton National Park, so you must have a park pass. A 7 day pass is $35 per vehicle, or $70 for an annual pass. Unless you want to add 4 miles to skip the boat ride, you also need to purchase a boat shuttle ticket which is $18 round trip for adults ($10 one way) and $10 roundtrip for kids 2 years-11 years old ($8 one way). Infants and seniors over 80 years old are free.
Inspiration Point and Hidden Falls are both must see destinations at Grand Teton National Park, and you can see them both on one hike! I think so highly of this hike, I featured it as one of the 8 Epic Day Hikes to Add to Your Bucket List this year. This hike was well loved by all the kids in our group because of the boat ride, water features, variety of terrain, rocks to climb, and the pride of hiking "to the top."
We got a late start for the day and anticipated super long lines for the boat. I was a little stressed about this, especially as parking proved to be very challenging. I had that pessimistic moment where I assumed, we would be forced to bail on our plans and figure out a plan B on the fly. But alas, the dads dropped us moms and kids off and they were able to find a spot (albeit a mile away!). Thanks, honey!  The signage from the parking lot was not super clear as to where the boat shuttle was located or where you purchase tickets, so we went (the wrong way) towards Jenny Lake Visitor Center. We eventually got help and walked towards what we "felt" was the water and we did end up finding the boat. It is at the south end of the lake near the Jenny Lake trailhead, southwest of the parking lot, and west of the visitor center (circled on this map). You can purchase tickets at the boat launch. The shuttle runs every 10-15 minutes. They do not accept reservations in advance.
To our surprise, there was no line to get on the boat shuttle! I turned my frown upside down and had renewed optimism for the day. We would however find out that that a long line was waiting for us on the return ride. The boat ride is a fun start to the hike. If you prefer to skip the boat ride (either because of lines or to increase hiking mileage), this will add about 2 miles each way. In this case, you would hike along the south end of Jenny Lake and hook up with the Cascade Canyon Trail, hiking along the south side of Cascade Creek. We wanted to trim 4 miles off and have a fun experience, so we took the boat across and started our hike at the Jenny Lake West Shore Boat Dock.
Once you get off the boat, turn left. The trail starts with an incline up the northside of the Cascade Canyon Trail along the rapid Cascade Creek. There are boulders right off trail for the kids to climb, which was a highlight and early reward for my little climbers. After about 0.3 miles, you will cross a bridge to get to the south side of the creek. In 0.1 miles you will approach another bridge to bring you back to the north side again. Before you do so, take a left to head towards a closer look at Hidden Falls, which is less than .01 miles to your left. You will hear it! This was a fun area to scramble rocks and explore with the waterfall in the background.
After the waterfall pitstop, head back to the upper bridge and cross back to the northside of the creek. This section climbs with a couple of gentle switchbacks for about 0.4 miles, hugging the side of the mountain with Jenny Lake ahead of you and Mount Owen and Teewinot Mountain towering behind you.  
At the top, you have reached Inspiration Point which looks east over Jenny Lake. You can tell how high you have climbed, and the kids felt a sense of accomplishment! This a natural destination and turnaround point for most hikers who do this as an out and back. However, I recommend continuing and making this a loop (and leaving the crowds behind you!). To do so, continue up past Inspiration Point another 0.2 miles. This doesn't add much gain as it's relatively flat and heads into a more shaded forested area, still along the northside of Cascade Creek. Look out for a sign for the horse trail on your right and take that trail north. Take this wooded and peaceful trail descends 0.7 miles back to the Jenny Lake Trail. Take a right once you reach the lake and the boat launch will be on your left in Boat Launch in a short 0.1 miles.
PROS
Variety of scenery—lake, waterfall, forest, mountain views, small boulders to climb
Directly under Mount Owen and Teewinot crags for much of the hike
Jenny Lake boat ride makes for a fun addition to a hike for kids.
CONS
Heavily trafficked
Parking was ridiculous. The dads had to drop the moms and kids off and park a mile away along the road!
Long line and wait time to return on the boat shuttle. You could avoid this by hiking the 2 miles back to the parking lot along Jenny Lake.
Steep portions of the hike with drop off ledges, so need to keep kids close
There was no good, secluded lunch spot beyond Inspiration Point (which was still too early for us to eat lunch). Therefore, we struggled to find a place to stop for lunch. We had hungry kids, but we continued pressing on saying "once we find a good flat rock…" which we did not end up finding. We settled for a little group of boulders just beside the trail, which the kids climbed and made me nervous. 
Worth it?
Yes! This was a perfect distance for the kids to wipe them out, but also keep them entertained with climbing opportunities and lots to see!
Would I go back?
Possibly. For me, this is one that you want to see once and a fun family experience, but not one I need to return to due to the crowds. However, if I were visiting Grand Teton National Park with a family or friend who had not done this hike, I would do it again for them to experience it as I do think this hike falls in the Tetons "must do" category.
DRIVING DIRECTIONS TO INSPIRATION POINT AND HIDDEN FALLS HIKE
There are multiple entrances into the park, but we enter from the Moran entrance since we are traveling from Colorado. From the Moran entrance, head north on Highway 191 for 5 miles, then turn left on Teton Park Road. Pass the Jackson Lake Dam and continue for 12 miles. Do not turn on Jenny Lake Road, but instead turn right about 3 miles later following signs for the Jenny Lake Visitor Center. You can either park on the first lot for the visitor center or the lot closer to the lake. Parking fills up quickly and can be challenging as mentioned earlier.
Taggart Lake and Bradley Lake
Miles:  ~ 6 miles
Elevation gain: 676 feet
Type: Lollipop Loop
Dog friendly: No
Bathrooms at trailhead: Yes
Cost: This hike is within Grand Teton National Park, so you must have a park pass. A 7 day pass is $35 per vehicle, or $70 for an annual pass.
Taggart Lake can be accessed from Lupine Meadows or from Taggart Lake Trailhead. Lupine Meadows is also the trailhead for Delta Lake. Delta Lake is an epic hike in Grand Teton National Park that Bryce hiked on our last trip to the Tetons. He woke up at 2:30am to hike up to Delta Lake for sunrise. You can read his full adventure here.  But since we were looking for a kid-friendly hike, with 5 kids in our group ranging from age 4 to 9, we opted for the Taggart Lake Trailhead. The hike starts on a wide dirt road and then reaches the trail on the right after about a quarter mile. Within minutes of entering the trees, you are already treated with the Taggart Creek and a fun bridge to cross.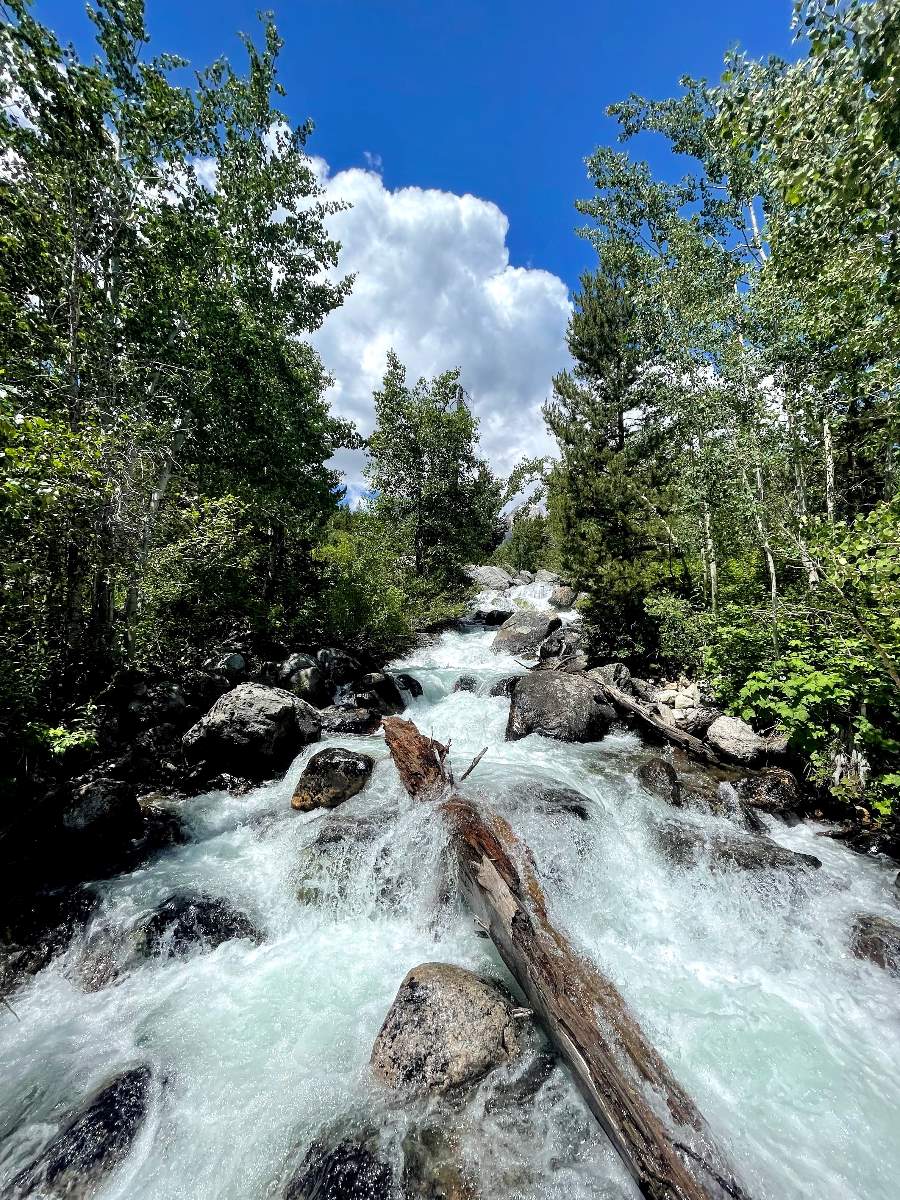 You'll pass by a small farm with horses, then start to climb steadily in and out of Aspen trees and with occasional meetups with the creek. At around 1 mile, you break out of the trees and get your first glimpse of the magnificent Tetons. It's just the boost you need at the 1-mile mark to entice you to keep going.
Shortly after the clearing, the trail splits—the right leads to Bradley Lake and the trail to the left leads to Taggart Lake. I recommend staying right to Bradley Lake and then looping back around to Taggart Lake. There are some fun rocks for kids to climb in this section with the dramatic Teton backdrop. This was my favorite section of the hike, even more impressive than the lakes for me.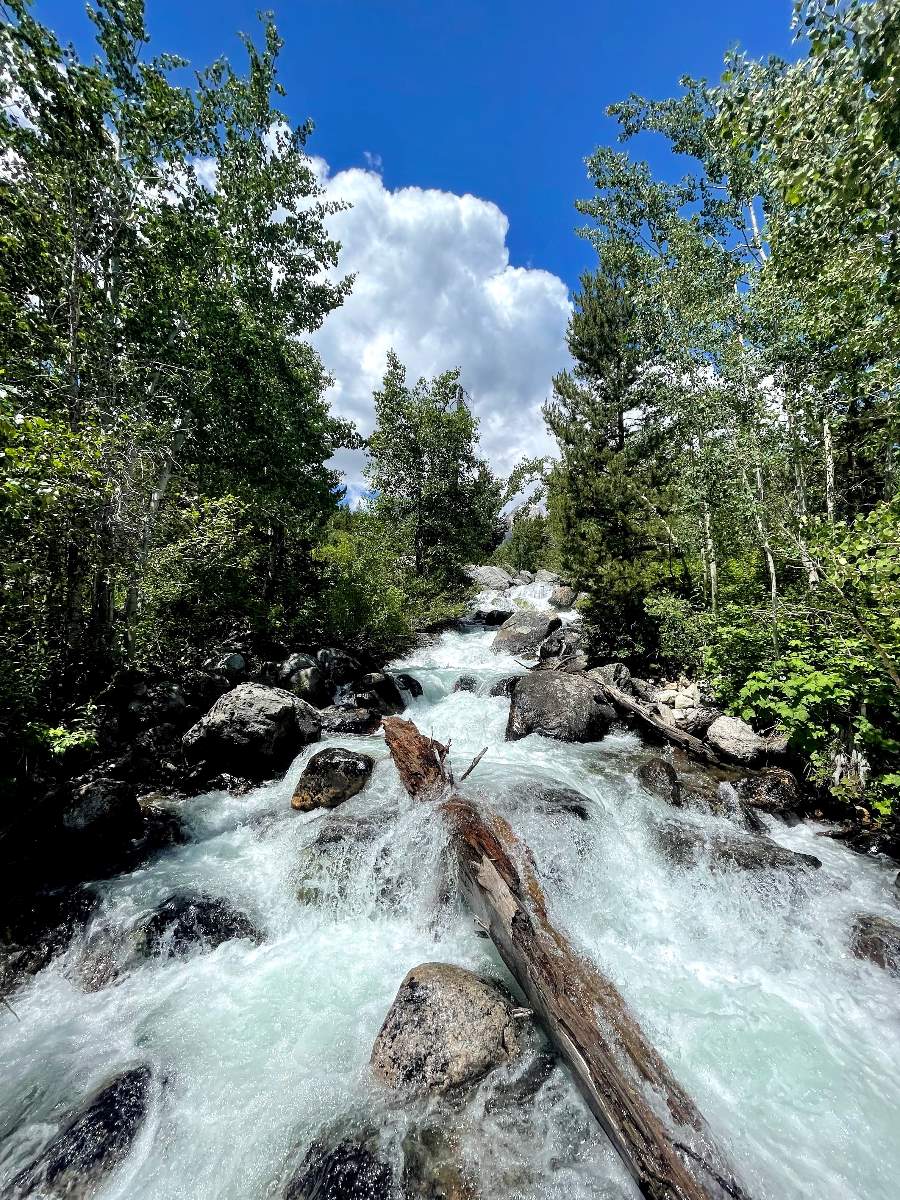 The next mile is a steady ascent. As you climb, you'll get views looking down on Taggart Lake to your left. At around 2 miles you will come to a junction for the loop to your left. Stay right as Bradley Lake is just around the corner. We walked just a few minutes along the lake until we found a magical lunch spot with rocks on the lake looking towards the Teton peaks.
After a relaxing snack, lunch, or skipping rock break, head back the way you came but stay straight at the junction towards Taggart Lake. You'll descend about a hundred feet of elevation over the next mile until the trail winds along the lake. Surprisingly, the downhill was where Walker needed a little break, so we busted out our Trail Magik carrier so he could rest his legs briefly. This carrier is awesome for hikers who need short breaks as it folds up to the size of a waterbottle and is super light! (Use code RAISINGHIKERS10 for 10% off). Emerson was full of energy and was running back and forth on this section of the trail. You can tell as she is going up the trail in this photo even though this is the downhill section.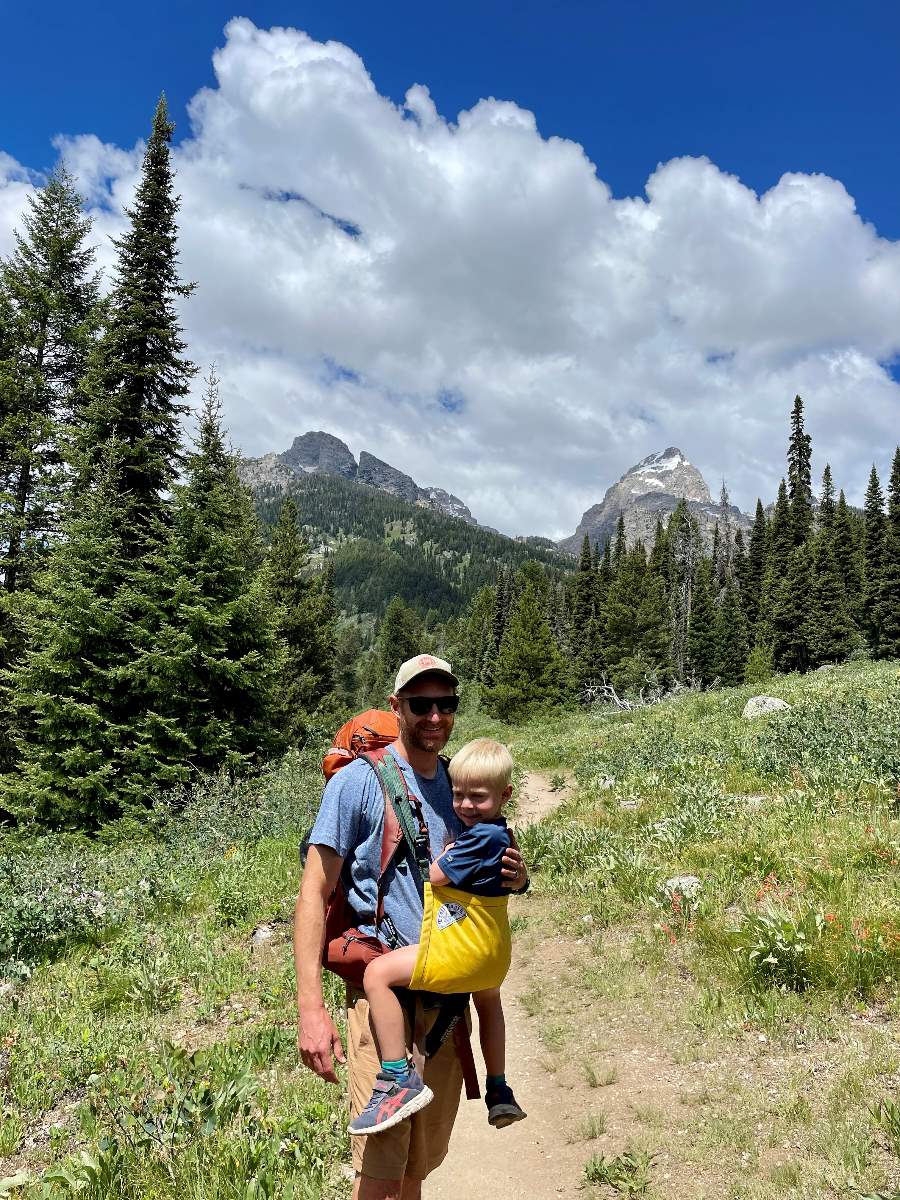 At around the 3 mile mark, we reached Taggart Lake. Taggart didn't have as many great beach spots along the frist section as the trees were blocking. We managed to find a spot to hang briefly and see the Taggart Lake views. There are better beach areas as you continue to where the other Taggart Lake trail intercepts this portion of the loop. If you were interested in carrying in your inflatable stand up paddle board, that intersection would be the easiest (and shortest) spot to enter the lake.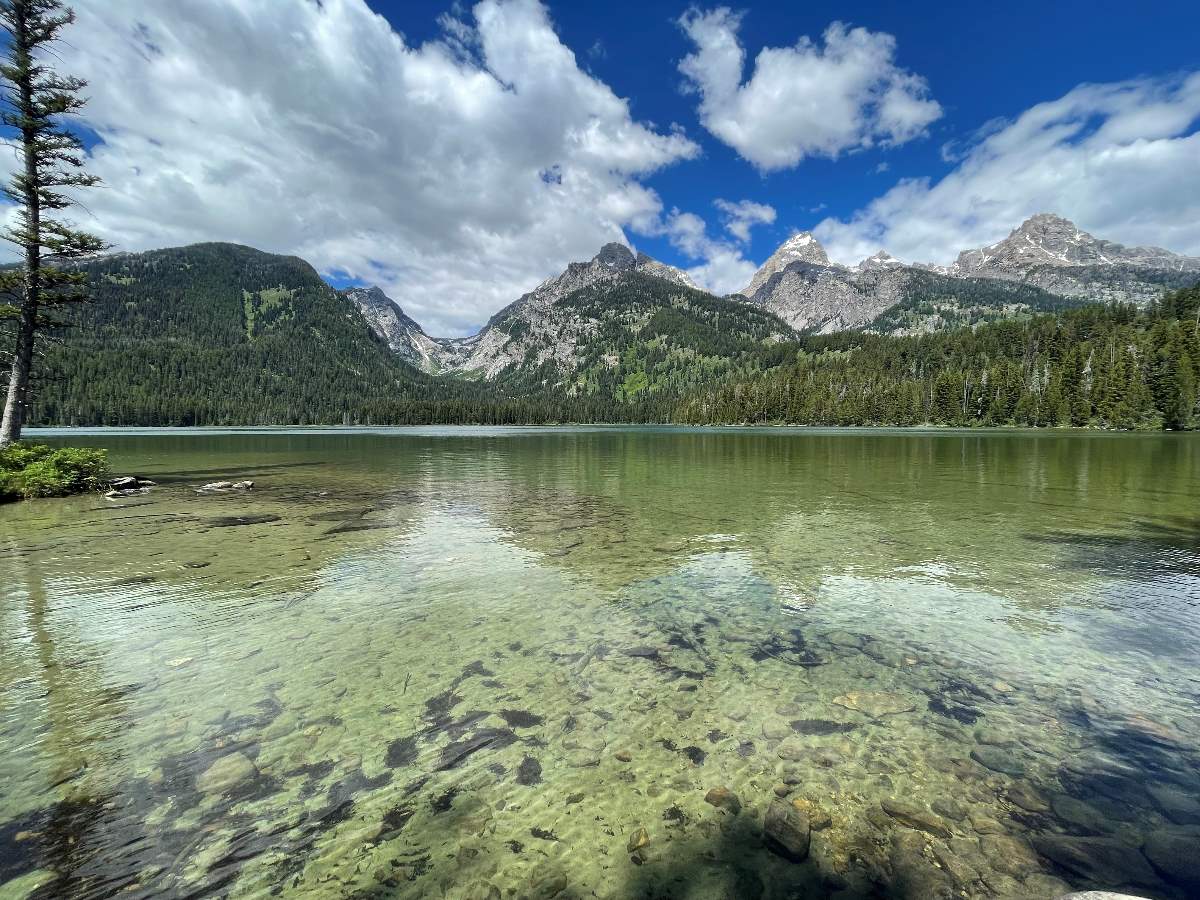 At the intersection where the main trail meets Taggart, turn left for the shortest way back to the trail head. This will make this a lollipop loop and bring you back to that original trail intersection that was one mile from the trailhead. Alternatively, you can go straight continuing along Taggart Lake and making a wider and full loop back to the parking lot.
PROS
Variety of scenery—two lakes, rushing creek, forest, Aspens, meadows, Teton mountain views, boulders to climb.
Well groomed and easy to follow trail
Not as crowded as the Jenny Lake area, especially because there are multiple trail options which spreads people out.
CONS
Could get crowded if you got there mid-day. We arrived at the parking lot at 8:30am and got a spot, although by the time we started hiking cars were starting to park along the street.
In order to see both lakes, it's decent mileage for a "kid hike." Because of the variety and minimal elevation gain, our hikers all did really well but I could see the mileage being an issue for some. In that case, I would recommend the out and back to Taggart Lake, which still gets all of the "pros" but is the more populated area.
Worth it?
Yes! I loved this hike. This is my favorite of the three kid friendly hikes due to the variety and the direct views of the Tetons throughout the hike.
Would I go back?
Yes! There are many different routes to this trail so I would definitely go back and try another route to change it up slightly. I'd also consider carrying a SUP out to this one (if I convince Bryce to pump it up at the lake without our electric pump).
DRIVING DIRECTIONS TO INSPIRATION POINT AND HIDDEN FALLS HIKE
There are multiple entrances into the park, but we enter from the Moran entrance since we are traveling from Colorado. From the Moran entrance, head north on Highway 191 for 5 miles, then turn left on Teton Park Road. Pass the Jackson Lake Dam and continue for 16 miles. Shortly after the Cottonwood Creek Picnic Area, the Taggart Lake Trailhead parking lot will be on your right.
If you are looking for a scenic stop on the way back to either the Signal Mountain or Colter Bay Campgrounds, I recommend driving up to the top of Signal Mountain. I was blown away with these views and we timed it perfectly (late June) for some beautiful wildflowers in the foreground.