My father-in-law calls us crazy on the regular, and this may be one of those times he is right. 😊 I remember hearing about "The Incline" from a woman at an exercise class last year. The instructor asked what everyone did over the weekend and the woman exclaimed that she had climbed the Manitou Incline like a badge of honor. I knew immediately this was something I wanted to do. I wanted to join the club (the crazy club, I suppose). Fast forward a year because of COVID closures and life, and we finally did it! While we may be crazy for bringing our 4- and 6-year-olds on this climb, we had a blast so I am sharing everything you need to know about hiking the Manitou Incline with kids.
MANITOU INCLINE STATS
Location: The Manitou Incline is located about 15 minutes outside of Colorado Springs, just beyond Garden of the Gods
Miles: 0.8 miles up, 4 mile hike down the Barr Trail
Steps: 2744 steps (changes occasionally based on trail maintenance)
Elevation gain: 2155 feet, from 6385 feet to 8540 feet elevation
Difficulty: Difficult
Type: Loop
Time: About 3 hours of moving time, and just 4 hours of total time on the stairs and trail, including many water and snack breaks.
Dog friendly: No
Bathrooms at trailhead:  There is a port-a-potty
Picnic tables at trailhead: No
Stroller Friendly: No
Cost: Free, but see parking costs below
Reservations Required: Yes! Reserve your start time here in advance.
Parking: Limited. You can reserve parking at Iron Springs Chateau. Parking is $10. The walk from the parking lot to the start of the incline is about 0.2 miles. If you don't get a spot there, you can park at Hiawatha Gardens and take the shuttle that runs every 10 minutes.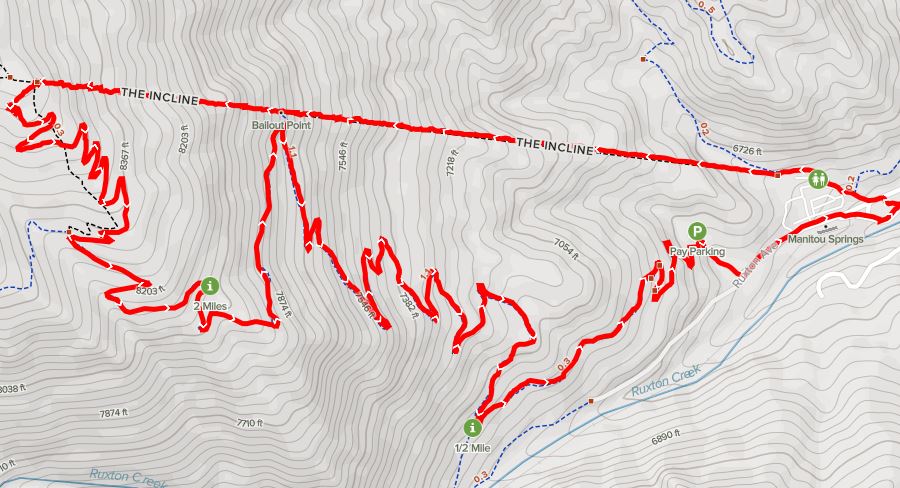 THE MANITOU INCLINE ROUTE
THE ASCENT UP THE MANITOU INCLINE
Our reservations were for the 8:00am-8:30am slot, which was a great time of day to start the hike and avoid the mid-day heat. However, I will admit that the timing of our reservation was not ideal for our level of energy. We had too much fun and too little sleep the night before thanks to National Camp at Home Day, where we basically played musical beds all night long and no one ended up in the camper by morning. When the alarm went off at 6:00am, the thought crossed my mind to cancel but that "crazy club" initiation was calling! Something about having a set reservation time really holds me accountable. I would recommend a solid night's sleep prior to embarking on this adventure.
From the parking lot, follow the signs to the Incline Base Camp. It's about 0.2 miles from the lot. At the start of the hike, signs warn of the dangers of dehydration, heat exhaustion, and overexertion. This climb is no joke or "no walk in the park," as the sign says. Please take these warnings seriously, which is why I recommend scheduling a slot early in the day so that heat is one less safety factor.
The kids weren't too psyched about this hike when they saw it from the bottom, but as we climbed they started to gain confidence and pride about being able to climb it. There were a lot of pep talks about how proud they would be when they made it to the top. We used all of the parenting tricks that I recommend in What To Do When Your Kid Does Not Want To Hike.
The "top" of the steps that you can see from the start is a false summit and actually gets steeper after that point. The slope starts out pretty gentle but overall, the average slope is 40 degrees and the steepest section is 68 degrees. In case you are not sure what that means, it is STEEP! There are some areas where you will need to climb using both feet and hands to pull yourself up, depending how long your legs are.
Slow and steady we climbed and about halfway was when we realized Walker, our 4-year-old, was going to be able to do the whole thing "on his own." I put that in quotes as I was gripping his hand the whole time, and therefore lifting or pulling him up some of the steep steps. My rule on this hike was that Walker could either go in the Kinderpack, or he could hold my hand. Despite complaining that my hand was "so sweaty!!!" he opted for holding it as opposed to being carried. Emerson, our 6-year-old was able to hike this independently, but it's important to know your children's capabilities for a hike like this one. While I love my Trail Magik carrier to get us through hard hikes, I do NOT recommend a front carrier for this hike as it's so steep and you need to see your feet.
The excitement was palpable as we were approaching the summit. My favorite feature of this climb is that they label every 100 steps so you know how far you've gone and how close you are to being finished. At 2000 steps, we were giddy about how close we were to the top!
Although there was whining in the beginning of this hike, you would never know it when we reached the summit! Both Em and Walker were super proud of themselves for making it to the top on their own. I find that all hikes boost their self-confidence, but ones like these especially do! That's mostly because so many people on the climb were complimenting them on their determination and grit to make it to the top.
From the top, you can enjoy the view of Garden of the Gods and Colorado Springs, and look down to see how far you've come. You can also admire Pike's Peak that towers 6,000 more feet above you. The Barr Trail is the first portion of the 13 mile trek to Pike's Peak, so it is possible to cut that 4 mile segment down by doing the incline and joining the trail at this junction.
WHAT IF WE START THE MANITOU INCLINE AND WANT TO TURN AROUND?
If the climb becomes too challenging, there are two bailout points. The first one is at 1300 steps on the right-hand side and will lead down the Ute Trail. The second is at 1800 steps on the left-hand side and will lead you down the Barr Trail.
THE DESCENT AFTER THE MANITOU INCLINE
While we did see some hikers going down the stairs of the incline (and were annoyed by it), the rules kindly state that the stairs should not be used for descent. It looked very dangerous to go down these steps and made the incline more crowded. The appropriate and safe route down is via the Barr Trail.
When doing research on this climb, I honestly didn't look too much into the descent. It makes sense because the climb is what you need to mentally psych yourself up for. However, it is important to realize that the hike down is a true hike. It is 4 miles down from the top, which is a decent day hike for little legs. While the entire hike is downhill, it still does take a significant amount of time to cover 4 miles so plan accordingly. The hike is a pretty hike in it's own right, which was a pleasant surprise. But it did feel long. If you are doing this hike after recent snowstorms like we did, I highly recommend MICROspikes for the descent. The stairs themselves get a good amount of direct sun exposure, but the hike down on the Barr Trail was icy. I am always (almost) prepared, as I keep my spikes in the back of my car. However, looking at the steps from the parking lot, I chose to leave them in the car and I was regretting that as I was slipping and sliding down the trail.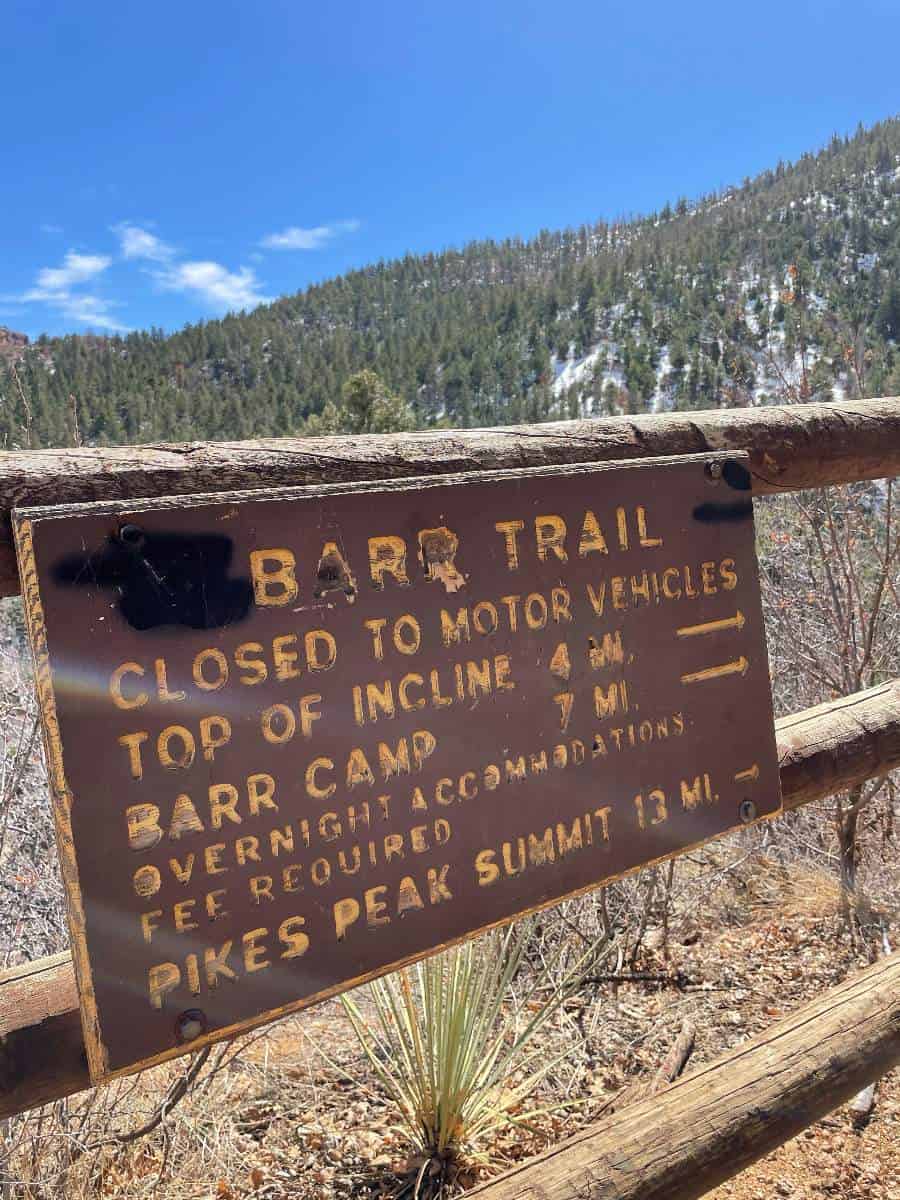 HOW THE MANITOU INCLINE STACKS UP AGAINST OTHER COLORADO HIKES
Pros
Great exercise and training opportunity for hiking season
Beautiful views
Pride of conquering a well-known climb!
Boulders to climb on the hike down
Fun town to explore after the hike
Cons
Heavily trafficked
Very steep, which could be scary for kids or parents with a fear of heights (like me!)
No water destination, such as waterfall, lake or river
Strenuous climb, which can be challenging for little hikers and for parents carrying kids. If you are looking to improving your hiking fitness prior to a climb like this, check out my Training Plan for Hiking Season –Build Strength for Carrying Kids on Your Back.  This climb is more of a conditioning type of hike as opposed to an "enjoyable hike."
WAS CLIMBING THE MANITOU INCLINE WORTH IT?
Yes! While it may have been a crazy idea, I had a blast. I absolutely love seeing our kids do hard things. Bryce was "bored" at our slow kid pace, but I thought it was worth it.  
WOULD I GO BACK TO THE MANITOU INCLINE?
Yes! I would love to make this an annual tradition and see how our little hikers progress each year. It took us 4 hours this year to do the full loop, so I am convinced we could see some time improvements in the years to come. Of course, Bryce wants to go back and see if he can beat the 16 minute, 42 second record. 
TIPS FOR HIKING MANITOU INCLINE WITH KIDS
Plan for multiple breaks along the climb. The best spots for safe stops and snack breaks are in the intermittent wider, flat areas on the side of the trail
There is no shame in using a bailout trail if the climb is getting too challenging for the kids or parents. The bailouts are at 1300 steps and 1800 steps.
There is very little shade on the climb up so bring hats, sunglasses, and wear sunscreen.
On the contrary, there is a lot of shade on the Barr Trail down which makes for icy spots. I highly recommend MICROspikes for the descent if you are hiking during winter or spring.
Bring a carrier, like the Kinderpack or BECO, that you can roll up and easily stow in your daypack. It would not be safe carry kids on shoulders or on piggy back for this hike so be prepared for how you will carry them if they are struggling.
Start early (get a reservation for an early slot)! Heat exhaustion is a serious threat on this climb so set yourself up for the best conditions.
Remember, in addition to this being a "climb" it's also a day hike as it's a 4 mile descent, so be sure to check out what to pack for a hike with kids so you have all of the day hike essentials.
Have I mentioned this is a challenging climb enough? Be sure to acclimate yourself to the elevation and drink plenty of water beforehand if you are visiting from lower elevation.
Practice Leave No Trace principles!
Teach your kids these first 5 things about hiking before you hit the trail! Specifically, educate about staying on trail as the Barr Trail down has many areas where people are cutting the switchbacks and creating alternate trails.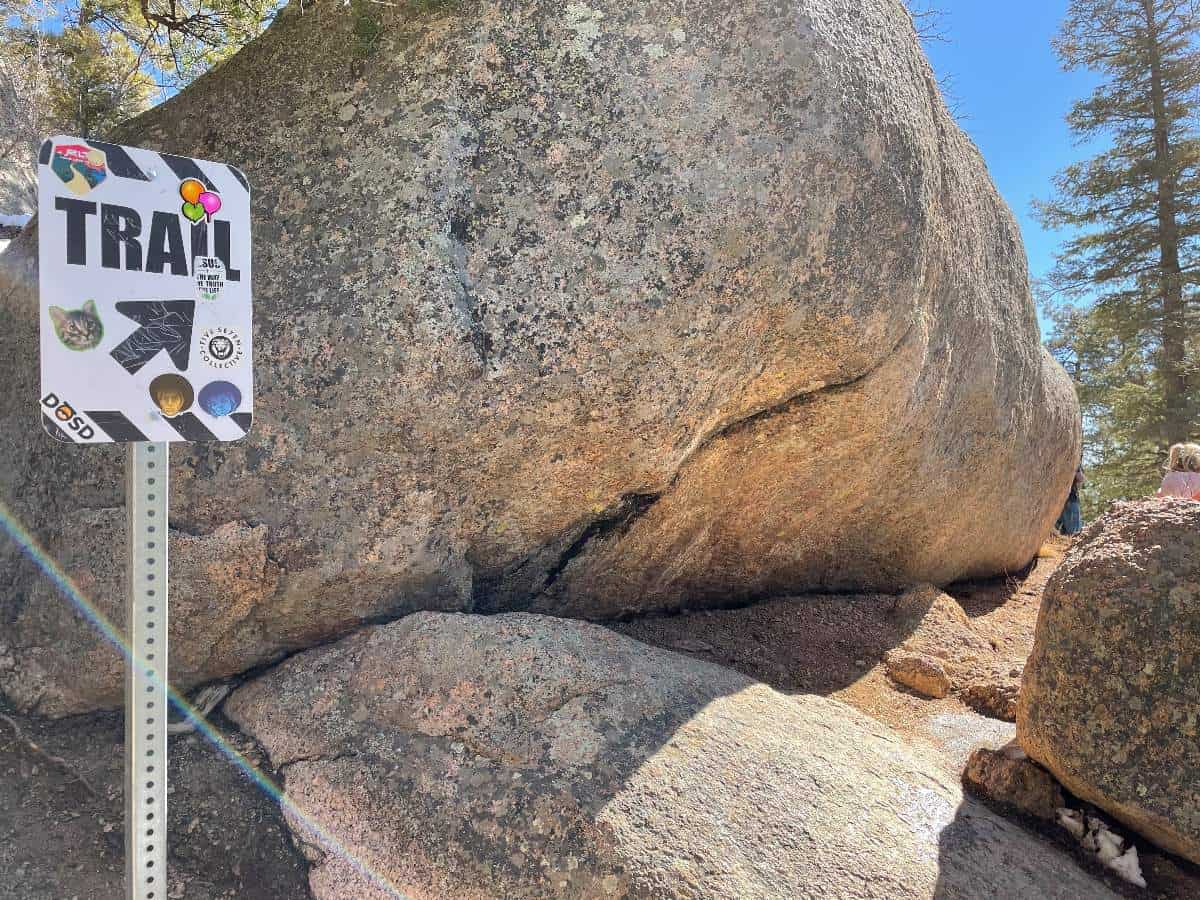 WHAT TO DO AFTER THE MANITOU INCLINE
Manitou Springs is a funky mountain tourist town, which makes for a fun celebratory stop after completing (or attempting) the Manitou Incline. Parking was challenging in the town, but we found a paid spot along the street. Since I usually crave a burger and a beer, we ate at the Manitou Brewing Co and had the appropriately named Incline Burger and an IPA. It was delicious and we even ordered a second batch of fries. Most notable about the town was the number of ice cream shops, which was necessary since ice cream was our promised incentive for making it to the top of the climb! Next time we visit, we will take the easy way up the mountain on the Cog Railway, which is planned to reopen before summer 2021.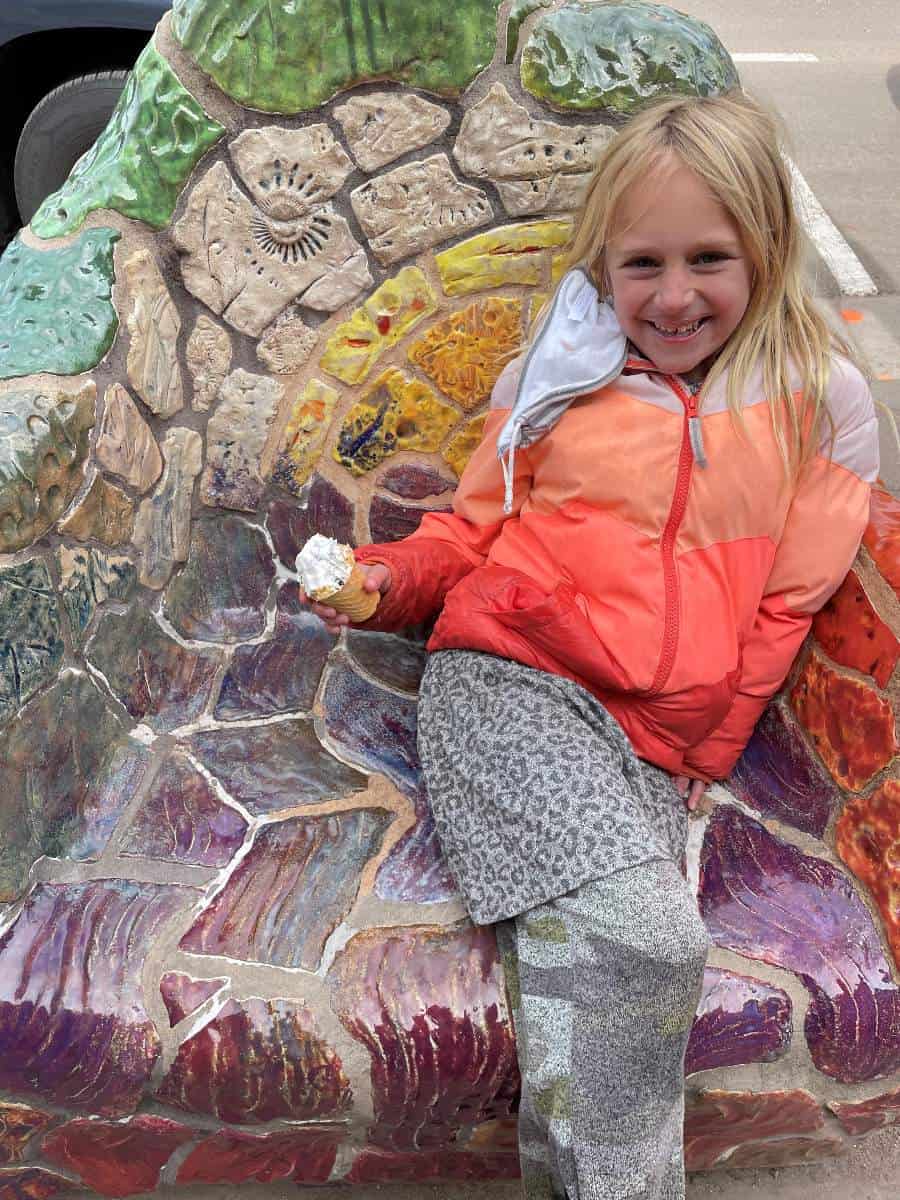 If your family is up for a full day outing, you are only 5 miles from Garden of the Gods or 2 miles from Rainbow Falls, so the climb could be paired with another beautiful afternoon hike. Needless to say, we were not….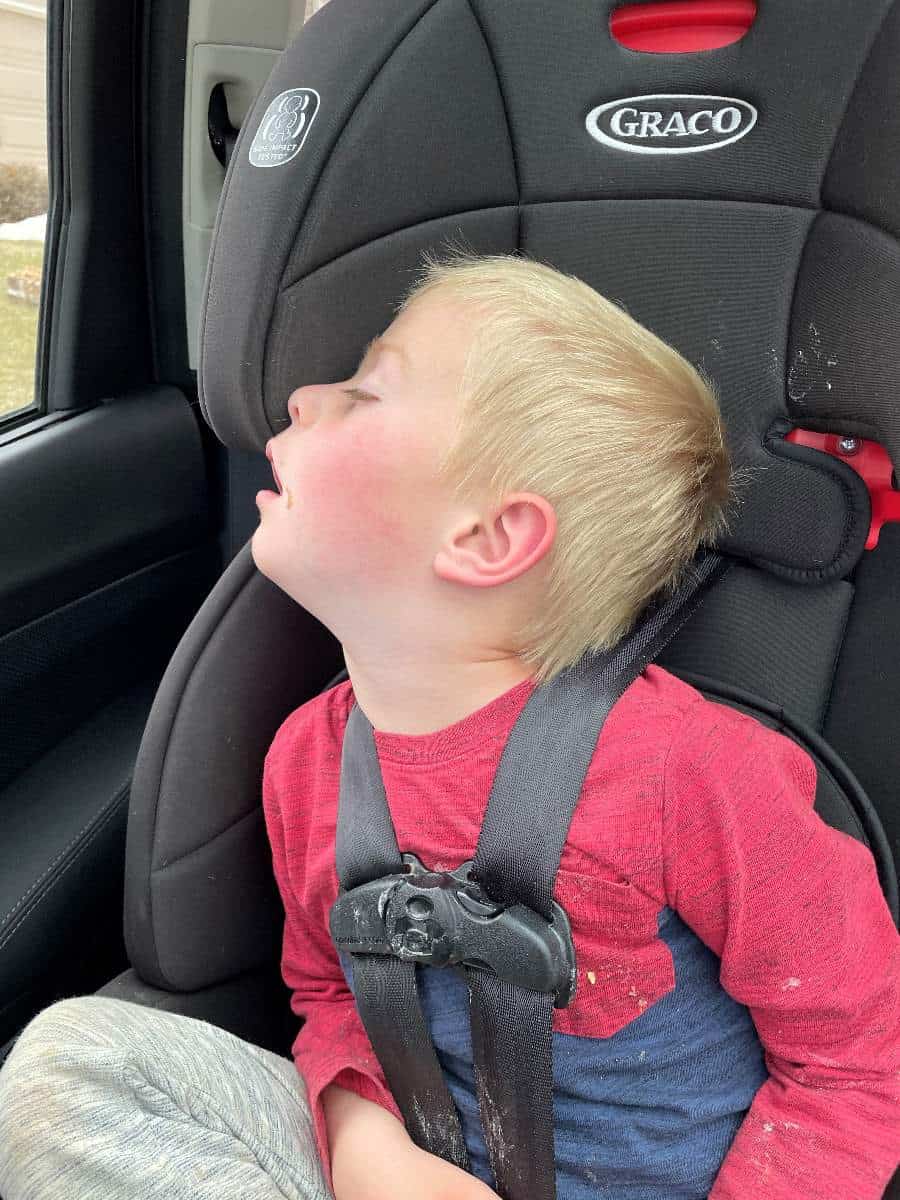 If you are not quite ready to tackle these steps, start with Philip S. Miller Park in Castle Rock instead. It's a great way to train for the Manitou Incline as it's only 200 steps, so you can do it multiple times until you feel ready. For perspective, the Manitou Incline is the equivalent of doing the Philip S. Miller steps 14 times! 
If you do tackle this climb (or have questions), please reach out in the comments below!
For a mellower hike outside of Colorado Springs, check out our guide to Hiking the Paint Mines Reponsibly or more Colorado hikes here.
Good luck, stay safe, be respectful, and happy climbing!