Today we were seeking a "forest hike" within an hour of Denver, Colorado and we found just the spot! What I am loving about finding a great Denver kid hike (and Colorado hikes with kids) is that there are so many different types of hikes. We can choose between red rocks, views, desert high plains (like the Paint Mines last weekend), waterfalls, lakes, meadows, city views, mountains, and dense forest. This variety keeps the adventures fresh with kiddos. We find that telling your kids you are "going on a hike" can sometimes be met with resistance, so instead we say "we are going to throw rocks in a lake," or "search for a waterfall" or today "explore a forest."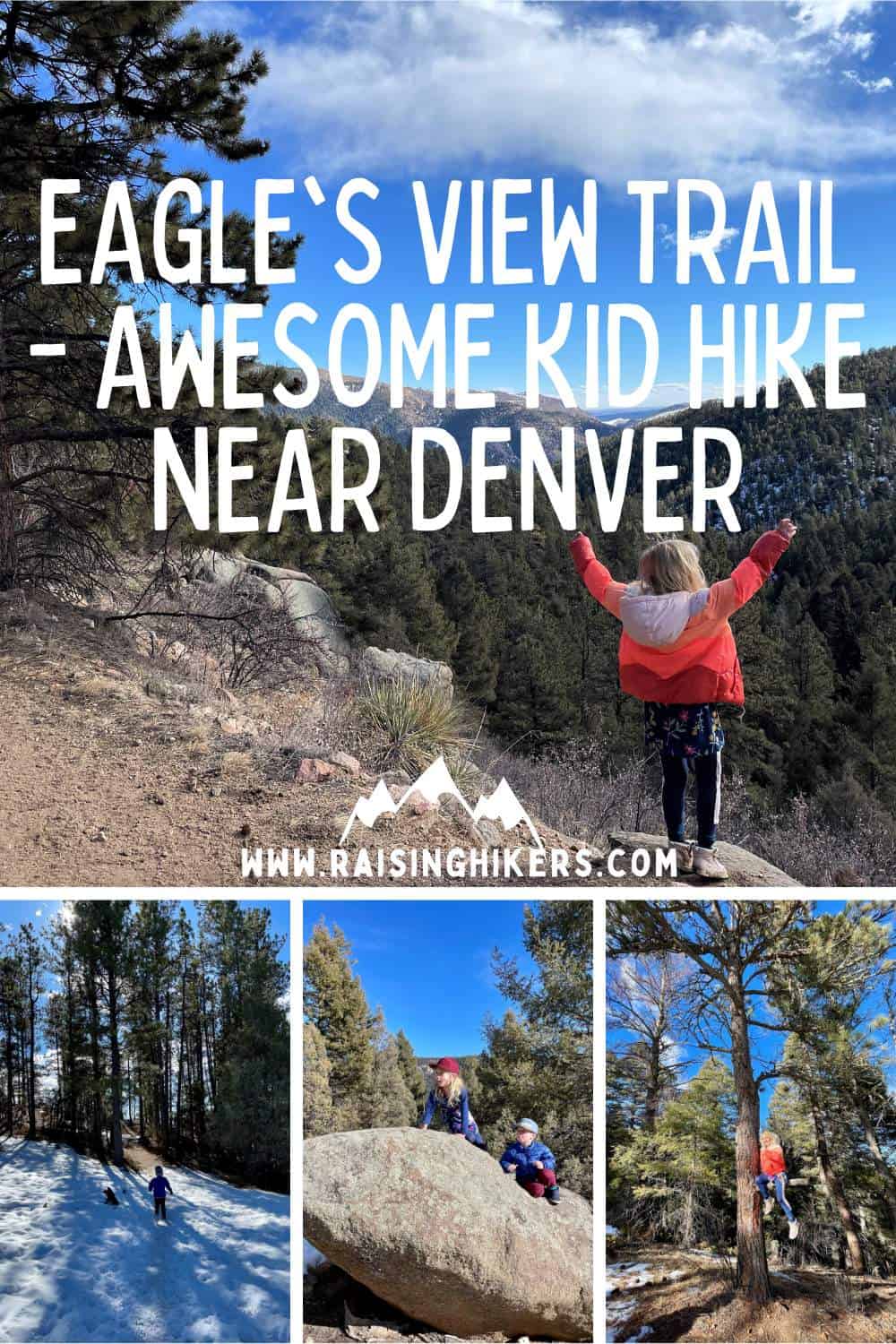 This post may contain Amazon affiliate links. We make a small commission if you shop using these links, but you aren't charged any extra! We only recommend products that we use and love. You can read more in our disclosures.
EAGLE'S VIEW TRAIL AT REYNOLD'S PARK – DENVER KID HIKE
Miles: 5 miles
Trail Map: We did the trail loop highlighted in my snapshot map but you can get the full Reynold's Park Map here.
Elevation gain: 967 feet
Difficulty: Moderate
Type: Loop
Time: 2 hours of moving time, and 3.5 hours total including frequent snack breaks
Dog friendly: Yes
Bathrooms at trailhead: Yes 
Picnic tables at trailhead: Yes
Stroller Friendly: No
Cost: Free
Today's hike, Eagle's View Trail Loop at Reynolds Park, is located in Conifer, Colorado—a 45 minute drive from downtown Denver. As the town name would suggest, the trail winds throughout tall Ponderosa evergreen trees. I would classify this hike as a workout. It is definitely kid friendly, but it is not flat. I classify this as a kid hike because of the mileage, the boulders to climb on, the rocks to stack, and the pinecones to collect (but leave behind). Although AllTrails says our loop was 4.2 miles, our trusted Strava recorded 5 miles, but you can explore on trails as short as 1 mile in this trail system.
The trail starts gaining elevation right from the start. Follow the main trail and take a right at the Elkhorn Loop sign. The wind we experienced in the parking lot quickly vanished for us and there was not much snow (low for January 30th), as we started up the ascent in the sunshine. At the fork, stay right onto Raven's Roost trail. If you are wanting a short 1-mile loop, you would turn left here to stay on Elkhorn Loop and head back to the parking lot. Our team was feeling strong after a quick hot chocolate break to "warm our toes," so we continued on and stayed right.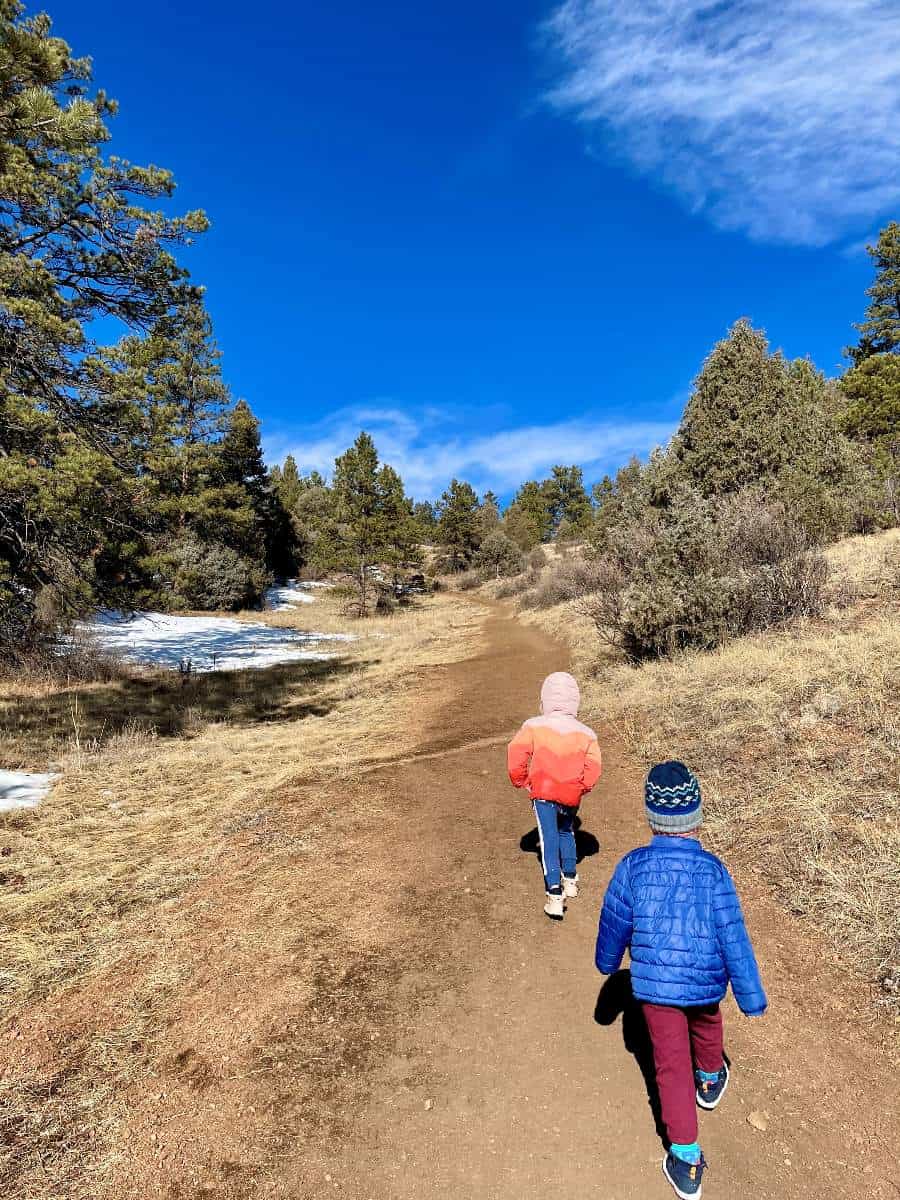 We started to encounter some icy spots, but spikes were still optional at this point going up. We stopped for snacks on the mile marker and the occasional tree climb. At around 1.3 miles (yes, still climbing up!) the trees will open to some views looking back at the valley. This is a nice snack break spot with a good rock for sitting and climbing and has views with unobstructed sun.
Keep on climbing to another fork on the trail and stay right to stay to Eagle's View Trail. Oxen Draw Trail on your left is another way to shorten this hike if your team needs to bail, but keep in mind that you will miss the beautiful view if you take the left. Our kids were ready to start heading down so we had to do some coaxing to stay right. I mean, I can't blame them…the trail on the right is covered in snow, in the shade, and goes up. The trail on the left is dirt, in the sun, and goes down. Which would you choose? Stay right and you will be rewarded!
We climbed on (yes, there has not been a flat or downhill portion yet) and got to our favorite spot for climbing rocks. We had just taken a snack break, but I would recommend timing this spot for a lunch or snack break as there are lots of spread-out rocks for resting and climbing.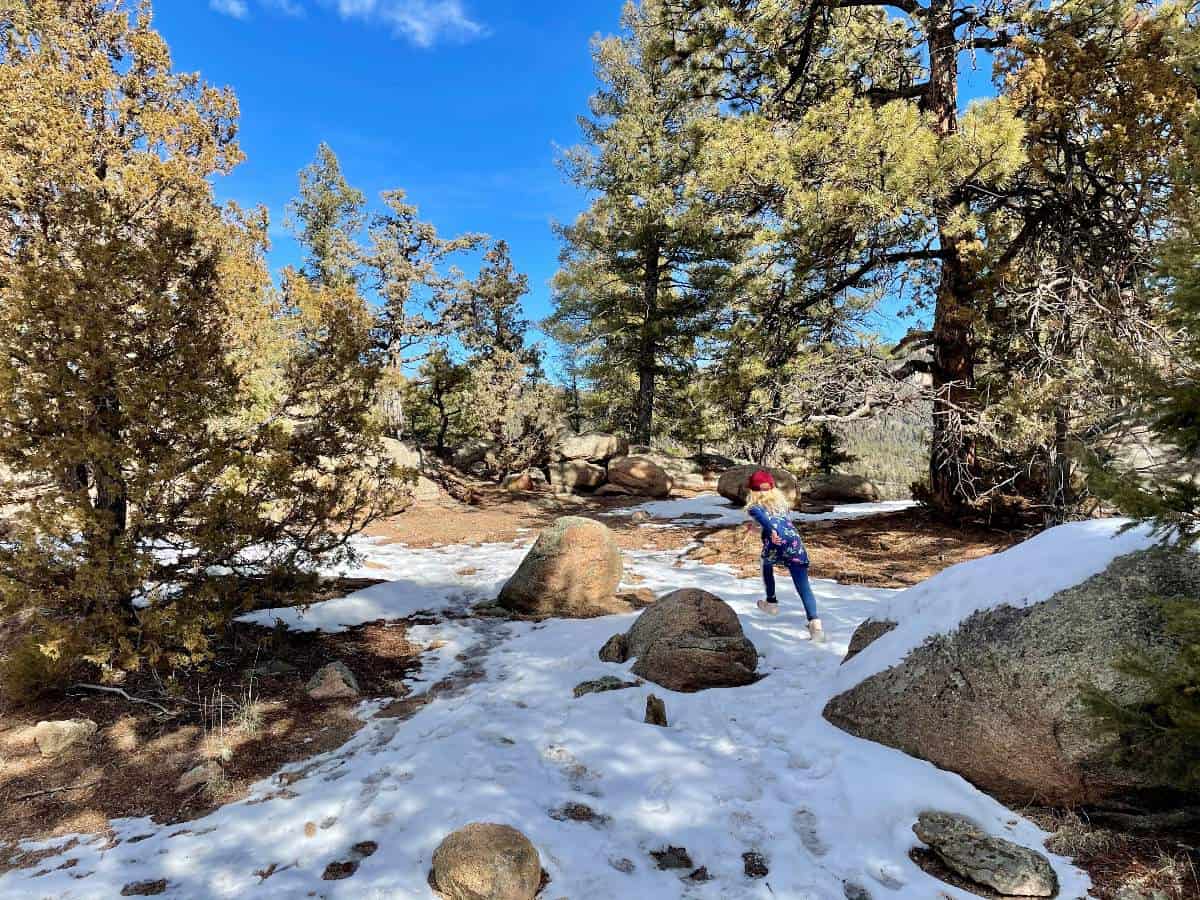 After just a short uphill walk, you have made it to the first break from the steady ascent at 2 miles. Emerson celebrated with some dancing and Walker celebrated by deciding it was time to get carried. Let me just take a second to recognize that this was Walker's biggest incline to date on his own two feet, so I was super proud of him! As always, I was happy that we had a soft carrier like the Kinderpack or Beco so that I could carry him when he needed a short break. Emerson was a champ and besides the occasional complaining about her feet being cold, she rocked this hike for the full 5 miles.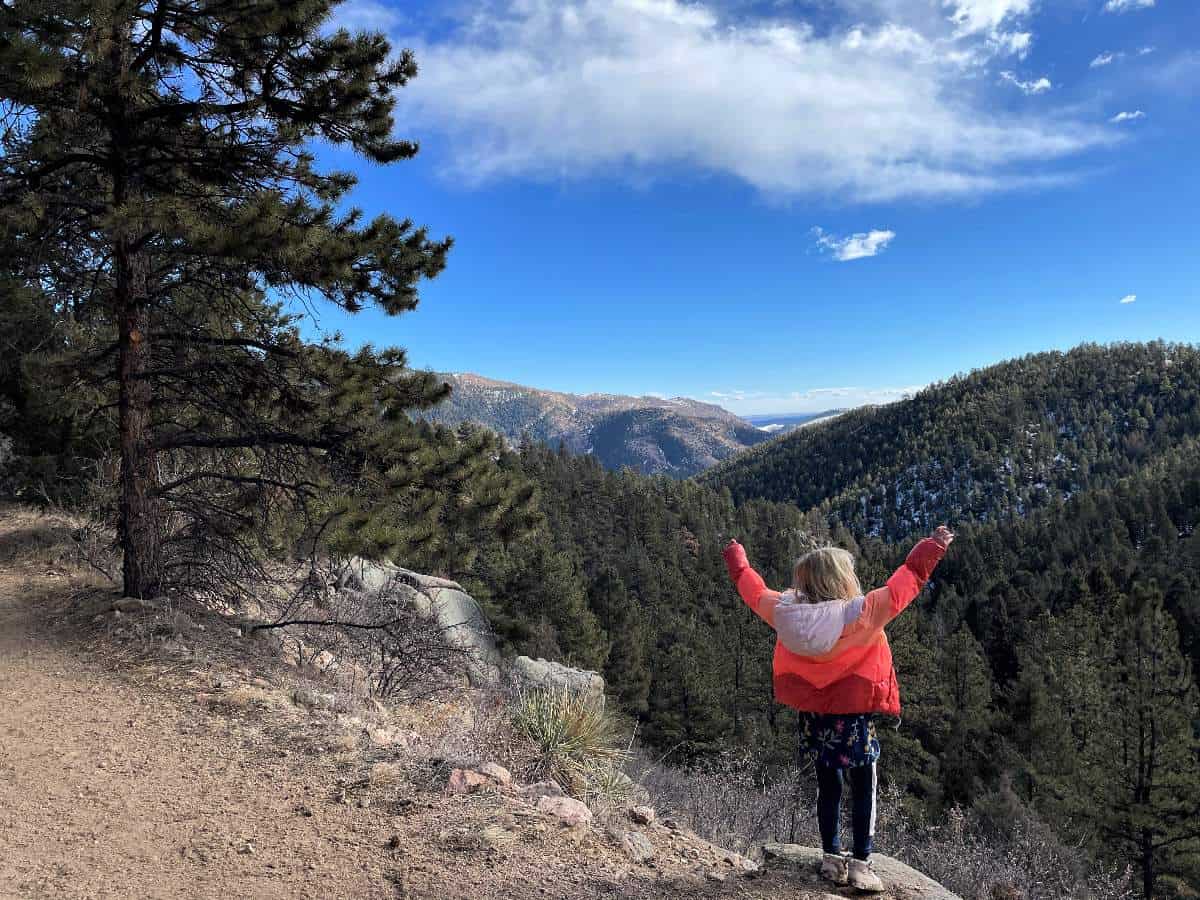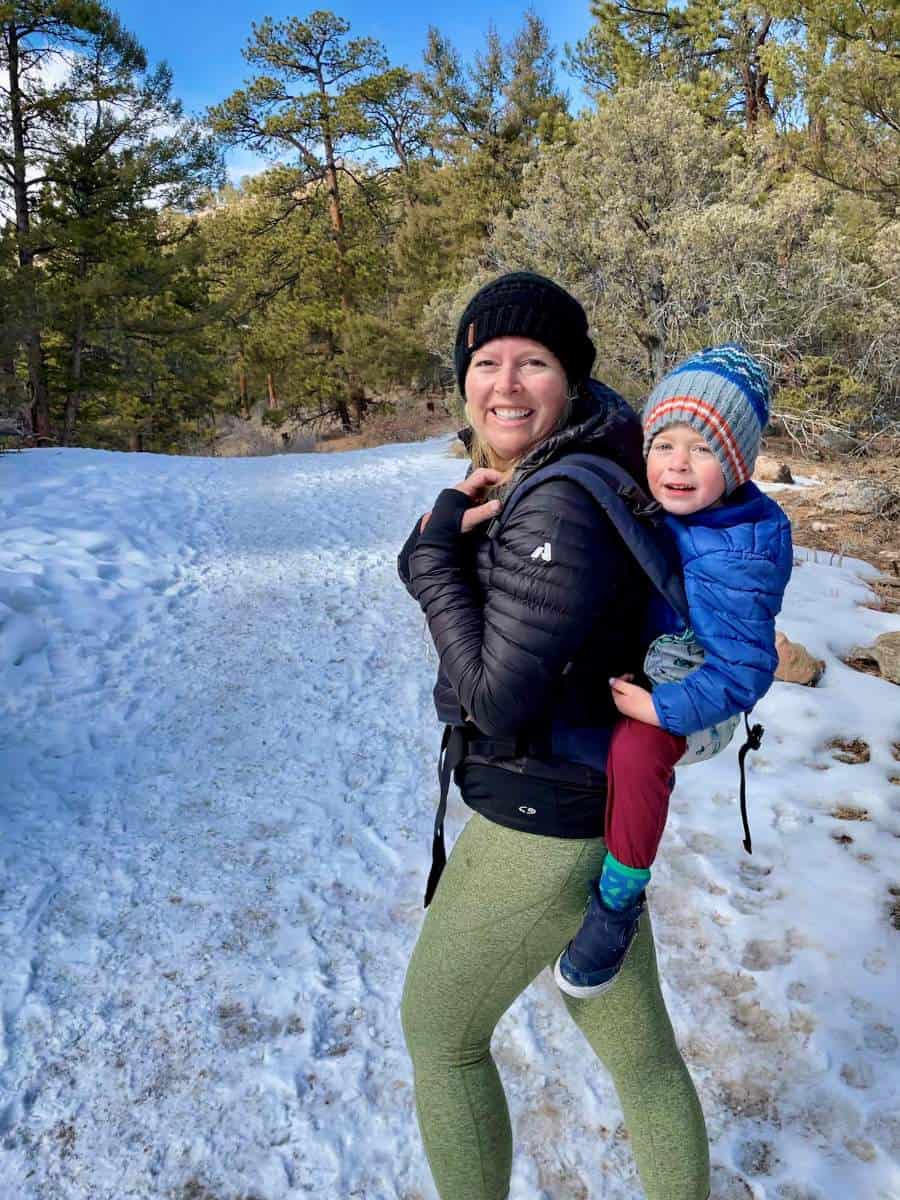 You will begin descending here and you'll open up to some more impressive views than the last. But these are still not the main views of the hike and you are not yet to the top. Stay to the left at the "trail sign" where the trail narrows.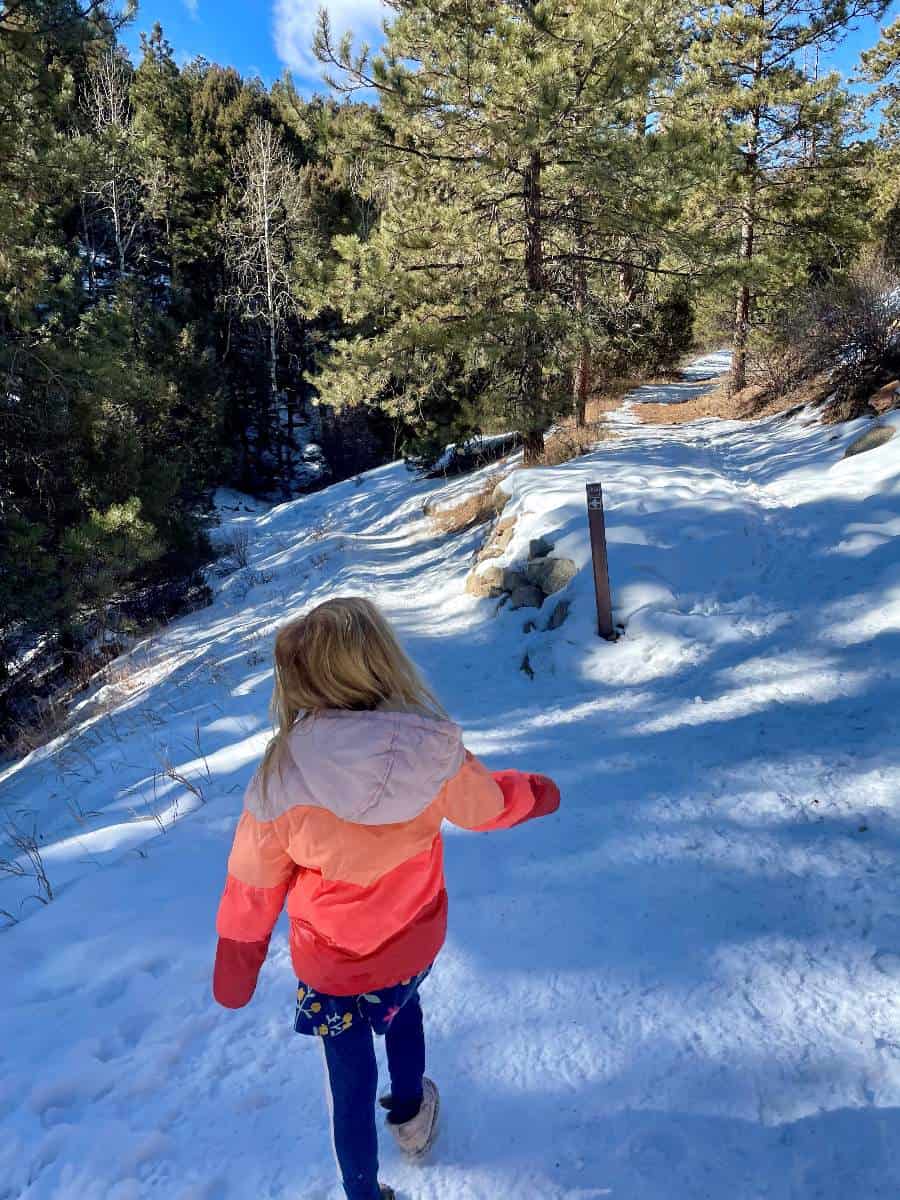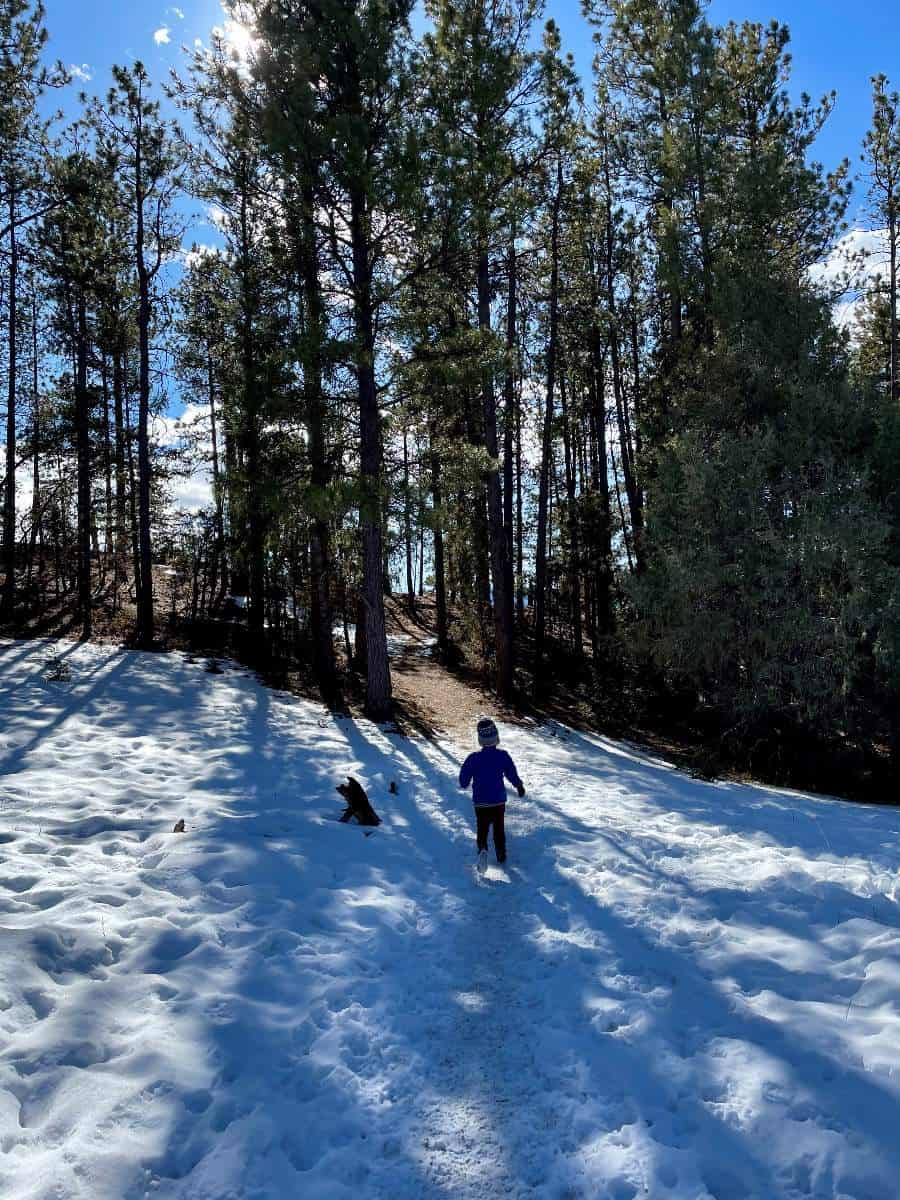 VIEWS FROM EAGLE'S VIEW TRAIL LOOP viewpoint
At just under 3 miles, you will reach the highest elevation point of the hike at 8100 feet and will be rewarded with sweeping views of the Rampart Ridge in Colorado. You can even see Pike's Peak in the distance. Walker got a second wind and ended up hiking the rest of the trail from here. The views must have inspired him! Also, the distraction of making rock cairns, throwing snowballs, and playing on a log may have rejuvenated him.
From here, the last mile is downhill! This section was in the shade and covered in snow with patches of ice. I wore my Microspikes and was very glad to have them on the icy descent. Bryce and the kids, however, were happy "skiing" and sledding on the ice. I was not a fan of this choice, but given we were close to the trailhead I figured wet bottoms and cold hands weren't the end of the world.  And of course, that was their favorite part of the hike. Stay right onto Oxen Draw Trail. Then take a left on Owl Prowl Trail, then a final right on Elkhorn Loop for a shortcut back to the trailhead.
How this Denver Kid Hike Ranks
Good workout
Good option for a winter hike (with spikes) as it's easily accessible
Sheltered by trees-didn't feel wind even though it was windy at the parking lot
Close to Denver
Beautiful views
Not crowded
Boulders and logs for kid climbing
Loop hike
Healthy dense forest
Rocks for stacking
No bikes on the hiking trail
Playground right off of Foxton Road that you could pair with the hike if your fam is seeking more outside time!
A lot of incline and elevation gain for little legs
Takes a while to get to the views as there are not views throughout the entire hike
No water destination (lake or waterfall)
Was this Denver Kid Hike worth it?
Yes! As you can see the "pros" list far outweighs the "cons." This was a great mix of kid entertainment, a workout, and beautiful forest.
Would I go back to this Denver Kid Hike?
Yes! Since we visited this trail in the winter, I will plan to go back again in the Spring or Summer and see it without the snow.
PACKING LIST FOR THIS DENVER KID HIKE, especially IF HIKING IN THE WINTER
In addition to what I recommend in my packing list for all day hikes with kids, I recommend Microspikes and hiking poles for this hike if you are hiking in the winter like we did. Due to the shaded areas and the elevation gain and descent on this particular hike, you will be happy you have these.
DRIVING DIRECTIONS TO EAGLE'S VIEW TRAIL LOOP IN REYNOLD'S PARK FROM DENVER, COLORADO
From Denver, head west of US 6-W and then East on 470 to 285 West. Take 285 West for 19 miles, then exit the Kennedy Gulch Exit toward South Foxton Road. Continue on S Foxton Rd for 5 miles and the parking lot will be on your right. Be sure to check the road conditions if you are planning this hike in the winter.
If you visit Eagle's View Trail Loop in Reynold's Park, let me know in the comments below! I'd also love your suggestions for a Denver kid hike you recommend! Be sure to check out The First 5 Things to Teach Your Kids About Hiking before hitting the trail! Happy hiking!