Hiking with kids can be the most rewarding time spent together. In addition to simply enjoying the outdoors, it's important to teach your kids what it means to respect the outdoors. Here are the first 5 things to teach your kids about hiking that will get you as parents thinking about what you want to model on the trails for your children. Hint: number 6 is the most important!
"Teaching children about the natural world should be treated as one of the most important events in their lives." – Thomas Berr
No pressure or anything. 😉 The good news is that nature does most of the teaching. I find that my job on the trail (and pre-trail planning) is not so much teaching my kids about nature, but about how to be prepared and courteous hikers so that it's a pleasant experience for all. Children already instinctual know how to adventure, explore, and wander in the wilderness. We are simply their guides (and most of the time in my case their photographers and sometimes their cheerleaders). So as we start "teaching" them about hiking, let's start small. No need to teach your kids EVERYTHING about hiking (yet), but here are a few important ones to start.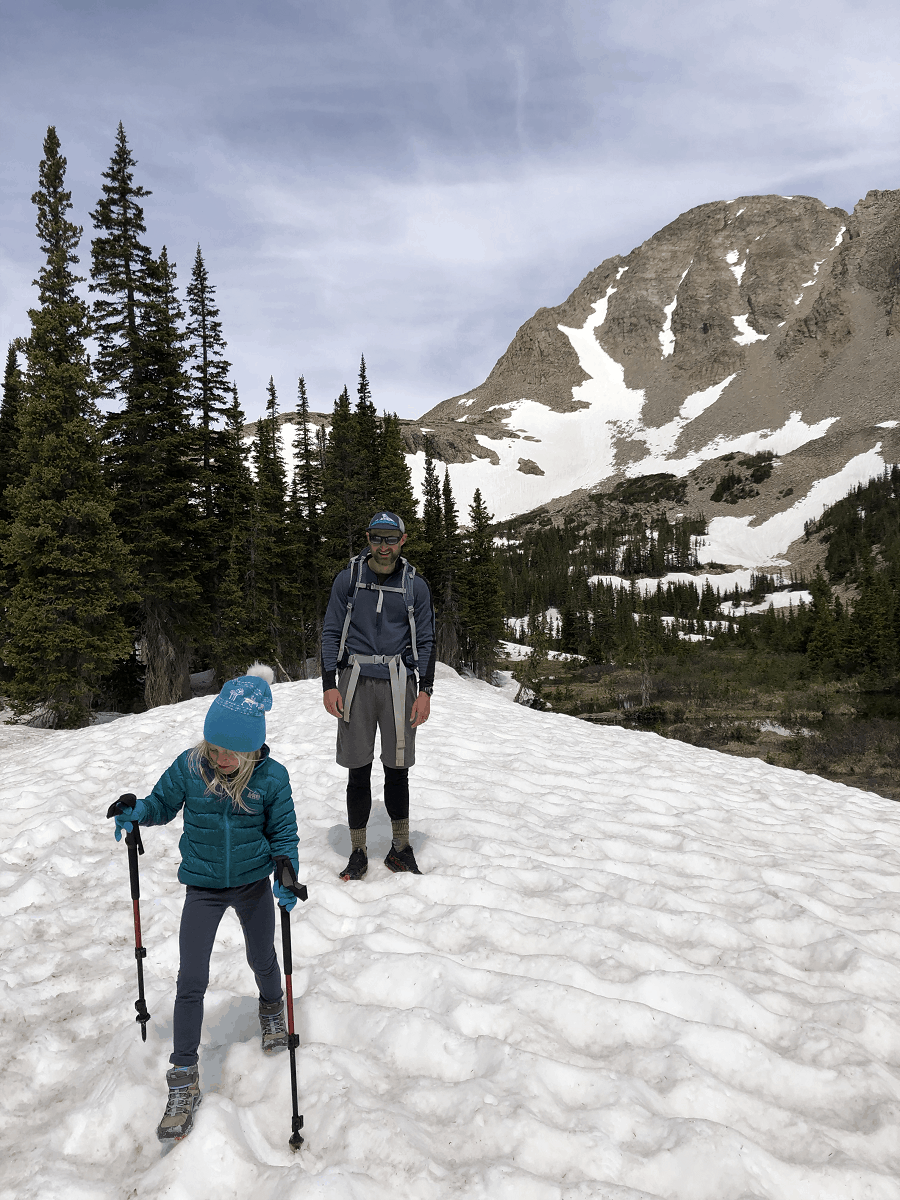 1) Always be prepared. This is not just a saying for the boy and girl scouts out there. We ALL need to be prepared before venturing into the outdoors, and it's not just Mom & Dad's responsibility either. It's important that we teach our kids at a young age to wear shoes and weather appropriate clothing, have an extra pair of dry socks, carry a map (paper or downloaded from AllTrails), and to bring plenty of food and water. The best way to teach them this is to have them be involved in the packing or run through the checklist with them before you head on your adventure. Make it a seek and find game to gather all of your gear or give them the important job of crossing off the items from the list. Here's my Day Hike Checklist for both Parents and Kids. 
2) Stay on the trail and in sight. My son, Walker, went through a stage (around 3 years old) when he was terrified that a park ranger was going to catch us (and there would be bad consequences) if we stepped off trail. I'm sure at some point I said something like "stay on trail, you don't want the park rangers to come and kick us off the mountain!" I can imagine myself threatening such a thing for the sake of trail education…ha! He was pretty scared and must have made an internal story about "trail jail" and that was a place he did NOT want to go. Hey, whatever works. I know that kids love to adventure and I'm not suggesting we stifle this, but staying on trail is critical for both safety (the sides of trails can be steep and dangerous!) and to Leave No Trace (as stepping off trail can harm the natural vegetation and accelerate erosion). We teach our kids that they can go ahead on the trail as long as we can see them and they can see us. It's also important to have a plan should anyone get separated from the group so that kids know what to do if they're lost (stay put, have a meeting spot, find an adult, etc.). See #1 and always be prepared.
3) Be a kind hiker.  One of the joys of hiking is the community and camaraderie on the trail. Hiking is a great way to practice social skills and learn hiking etiquette. We say "good morning!" and "enjoy your hike!" to hikers we encounter. When we are hiking with kids it's safe to assume that we are the slowest ones on the trail, so we listen out for other hikers approaching to step to the side to let them pass. Similarly, when coming down the mountain we give the uphill hikers the right of way. We leave our music and technology in the car and contribute to a positive experience in nature for others. In general, we treat other hikers as we would like to be treated (yep, that's the golden hiking rule).
4) Keep the wild WILD.  This goes for both vegetation and wildlife. If your kiddo is still in that "puts everything in their mouth" phase, teach them that plants or mushrooms can be poisonous and should not be touched or eaten, unless you are educated on the specific plant life. Most kids LOVE animals, so I know giving wildlife space may not come naturally to them but it is so important. No touching, approaching, or offering food to squirrels, marmots, deer, or even other hiker's dogs (without asking first). It's wise to teach them what your family plan is should you encounter dangerous wildlife such as a bear or a mountain lion. Fortunately, we met this bear safely from the car. 
5) Do more than Leave No Trace, leave it better. Teach your kids to spot ways that we can leave the trail better than we found it! Packing out our trash, and finding trash along the trail that we can bring down (you know there is always a doggie poop bag to be found on the side of the trail!). Make it a fun game and give your kids an extra bag for collecting.
6) Hiking is fun!  Okay, I know I said 5 things but how could I leave this one out? Teaching your kids that hiking is fun means you actually need to have fun while hiking too! With all of the above lessons, it's our job to model what we want our kids to learn about hiking. So if you are raising hikers who enjoy the outdoors, be sure to infuse fun, games, and laughter into your adventures. I spy, 20 questions, spontaneous dance parties, trail races, snowball fights, parkour, scavenger hunts…the list goes on and on, just have fun any way you can.
Also, Emerson and Walker wanted to give their input as to the first 5 things you should teach your kids about hiking.  I'd say they did pretty good. My favorite is "be nice to plants." 

I hope these tips help you feel more prepared to hike with your kids! At the very least, these first 5 (or 6) guidelines can start an open dialogue with your kiddos as you embark on the gratifying job of raising hikers. Have fun teaching them about hiking and be sure to pay attention to all they have to teach YOU on the trail too! 
Be sure to save this post (easy pins below) to come back to before you hit the trails! Happy Hiking!