While spring is around the corner, I am still trying to embrace the winter in Colorado and all it has to offer in outdoor fun. I have been itching to do a frozen waterfall hike for the past few weeks and we finally got the window. It was Bryce's birthday so what better way to celebrate than to force our kids to hike in sub 20 degree weather? Before moving here, I never would have thought to hike to a frozen waterfall. There are plenty of good options near Seattle (Franklin Falls being a popular one to see frozen), but when we lived there the thought of bundling kids who would likely be too cold and cranky in order to carry them through the snow did not sound appealing.  But now that we live in the snow, it doesn't seem like as big of a deal. It's the same amount of bundling that needs to happen to go sledding in our backyard, so we might as well create new memories, break away from the "snow day" screen time mentality, have an adventure, and get some exercise. If you are willing to bundle up to go on a frozen waterfall hike near Denver, I highly recommend Maxwell Falls.
Maxwell Falls is about 45 minutes from Denver in the Arapaho National Forest in Evergreen, Colorado. It's a lovely (and well maintained) drive through ranch and mountain areas off of Highway 285. There are a few different hikes you can take to see the waterfall—a 1 mile hike out and back from the Upper Trailhead to the falls and back, a 3 mile loop hike from the Upper Trailhead, and a 4+ mile loop from the Lower Trailhead. We chose the 3 mile loop from the Upper Trailhead, so we parked in the Upper "lot." There isn't much parking in the upper lot, but the traffic of winter hikers was minimal. From what I have read, this hike is very heavily trafficked in the spring and summer as it's one of the closest waterfall hikes to Denver, so I would recommend arriving early.
FROZEN WATERFALL HIKE WITH KIDS NEAR DENVER – MAXWELL FALLS
Miles: 3.0 miles
Elevation gain: 665 feet
Difficulty: Moderate
Type: Lollipop Loop
Time: 1 hour and 40 minutes of moving time, and almost 3 hours of total time on the trail, including lots of "ice skating," breaks in addition to the usual snack breaks. We definitely took our time on this hike!
Dog friendly: Yes
Bathrooms at trailhead: No
Picnic tables at trailhead: No
Stroller Friendly: No
Cost: Free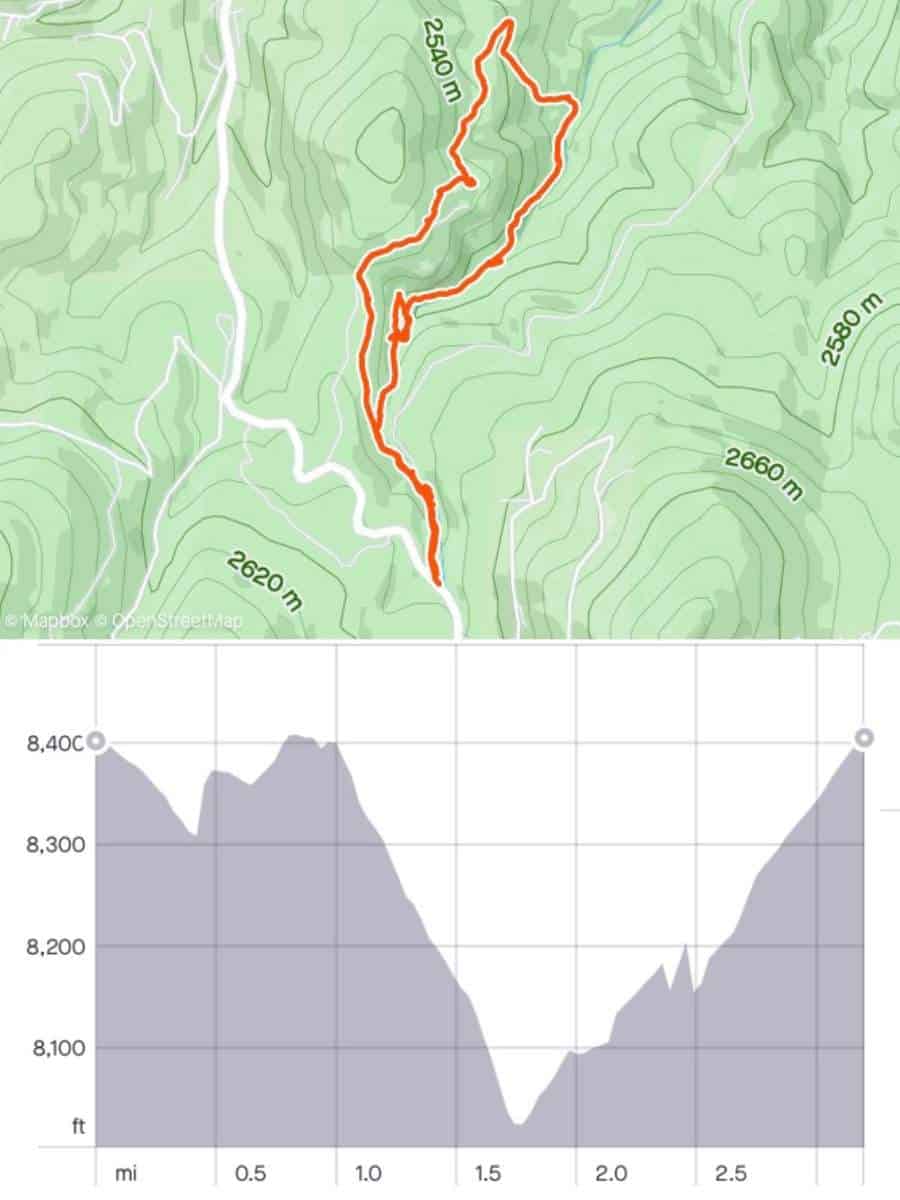 The Route for this Frozen Waterfall Hike
The loop we did is described as 2.4 miles on sites like AllTrails, but we trust our Strava GPS so I would expect closer to 3 miles for this route. It's always better to overestimate mileage when you are hiking with kids. You have 2 options for this loop—you can take this counterclockwise and see the waterfall about 0.5 miles into the hike, or you take it clockwise and see the waterfall at the very end of the hike. We chose the latter so that we would have motivation to get our little hikers' legs 3 miles in the snow. It should be noted that by parking at the Upper Trailhead, you are starting at the highest elevation and hiking down, then climbing back up for the last half of the hike. This is not mentally ideal for kid hikers as they are tired at the end of the hike, but I still find it to be a better option than adding an additional mile by hiking up from the Lower Falls trailhead. While I haven't done the Lower Falls loop, I really liked how the Upper Loop goes along the Cliff Trail which gives vistas of the Arapaho National Forest, adding more variety than the forested section alone.
The trail starts along Maxwell Creek, which provided some quick distractions right away because a frozen creek with sliding opportunities is so much fun and super unique! Any doubts the kids had about whether this winter hike was going to be fun, were tempered right away as they loved slipping on the ice. And when I say kids, I include Bryce in this group as he was perfecting his penguin slide. You can see more sliding fun in our YouTube video below.
At about 0.2 miles (which is our case seemed to take 30+ minutes due to all the creek exploring), you will come to a fork in the trail. Bear left onto the Cliff Loop to take the loop clockwise.  
The trail climbs gradually and starts to break free from the wooded forest into the sunshine. Having regained the elevation that is originally lost at the very beginning, you reach the "peak" of the hike at 1.1 miles, with vistas overlooking the Arapaho National Forest. This is the perfect spot for a snack break as it's in the sun and has beautiful views. There are also a few fun boulders to stop and climb on the way.
Despite what I had read about this hike, I found it to be well marked. Perhaps they have made some improvements to it over the years. Follow the trail sign to stay on the trail that will continue on at a steady decline for a little over a half of a mile through the wooded forest. The kids had fun "sledding" on their bottoms through parts of this section.
You will reach a fork where the Lower Trail connects; stay right and follow signs for Maxwell Falls. The trail will start climbing up here and as you can tell by the picture below, the kids were eager to make it to our destination. I believe this is where Walker asked if we could "turn around and be done," but we assured him the car was ahead of us, not behind. After a snow angel distraction, we continued up along the trail looking down at the creek below.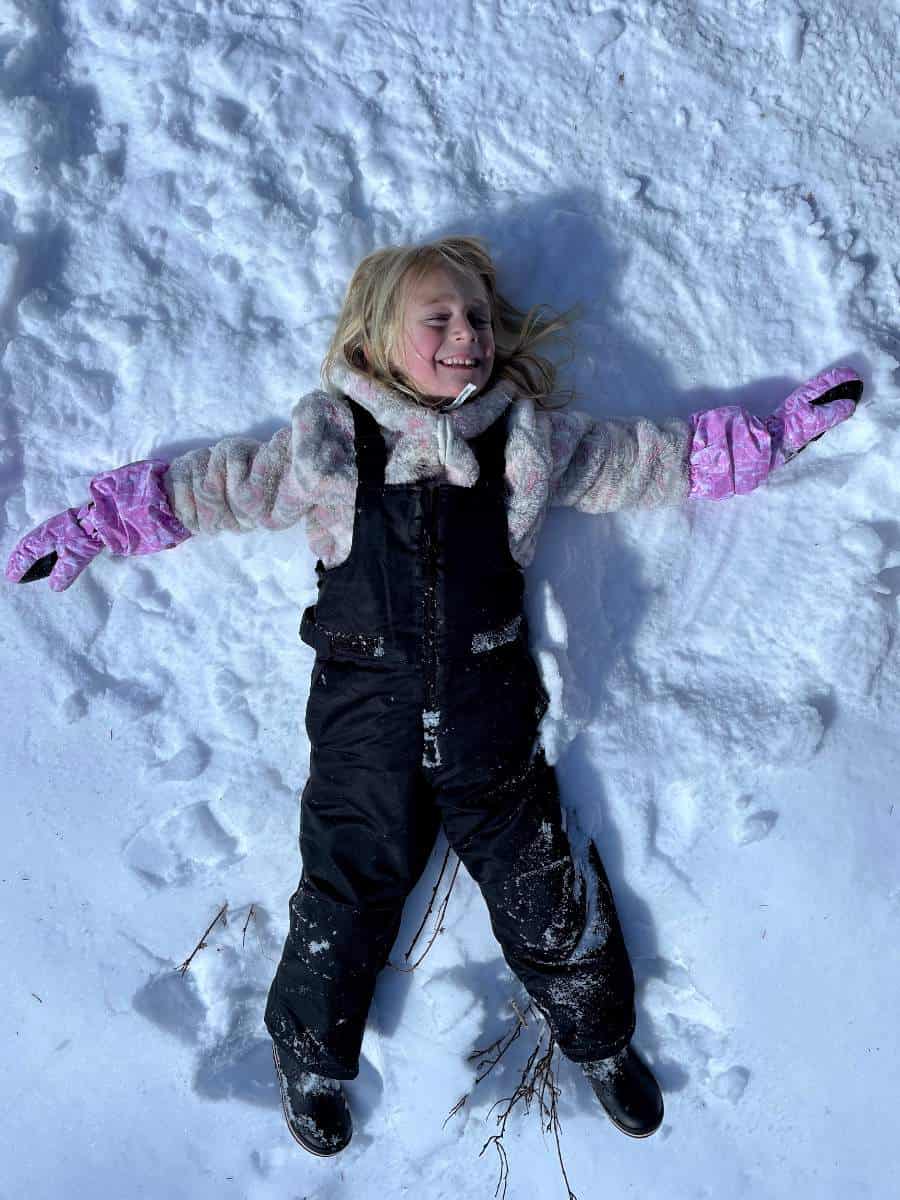 The kids were happy to meet back up with Maxwell Creek again since it had been over a mile since they'd been able to "ice skate" on the frozen creek, and this remains the highlight of the hike.
Luckily, we had the motivation of the waterfall ahead so we pressed on with minimal whining and at around 2.5 miles saw the sign for the waterfall. It's easy to miss as you are in the switchback section and focused on getting to the top. But before you go to the top, take the quick detour on your left to see the waterfall up close. This section is a tad sketchy and I recommend wearing Microspikes through this section if you didn't have them on already.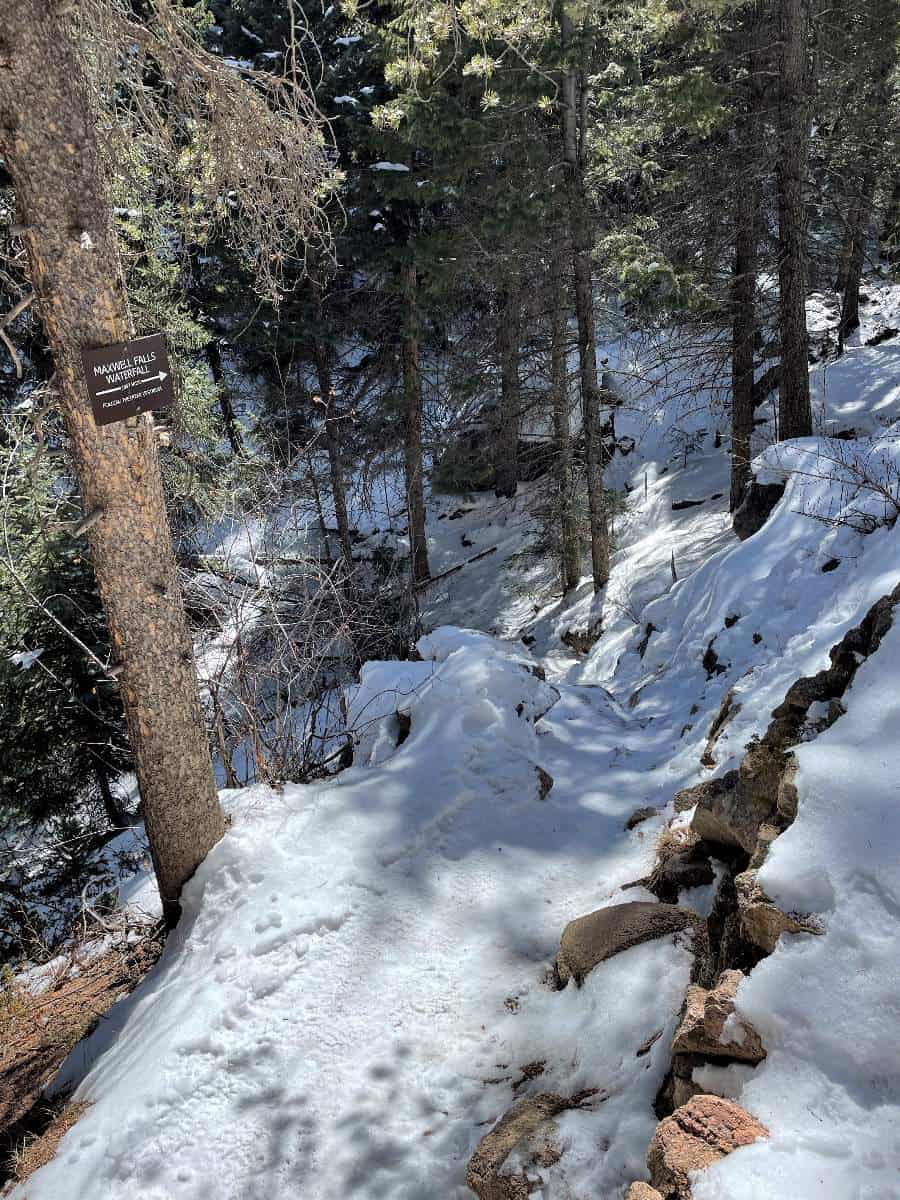 As we approached the waterfall, I will be honest that I was not super impressed with the waterfall at first. I believe I may have said out loud "that's it?!" Perhaps it was the way it had frozen, so that you could not see the induvial streams of water cascading down, or it was that there was recent snow covering some of the sections, but I had slightly higher expectations for the falls themselves. However, once we climbed up onto the falls, I was in awe of the beauty and how close we could get to admire them. I will say again, this section requires heavy duty spikes (not chains). Bryce was wearing chains on his shoes and he went down hard a couple of times. Luckily, he was okay, but he took home the souvenir of a couple of bruises I'm sure.
Seeing Bryce fall caused Emerson to get scared. It felt like we were all alone at the waterfall, but little did we know there were hikers admiring the falls from above and likely wondering what the heck was going on with our family below. As I am recounting this part of the story, I should probably tell you NOT to climb on the falls. However, it was my favorite part of the hike so my recommendation would be to be safe and smart, don't climb anything you are not confident getting down, and wear good spikes.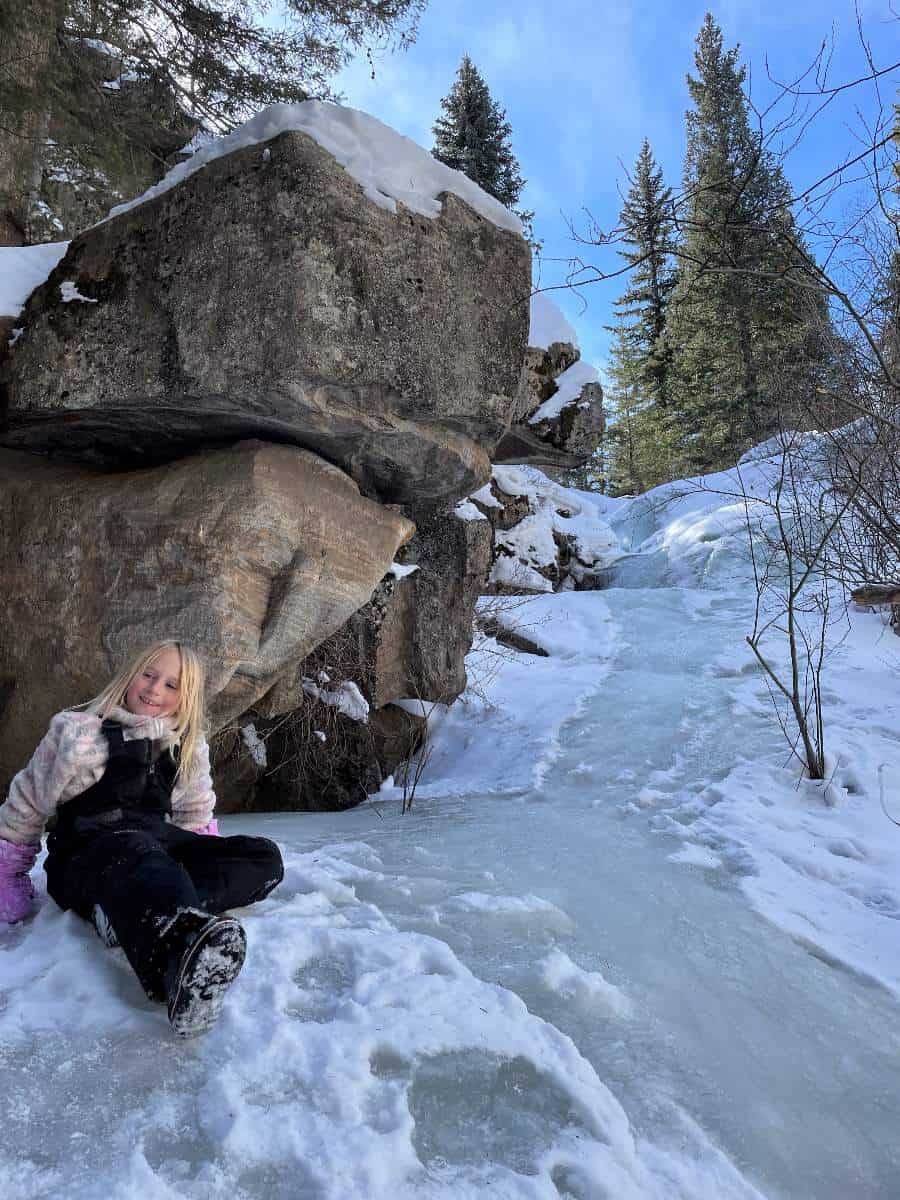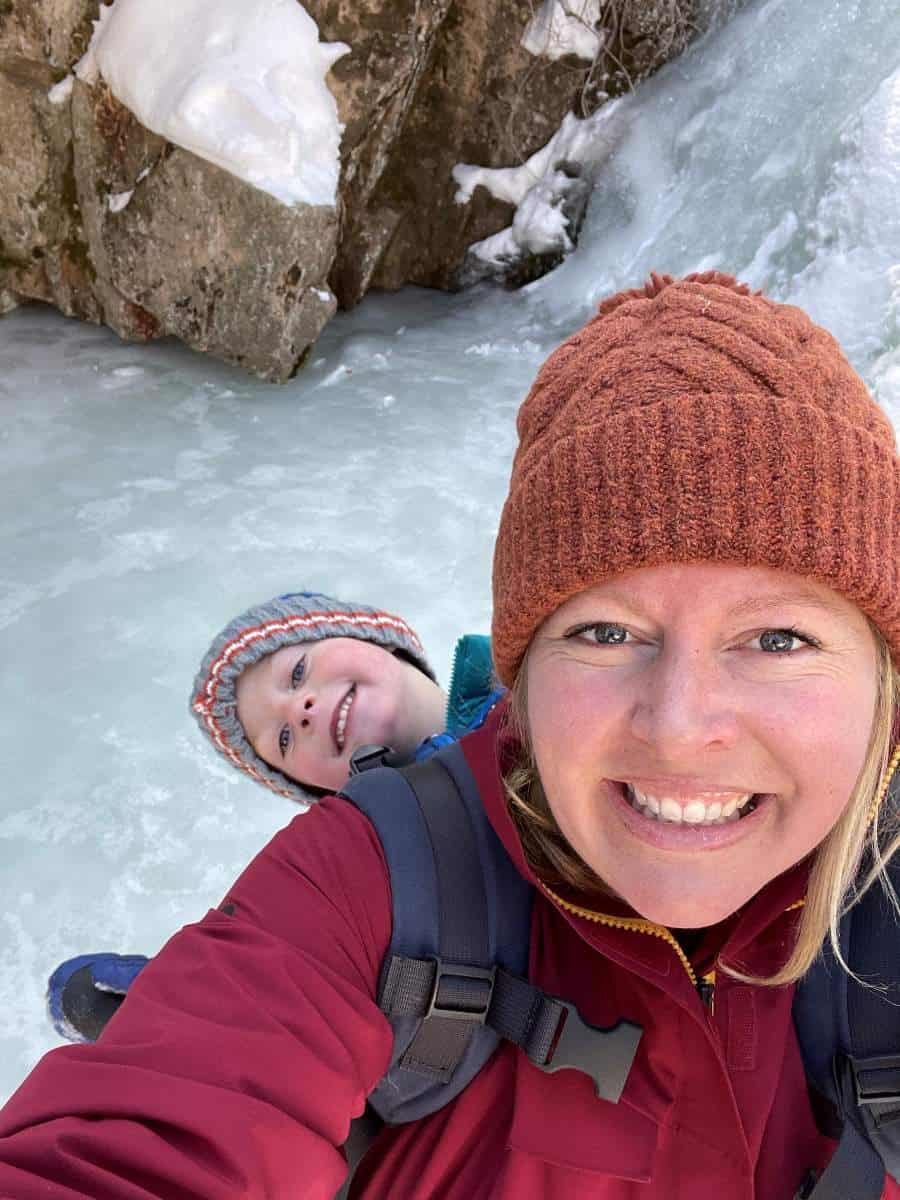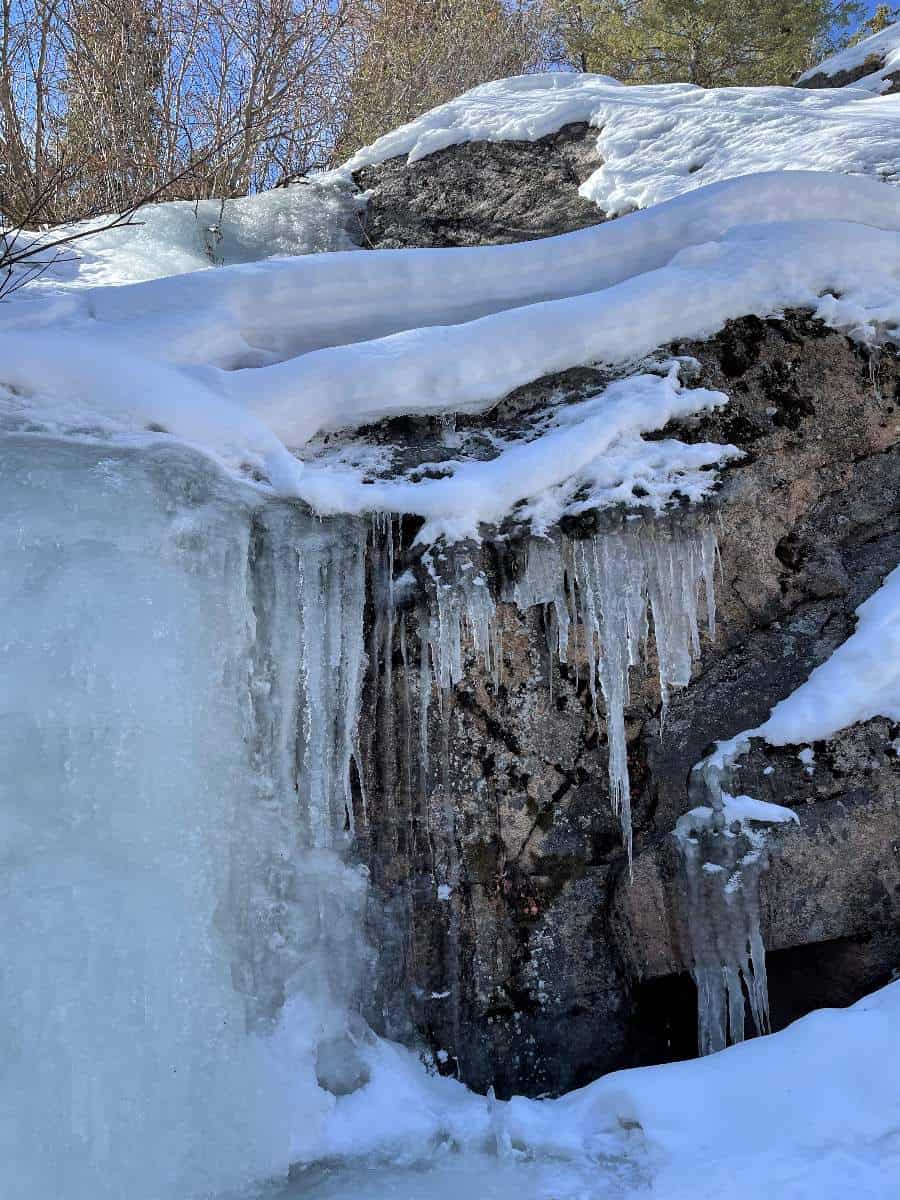 After climbing back up the path to meet the main trail, we continued up the switchbacks to a beautiful view looking down at the falls and took a snack break. We laughed about the adventure we had just had at the falls and breathed a sigh of relief that we were all okay.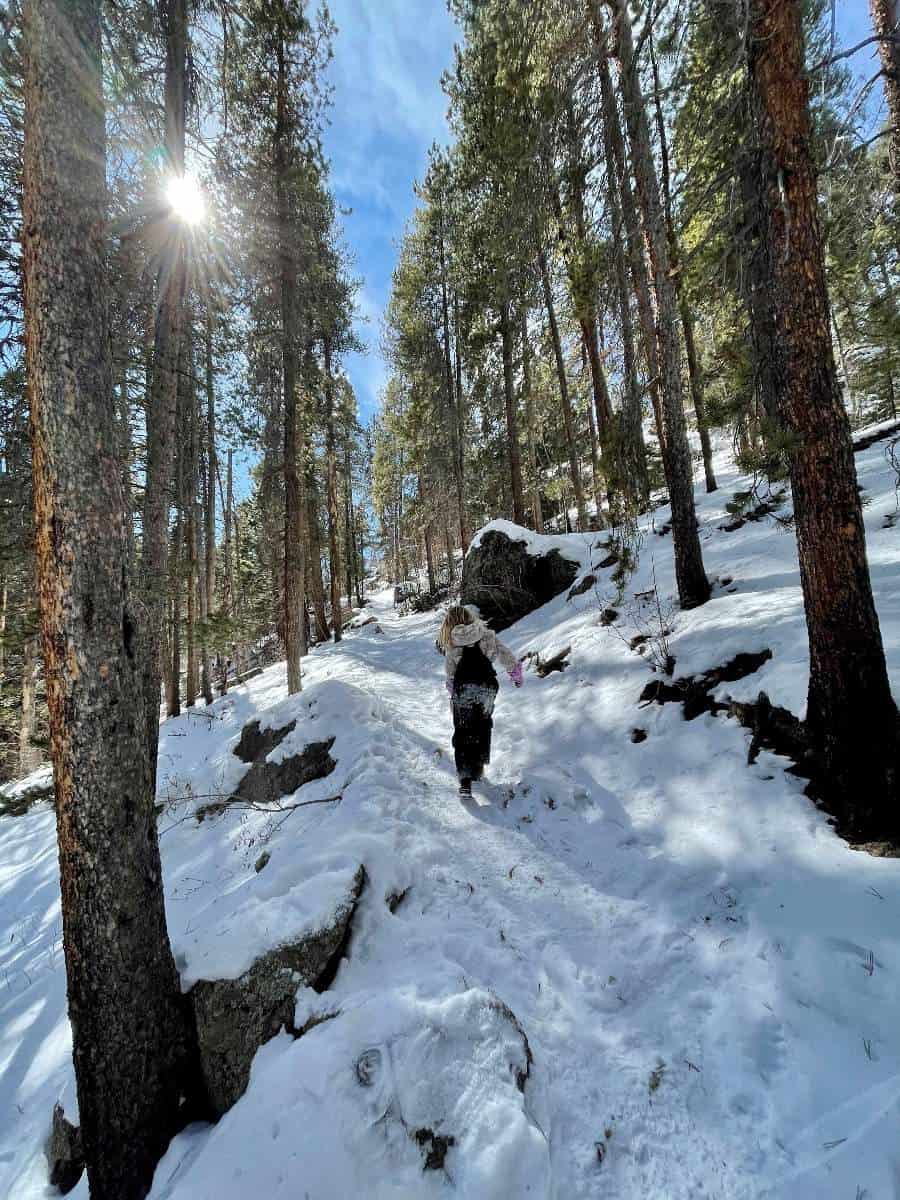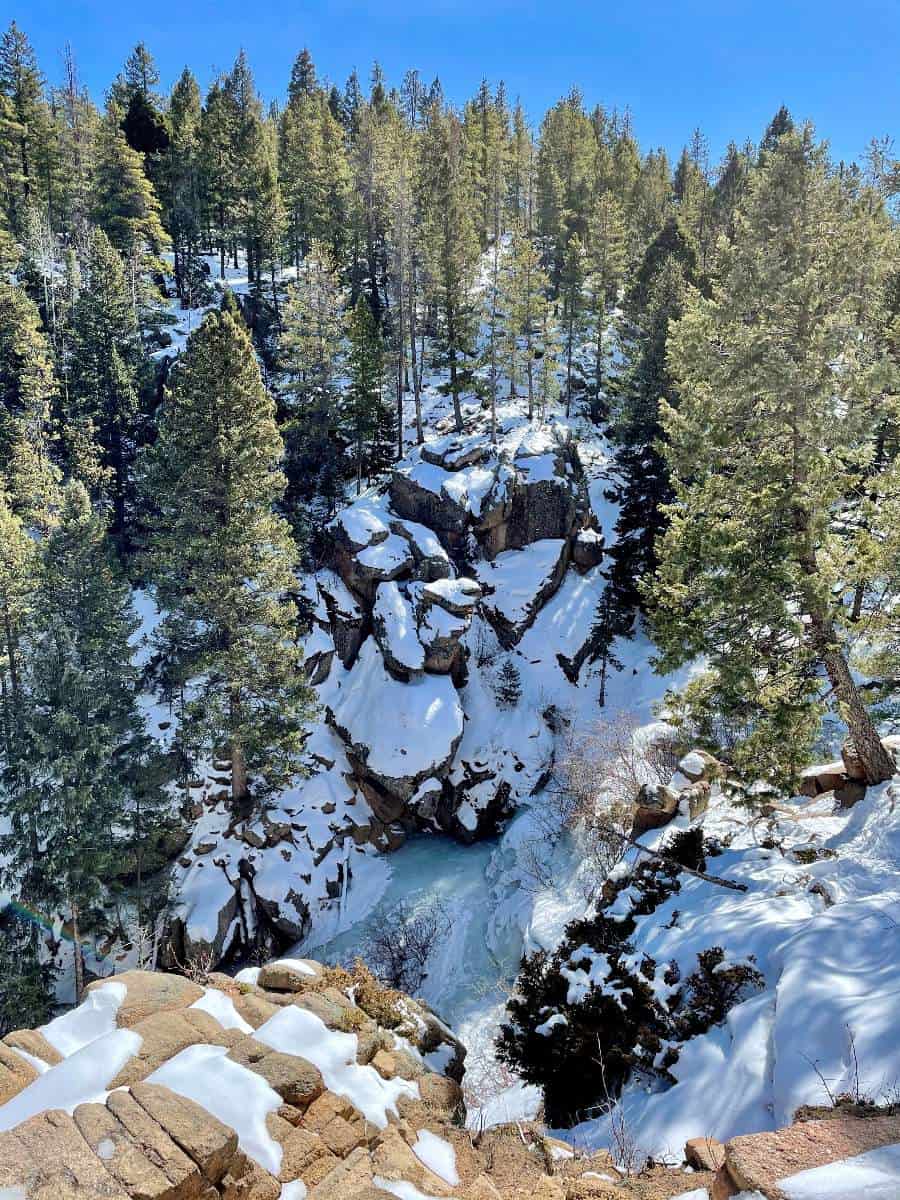 To finish of the hike, it is one last 0.5-mile final push (uphill) to the Upper Trailhead and you've made it!
HOW THIS FROZEN WATERFALL HIKE RANKS
Pros
Good option for a winter hike (with spikes) as it's easily accessible
Close to Denver
Beautiful views
Not crowded in the winter
Boulders for kid climbing
Frozen creek for kid entertainment
Loop hike
Healthy dense forest
Lots to see and explore beyond just the waterfall destination
Option for a shorter hike if preferred
Cons
Elevation gain at the end of the hike
The waterfall destination is at the very end, so you have to practice patience
Waterfall is small, but definitely beautiful!
Small parking lot and I assume crowded in spring and summer
No potty at the trailhead
WAS THIS FROZEN WATERFALL HIKE WORTH IT?
Yes! I was excited for the waterfall itself, but this hike would have been a blast even without the waterfall. Hiking along the frozen creek was an added bonus and the variety of views, boulders to climb, dense forest make this hike a winner!  
WOULD I GO BACK TO FROZEN WATERFALL HIKE?
Yes! Since we visited this trail in the winter, I will plan to go back again in the spring to see the creek and the waterfall flowing.
DRIVING DIRECTIONS TO MAXWELL FALLS FOR A FROZEN WATERFALL HIKE
From Denver, head west of US 6-W and then East on 470 to 285 West. Take 285 West for 25 miles, then exit Barkley Road. Turn left on Barkley Road. In 0.5 miles turn right on CO Road 73, then in 0.2 miles turn left on Shadow Mountain Drive. In 3.4 miles, the road will turn into Black Mountain Drive. The small Upper Trailhead Lot will be on your right. Be sure to check the road conditions if you are planning this hike in the winter.
WHAT TO PACK FOR A FROZEN WATERFALL HIKE
In addition to what I recommend in my packing list for all day hikes with kids, I HIGHLY recommend Microspikes for this hike. The trail itself was packed down and spikes were not necessary (but welcomed) on the trail itself, but if you want to do any exploring of the waterfall you must have good spikes. We personally don't have spikes for the kids as part of the winter hiking fun for them is slipping and sledding on the trails. If your kids are still able to be carried, I would also recommend a carrier (my favorites are the Kinderpack, Beco, or Osprey Poco Plus) since the last half of the hike is uphill and after lots of playing hard in the snow, your kiddo may need a leg break when it's least convenient. 
WHAT TO WEAR ON A FROZEN WATERFALL HIKE
In addition to Microspikes as mentioned above, see what Emerson recommends wearing on winter hikes.
I'm also a big fan of Bogs waterproof boots for kids when hiking in the snow or rain! Here are a few options to keep your kids' feet warm.
More Kid Friendly Frozen Waterfall Hike Options Near Denver:
BOULDER FALLS
Boulder Falls look very picturesque and if you are going for the Instagram photo, this would be my recommendation. However, I wouldn't say it's a "hike" as it's only about 100 yards from the parking lots.
FORSYTHE FALLS
Forsythe Falls is 2 miles roundtrip so great for little legs and looks beautiful frozen. You can also pair this with Boulder Falls since they are close.
BRIDAL VEIL FALLS
Bridal Veil Falls in Idaho Springs doesn't appeal to me since I can see it from I-70, but I have heard that visitors are pleasantly surprised at the beauty of these falls when hiking the .25 miles to these falls. They do look impressive from the freeway since they are high cascading falls with the picturesque wagon wheel in view, but I wouldn't consider this option a hike.
LOOKING FOR MORE DENVER KID HIKES?
When we are seeking an easy yet beautiful outing, our favorite Denver kid hike is the Trading Post…
Today we were seeking a "forest hike" within an hour of Denver, Colorado and we found just the…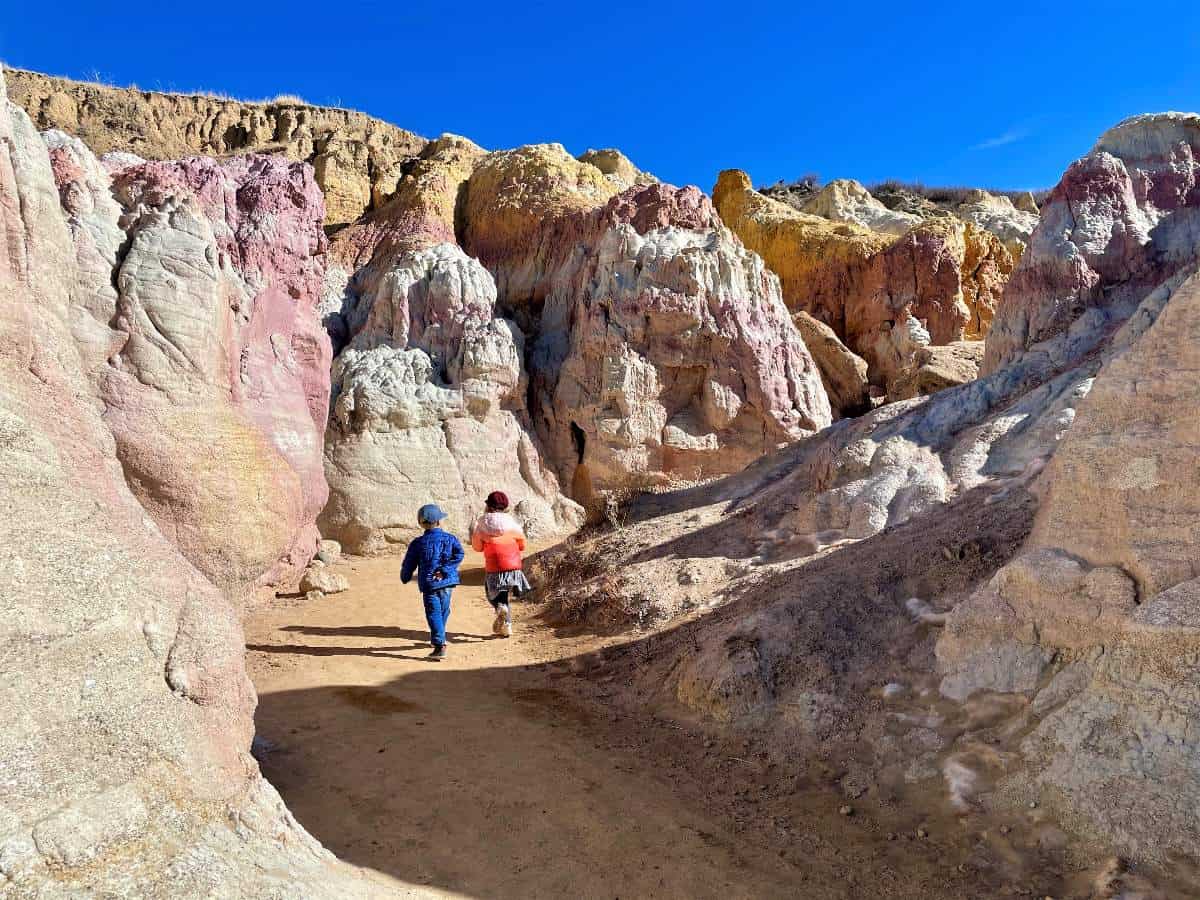 Since we are forced to be inside much of the week due to our full time jobs, we are usually…