Growing up in Southern California, it is miraculous that I had never visited Joshua Tree National Park until a few weeks ago. For some reason, I likened it to many desert drives I'd taken to the Mohave Desert over the years and never had any interest in those funky looking Joshua Trees. Perhaps it took me moving away from California and deserts, or the maturity I've gained over the years (okay, it's probably not that!), or the fact that this is one of the very few National Parks that no one in my family had been to….but I was genuinely excited to finally see this park! And I'm happy to report that Joshua Tree exceeded my expectations! It is not as breathtakingly beautiful as my favorite National Parks that are lined with massive peaks or deep canyons to explore, but it has a subtle beauty and a unique vibe.  Driving through the trees on the roads and staring out towards the boulders made me feel like I was living in some throwback Indie film or seeing the world through a trendy Instagram filter. In short, it's a cool place and one you should visit if you get the chance.  If that odd description of the park didn't scare you away, keep reading for a 1 day itinerary and some kid-friendly hikes in Joshua Tree.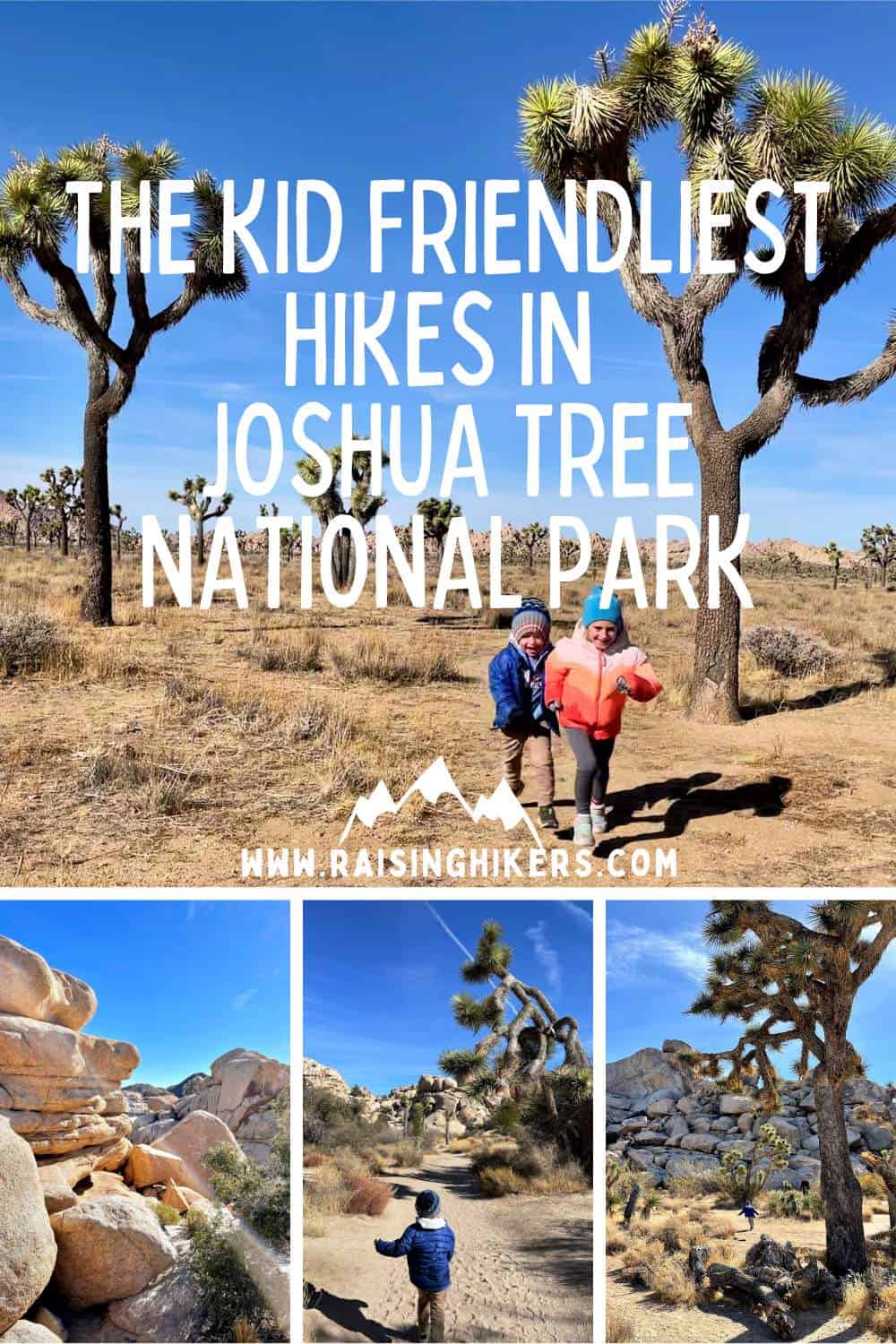 The greatest aspect of Joshua Tree National Park (for kids) is that it's one giant nature playground! Okay, that's the greatest aspect for adults too! It is unique in that you don't have to have a preplanned destination or hike picked out prior to arriving at the park. However, if you are like me, the idea of "winging it" and just pulling over and exploring wherever you see fit might make you incredibly uncomfortable. We are hikers, so while we enjoy a good scenic overlook or kid-paced stroll from time to time, our preference is to go deeper into the park to get the full experience on foot. And an important aspect of hiking is planning so I much prefer to have a route planned out in advance. Planning just makes my heart sing. 
However, as I was planning our Joshua Tree day hike, I was a little disappointed in the hiking prospects. The options were either 1 mile (too short) or too long for this particular day as we were hiking with family members and looking for something easy with a good pay off. Our criteria for the hike was that it had to have lots of Joshua Trees, plenty of boulders, bonus if we could get vistas, and be easy for lots of hiking levels. We decided to pair two ~1 mile hikes together that were in close proximity (Barker Dam Nature Trail and Hidden Valley Nature Trail), and then ended up being spontaneous once we realized that while there are good hikes to be found in Joshua Tree, the real enjoyment came from going off trail and finding rocks to scramble. Yep….just like everyone told me, but I'm the kind of person who has to experience it for myself. That said, if you are wondering what the kid friendliest hikes are in Joshua Tree, I'll give you my top recommendations and then I will encourage you to be flexible with your plans, and let your inner child see something that looks fun and go explore it!
 Hikes in Joshua Tree National Park – 
Barker Dam Nature Trail Loop
Miles: 1.3
Elevation Gain: 60 feet
Type: Loop
Difficulty: Easy
Dog-friendly: No
Bathrooms at trailhead: Yes
Barker Dam Nature Trail is a very easy and popular 1.3 mile "lollipop loop" hike with about 60 feet elevation gain. Although I challenge you to only walk 1.3 miles and 60 feet on this hike as it's too tempting to explore and add mileage and gain to your trek! This basic mileage doesn't include any side climbing and exploring you will find and there is plenty to be found on this hike—at all levels. We are not rock climbers so I am talking about exploring and scrambling the kid-level boulders without equipment. Joshua Tree is of course a mecca for true rock climbing and much fun can be had watching the rock climbers from the road and trails. For this hike, we ended up hiking 2.25 miles and 265 elevation gain and it took us a kid paced 1 hour and 20 minutes of moving time and 2 hours and 20 minutes total. My recommendation for this hike (and all hikes with kids!) is to assume you'll spend more time than the trail stats advise. That's especially true for this hike because there are so many side paths and exploring you can do from the main trail.
We had a lazy start at the trail head around 10:00am and miraculously the parking lot was pretty empty (take COVID and winter into account so I would NOT expect this!!). The parking lot was full by 11:30a and folks were circling for parking spots. This is a popular spot so get there early! I recommend taking the lollipop loop counter-clockwise so that you can get to the dam relatively quickly and you get the Joshua Tree payoff towards the end of the hike. This way it continues getting better and better as you go. Start on the main trail and stay to the right when the trail forks. After about .5 miles from the trailhead you'll reach the Barker Dam. Keep your expectations low with the dam as it's likely to be dry unless you are visiting the park in the spring. Some of the pictures I have seen with the reservoir full are beautiful, but it was dry for us so was merely a quick snack spot and an opportunity for bad "damn dad jokes," rather than a point of interest. I did not even take a picture, whoops! It's also known as Big Horn Dam so you may get lucky to see Big Horn Sheep near the dam. We descended along the main trail for another 0.2 miles and then stayed right at the fork to head towards a group of boulders to scramble up and catch a view of the Mt. San Jacinto, which we were lucky had a fresh dusting of snow. I recommend this little side jaunt and I've included it in my map above. This detour only adds ~0.3 miles to the original trail linked above. 
After seeing the mountain views, we backtracked and rejoined the main trail, where we entered a section that is denser with Joshua Trees. This was my favorite part of the hike! Perhaps it was the iconic trees, or just the fact that there were fewer boulders to climb so I could allow my heart rate to slow after too many "be careful!!!" moments earlier in the day. At around the 1 mile mark (from the original trailhead), keep a look out for a hard left (almost u-turn) side trail that will complete the loop to get you back to the trailhead. Before taking that left, continue on straight for 0.1 miles to see the Petroglyphs! Admittedly, we missed this and I completely forgot this was a part of this particular hike—which is a bummer because I think the kids would have really liked seeing them and it gives this hike yet another interesting dynamic. I'm not a huge history buff (which is why I didn't make this a focus and I just forgot about them entirely!), but from pictures I've seen, the cave-like structure looks pretty sweet, so I would recommend making it a priority. So if you came to this write up looking for pictures of the dam or the petroglyphs, I have none—and it was still an awesome hike! 
After the petroglyphs head back and stay right to head back towards the main trailhead. If you continue forward instead, you will end up on the Hidden Valley Connector trail and you can take a left when they connect to follow that back to the parking lot along the road. While this was a short hike, I recommend it with kids because it has all of the "must sees" in the park – Joshua and Juniper Trees, yucca plants, boulders, vistas, history, learning opportunities, jackrabbits, and flat easy terrain for little legs.  We also spotted a lone coyote near the trailhead! Can you spot him? 
If you are looking for a similar trail to this, the nearby runner up that we had planned but ditched was Hidden Valley Nature Trail and is worth a look. However, when we come back again, if we do Barker Dam again, I would pair it with Wall Street Mill since you can access it from the same parking lot as Barker Dam and would make it a longer adventure—adding about 2.5 miles to your day. Plus, a cool unique experience with the old mill. I think my kids would have enjoyed that. I guess we will have to come back! 
Driving Directions to Barker Dam Trailhead from the West Park Entrance Station: The trailhead is less about 20 minutes from the park entrance. Drive SE on Park Drive for 9 miles and turn left on Barker Dam Rd. in 1.5 miles the parking lot entrance will be on your left. 
hikes in Joshua Tree National Park – Cap Rock & Gram Parsons Nature Trail
Miles: 0.7
Elevation Gain: 40 feet
Type: Loop
Difficulty: Easy
Dog-friendly: No
Bathrooms at trailhead: Yes
We stumbled upon Cap Rock & Gram Parsons Nature Trail as we were driving up to Keys View lookout (worth a look for mountain and valley views but not a must see for the iconic Joshua Tree terrain). However, the drive itself out to Keys Mountain has great Joshua Tree photo and exploration opportunities and road pullouts. The Cap Rock area is one where you can pull off and explore whatever strikes your fancy. The kids saw a big boulder that they wanted to climb so we pulled off—and this just so happened to be Cap Rock itself! We climbed up towards the top of Cap Rock and I had 17 near heart attacks, but we all made it down okay. They had to cheer on mommy quite a few times. What's the saying…what goes up has a harder time going down!? That may not be scientifically exact but is psychologically accurate in my case.
This trail is definitely more of a walking path and less of a hike, but it had great opportunities for those iconic Joshua Tree photos—unique trees in front and boulders in the background. It is less of a hike because you are just off the road and can see the main road from the trail, but it's a nice loop walk that is stroller and wheelchair friendly. It's also an option for a lunch stop if you want picnic tables and a bathroom. 
Driving Directions to Cap Rock Nature Trail from the West Park Entrance: The trailhead is less about 20 minutes from the park entrance. Drive SE on Park Drive for 10.5 miles and turn right on Keys View Rd. The parking lot for Cap Rock is 0.2 miles on your left. 
Tips for exploring and going on Hikes in Joshua Tree National Park
Get an early start to avoid the desert heat and crowds – we visited in the off-season (December) and the parking lot had filled up by 11am.
Bring lots of water – the recommendation is one gallon per person!
Download maps ahead of time as there is no cell coverage in most of the park
This area is best explored in the winter, spring, and fall given the extreme heat in the Summer months.
While I mentioned climbing on rocks—this can be extremely dangerous unless you are properly trained and experienced. Supervise children at all times.
Wear and bring sunscreen
Wear a hat and sunglasses
Beware of rattlesnakes hidden in the rocks, especially in spring and summer
Beware of cacti with little wandering hands—we had a few ouch moments ourselves
Stay away from abandoned mines
Wear layers and have a light jacket at the start of the hike as there can be significant temperature changes from morning to afternoon
Wear shoes with good grip, but remember grippy shoes do not make you invincible!
Watch the weather and beware of flash floods
Check out this list for what to pack in your backpack for a dayhike with kids!
Be sure to teach your kids these 5 things before hitting the hiking trails!
Enjoy your time in Joshua Tree and be sure to let me know if you did either of these hikes and what you thought! If you're looking for more kid-friendly desert hiking, check out my suggestions for hikes around Moab as well! Or you can find more National Park hikes and itineraries here.
If you scrolled to the bottom for the good stuff and would rather watch my 2 minute recap on these Joshua Tree hikes, this is for you…. 
Happy hiking and have fun raising hikers!