When we are seeking an easy yet beautiful outing, our favorite Denver kid hike is the Trading Post Trail at Red Rocks Amphitheater in Morrison, Colorado. This kid-friendly hike is ideal for little legs as it is a short loop without too much incline. This is a hike that we like to take out of town guests because it is less than 30 minutes from Denver, shows off the quintessential red rocks against the blue Colorado sky, and can be knocked out quickly to pair with other Denver sightseeing. If your guests are willing to take the steps to the top of the amphitheater, they will be rewarded with an awesome view of Denver city. In addition to the stunning red rocks on this hike, it is also ideal for music lovers as you can picture yourself at the next outdoor concert, or even pop into the Colorado Music Hall of Fame on the route.
We used to be frequest concert goers pre-COVID. Concerts may be one of luxuries I am most excited to return when life "gets back to normal." When we decided to move from Seattle to the Denver area, we quickly started researching concert venues and booking shows that we would want to attend once we arrived. It gave us a sense of excitement and something to look forward to in our new city. One of those concerts was Vampire Weekend at the Red Rocks Amphitheater. This was the first time we had visited Red Rocks. It was in October on a night with freezing rain, and the last night of their tour so they played for hours (35 songs!). It was amazing, but also needless to say it was a cold welcome to Denver! Since that night, we have returned many times to this area to hike with the kids. Below is our frequented route and tips for hiking one of our favorite Denver kid hikes.
TRADING POST TRAIL AT RED ROCKS AMPITHEATER – DENVER KID HIKE
Miles: 1.5 miles
Elevation gain: 320 feet
Difficulty: Easy
Type: Loop
Time: 47 minutes of moving time, and 1 hour and 20 minutes including snack and tree climbing breaks
Dog friendly: Yes
Bathrooms at trailhead: Yes, there is a restroom at the Trading Post and portable restrooms at the parking lots.
Picnic tables at trailhead: There are tables in front of the Trading Post and a nice lawn for a picnic
Stroller Friendly: No
Cost: Free
The Route for this Denver Kid Hike
You can start this trail from a lot of different access points. The most popular area to begin the hike is at the Trading Post itself. There is a small parking lot in front of the post, a large lower South Lot to the east, and an Upper South Lot to the west. If you need a bathroom at the start of the hike, you will want to park near that area. However, if you get there early enough to beat the crowds and don't need to potty, I recommend parking at the very southern tip of the park in a small parking lot off of Red Rocks Park Road (here). We prefer this start to the hike because you begin with the incline, reach the "top" at the Trading Post and then loop around for the descent. For me and my kids, we do better with the elevation gain when we are fresh at the beginning of the hike and prefer to end with the easy downhill section.
Starting from the "bottom" of the loop, enter the trail on the West side of Red Rocks Road and start heading up the trail. The first portion of the trail climbs alongside a vast red wall backdrop. It's dramatic right from the start. Since this is such a short hike and we usually divide our hikes into quarter segments, we take our first break already 0.35 miles in at a nice climbing rock.  
At 0.4 miles you can take a little loop option on your right to swing down even closer to the rocks and meet back up with the main trail 0.1 miles later. Can you spy my little hiker for perspective on the size of these rocks?
This next section is often in the shade and can be icy if you are hiking in the winter. At 0.7 miles you will climb rocky steps that lead you close to another red rock wall.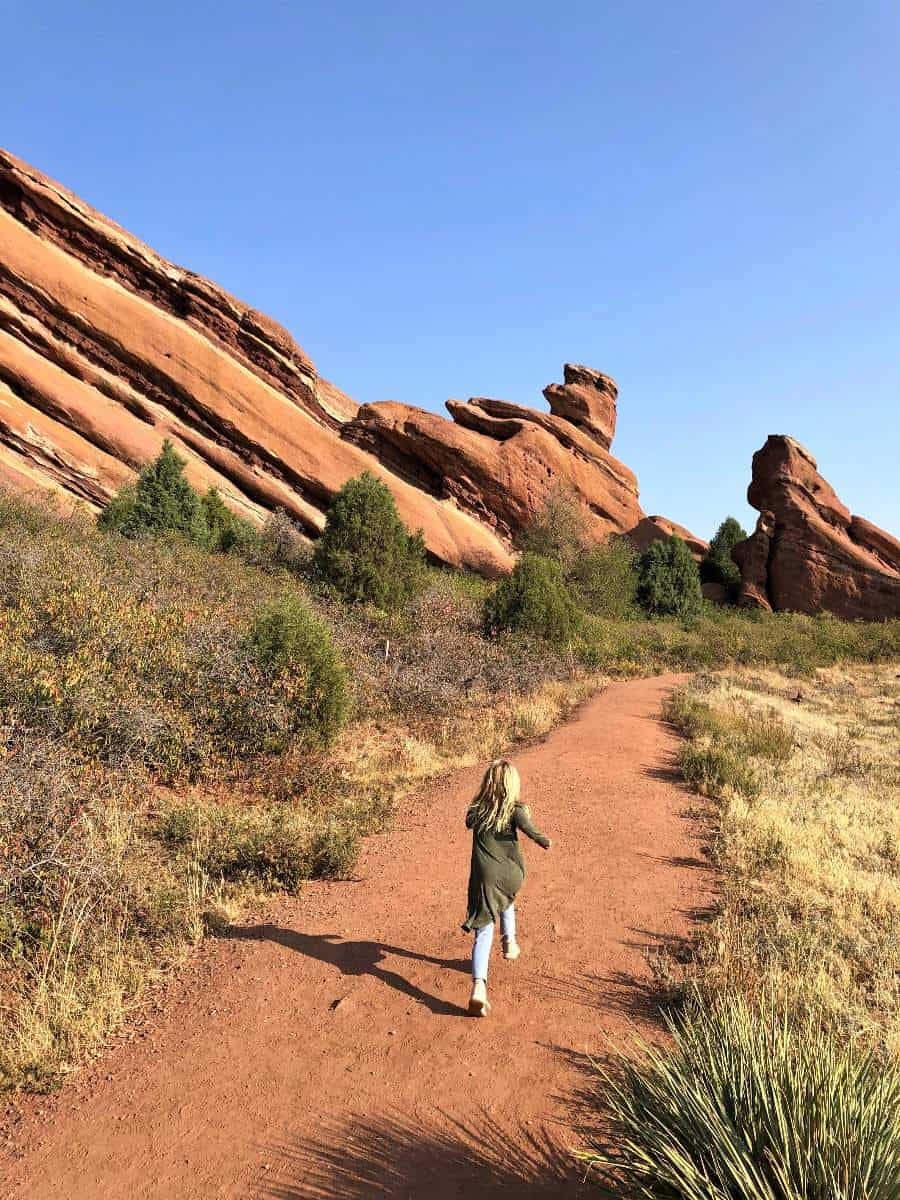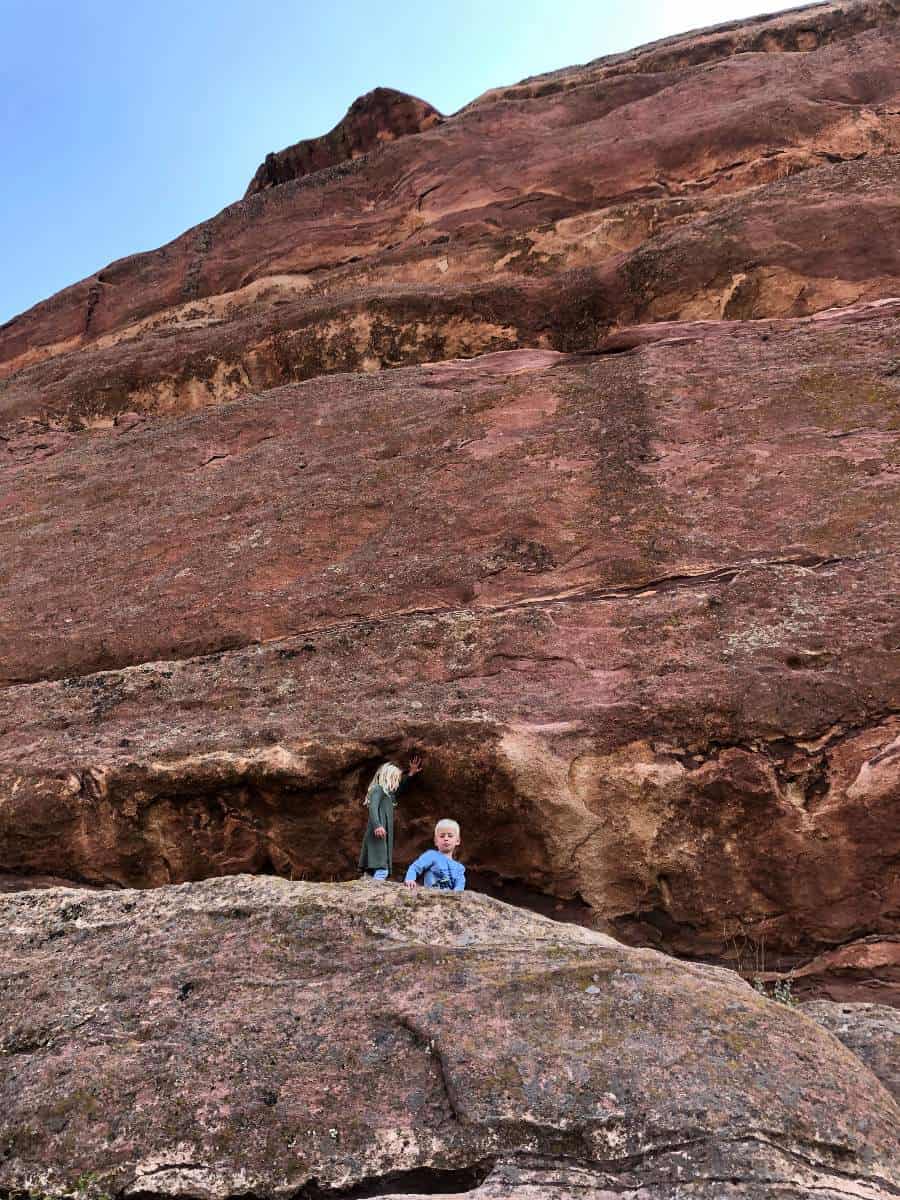 At this point you have the option of remaining on the trail or crossing the road and trekking up the steep hill to the amphitheater if it's open. If you are bringing guests to this hike, or if it is your first time, I highly recommend seeing the view from the top of the amphitheater. The scene on the amphitheater steps is a mixture of exercising locals, out of town tourists, and (if you're lucky), band crew performing sound checks for that evening's concert. If you take this side trip, it will add an additional 0.5 miles and some hefty elevation gain (although I don't have it recorded…. there are 380 steps after the steep ramp so be prepared!).  
After the amphitheater (or continuing on if you skip it), you will walk along the road for about 0.1 miles. This part is my least favorite part of the hike as you are reminded that you are not truly out in nature like we are in most hikes, but it also has some neat history. If you are interested in popping in the Colorado Music Hall of Fame or getting a souvenir from the Trading Post (same building), this halfway point makes for a nice break. The Trading Post was built in 1931 and is a Denver Landmark, originally known as the Indian Concession House.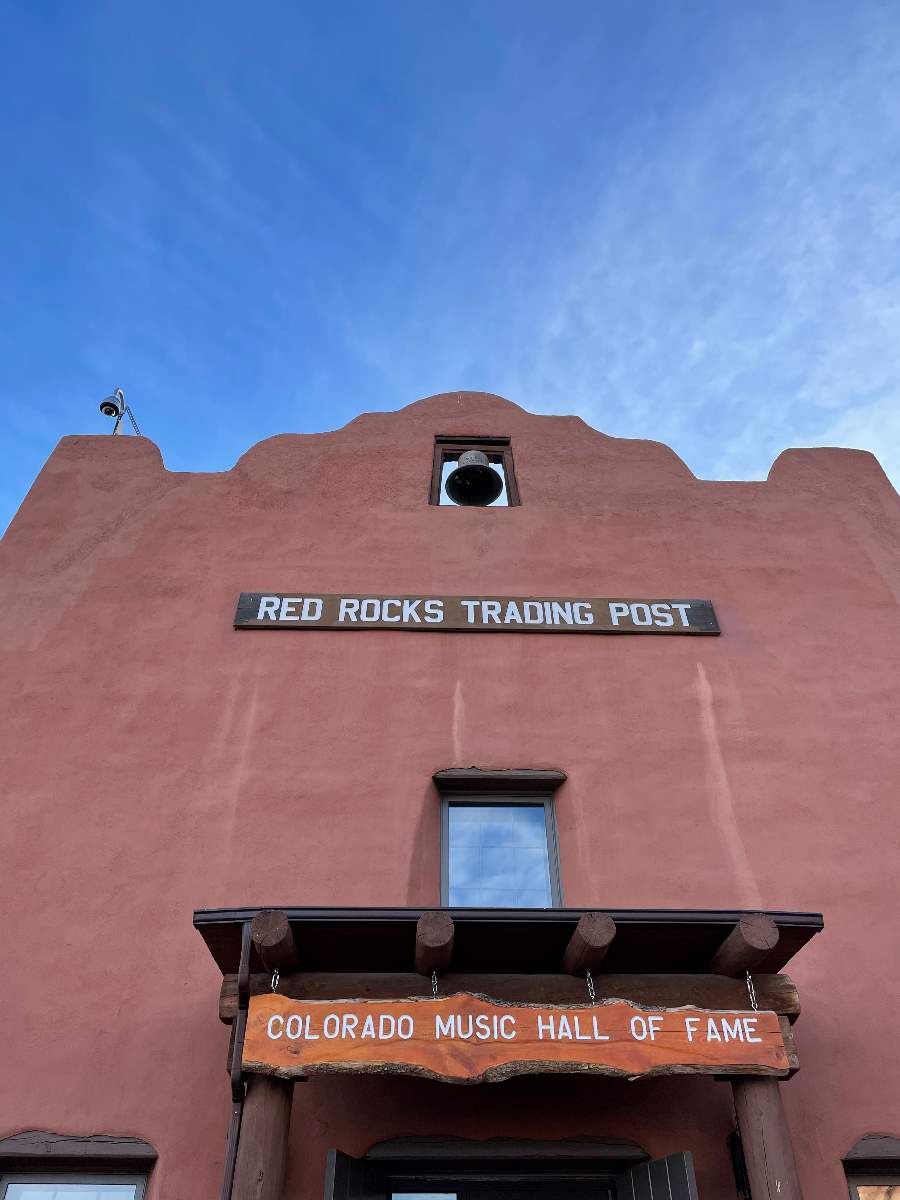 After the Trading Post, head to the left of the building and down a steep set of stairs. This is where I can breathe again since we are back into the feeling of nature and a hiking trail, and away from any of the crowds forming near the gift shop.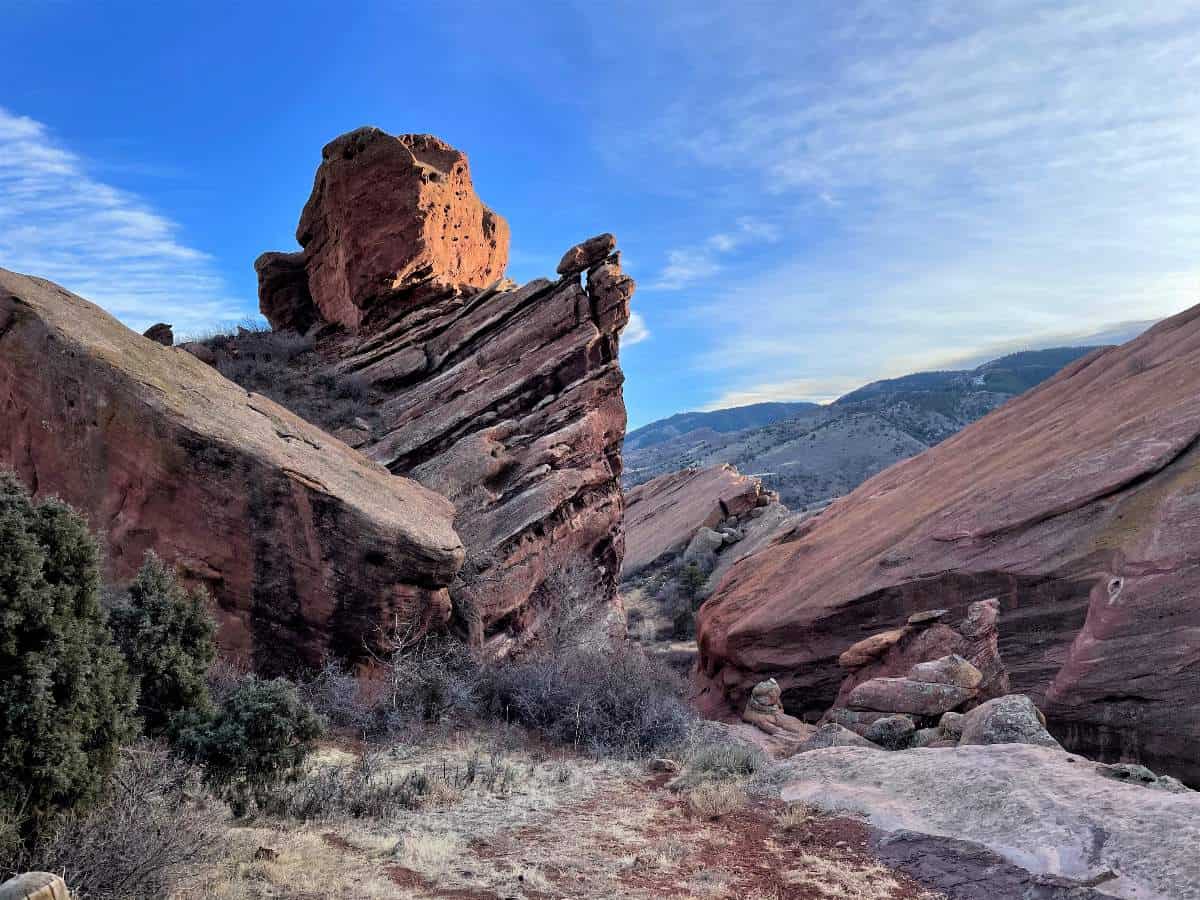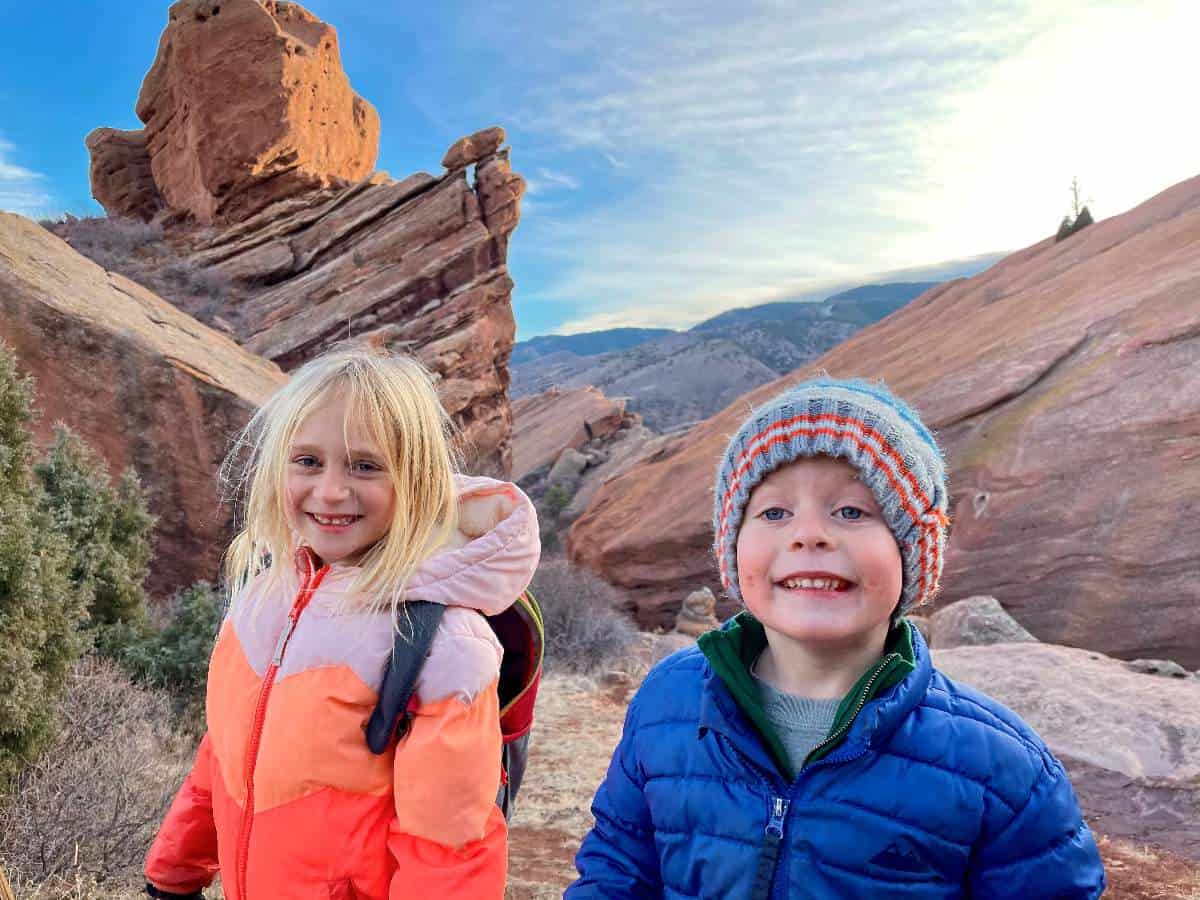 This eastside of the trail is different than the westside as you walk on sandstone. Keep an eye on little kiddos in this section as there is a ledge on the right, and my kids always seem to get too close to the edge (for my comfort) trying to throw rocks to land on the boulders across the ditch. It is a fun tradition, but I usually end up yelling at someone in this spot.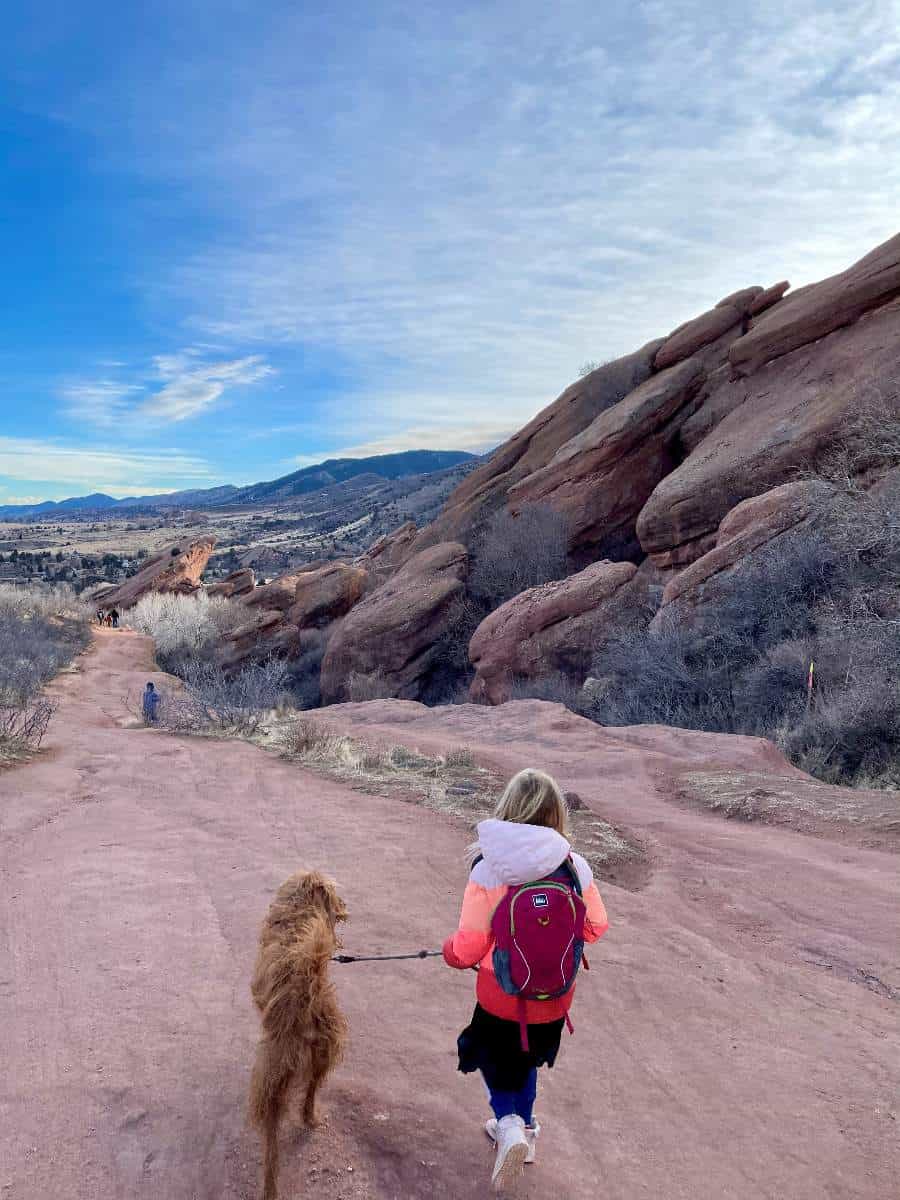 Our last rest stop before the final stretch is a beautiful Juniper tree that Emerson likes to climb. It's such a beautiful tree and signifies to the kids that we've almost made it (plus, it means snacks!).
Continue on another .4 miles down the trail, across a bridge, and back to your car. The final stretch can be a little boring, so we usually do races and this section goes by quickly. I like to stop for a final photo looking back into the red rocks.
HOW THIS DENVER KID HIKE RANKS
Pros
Short distance for little hikers
Less than 30 minutes from Denver
Quick hike with beautiful payoff
Lots of additional trails in the area to explore
You can add the amphitheater stairs if you are looking for a strenuous workout
Boulders and rocks for climbing
Varied terrain to keep it interesting for kids
Can be hiked year-round and good option for a winter hike (with spikes if there was a recent storm or ice), as it's easily accessible
Beautiful views
Loop hike
No bikes on the hiking trail
Cute downtown in Morrison if you want to pair it with a lunch outing
Cons
Crowded, so be sure to go early
Not remote in nature as you are close to roads throughout the hike
No water destination (lake or waterfall)
WAS THIS DENVER KID HIKE WORTH IT?
Yes! As you can see the "pros" list far outweighs the "cons." This hike has features that both kids and adults will enjoy. The red rock backdrop is stunning and while it is very close to civilization, it has a way of feeling remote while on the trail.
WOULD I GO BACK TO THIS DENVER KID HIKE?
Yes! In fact, I have gone back to this short hike at least five times in the year that we have lived in the Denver area.
DRIVING DIRECTIONS TO TRADING POST TRAIL AT RED ROCKS AMPHITHEATER
From Denver, head west of US 6-W for about 2 miles. Take exit 259 for I-70 West for 12 miles, then exit County Road 93. Continue on County Rd 93 (turning into Hogback Rd) for about 2 miles, then turn right on Red Rocks Park Rd. If you are headed to the Upper South lot, in 0.7 miles turn right on Trading Post Rd, then left on Ship Rock Rd and the parking lot will be on your right. Our favorite spot to park, as mentioned above, is right off of the Red Rocks Park Rd on the south end of the park here.
If you are looking for a longer day hike, there are a few other hikes around this Red Rocks area. I will be sure to report back with our trail guide and trip reports when we do those hikes! I especially want to try the Red Rocks Trail from Matthew Winters Park. Other options include Morrison Slide Trails and Dakota Ridge Trail. If you do this Denver kid hike, please let me know how you liked it! If you are looking for more of our reviews on hikes near Denver, check out some of these options:
Lastly, sure to check out The First 5 Things to Teach Your Kids About Hiking before hitting the trail! Happy hiking!