Roxborough State Park is located in Littleton, Colorado, just 40 minutes south of Denver. It is filled with dramatic red rock formations, vistas, history, wildlife, events, and year-round recreation. Given the proximity to our home in the South Denver area, we have been fortunate to frequent the park on multiple occasions. It's an easy option when weather doesn't allow for kid friendly hikes in the mountains, or for a half day activity with stunning views. There are multiple hiking options and difficulty levels within Roxborough State Park, so I have compiled our top five kid hikes in the park to help make your decision easier!
TOP 5 KID FRIENDLY HIKING TRAILS IN ROXBOROUGH STATE PARK
Below is a helpful graphic from Colorado Parks & Wildlife so you can visualize the intensity (mileage and elevation gain) of the hikes at Roxborough State Park. As you can see, there are a variety of difficulty levels and distances within the park. While there are eight different trails total in the park, I am featuring the top 5 kid hikes in Roxborough State Park that leave from the Visitor Center.
1) FOUNTAIN VALLEY TRAIL + LYONS OVERLOOK TRAIL AT ROXBOROUGH STATE PARK
Miles: 2.5 miles
Elevation gain: 325 feet
Difficulty: Easy
Type: Lollipop Loop
Stroller Friendly: Yes, during good weather conditions but not in the spring mud season
If you can only do one hike in the park, this is the quintessential Roxborough State Park hike. This trail winds through the iconic red rock formations for most of the hike. There are 2 overlooks (Fountain Valley Overlook and Lyons Overlook) on this hike, so it provides great views of both the rocks and the surrounding areas. The overlooks do include steps which are not stroller friendly. The Lyons Overlook is my favorite spot on this hike and can be accessed with a quick out and back from the east side of the loop.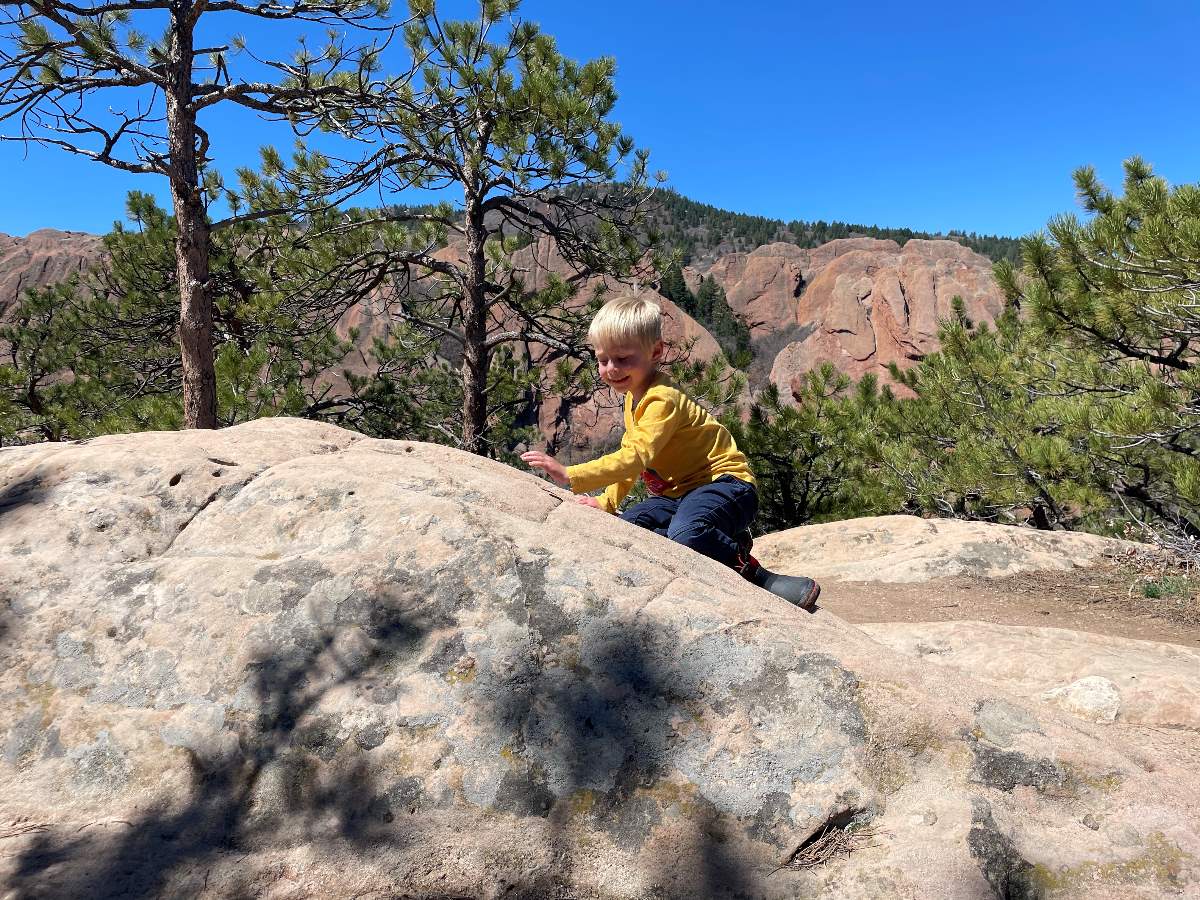 The trail begins from the Visitor Center heading right into the heart of the red rocks. I recommend taking the loop towards the right so that you do the incline first and then finish in the rock area where there is more shade. 
About halfway through the loop, there is a historic homestead building, Persse Place, which provides some variety and history in the hike. Henry Persse built this home in 1902 and had planned to develop Roxborough as a resort, which of course never took shape. As the trail loops back, you get even more up close and personal to the red beauties.
This is a recommended hike for out of town visitors. It's also a great kid friendly hike because it's relatively flat and has lots of see and explore! While this is not a paved hike, most strollers and wheelchairs can manage this trail when the conditions are good, though I would not recommend it on wheels during snow or mud seasons. The best areas for strollers or wheels would be towards the west side of the loop as that is the flattest area. Another benefit is that this hike can be accessed year around and usually doesn't require spikes. It also has a fun guided walking tour that at a minimum makes for a counting game with kids and helps with some motivation to make it to the next number and picture (there are 20)!  On weekends, this is the most crowded of the trails, so it's best visited during the week if you are seeking more solitude. But on this spring weekday, we had the place to ourselves!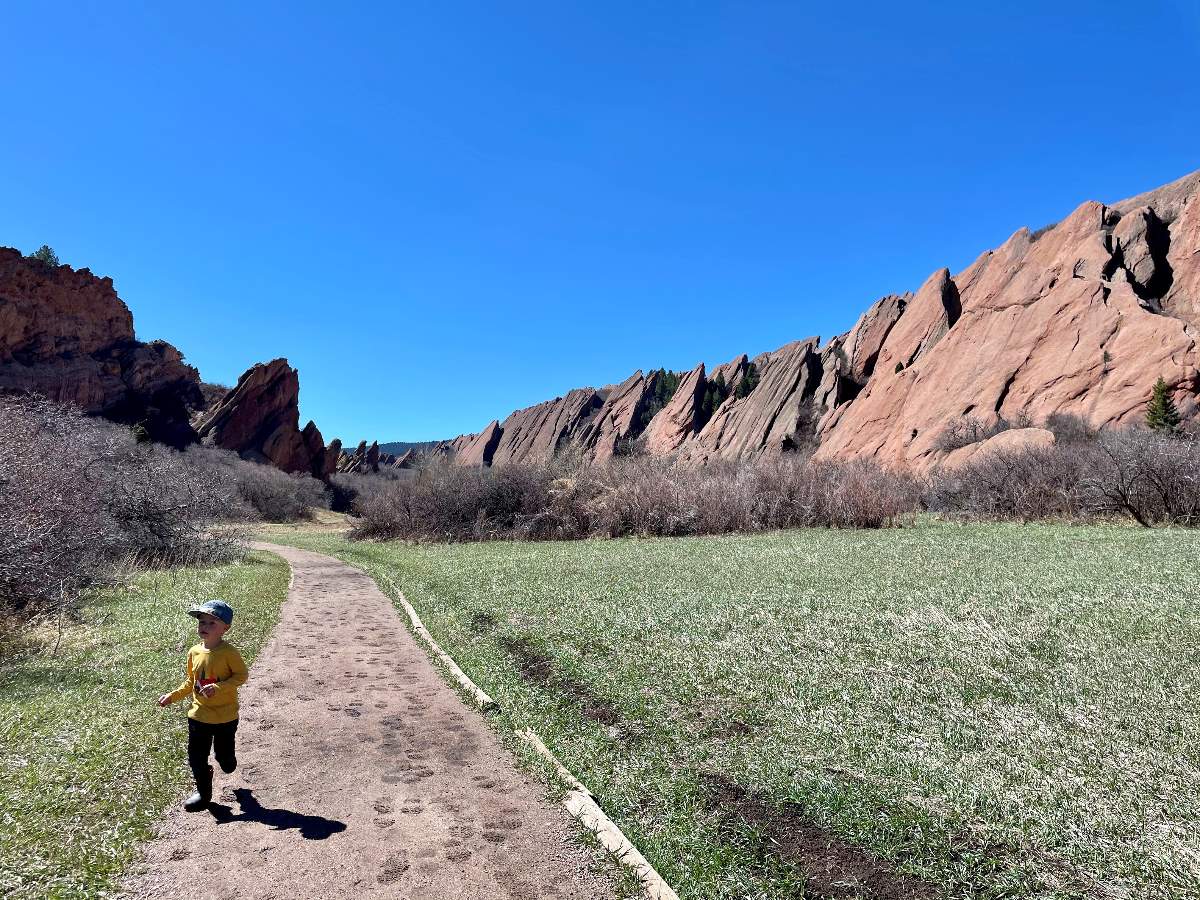 2) CARPENTER PEAK TRAIL AT ROXBOROUGH STATE PARK
Miles: 7 miles
Elevation gain: 1100 feet
Difficulty: Difficult
Type: Out and back
Stroller Friendly: No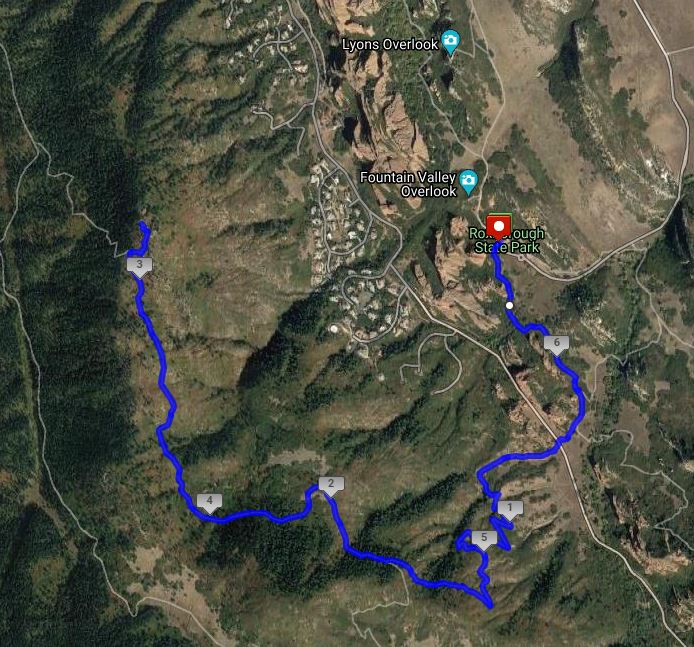 I think this trail is my favorite hike in Roxborough State Park—but maybe that's because I enjoy a workout. I like that it's less traveled than the popular Fountain Valley loop, and I enjoy the elevation gain for the exercise. This hike starts at the Visitor's Center, winds through the first half of the Willow Trail, then starts a steady incline right after crossing the dirt road (Iron Bark Drive).
This hike has a variety of red rocks, forests, and vistas. The views are most stunning from the top where you can see Long's Peak and impressive 13,000 foot peaks to the west. The payoff for the kids at the top were the cool climbing rocks!
If you planned ahead and planted a car at Waterton Canyon lot, you can actually hike all the way there from the top of Carpenter Peak (but it's an additional 9 miles from the top!). Emerson did strategize about the logistics of planting bikes at the Strontia Springs Dam, which would make it a 3 mile hike down and 6 mile downhill bike ride. I think it would make for a fun adventure, but the logistics are challenging!
3) SOUTH RIM TRAIL AT ROXBOROUGH STATE PARK
Miles: 3 miles
Elevation gain: 465 feet
Difficulty: Moderate
Type: Loop
Stroller Friendly: No
South Rim Trail is a nice loop option in Roxborough State Park. It gets lighter foot traffic since it heads south from the iconic red rocks, but is a great option when you want to get a birds eye view of the park without the elevation gain of Carpenter Peak. This is a great mid-range hike within the park, in terms of distance and elevation.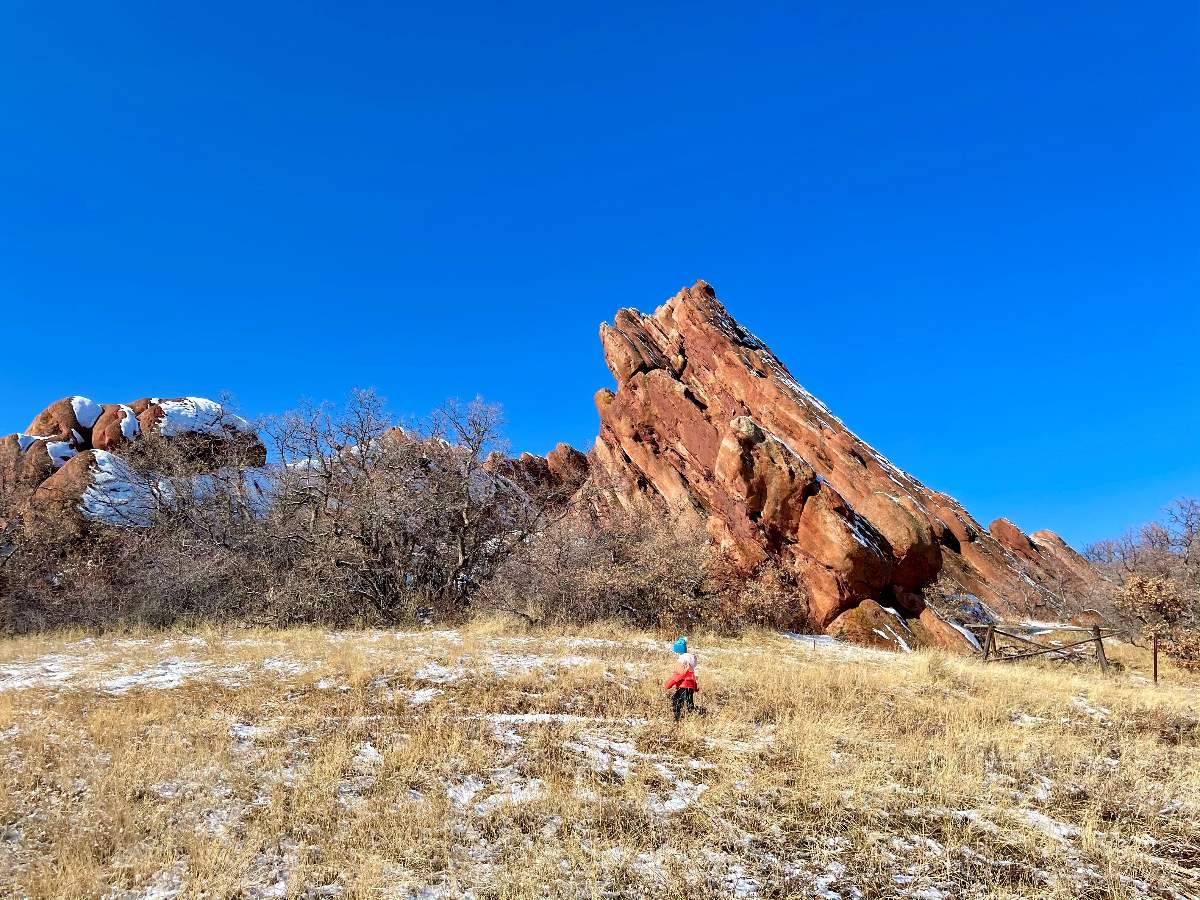 This hike starts at the Visitor Center and begins on the Willow Creek Trail. After breaking out of the oak trees, you will head south on South Rim Trail which will quickly start climbing. This trail hugs the side of the mountain (hence the word "rim" in the title), looking back at the park as you gradually descend to the South parking lot.
While you don't get the mountain views that Carpenter Peak offers, I think you get a better view of the red rocks from the top. I may be biased though since this winter day was the perfect combination of blue skies and snow covered red rocks.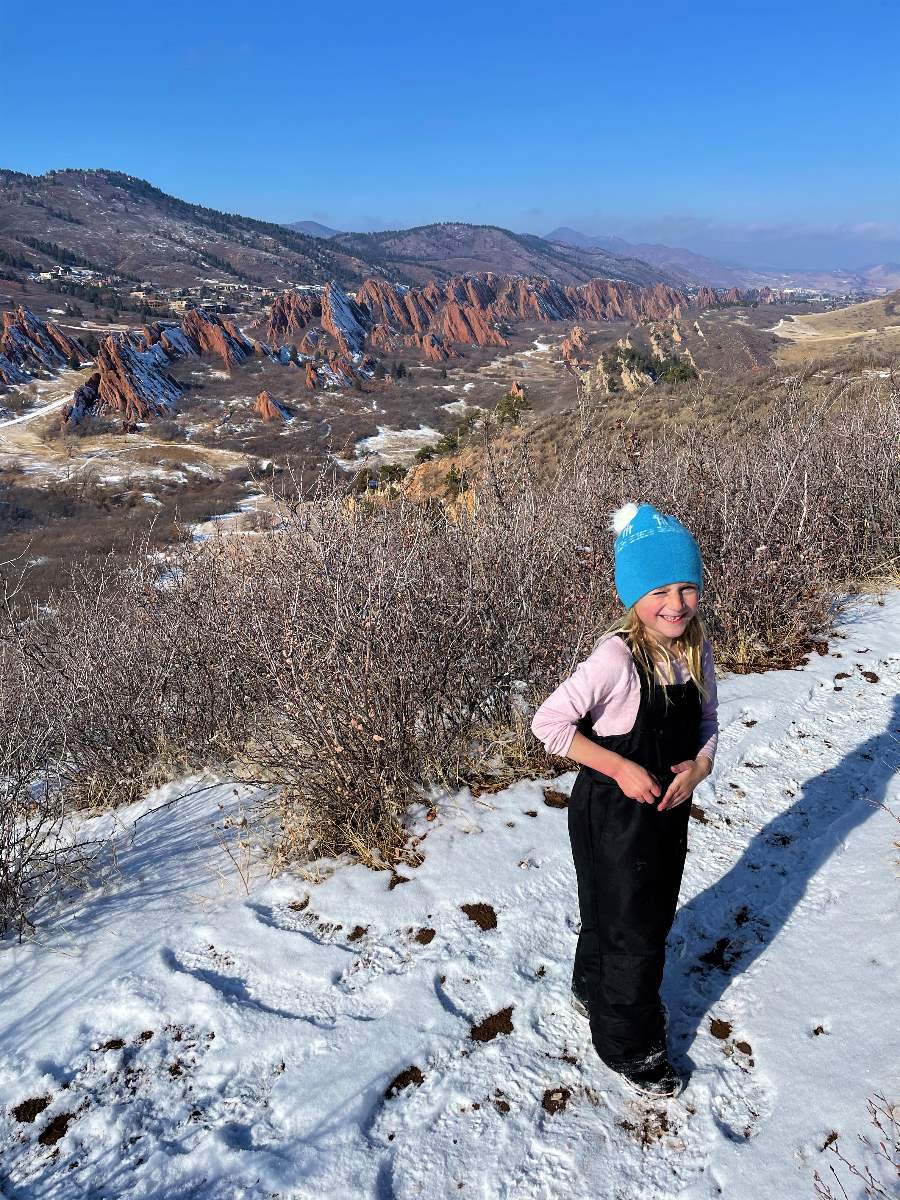 4) WILLOW CREEK TRAIL AT ROXBOROUGH STATE PARK
Miles: 1.5 miles
Elevation gain: 165 feet
Difficulty: Easy
Type: Loop
Stroller Friendly: No
This is a great "nature walk" if you are looking for an easy option with more shade and fewer crowds than the Fountain Valley Trail. While you do get the opportunity to see some of the red rock formations on this hike, it is mostly covered in oak trees.
This hike is great for little hikers as It is relatively flat and easy. The first portion gets views of the red rocks and trees and the second portion offers meadows with wildflowers in the summer. It starts at the Visitor's Center and ends at the lower lot, so the mileage I've listed includes the full loop alongside the road back to the trailhead.
5) ELK VALLEY TRAIL AT ROXBOROUGH STATE PARK
Miles: 5 miles
Elevation gain: 645 feet
Difficulty: Moderate
Type: Out and back
Stroller Friendly: No
This hike is likely the least trafficked of all of the trails and a shorter version of the Carpenter Trail. The trail shoots off of the Carpenter trail at around the 1.75 mile marker where the trail heads into the forest. It follows the same start of the Carpenter Peak hike. Similar to that hike, just past the one mile mark there is a lookout bench with my favorite views looking back at the park. You are close enough to the red rocks, but high enough to get a unique view. If you aren't looking to do either Elk Valley or Carpenter Peak, but you want to get the feeling of getting above the red rocks, this would be a great destination for a turnaround spot. Either way, it's the perfect snack stop! Turning around here makes it an out and back 2.25 mile hike. If you continue on, this hike leads to the high point of the Iron Bark Rd. You can turn back at that point for an out and back (which is the mileage listed), or you can take a left on the dirt road and loop back around making it a 5.4 mile lollipop loop.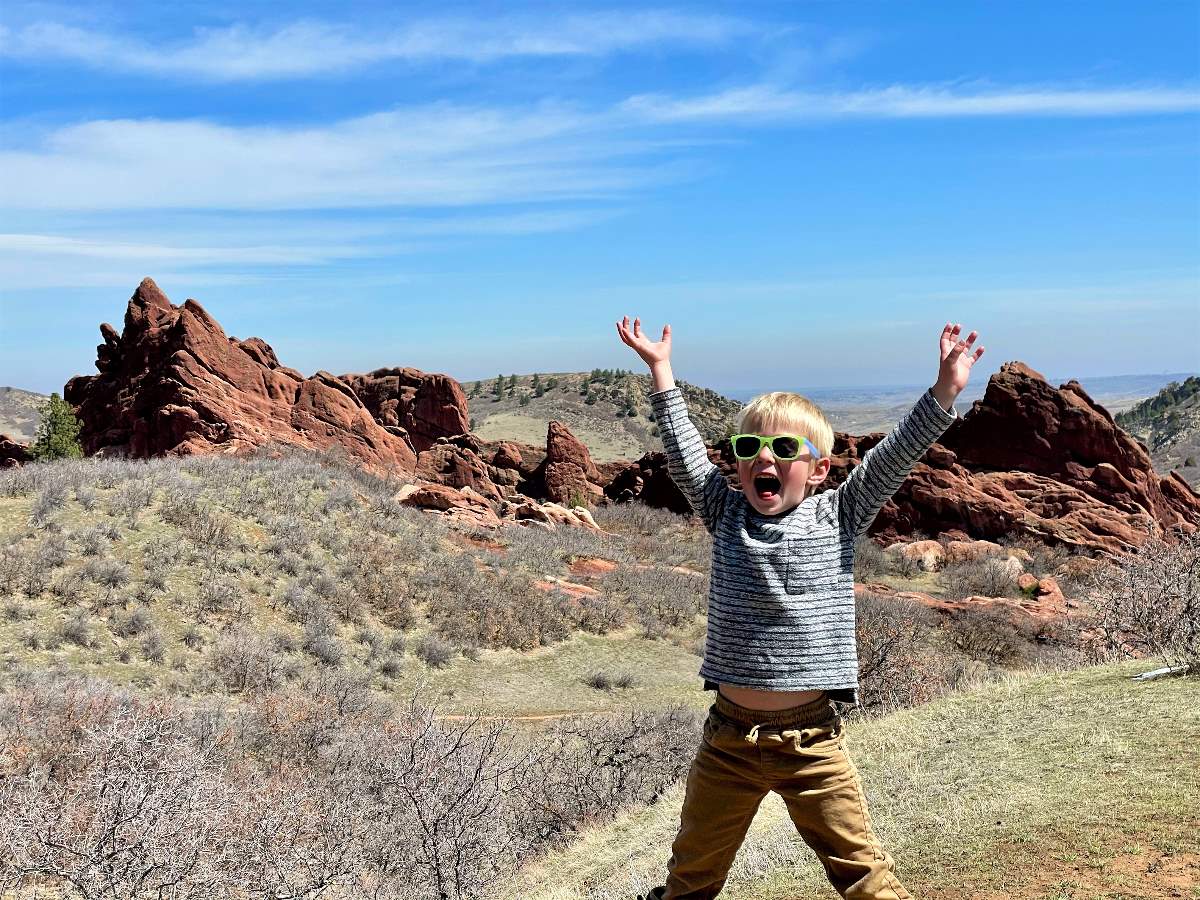 HOW ROXBOROUGH STATE PARK STACKS UP AGAINST OTHER DENVER KID HIKES
Pros
Quintessential red rock views
Short distance options with low elevation gain for little hikers
Close to Denver and even closer for us South Denver families
Longer hike options for a good workout, with plenty of options to shorten or lengthen as needed as your little hikers grow
Lots of additional trails in the area to explore
Varied terrain to keep it interesting for kids
Can be hiked year-round and good option for a winter hike (with spikes if there was a recent storm or ice), as it's easily accessible
Loop hike options
No bikes on the hiking trails
Cons
Can be crowded on weekends, so be sure to go early
Not remote in nature as you are close to the Roxborough homes that can be seen from most of the trails
Minimal shade
No water destination (lake or waterfall)
TIPS FOR HIKING IN ROXBOROUGH STATE PARK WITH KIDS
COST
The cost to enter the State Park is $10 for a daily entry pass or $80 for an annual pass ($120 for a family pass that can be moved between vehicles). Be sure to check with your local library to see if they have a park pass for check out! We've been fortunate to check out the free entry pass (that comes with other fun goodies like binoculars!) from our local Douglas County Library.
TRAIL MAP
The welcome booth has a great trail map that you will receive when you enter the park, or you can download this one on your phone to save the paper!
PARKING
There are 3 parking lots in the park—the main lot, the overflow lot right below the main lot, and the lower lot (which is small). I'd recommend the main lot if there are spots, but the lower lot is a great option if you are hiking the Willow Creek or South Rim Trails.
BATHROOMS
Bathrooms are located at the Visitor's Center, which is also the starting point for all of these featured hikes.
PETS
Pets are not allowed in Roxborough State Park, so please remember to leave your dogs at home!
WHAT TO PACK
Depending on the weather, clothes will differ, but we always recommend these essentials for a day hike. You can also see our favorite Amazon picks below!
BE PREPARED FOR THE SEASON
We love this park because it's accessible year-round, so we tend to frequent this in the shoulder seasons. Keep in mind that some trails close in the spring if the trails are too muddy. We definitely encountered mud on our last trip (in April). When it's muddy, embrace it and trudge on through it as opposed to stepping off trail as that can damage the trails and ecosystem. When there is snow, I recommend Microspikes as the trails can get icy. Be prepared in advance by checking the conditions from Colorado Parks & Wildlife.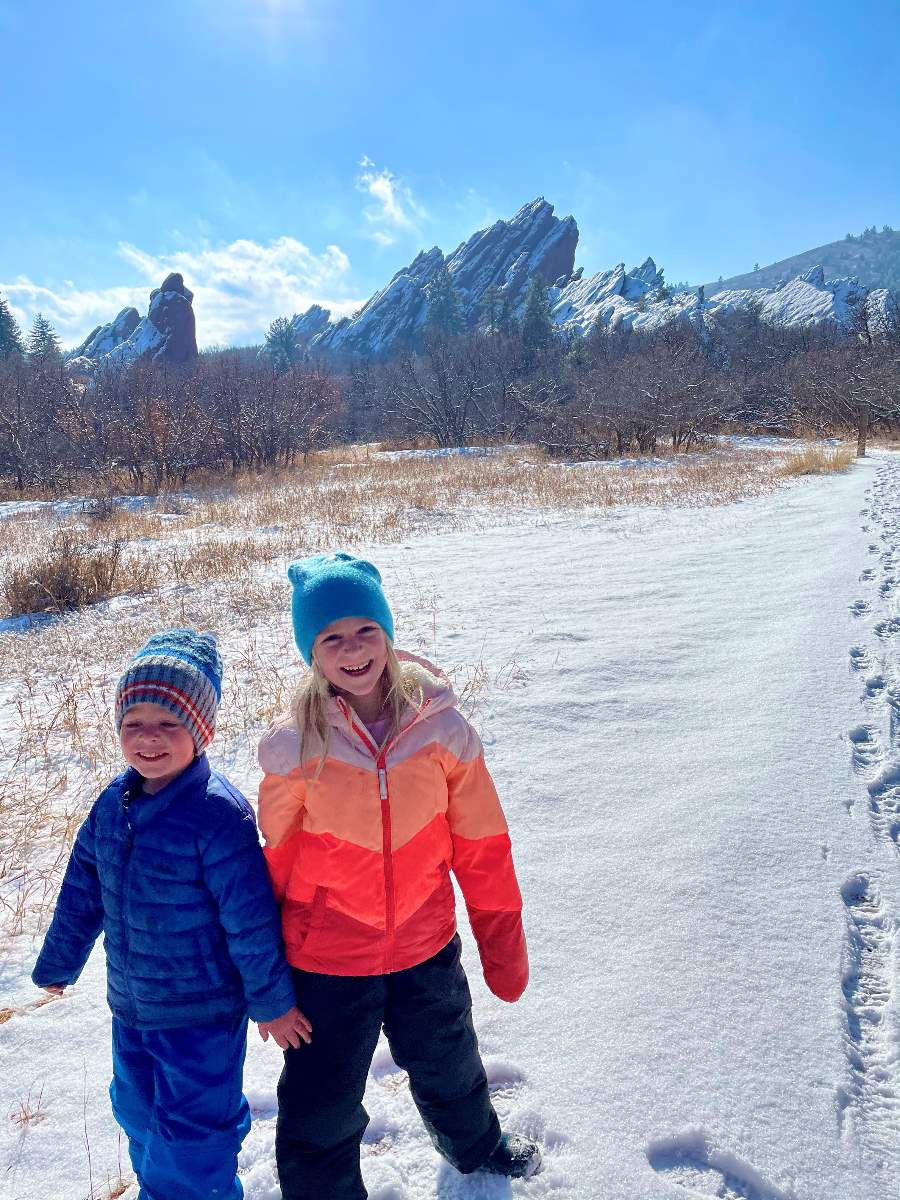 EXPECT SUNSHINE
While there are some shaded tree sections in a few of the hikes, the majority of the hikes are exposed, so be sure to bring sunscreen, hats, and sunglasses (even in the winter!) in addition to the day hike essentials.
GO EARLY
This is a popular hiking area on the weekends, so go early as the parking lots are not big and they limit the number of visitors in the park which could result in long wait times. We have never had an issue with this, but again that's likely due to our early hiking nature and that we visit this park during the shoulder seasons.
WILDLIFE
Keep an eye out for wildlife! We've seen mule deer, eagles, and hawks, but other wildlife frequently spotted are antelope and foxes. Of course, beware of rattlesnakes in the summer!
LEAVE NO TRACE
Remember to Leave No Trace while recreating in the outdoors and follow the simple reminders below! Be sure to teach your kids these 5 things before hitting these trails!
Have you been to Roxborough State Park? Let me know what you think in the comments below and which hike you tried!
You can find more of our favorite Denver kid hikes here! Happy hiking!