We visited Capitol Reef National Park for a quick stop (i.e. one hike!) on our way to backpack in Coyote Gulch a couple of weeks ago. I had never visited Capitol Reef before as it's a bit removed from the other 4 of the Mighty 5 in Utah (Arches National Park, Zion National Park, Bryce Canyon National Park, and Canyonlands National Park). Luckily, Capitol Reef can be done in a day, but I wish that we had a full day to explore. If you can only do one hike in Capitol Reef National Park, Cassidy Arch is the one! Named after the famous Butch Cassidy, this hike gets you high above the canyon walls, allows you to hike along unique rocky terrain and sandstone trail, and ends at the breathtaking geological feature—the arch itself.  
Capitol Reef National Park is located Northeast of Escalante and West of Canyonlands. The visitor center center and park access is off of Highway 24 between Hanksville and Torrey, Utah.  After entering the park, you drive through the historic town of Fruita, and are welcomed by apple, pear, and peach orchards. It's quite idyllic and made me hungry for the fruit pies I hear they sell in the gift shop! The coveted Fruita Campground located here is picturesque, with deer grazing, an abundance of shade, the Fremont river nearby and the stunning red rocks towering above. While the campgrounds require reservations 6 months in advance, there is not currently a reservation system in place to enter Capitol Reef National Park. You can find up to date alerts here.  
Head down "Scenic Drive" for 3.5 miles of beautiful striped rock formations until you reach Grand Wash, then turn left. There is no signage for Cassidy Arch off the main road, but it is accessed at the Grand Wash Trailhead. Continue on this rocky dirt road for a little over a mile until you reach the parking lot. Cassidy Arch is visible from the road below. You'll soon be at the top of these very steep canyon walls, looking down at the tiny cars below.
Location: Capitol Reef National Park, trailhead can be found here.
Miles: 3.5 miles
Elevation gain: 630 feet
Difficulty: Moderate – short hike and not much elevation gain but has a steep incline in the first mile
Type: Out and back
Time: 1 hour and 15 minutes of moving time (without kids!)
Dog friendly: No, because it is in the National Park boundaries
Bathrooms at trailhead: Yes
Picnic tables at trailhead: No
Stroller Friendly: No
Cost: $20 per vehicle for park entry beyond the campgrounds. You can purchase an entry pass in advance here.
Map: NPS visitor's map is here, or my recommended Nat Geo topographical map can be found here.
CASSIDY ARCH ROUTE
The route begins on Grand Wash Trail, which is another hike option in Capitol Reef National Park if you have more time. It has semi-narrow slot canyons and is a flat out and back (or thru hike if you park a car at one end). For Cassidy Arch, take the sharp left at about 0.25 miles to start heading up the canyon.
The first portion of this hike is the steepest and will get your lungs pumping. This section switchbacks with tons of steps. Luckily, the unique rock steps and canyon walls help to distract from the intense climb.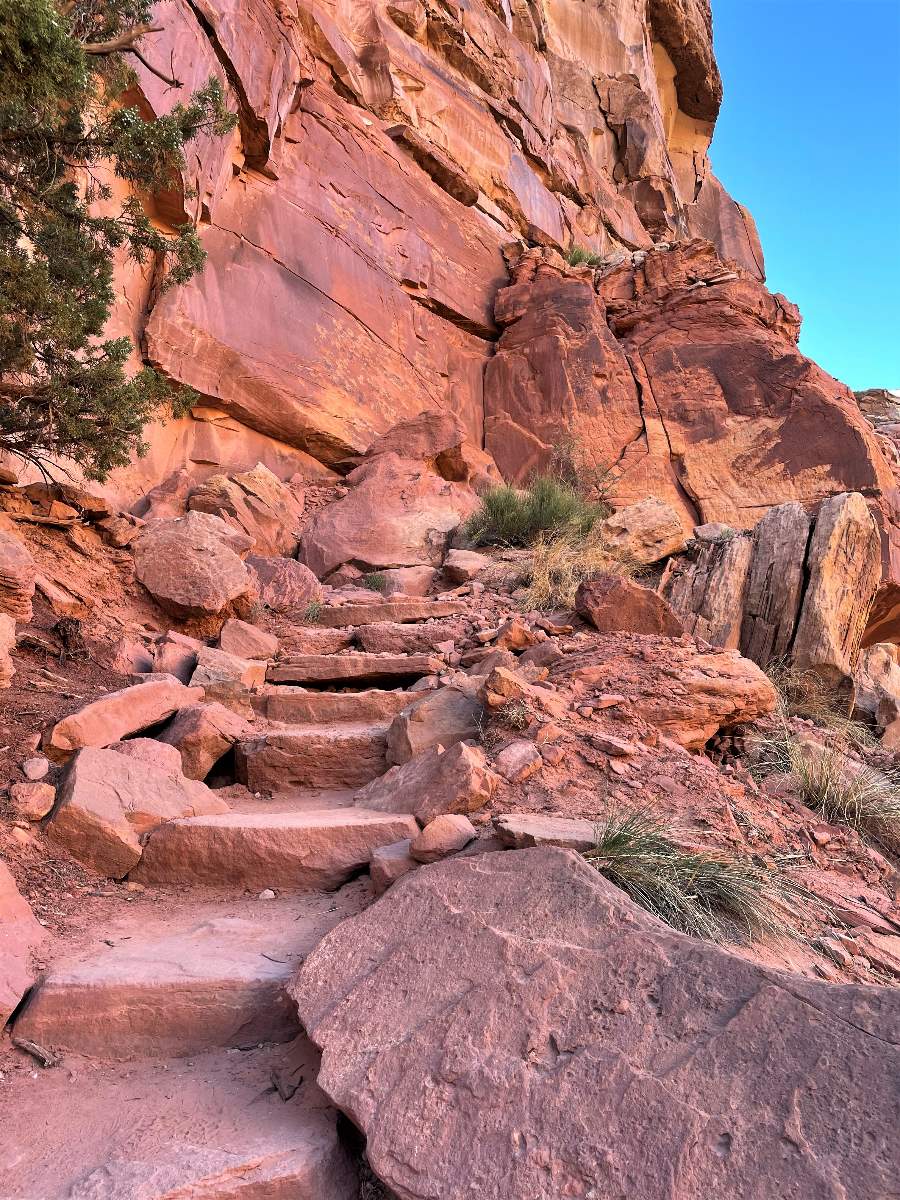 Nearing the top of the climb, the ledge is very steep. If the kids were with me I would have been holding their hands pretty tight in this section. I had enough of a heart attack when Bryce stood near the edge to take a couple's photo. From the top you can see how far you've come (if your brave enough to look over the edge), as you can see the road below. This point also offers a view of Cassidy Arch across the valley so you can see where you are headed.
Once you've reached this point, the hike gets fun. As you nestle into the sandstone rocky trail with juniper trees abound, it's a giant playground with spectacular views, natural trails, friendly lizards, and desert flora. Follow the cairns (decorative rock stacks meant for navigation) to stay on trail as there is not a defined path along much of the sandstone in this top section.
At about 1.75 miles from the trailhead, you'll reach the arch. It sneaks up on you because the destination is above the arch looking down. While I have seen photos of folks standing on the arch for pictures, this view was safe and beautiful enough for me.
If you're up for more of a challenge, you can keep going on this trail and can continue onto the Frying Pan Trail which drops down to Cohab Canyon. This addition views looking back at the famous Waterpocket Fold, which is a 100 mile long warp in the Earth's crust (seen along Highway 24) that shifted rock layers up 7,000 feet from the ground. If you choose to turn around here, head back the way you came back to the trailhead.
8 TIPS FOR HIKING CASSIDY ARCH IN CAPITOL REEF NATIONAL PARK WITH KIDS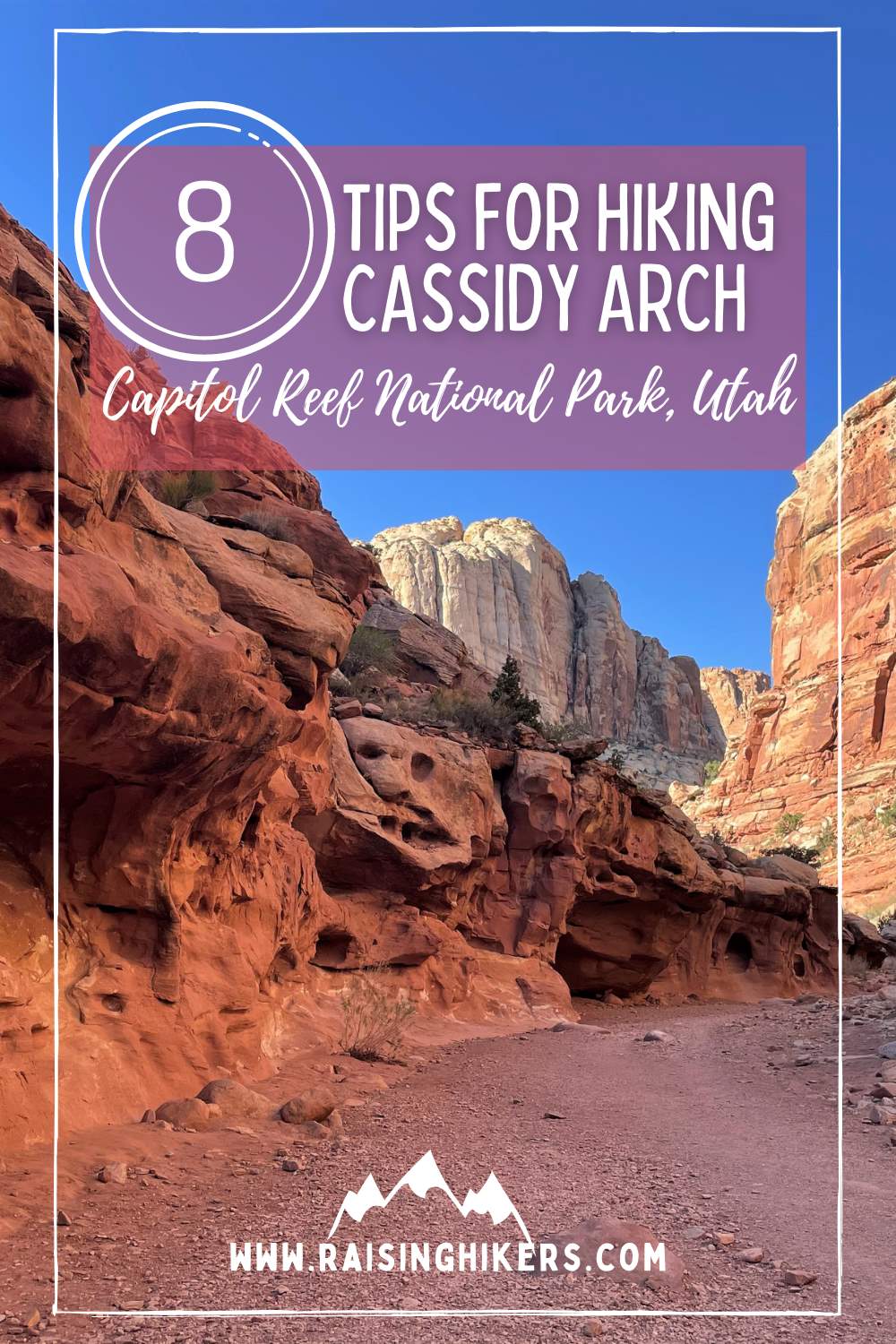 1) WHEN TO VISIT CASSIDY ARCH
The summer heat can be intense in the summer, so it is recommended that you plan this hike in the spring or fall to avoid the heat. Spring is hard to beat because the fruit trees are in bloom and the contrast of the bright green trees against the red desert backdrop is stunning.  I usually recommend early morning hikes to beat crowds, but with this particular hike (if you are off season and the heat is not an issue), the sunset hike was a beautiful option as the arch was lit up by the sun and there was plenty of shade from the rocks as the sun fell.
2) PLAN FOR SUN
There is very little shade on this hike, so unless you are hiking sunset like we did, be prepared with sunhats, sunglasses, sunscreen. Know the signs for heat exhaustion and heat stroke.
3) BRING LOTS OF WATER
This hike has zero access to water at the trailhead or on the hike, so be sure to bring plenty of water (recommendation is 1 gallon per day in the desert environment). The first portion of this hike is strenuous and will require frequent water breaks.
4) PLAN FOR TEMPERATURE CHANGES
If you are visiting in the fall, temperature can fluctuate widely from the daytime heat to the evening cold. Bring non-cotton layers, eat plenty of fuel, and keep your clothing dry. Even in the other seasons, temperatures can change quickly so always carry a lightweight jacket.
5) WHAT TO PACK FOR A DAY HIKE TO CASSIDY ARCH
Check out our essentials for what to pack a hike with kids, which include snacks, water, extra clothes, water, safety and first aid items.
6) CHECK THE WEATHER FOR CASSIDY ARCH
The trail access to Cassidy Arch is in Grand Wash, which is settled into the canyon walls, so flash floods are a concern in this area.floods and monsoons are a threat in this area. These are most common in July through September, which is another reason the spring and fall are popular times for Capitol Reef visitors. You can find the flash flood and other weather warnings for Cassidy Arch area here.
7) KEEP KIDS NEAR YOU WHEN BY STEEP LEDGES
As I mentioned in my experience here, the steep ledges on the initial portion of the hike were giving me a bit of panic. Don't get close to ledges for pictures (even if you want that picture standing on Cassidy Arch, just don't do it!). Keep your kids near and stay on the trail. The rock can be slick, especially when wet so use extra caution if there has been recent rain.
8) LEAVE NO TRACE
Practice Leave No Trace principles while in the park and on the trail. This includes leaving cairns where you found them and not creating new cairns on the trail.
HOW CASSIDY ARCH STACKS UP AGAINST OTHER UTAH HIKES
Cassidy Arch Pros
Great exercise
Stunning views
Lots of crevices, boulders to climb, and places to explore
Fun variety of terrain
Iconic red rock scenery
Geological features, including the destination at the arch
 Cassidy Arch Cons
Heavily trafficked—this is the most popular hike in Capitol Reef so it gets crowded during peak seasons. However, we hiked right before sunset in the Spring (May), which is one the peak seasons, and only encountered a handful of people on the trail. We felt as though we had the whole park to ourselves!
Steep incline and very high ledges in the beginning of the hike. Keep young kids near or in carriers!
Exposed to the sun and desert heat in the day as there is little shade
No water features such as waterfall, lake, or river
WAS CASSIDY ARCH WORTH IT?
Yes! This hike was beautiful and had us craving more time in Capitol Reef National Park.
WOULD I GO BACK TO CASSIDY ARCH?
Yes! Since the kids didn't get to visit this time, I would love to go back with them and watch them explore. From the very beginning as you enter Grand Wash, we couldn't stop talking about how much the kids would love exploring on the rocks.
WHAT DO YOU THINK?
Are you interested in hiking Cassidy Arch or exploring Capitol Reef? If you are looking for more Utah hiking options, check out these awesome day hikes near Moab or our backcountry experience just south in Grand Staircase – Escalante National Monument. Drop me a note below with any questions or other favorites in Capitol Reef. I'd love your recommendations for our next visit—I know we will be back! Happy hiking!