Alamogordo, New Mexico is a beautiful national park town with tons to do for adventurous families beyond the White Sands National Park. Of course, that is a highlight and I'll be sure to share tips and tricks for visiting the park, but I am also excited to share with you so many other fun things to do in Alamogordo with kids! We drove down from Denver, Colorado (with a quick stop in Taos and Santa Fe) and spent 3 days and 2 nights in Alamogordo. This was part of an epic road trip that ended in Albuquerque. We packed it full of adventure, hiking, tourist attractions, and experiencing the town like locals. These ten activities were our favorites. 
A big thank you to Visit Alamogordo and New Mexico True for sponsoring this post. All opinions and photos are my own.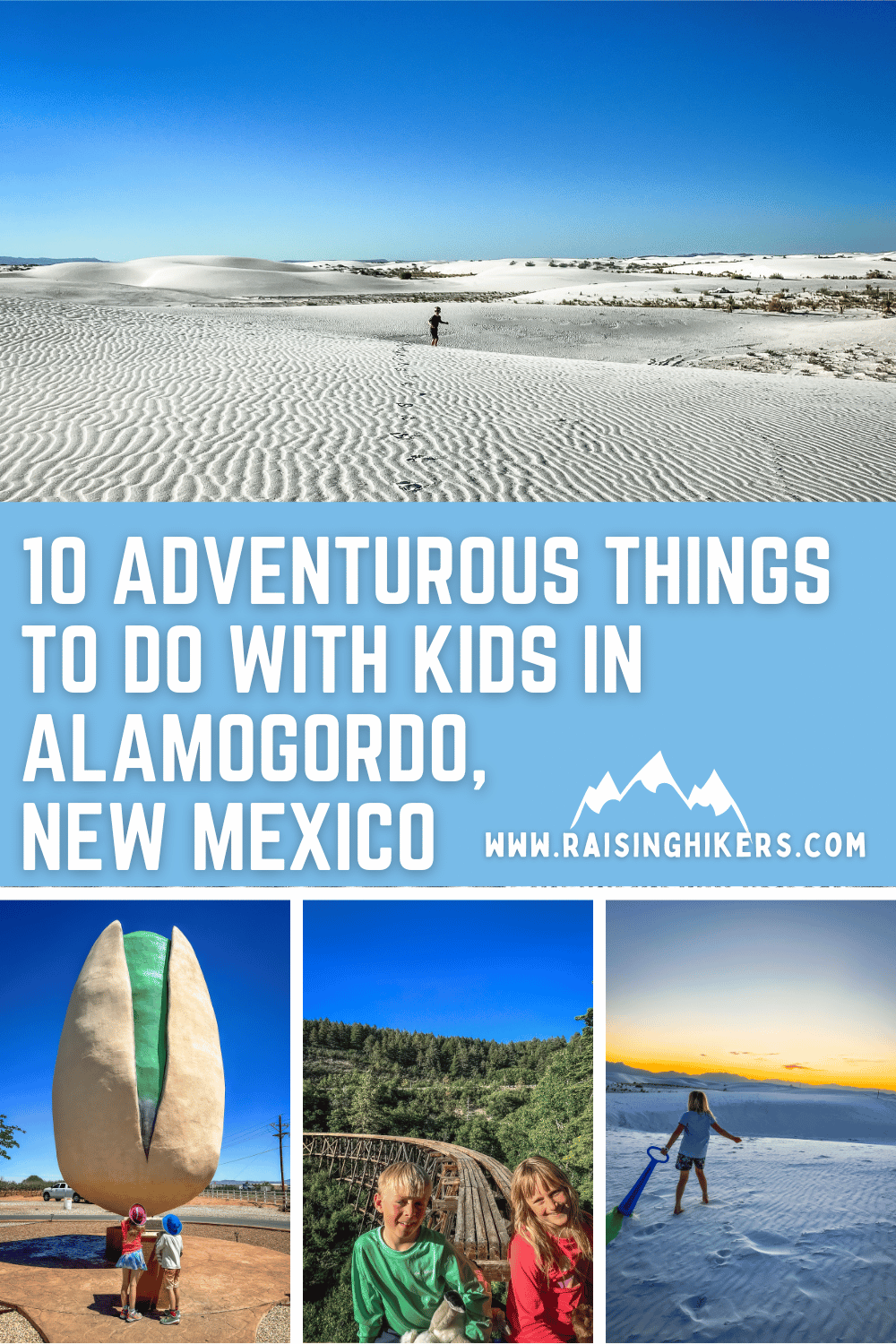 Alamogordo, New Mexico is known for its natural beauty and rich history. It is a small city in the Tularosa Basin of the Chihuahuan Desert. This city is special for adventure lovers because it offers a desert landscape on one side and a lush forest landscape in the Lincoln National Forest on the other side. Let's explore both!
10 Adventurous Things To Do in Alamogordo with Kids
1) Take a Hike in White Sands National Park
Start your adventure by visiting White Sands National Park, one of the most unique places in the United States. The park is a twenty minute drive from  It is one of our country's newest national parks, converted from a national monument in 2019. The park is famous for its vast gypsum sand dunes – the largest gypsum sand dune in the world, covering 275 square miles of desert. 
Before I dive into hiking option, let me start by saying that this is not really a "hiking national park" like most other parks. However, hiking the dunes is still the best way to experience the true beauty and get beyond the parking lots.
We hiked the Backcountry Camping Loop Trail, which was ~2.5 miles up and down the dunes. Camping is currently not allowed but you can still hike this route! While it sounds short, know that hiking in sand uses different muscles and there is no shade on any of the trails.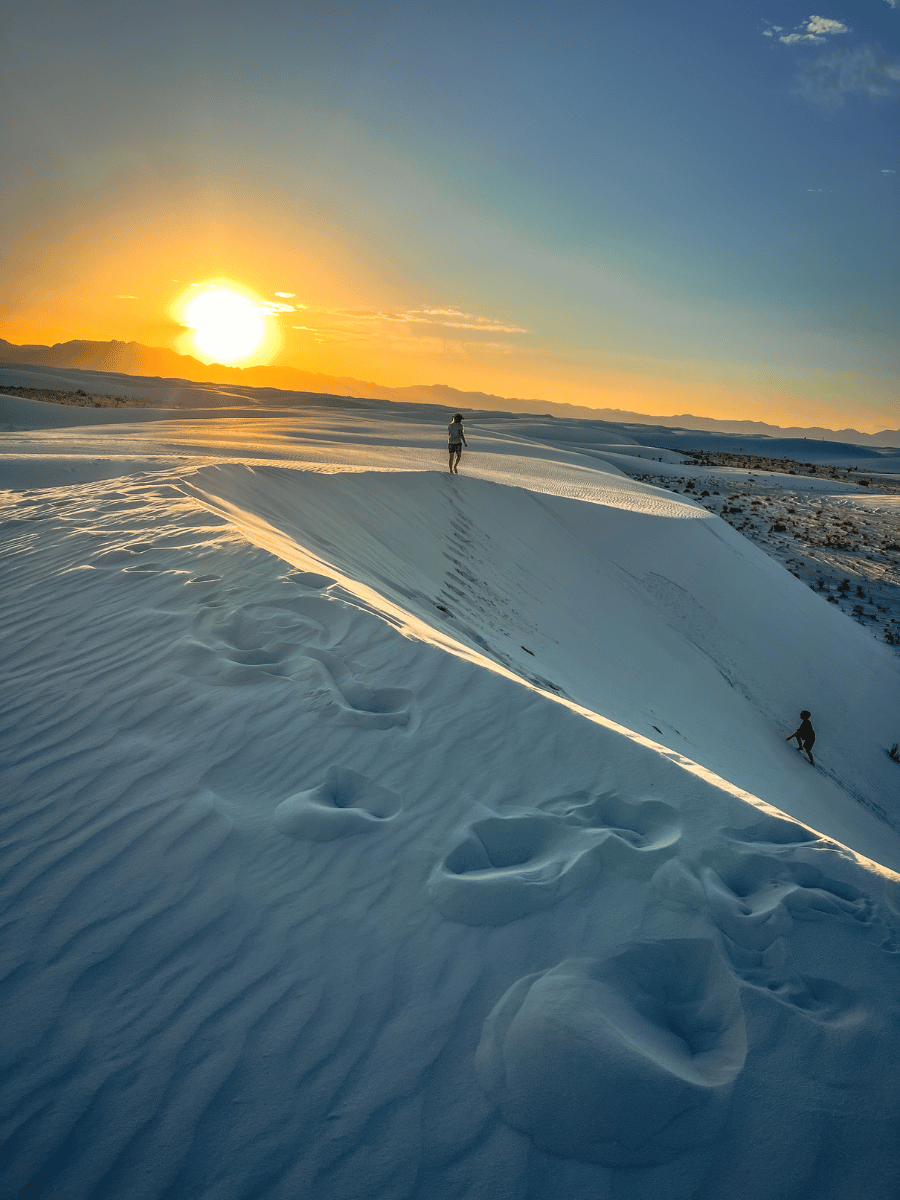 More hiking trail options in White Sands National Park:
TIPS FOR HIKING IN WHITE SANDS NATIONAL PARK 
Wear sunglasses – the white sand reflects the sun and can be blinding. We wear Goodr sunglasses to keep our eyes protected. 

Wear a wide brimmed hat – we were glad we had our

Sunday Afternoon hats

Wear sunscreen – even with a hat because of the reflection

Bring plenty of water – there is no water on the trail

Have a navigation system or download the Alltrails map – this loop has trail markers but the dunes can be disorienting

Footwear – we hiked barefoot because the sand is cool (thanks to the gypsum). Tennis shoes would also work but I would not recommend sandals where sand can get in.

Start early– the park opens at 7:00 am so we were there at the opening to get cooler temperatures. 

Keep an eye on the temperature – it is advised not to start a hike here if it's 84 degrees Fahrenheit or hotter

Bring a sled – it's worth the effort of carrying it to make it fun! More details on sledding below. 

If you can't start early, hike at sunset. It's the most beautiful time to take photos at the park. Just be sure that you are aware of the park's closing hours. 
Be sure to practice Leave No Trace in this beautiful park. Pack out what you bring in and take only pictures.
2) Go Sledding in White Sands National Park
White Sands National Park is so beautiful, two spots on the top ten list of things to do in Alamogordo, New Mexico! Sledding is a must do activity while in the area! The natural phenomenon of gypsum sand that makes up the dunes is softer and finer than most desert sands, creating a powdery texture that is ideal for sledding. Also, because of its composition, gypsum does not retain heat as much as other sands, making it comfortable to walk on even during hot weather. The white color and the cool temperature make it too close to snow not to sled on! 
TIPS FOR SLEDDING IN WHITE SANDS NATIONAL PARK
Sledding is allowed along the Loop Portion of the Dunes Drive.

Plastic disc sleds are the most popular sleds for these dunes. We were able to borrow some for free from our hotel,

Classic Desert Aire Hotel

. You can also purchase them from the White Sands National Park Visitor Center. I also hear that some sleds usually get left outside of the visitor center doors after hours that you can borrow. 

We brought our

plastic scooter sled

from home and that worked the best. It was worth hauling it on our road trip just for this portion of the trip! 

Do not use sleds with metal runners as they can damage the dunes and they won't work.

Waxing the bottom of your sled really helps with speed! Any wax will work, it doesn't have to board wax. We picked up candle wax at the dollar store and it worked great.

If your sled "isn't working" don't give up! We had to search for the best hills. Steeper hills work better! 

Harder, packed down sand works better than deep, sinking sand. Typically the sand right near the parking lots was not the best place to sled as the sand was more walked on. Getting in a couple of dunes worked better where the sand was hard and untouched.

Practice Leave No Trace principles– don't sled into or over vegetation or wildlife (look for beetles!) and do not leave your sleds at the dunes or at the parking lots. 
The sledding experience was different at White Sands than in Colorado's Great Sand Dunes National Park. Read about our experience backpacking and sledding in my Complete Guide to Backpacking Great Sand Dunes National Park with Kids. 
3) Visit the Alameda Park Zoo
Alamogordo makes for a great jumping off point for the national park, but it's also worth exploring the town itself. The Alameda Park Zoo is a charming zoo in downtown Alamogordo is the oldest zoo in the southwest, founded in 1898. The zoo is quaint at 12 acres, but has nearly 300 animals representing 90 different species. It also has an education center, picnic area, shaded playground and a cute gift shop.  
4) Eat Pistachio Ice Cream at PistachioLand
Alamogordo has an arid climate that is ideal for growing pistachios. McGinn's Pistachio Tree Ranch is home to the world's largest pistachio roadside attraction. I highly recommend taking the 25 minute tour through the pistachio groves. It was educational and entertaining to learn about the farm that has been a Tularosa Basin staple since 1980. The gift shop has fun souvenirs and flavored and candied pistachios. Before you leave, you must order their home made pistachio ice cream. I don't even love pistachio ice cream and I thought it was one of the best ice creams I have ever tasted. They also have Bluebell ice cream if you want a different flavor but I highly recommend giving the pistachio a try!
5) Tour the New Mexico Museum of Space History
Touring the New Mexico Museum of Space History was a great activity to beat the heat in the middle of the day, especially for my outerspace loving kids! We watched the live constellation presentation at the planetarium and then walked through the museum. There were a handful of interactive exhibits that kept the kids' attention and we loved the dress up area at the end for them to pretend they were on the moon.
6) Swim at the Alamogordo Recreation Center
One thing we love doing when we are exploring a new town is live like the locals do. Visiting the local recreation center pool is a great way to pretend you live in a town. Plus, when you are in the heat of the desert nothing cools you off better than jumping in the pool. The recreation center pool has an Olympic sized swimming pool, waterslide, and splash pad. Be sure to check the open swim times on the Alamogordo Recreation Center website.
7) Explore the historic Alamogordo old town
Alamogordo was founded in 1898, when the El Paso and Northeastern Railroad extended the railway to the town. The charm of the railroad is still alive today in this little town. There are fun shops to browse on Mainstreet. We didn't get the chance to explore the Tularosa Basin History Museum, but it's a great opportunity to learn about the early Native Americans who lived in the area, White Sands National Park, the local railroad, La Luz pottery, and ranching.   
8) Play at Kids' Zone Park
This modern playground had some very unique features. In addition to the shaded climbing area, there were cement permanent lawn games like ping pong and cornhole, a challenging parkour course, and some ADA-accessible specialty swings and equipment. This made for a great stop at the end of the day when the temperatures cooled.
9) Day Trip to Cloudcroft
Alamogordo sits at the base of the Sacramento Mountains, so a drive to higher elevation is a great way to get a different perspective of the area. At nearly 9,000 feet elevation and less than 30 minutes from Alamogordo it makes for an easy morning or afternoon trip. Even if you can't take a hike on one of the many trails in the Lincoln National Forest, it's a fun town rich in lodging and railroad history. Walk historic Burro Street, get lunch at Cloudcroft Brewery, or shaved ice at Maggie's. On the way up highway 82 there is a cute Old Apple Barn worth a stop.
10)
Hike the Mexican Canyon Trestle Trail in Lincoln National Forest
If you have  time for a hike while in Cloudcroft, I recommend the Mexican Canyon Trestle trail. This trail has a mix of railroad history and sheer scenic beauty. Until 1948 when the highway was opened, the railroad was the only way to get from the desert to this mountain town. From a scenery perspective, these lush forested trails and mountain views are likely not what you expected when visiting southern New Mexico (at least they weren't what I expected!). It was a beautiful contrast to the unique desert of White Sands National Park. The trail is 2.5 miles out and back with 565 elevation gain. Keep in mind that the trail goes down before it goes up which can be a good or bad thing depending on the day. It can be hard with kids (well, adults too) mentally if you have the hard part of the hike on the back half. However, it also makes the hike easy to start and the kids have fun right away zooming down the trail. Remember to Leave No Trace! Pack out your trash and take only pictures.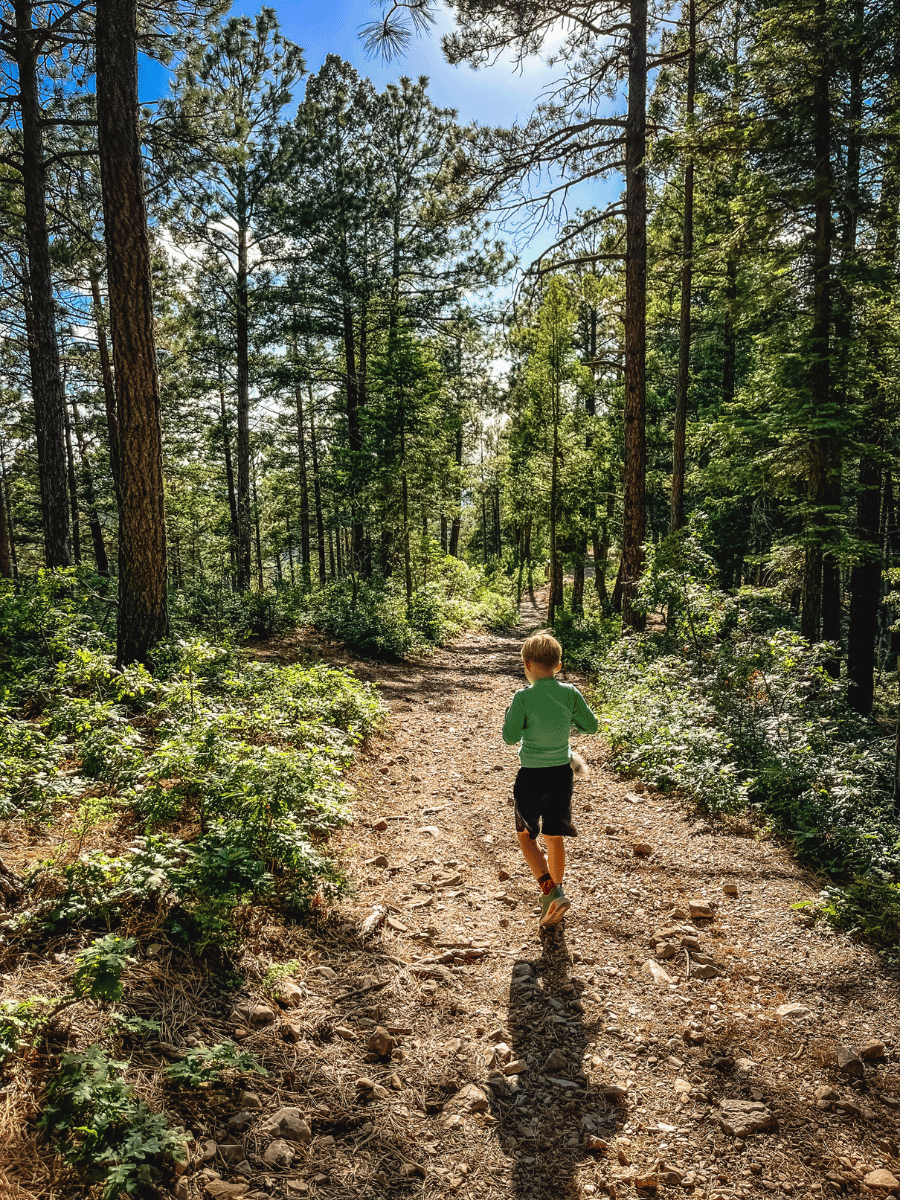 More to do in Alamogordo with kids
We packed a lot in for a 3 day stay in Alamogordo, New Mexico but we didn't get a chance to do everything on our list. Here are some suggestions for other activities that we haven't yet done but you may want to add to your itinerary!
What to Eat in Alamogordo with Kids
Our favorite spots were 575 Brewing, The Brown Bag Deli for lunch, PistachioLand for dessert, and Plateau Espresso. A popular spot we didn't get a chance to enjoy is Rizo's for traditional Mexican food. Be sure to order the green chile or red and green mix called "Christmas Style." 
Where to Stay in Alamogordo with Kids
There are a number of hotels and Airbnb options in Alamogordo. We enjoyed our stay at The Classic Desert Aire Hotel because it's on the southend of town, making it convenient for access to White Sands National Park. I appreciated that for families it had an option for a "family suite" so the kids had their own adjoining and open room to my room. It's a family owned, no frills hotel but it does have a pool and the e breakfast was delicious! They also have a cute gift shop featuring local artists and as I mentioned above, they lend out sleds for White Sands National Park for free!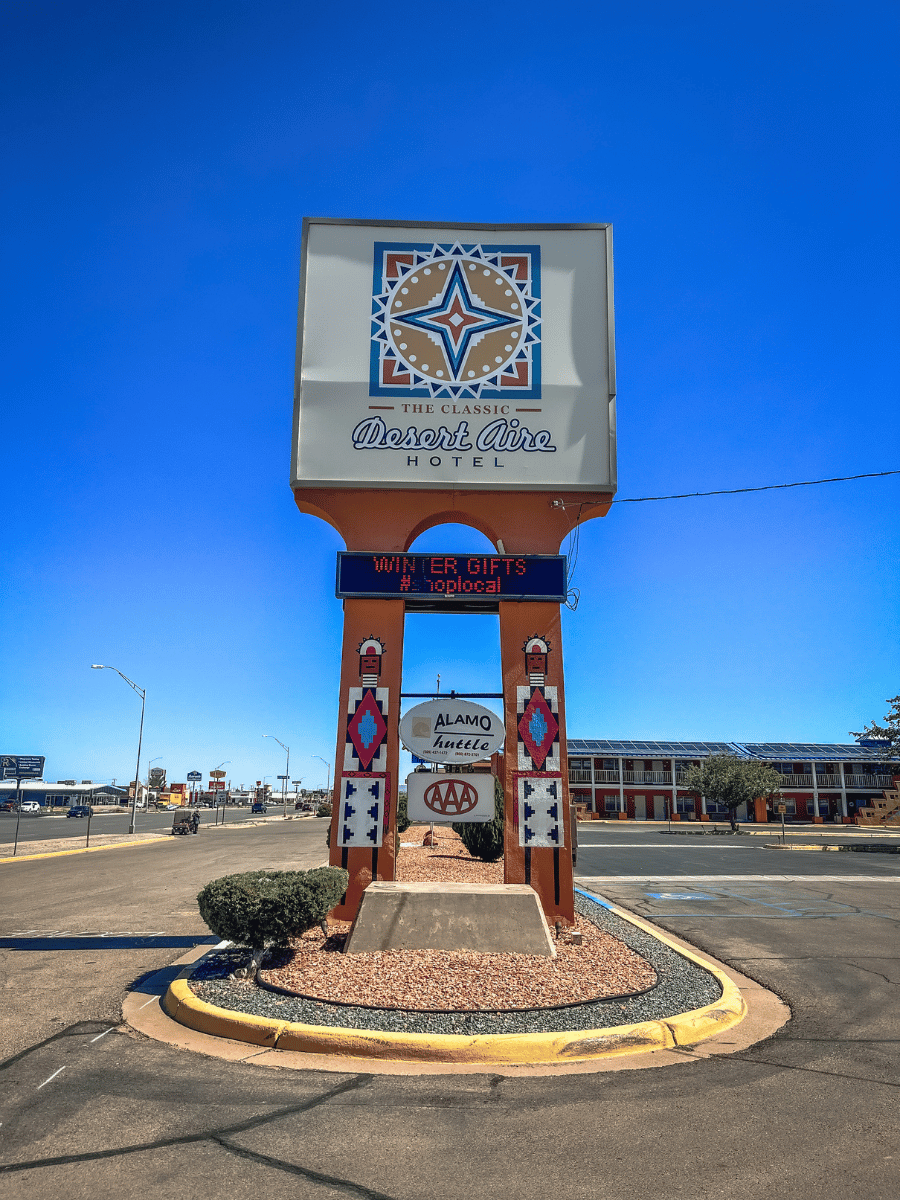 Getting to Alamogordo
Alamogordo is best accessed by car, road trip style. The closest airport is El Paso International Airport, which is an hour and a half drive from Alamogordo. From where we are located in Denver, Colorado, it's an approximately 8.5 hour drive with a logical (and fun) stop in Santa Fe or Albuquerque on the way!
What We Wore in Alamogordo
Alamogordo gets nearly 300 days of sunshine so prepare for sun at any time of year! We visited in the middle of June and temps in Alamogordo were lows of 70 and highs of 91 degrees Fahrenheit. In the mountains near Cloudcroft was significantly cooler at lows of 55 and highs of 70 degrees Fahrenheit. The most important consideration with our clothes was cool, breathable, and keeping us protected from the sun. 
Let me know if you find this post helpful and if you plan to visit Alamogordo with kids. What are you most excited to do while you are there?
If you are looking for more New Mexico adventures, check out these posts.