Moab is the access point for world class outdoor opportunities—including exploring National Parks such as Arches NP and Canyonlands NP. However, you may find yourself looking beyond the National Parks for a number of reasons. Perhaps you have your family dog in tow and National Parks don't allow dogs on trails, you are trying to avoid the crowds, or you've already explored the parks and are looking for something new. Or, like in our case last May, you may be traveling to Utah during a global pandemic when the National Parks are closed. For all of our sakes, let's hope it's not the latter, but either way we have you covered with our top picks for hiking with kids outside of the parks.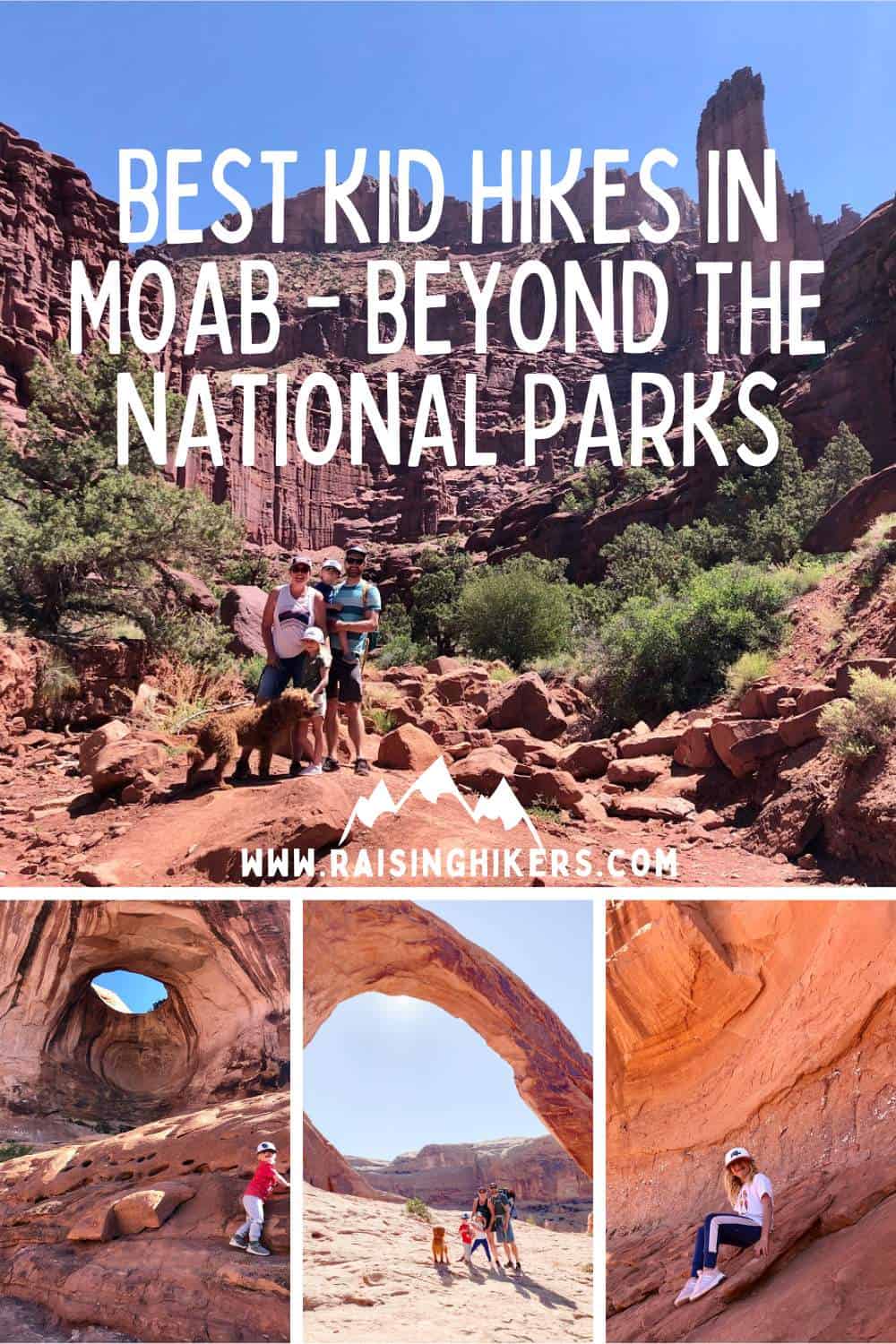 Corona Arch & Bowtie Arch – kid hike in moab, utah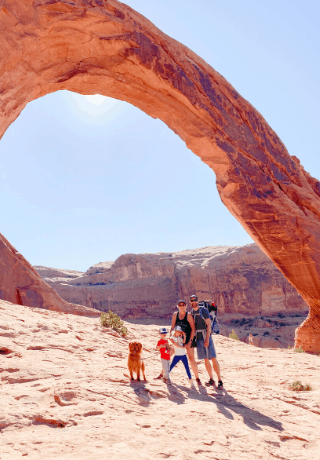 If you are interested in emulating the Arches National Park experience, the best hike is Corona and Bowtie Arches trail. It's a 3-mile roundtrip out and back hike with a very modest elevation gain over slick rock and soft sand. If you have a sandbox obsessed kid like my son Walker, you may want to plan for some extra stops to play in the sand. While this may sound like an "easy" hike, there are some more advanced areas that make this a moderate hike. Nonetheless, this is a great hike for kids over age 3 or kids in carriers. While dogs are allowed on this trail, be prepared to assist in the cable and ladder sections described below. My suggestion is if you can't lift your dog, leave them at home.
This hike is appealing for families with kids because there is a variety of terrain and "obstacles," not to mention the spectacular red rock scenery. If your kiddo is prone to whining "I'm bored" on a hike, this is a great hike for your family as it's the right mix of entertainment and challenge. It starts off crossing a railroad track so the kids will already deem it cool from the beginning. There's a section where you hug the side of the rock that leads to an open area where the kids can explore on the sandstone.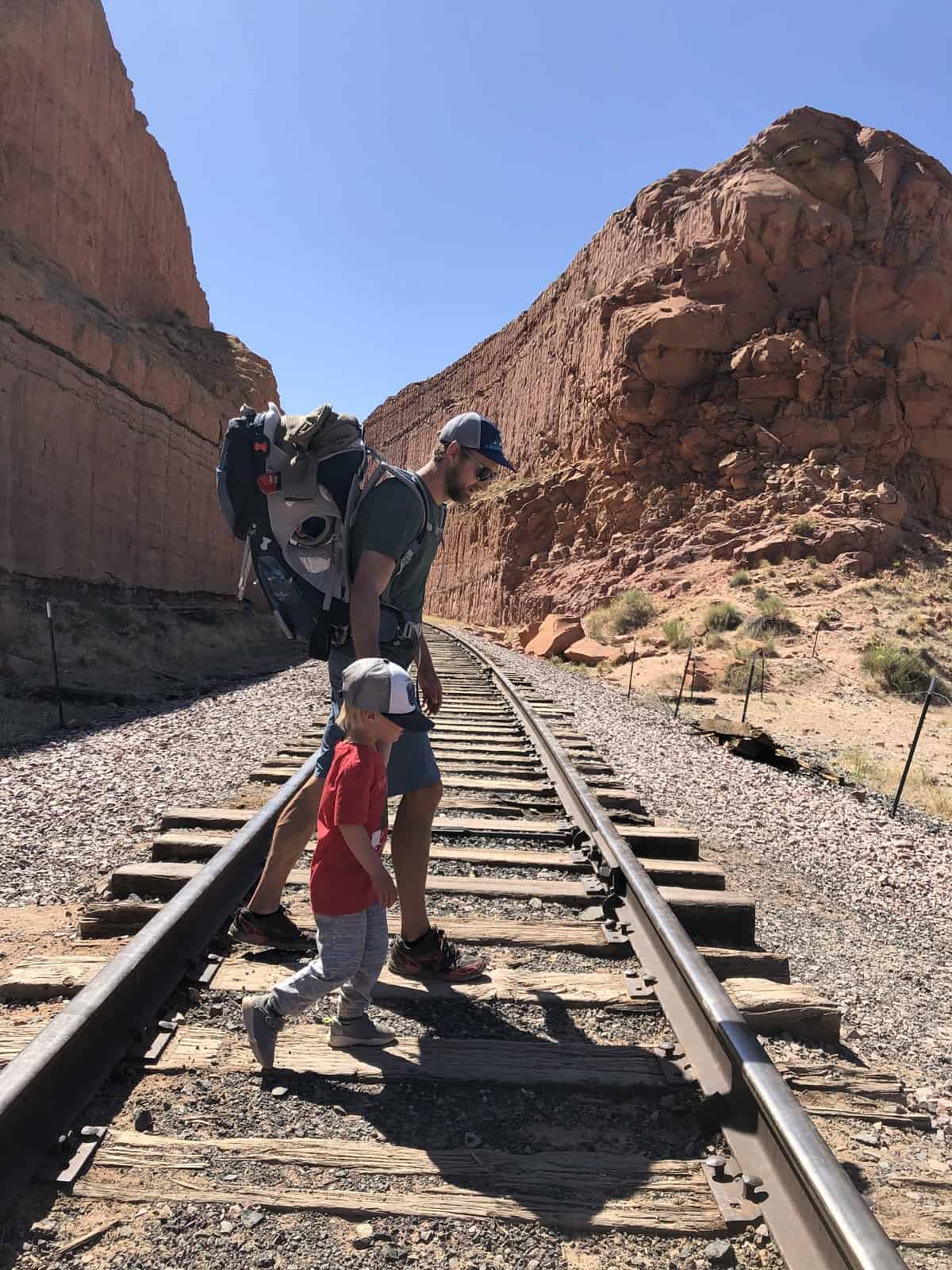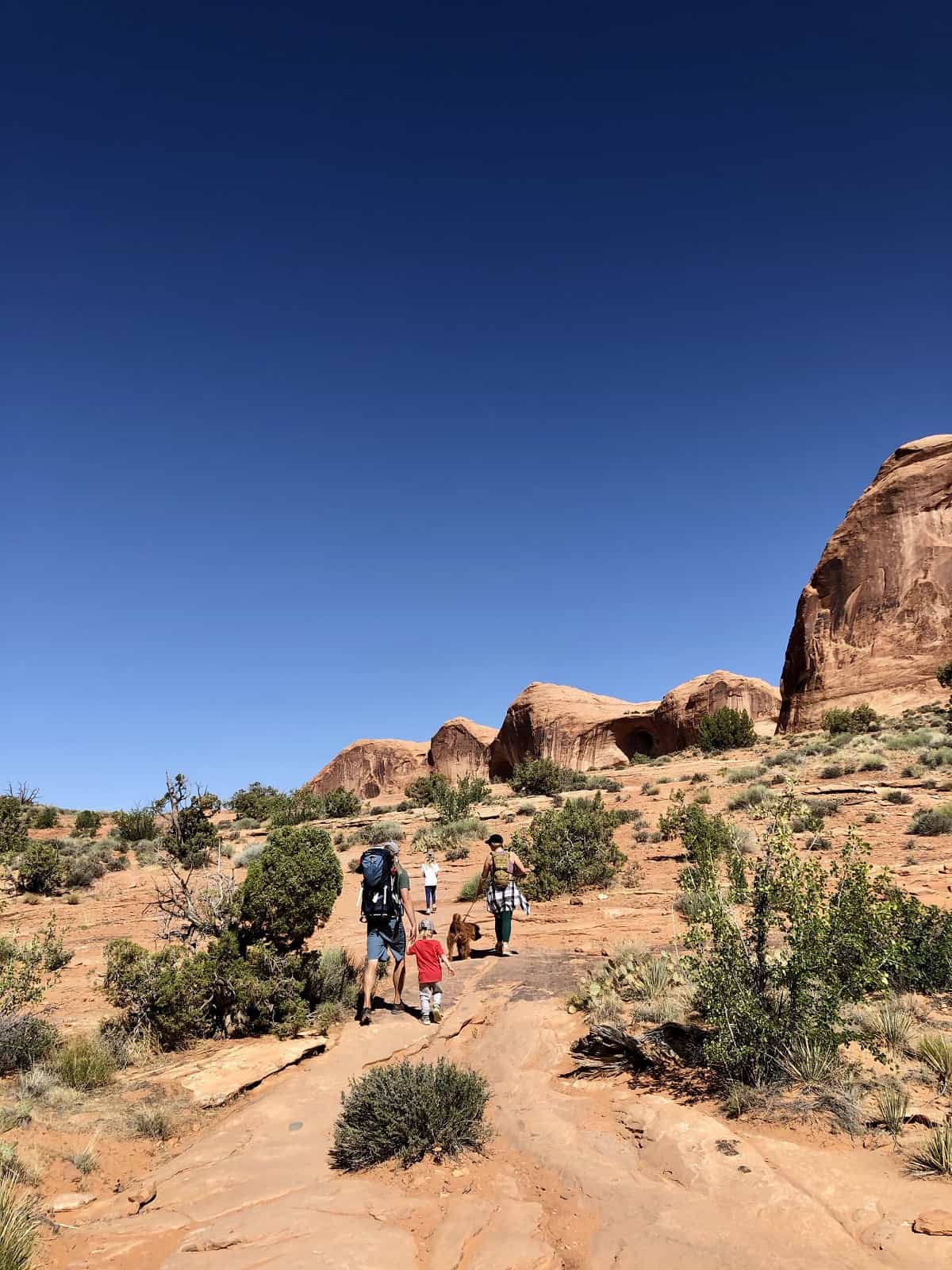 Eventually you'll encounter a ladder that's about 6 feet tall. Then a cable section where you ascend Moki steps (little impressions in the sandstone that serve as footholds). At this point the views are spectacular as you are looking directly towards both the Bowtie Arch to your left and the Corona Arch straight ahead. This section is great for exploring, however, keep your kiddos close as there is a significant drop off. If you stay to the left away from the edge, there is plenty of space to run and play as you head closer to the arches.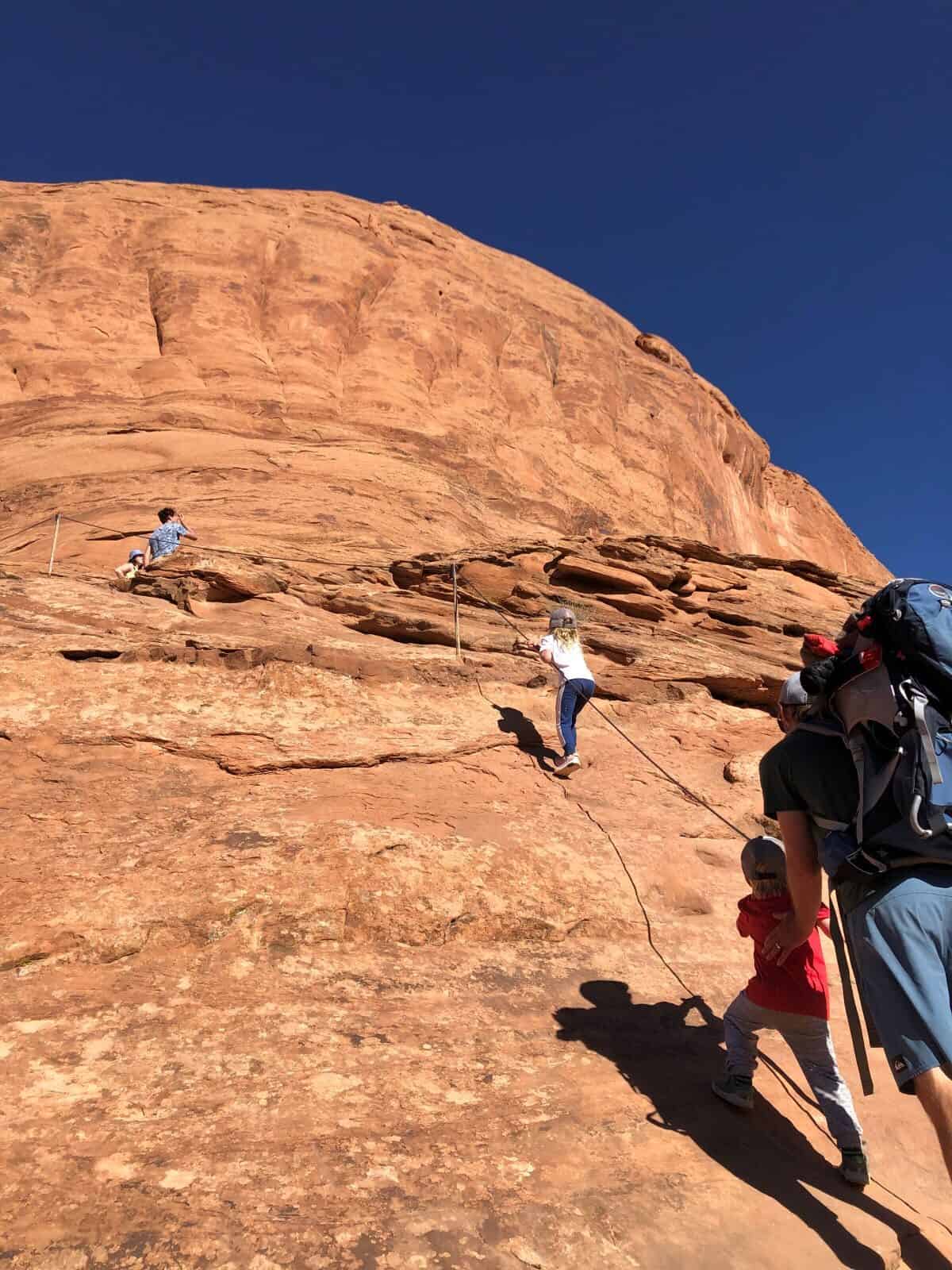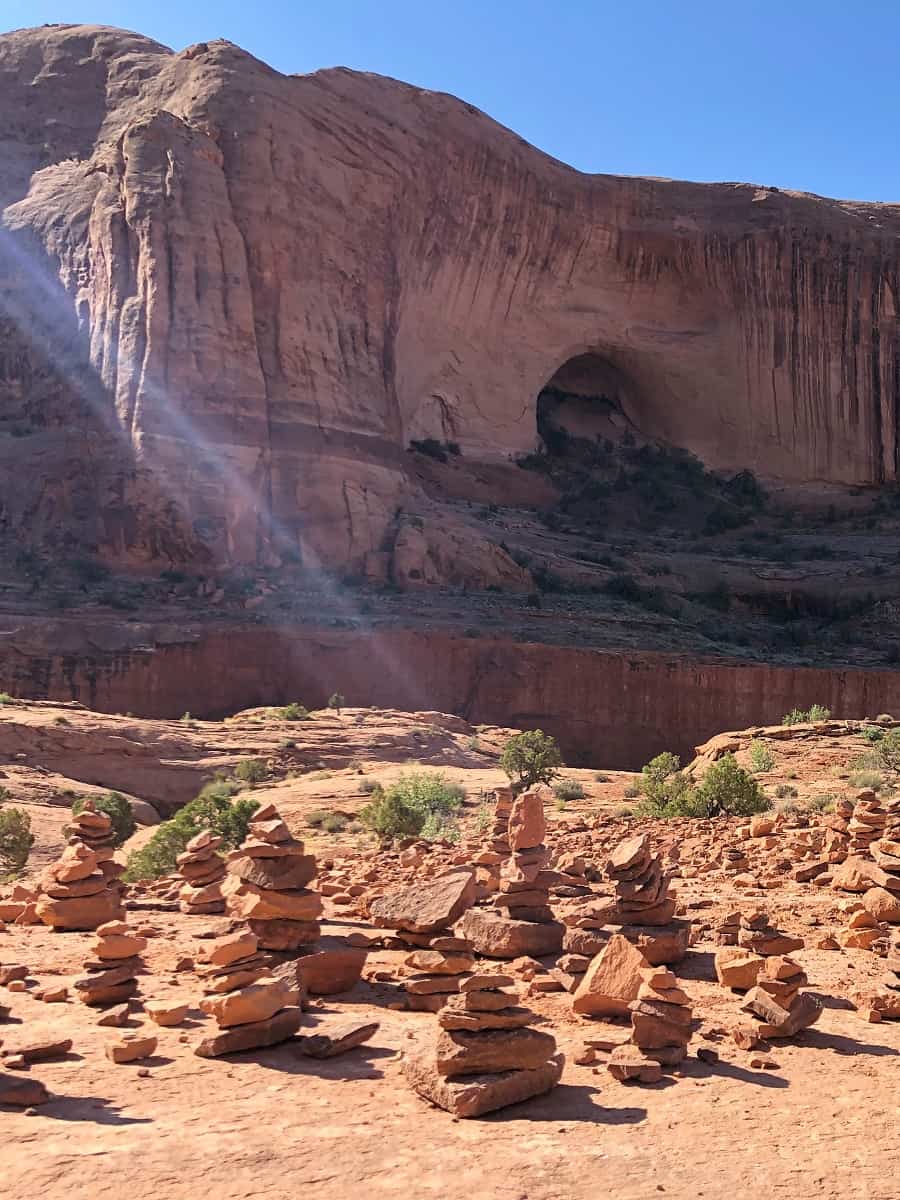 As you approach the Corona Arch, look to your left for the Bowtie Arch. It's not as acclaimed as Corona, but the streaks of colors in the rock are beautiful and the terrain is like a playground with lots of great climbing opportunity.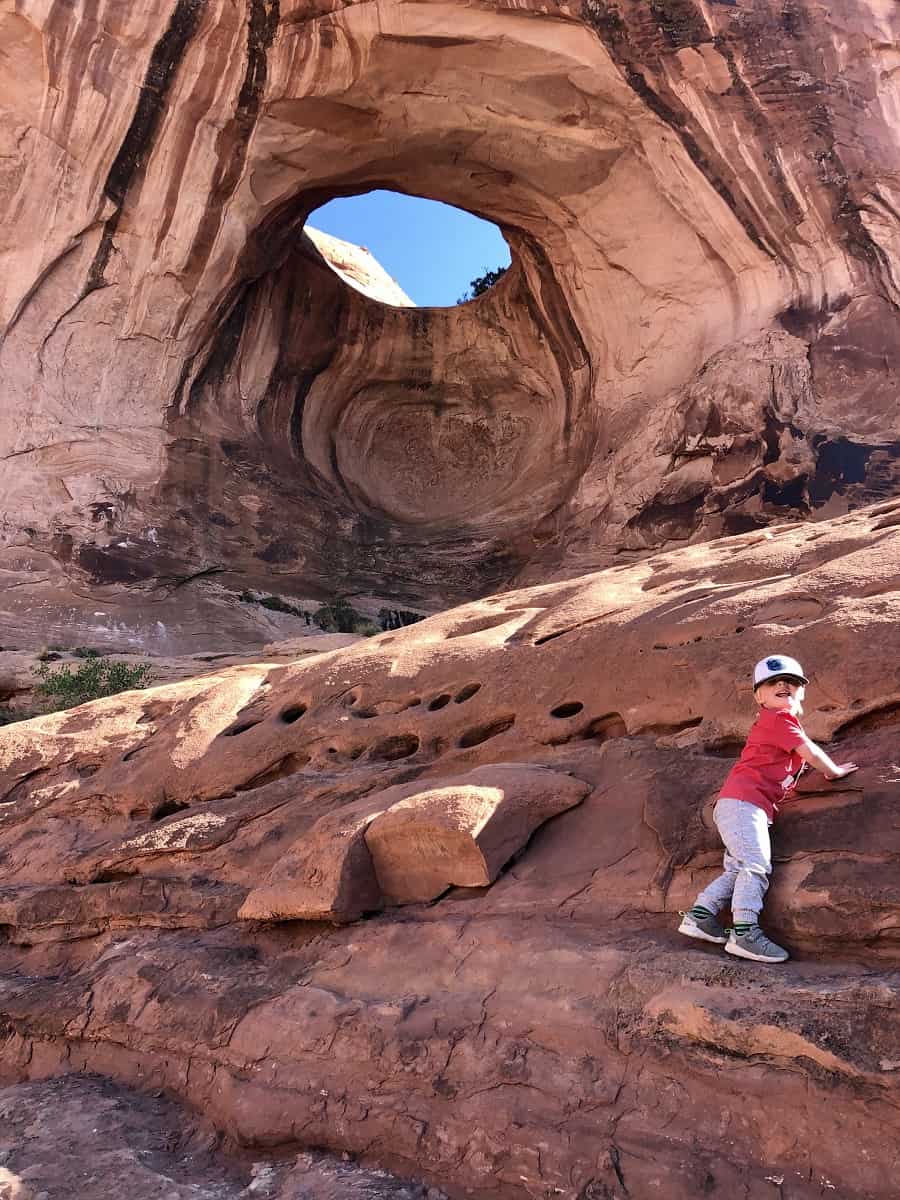 The arches are your turnaround point and your best bet for a shady lunch/snack spot on this hike. While many hikers hang in this area, if you are there early enough you will be able to take a great family photo below the arch. I also recommend walking under the arch and taking a picture looking back towards the trailhead.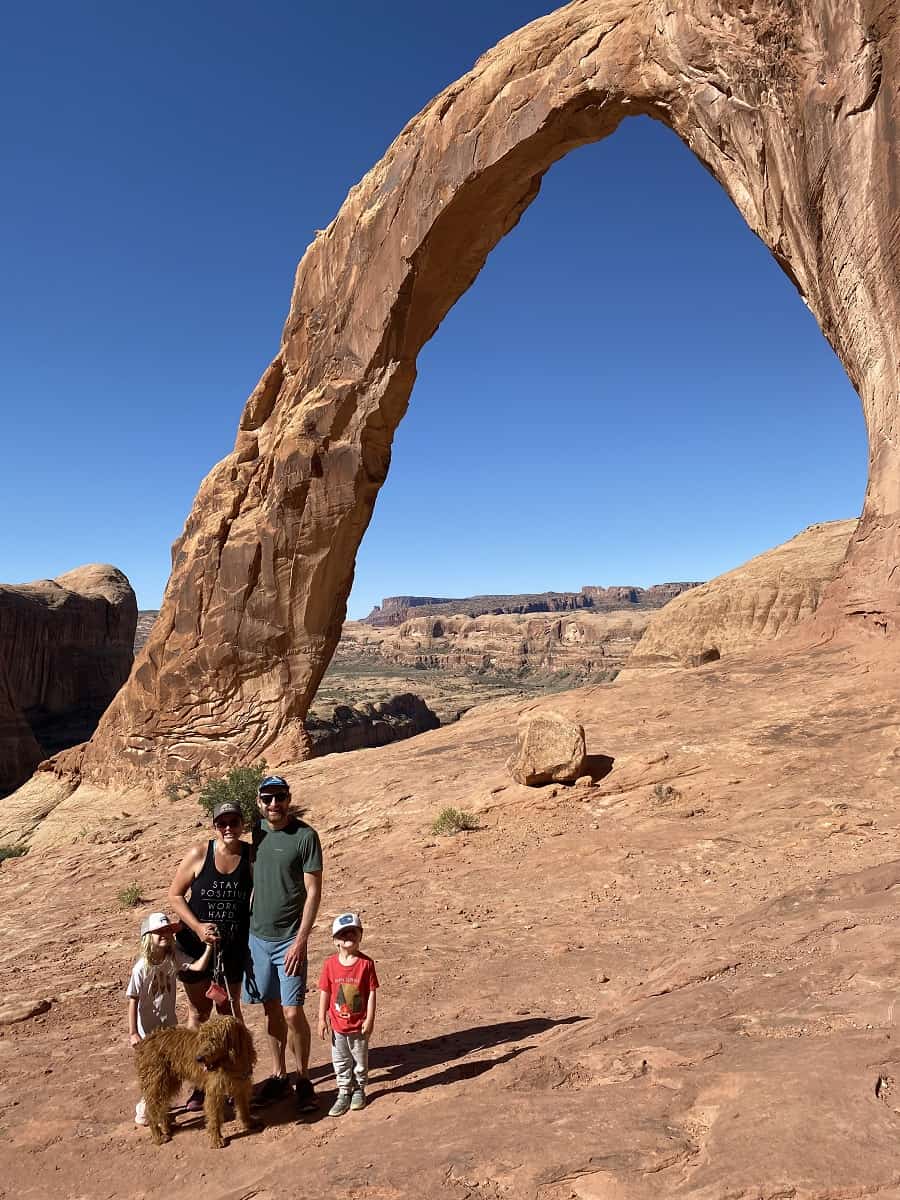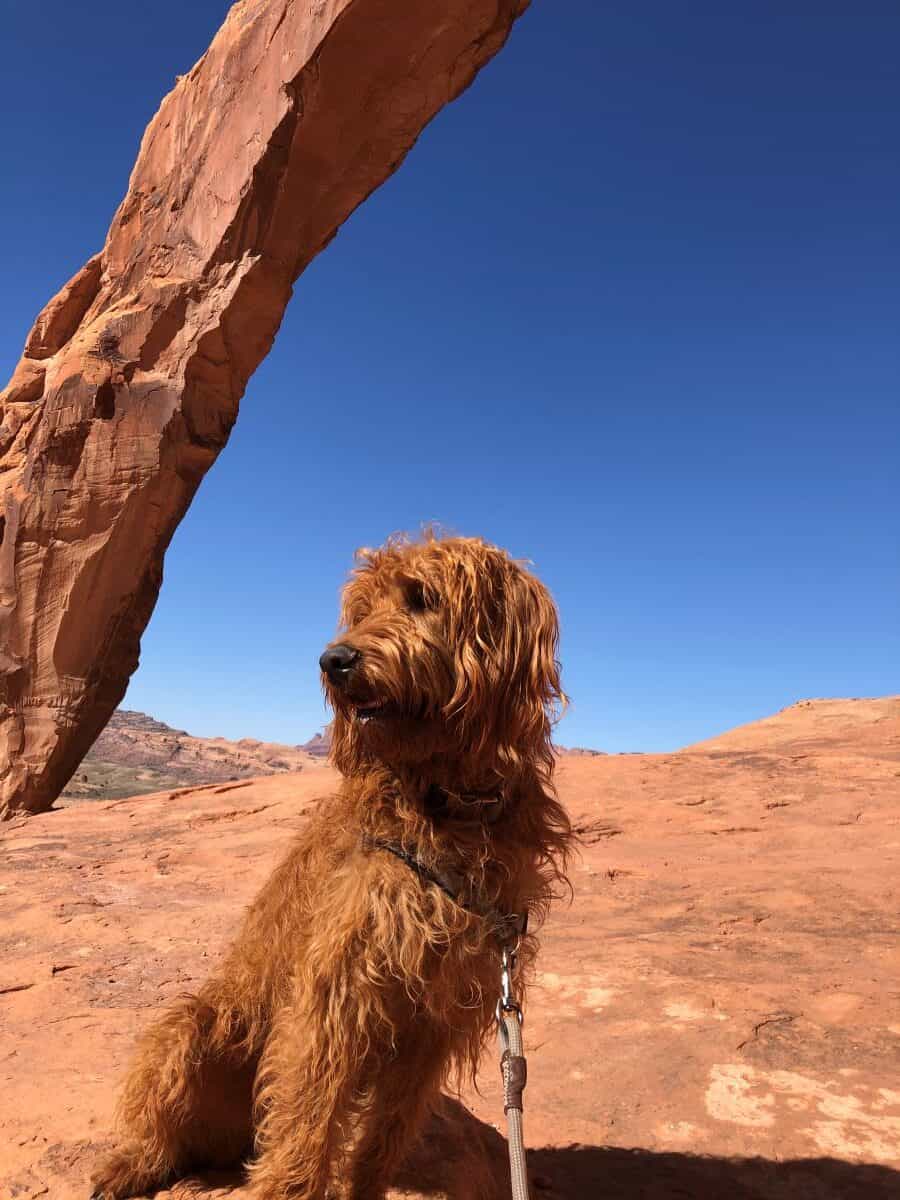 You are going to hear this recommendation frequently from me, but I highly recommend getting an early start. The trailhead parking lot is small and is quite popular. We started at 8am on Memorial Day weekend in May, and had no problem with parking, crowds, or heat.  By the time we were headed down the trail, bottlenecks had formed around the ladders and cable areas, which we were fortunate not to deal with on our way up. There is an overflow parking lot right across the road at the Gold Bar Camping and Picnic Area. One fun activity to pair with the hike is to picnic and hang on the shores of the Colorado River. This is a great spot for digging, sand toys, rock throwing, and soaking your feet after the hike. It is not swimmable due to the strong current of the river, but makes for a fun (and messy) pitstop before heading back to your campsite or lodging in town.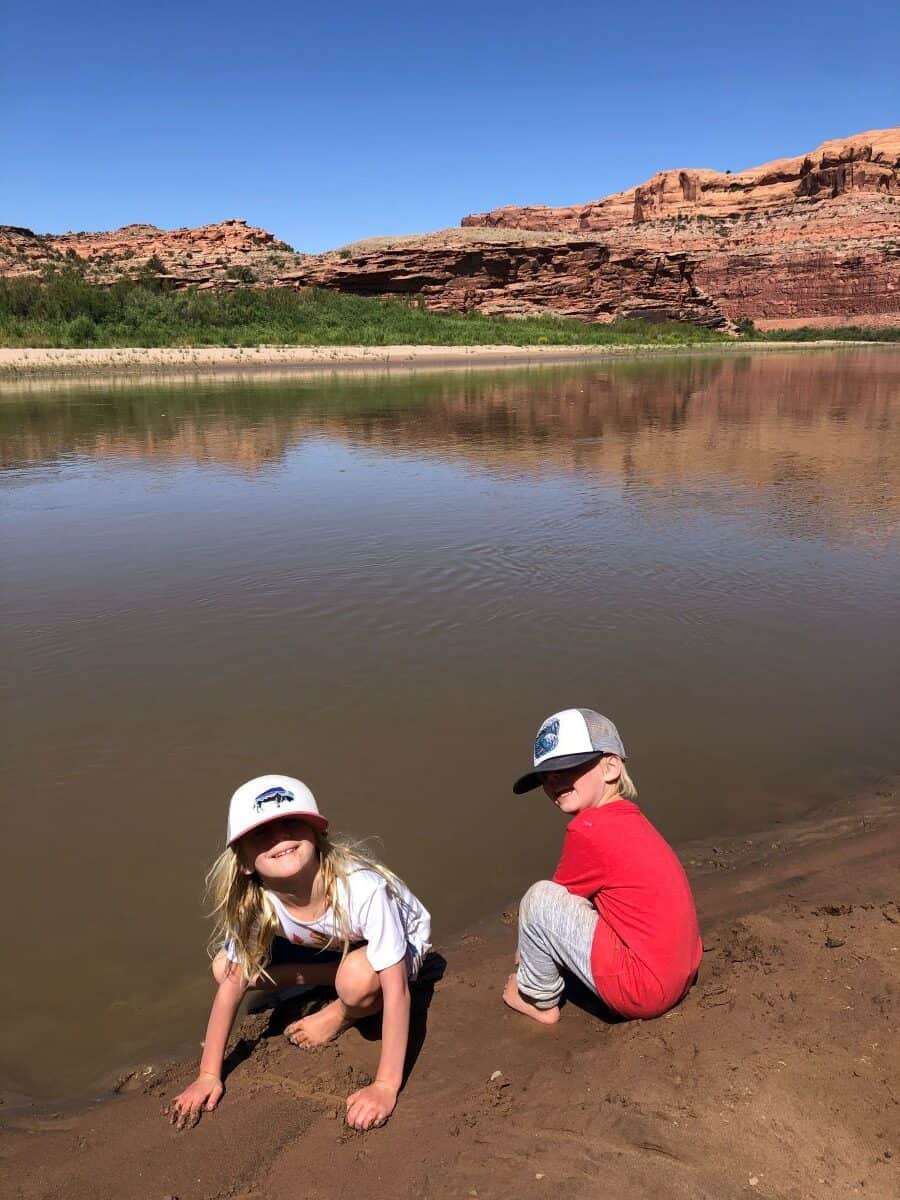 Driving Directions to Corona & Bowtie Arches Trailhead from Moab, Utah: The trailhead is less than 30 minutes from Moab. Drive North from town on Highway 191 across the Colorado River and turn left on Highway 279. Drive through the canyon winding along the river for approximately 15 minutes until you reach the trailhead on your right (or overflow parking on your left). For more information and recent trip reports visit here. 
Fisher Towers – kid hike in moab, utah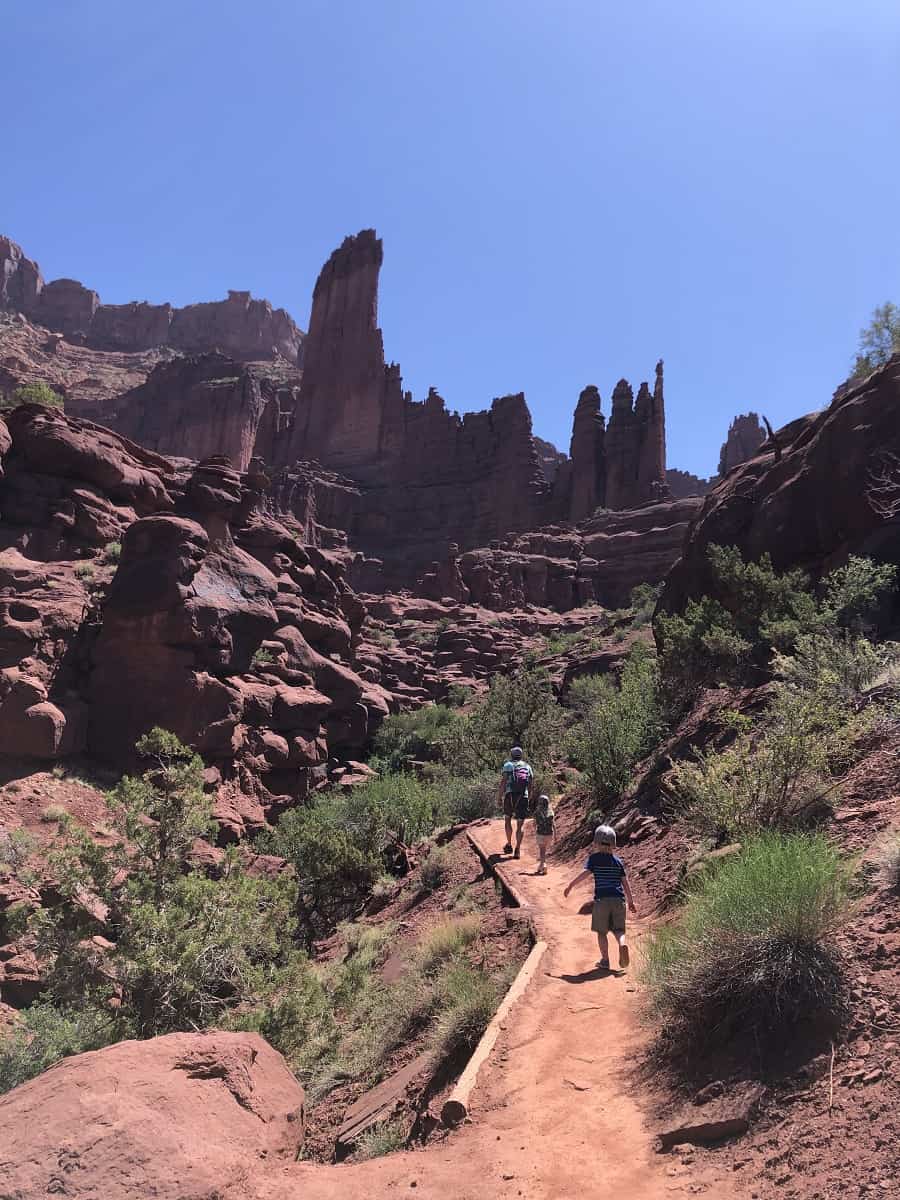 My next recommendation for non-National Park hikes near Moab is Fisher Towers. It's a 4.4 mile roundtrip out and back hike with about 1600 feet of elevation gain. What's great about this hike is you do not have to hike very far to get a genuine red rock experience and great pictures. We only hiked less than two miles roundtrip with a total elevation gain of less than 200 feet. We explored this trail on our way into Moab from Colorado, so we got a later start than usual. If you plan to do the full hike, I recommend starting early as our camouflaged puppy, Jasper, was definitely hot in the middle of the day on this hike—on Memorial Day weekend. He was desperate to find any shade and like most hikes in this area, there is not much.
This hike has a very different feel from Corona Arch, but that same classic Utah red rock you (and your camera) will love. This hike is home to the largest freestanding natural tower in the United States, called Titan Tower. Bryce was excited to bring our family to this hike to reminisce on his climb of Ancient Art Spire on a family trip of his own when he was younger. I am not recommending that climb here, but if you have some bigger kids (high school+), this would be fun to research.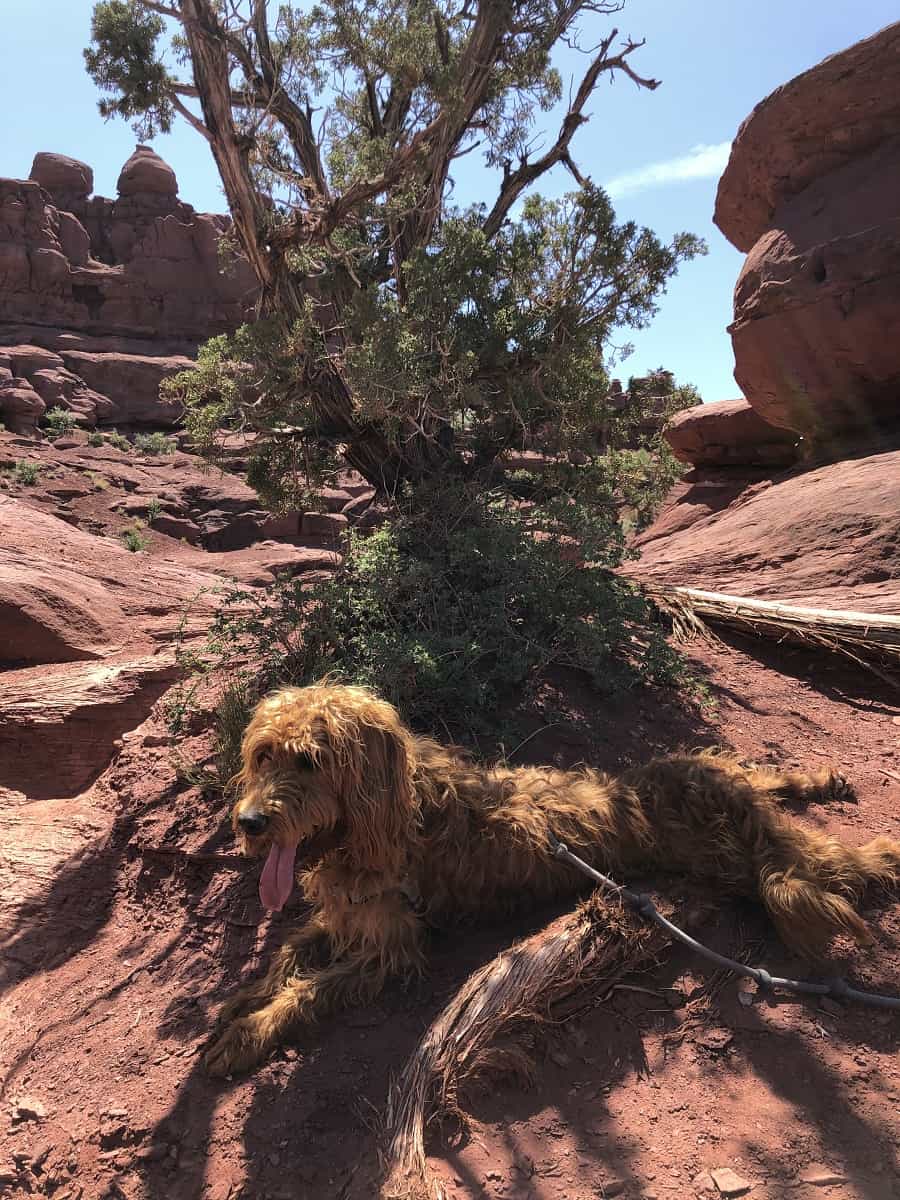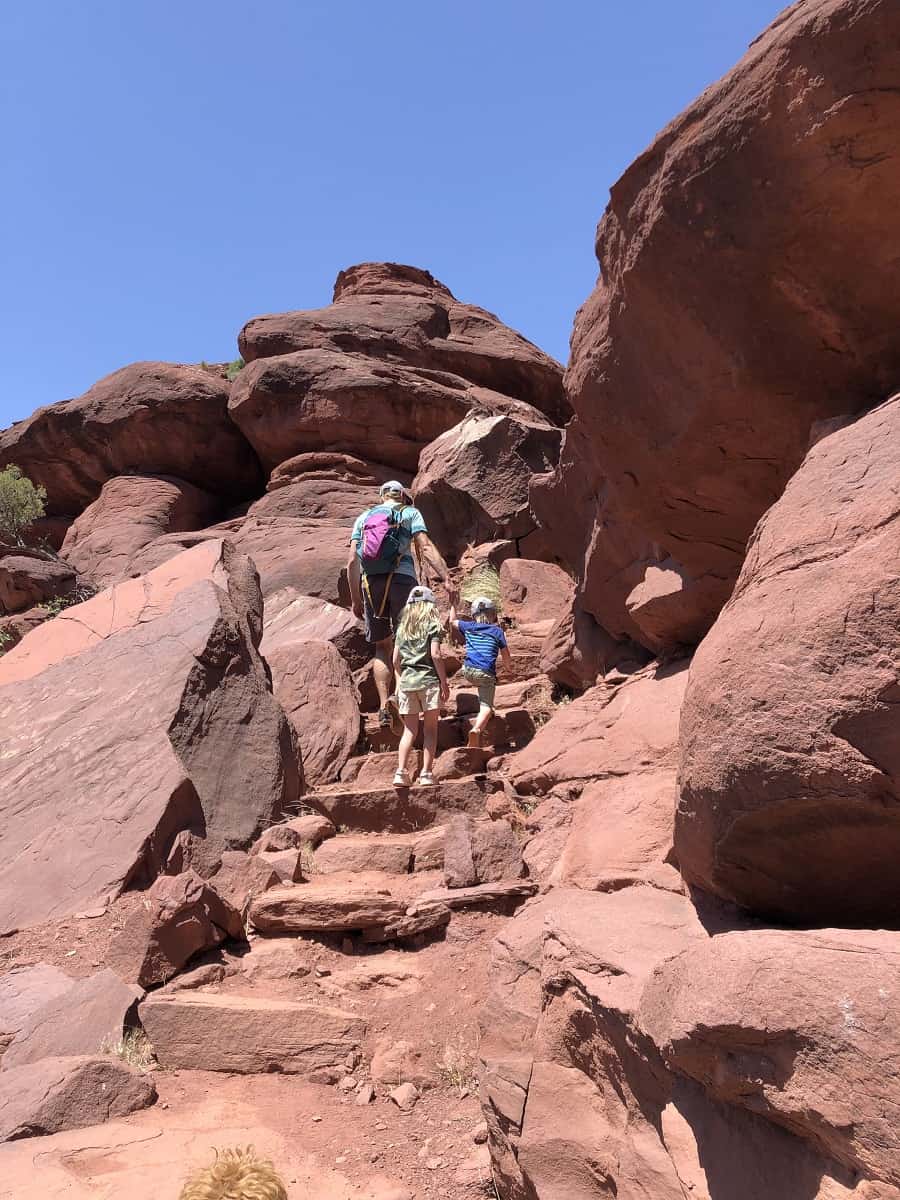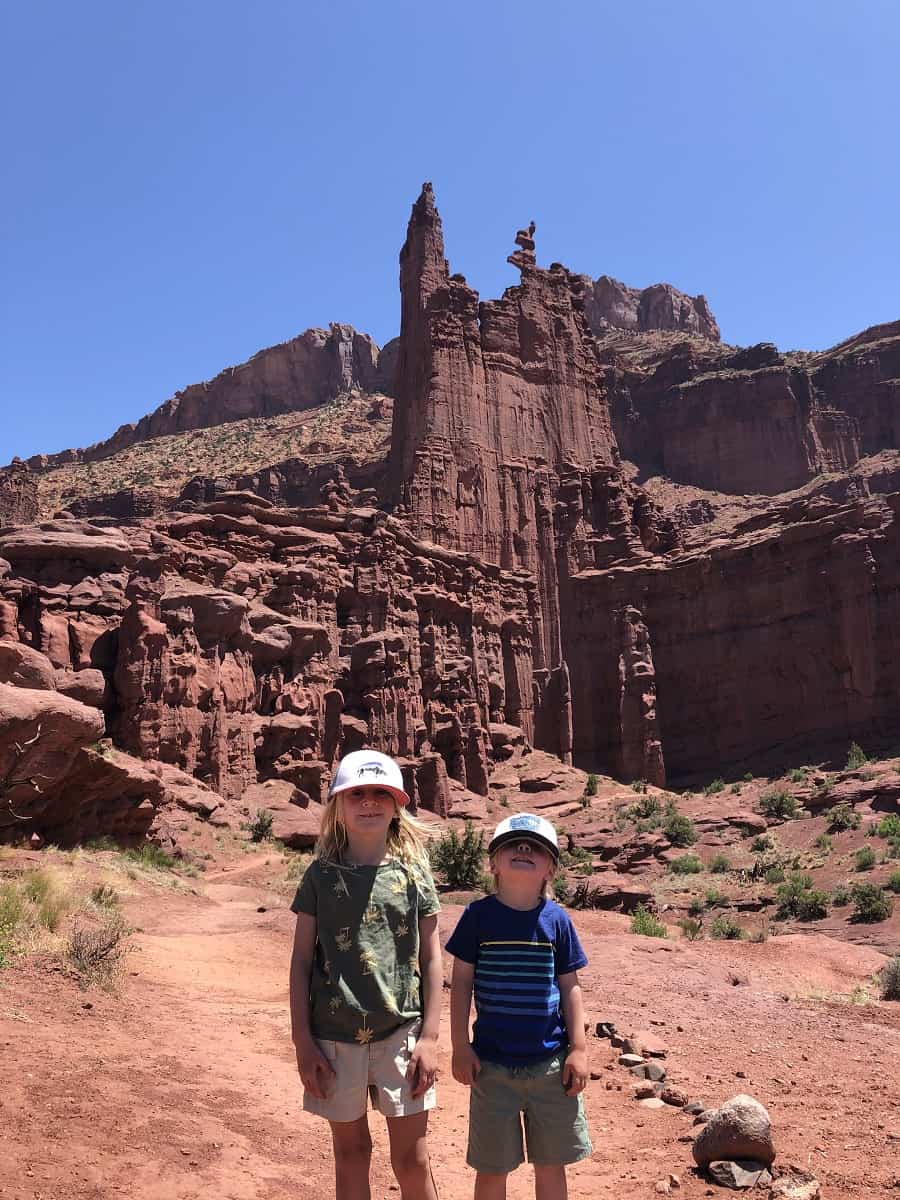 Even the shorter version of this hike that we did with our kids was worthwhile because it alternates between sweeping vistas and tight quarters in the rock formations. With Washington native kids who grew up hiking on muddy trails tucked between Evergreens, this red rock terrain is always enjoyable for our kiddos because the trails are so unique (and dry!!). There are plenty of natural features that form the trail, along with steps and stairs. This hike also has a ladder about 1.5 miles in, but we did not reach it in our hike. I imagine the same is true as with Corona Arch, as I would only recommend bringing a dog you can confidently lift if you plan to go all the way to the top.