When planning a trip to a laidback mountain ski town, New Mexico may not be the first to come to mind. But after reading this post about Red River, New Mexico in winter, I think you will see why it should! Last weekend we stepped back in time to the "Old West" in Red River, a quaint adventure town with so much winter fun! As ski towns go, it's a real gem! It has that small town feel, everyone is friendly, everything is walkable, the lift lines are short, the lift tickets are affordable, and the food is smothered in green chile!
This post is in partnership with Visit Red River, New Mexico. All opinions are my own.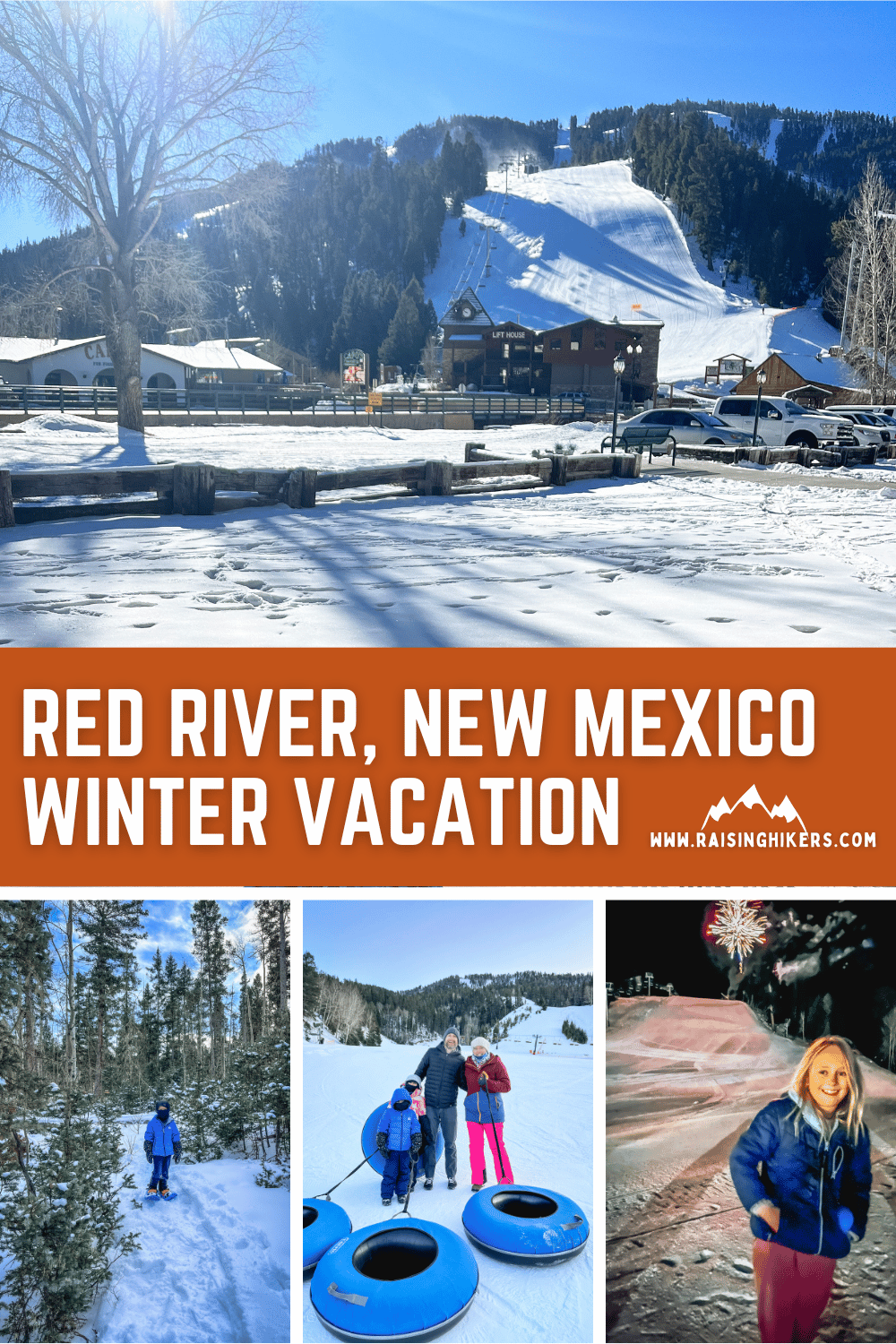 What to do in Red River, New Mexico in winter
Ski at Red River Ski & Summer Area
The base of Red River Ski Area is at 8,750 feet so it gets great snow. In addition, they have the most powerful snow making systems in the state and make snow on 85% of the mountain, which is really impressive! While it doesn't boast high speed lifts, it does have reasonably priced lift tickets, super short lift lines (we NEVER waited), and varied terrain for beginners to experts. Explore the lifts and trails here. 
Go Tubing at Red River Ski & Summer Area
We happened to visit Red River during a very cold weather system, so we were bundled from head to toe, but we did not want to miss the tubing! And it was worth it! After the lifts close, the beginner area opens up for tubing. It's a great little hill that allows you to take the magic carpet back up. You can link with your friends and family's tubes for "party tubing" or just fly down on your own! See the calendar and purchase tickets in advance here. 
Snowshoe or Cross Country Ski at Enchanted Forest
On our last day before driving home, we spent some time on the Snowshoeing trails at the Enchanted Forest Cross Country Ski Area. Last year, the area suffered extreme damage from 600-115 mph winds that made 95% of the trails impassable. With the help of the community, staff, and forest service they have made incredible progress in restoring this beloved area. There are miles of beautiful snowshoe and cross country trails, as well as day and overnight yurts. It's only 3 miles outside of town and definitely worth a visit! You can rest all necessary gear at the day lodge. 
Walk the Red River Nature Trail
This trail parallels main street, but hugs the river for beautiful scenery. The Red River Nature Trail is an easy and flat 3.2 mile out and back if you start from the main ski lift. 
During the holiday season, the whole town is decorated with lights so just a stroll down Main Street is magical. But be sure to walk by and through the town park (Brandenburg Park) is decorated with holiday lights and decorations. Plus, the playground is fun for the kids in the day and night!
Watch the Torch Parade
Every Saturday at 7:00pm  during ski season, a group of skiers sky down "The Face" holding torches and light the slopes. Fireworks go off as they pass. The Torch Parade is truly a magical experience and worth standing out in the cold to watch. Grab a hot chocolate at the Lift House before it starts to keep you warm while you watch the event. Do not miss this one! 
Shop small at the local Red River stores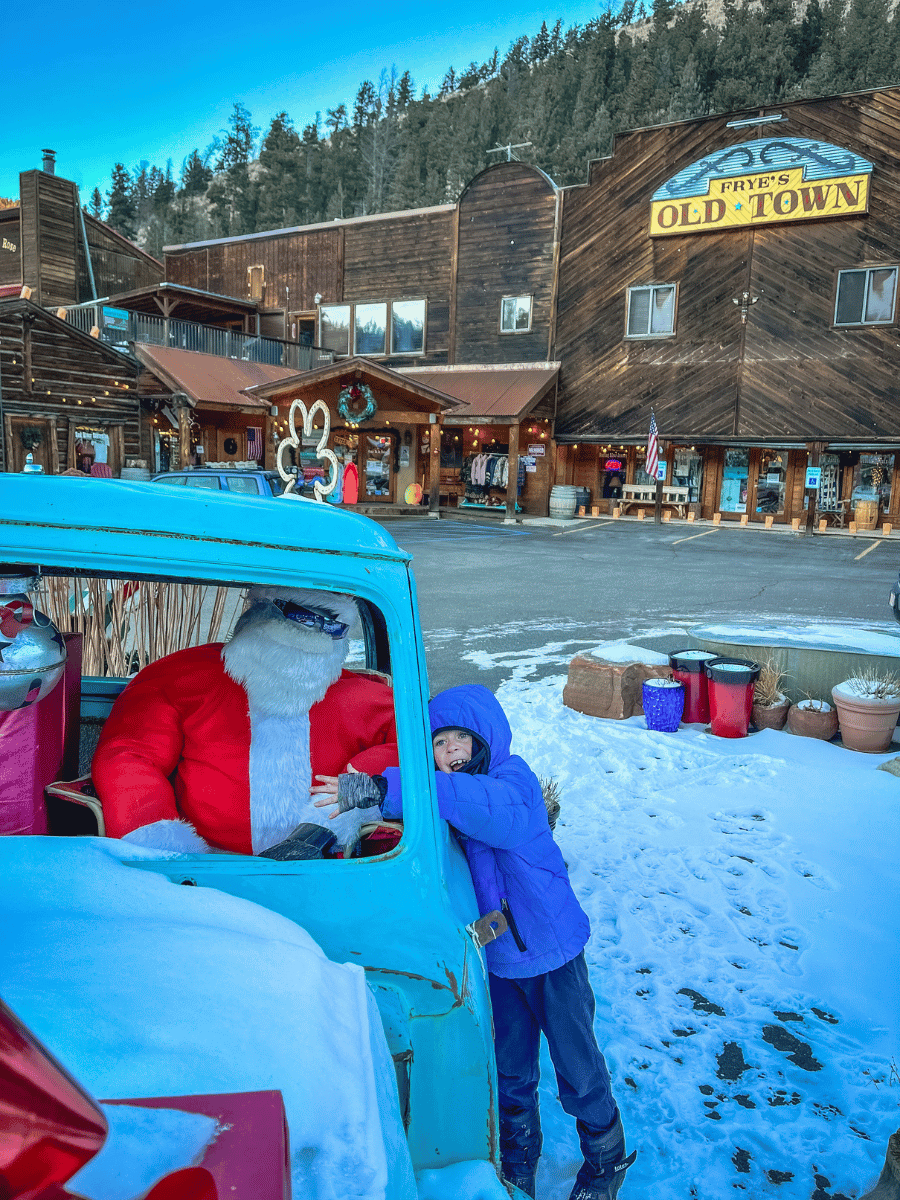 There are so many cute boutiques, gift shops and mountain outfitters along Main Street. They have games, candy, outdoor gear, souvenirs, home decor, jewelry, and apparel.We got some last minute Christmas presents at Spruce Red River – where the kind owner served homemade cookies! We picked up some souvenir t-shirts and stuffed animals at the year round Christmas store Red River Trading Company and browsed western gifts at Frye's Old Town.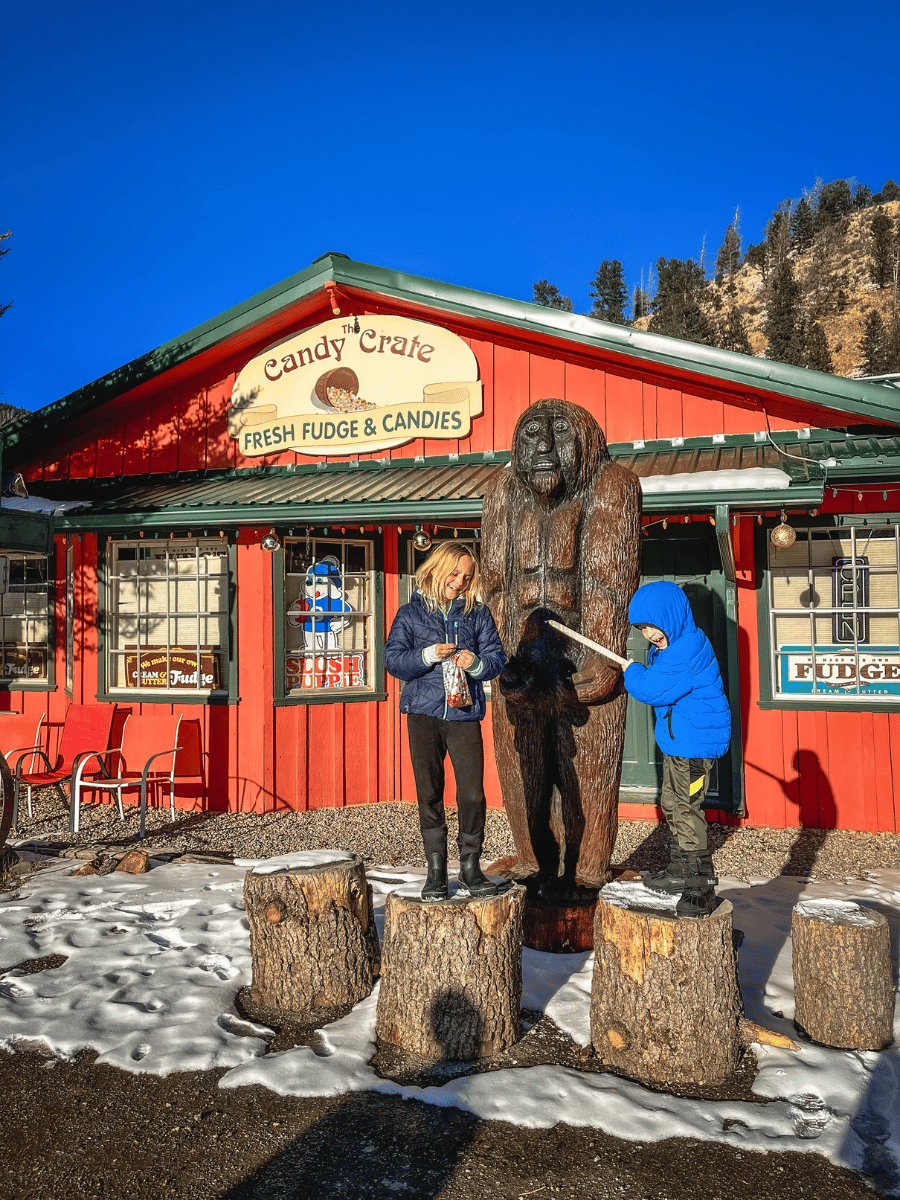 And of course, we had to visit BOTH local candy stores, and it's really hard to choose a favorite. The fudge at Candy Mountain Fudge at the Candy Crate was so rich and delicious, and Red River Candy Company had so many "mix and match" throwback candies perfect for the road trip home. 
Where to eat in Red River, New Mexico in winter
There are so many options for delicious food in Red River! Wherever you go, make sure you try the New Mexico staple of green chile! For breakfast, we loved the green chile burritos at Shotgun Willie's Cafe and the traditional breakfast (and donuts) at T-Bucks family restaurant. If you want to get first chair on the mountain and are looking for a quick option, Steam Coffee has great coffee and pastries in a hip renovated train car. For lunch, we loved the deck view of "the Face" of Red River Ski Area from The Grill at the Lift House.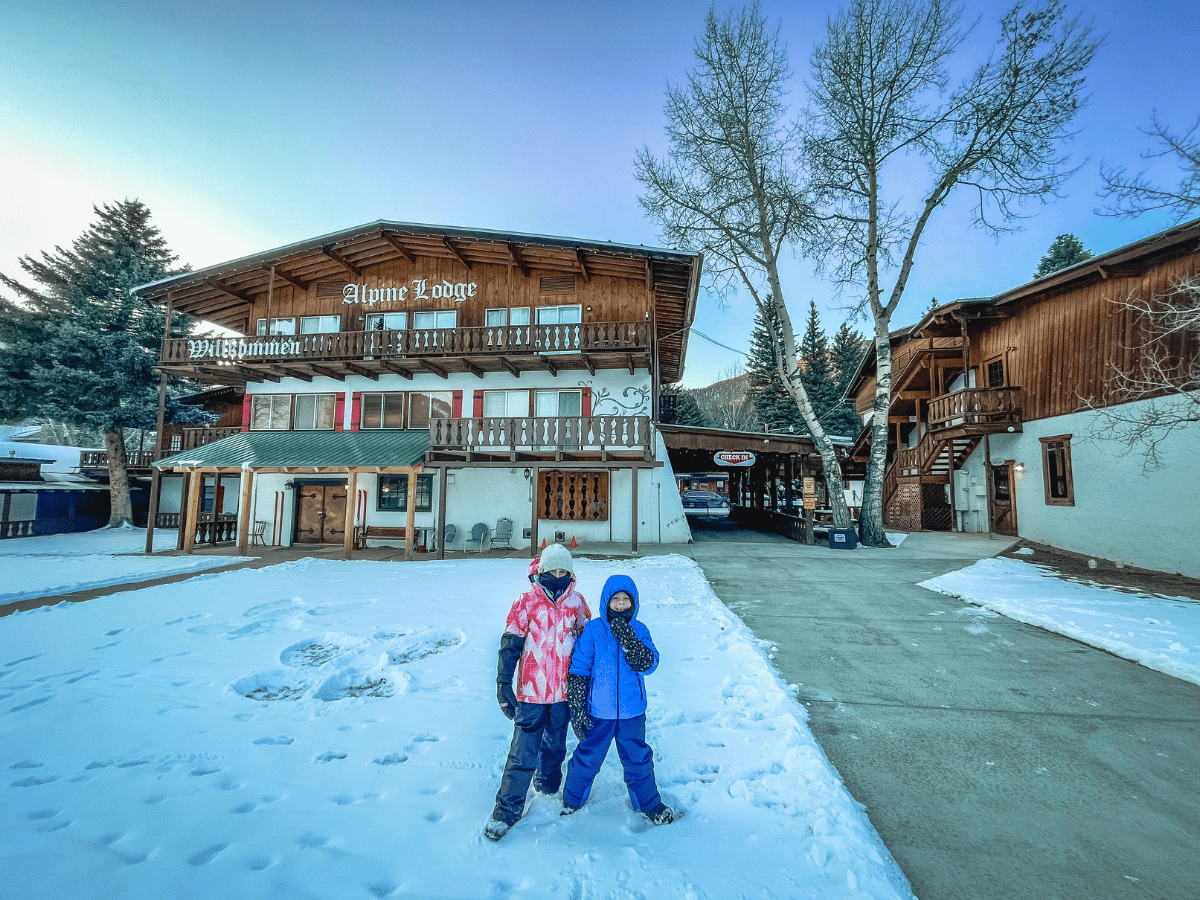 We enjoyed the amenities and location of Alpine Lodge and would stay there again! It is directly across the main ski lift and close to lots of restaurants and shops. It sits right on the Red River with beautiful views of the slopes. It has indoor hot tubs, a cozy fire pit by the river, a large lawn, covered picnic area, and outdoor grills. They have options for larger groups and multi-room cabins as well.
How to get to Red River, New Mexico in Winter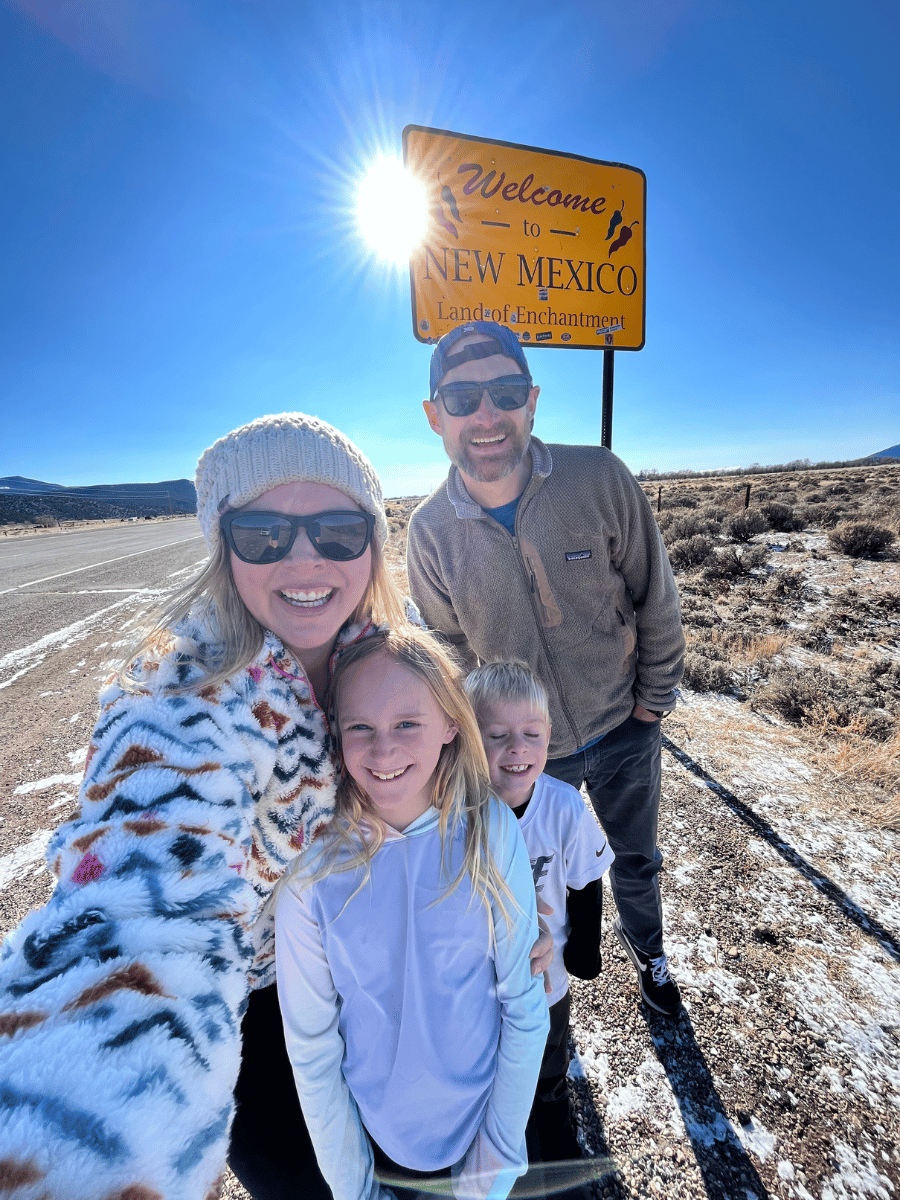 Red River is in Taos County along the Enchanted Circle Scenic Byway linking it to the Taos Valley in Northern New Mexico. It's less than 5 hours to drive to Red River from Denver, Colorado or Amarillo, Texas. Or just 2.5 hours from Santa Fe and 3 hours from Albuquerque, New Mexico. Red River is in the Sangre de Cristo Mountains at 8,750 so it does get a lot of snow! Keep this in mind when planning transportation. If you are looking to fly, check out these options. 
Let me know if you have ever been to Red River in the comments or if you found this post helpful in your planning!