We have been carrying kids on hikes for 6 straight years—from our daughter's first hike when she was 8 weeks old to last weekend when my son needed a short lift. Our kids are 5 years old and 6 years old and we still occasionally carry them on hikes. Yes, I know that sounds crazy, but it's true. We do a lot of kid friendly hikes around the Denver area on mellow weekends, but we also like to incorporate some more strenuous hikes that get us to epic destinations—like some of the ones in 8 Epic Hikes to Add to Your Bucket List. With most of these hikes, if we are determined to make it to the top, there may be a time where my youngest just will not take another step. After we've tried all of our tricks like those I share in What to Do When Your Kid Does Not Want to Hike, we give them a lift. With my 6 years of experience, I have tried many different hiking carriers and these four stand out from the rest, all for different reasons. Below I share my four favorite kid carriers for hiking in each stage, from the infant stage to age six!
1) BECO – Our favorite KID CARRIERS FOR hiking with BABIES
The BECO Gemini and BECO 8 are both fantastic all in one baby carriers. Due to our babies close in age, we had one of each. I recommend the Beco 8 because of the breathable mesh feature, which is unique to that model. Our Becos got many miles and have been our most used (and loved) carrier due to the versatility and longevity. This was our first carrier and it grew with the kids so we got our money's worth!
Why the BECO 8 is one of our favorite kid carriers for hiking
Weight capacity: 7-45 pounds
We loved this carrier as we could use it right away since it comes with an Infant insert and can hold babies as little as 7 pounds. See Emerson's very first hike below to Granite Peak at 8 weeks old!
It has 4 carrying positions—front facing in, front facing out, hip, and back. It's called the Beco 8 because it technically has 8 positions as each of those can be altered with the ventilation panel up or down.
The crossed back helps to keep your shoulder from getting pulled forward and makes it the most comfortable front carrier I've worn.
It is easy to adjust when alternating between parents or caregivers.
The breathable mesh panel keeps baby ventilated for summer hikes.
It is lightweight and simple. It's not as bulky as some of their competitors in the soft structured carrier realm. This was very important to us because we needed to pack it into our daypack or hard structured carrier while it wasn't being used and it rolls up/stuffs into a pack easily.
It is super versatile and will last a long time—since it can even carry kids up to 45 pounds!
It is machine washable, because spit up.
You can double carry with two Becos and feel like Super Mom (pictured below for proof of my super mom status)!
Considerations for the Beco 8
Lack of storage. This isn't an issue when front carrying as you can wear a daypack, but as they get older and you want to put them on your back, this limits your ability to carry hiking supplies.
You will get sweaty—even with the breathable panel since they are on your front or back and making direct contact with your sweaty hiking body.
2) OSPREY POCO PLUS – Our favorite KID CARRIERS FOR hiking with TODDLERS
Graduating to the "real hiking carrier" was a big deal. We did this shortly after Emerson met the weight requirements and could confidently hold her head up. For serious hikers, framed carriers are much better at distributing weight and hence more comfortable as kids get heavier and for longer treks. Plus, kids usually prefer to be lifted higher to see their hiking surroundings as they get older and more aware. We started out with the Osprey Poco with our first child and then upgraded to the Osprey Poco Plus with our second.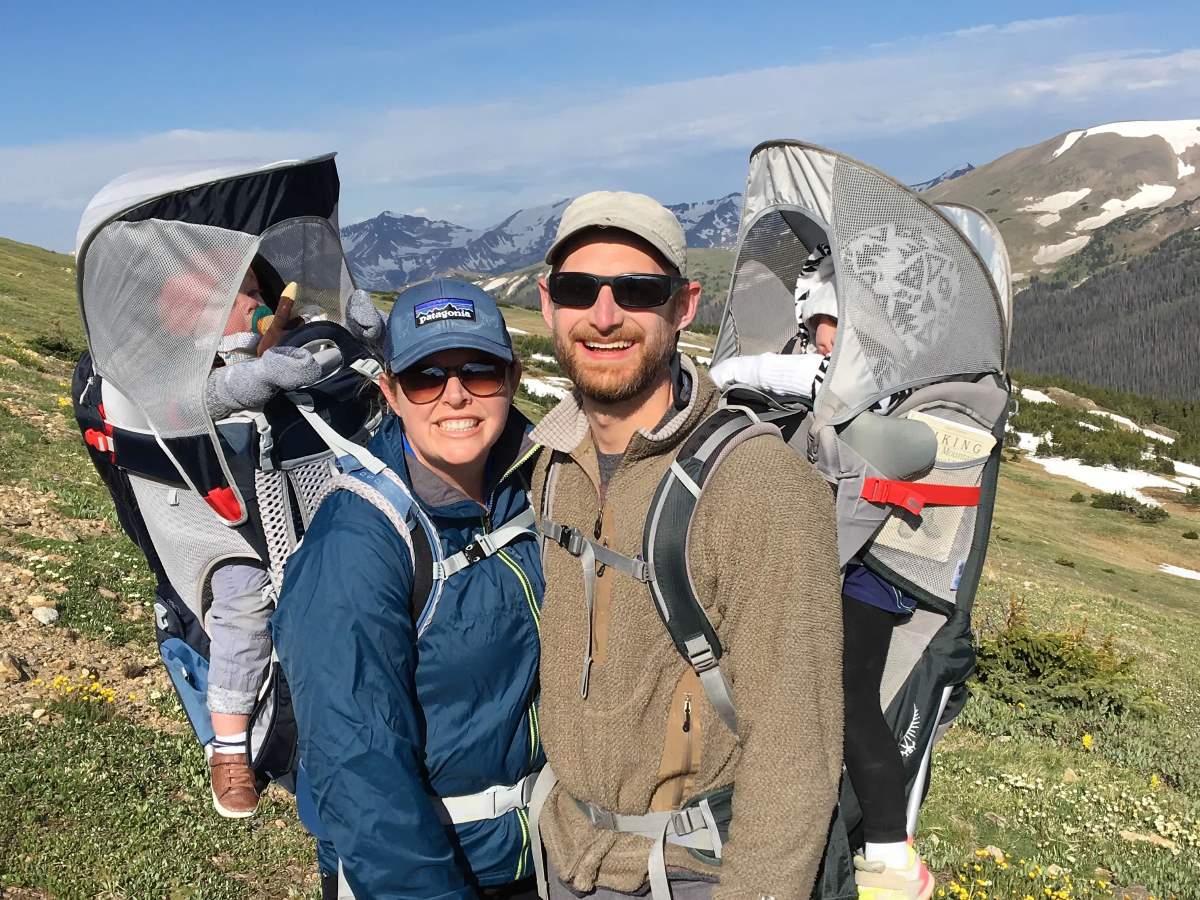 Why the Osprey Poco Plus is one of our favorite kid carriers for hiking
Weight capacity: 16-40 pounds (and able to sit up on their own). Keep in mind that 40 pounds in this carrier feels heavier than in a soft structured pack due to the frame and storage added. We topped out at around 30-35 pounds with the framed carrier.
The most important aspect of hiking carriers for long distances is comfort. The carrier was by far the most comfortable in framed carriers for me personally and was comfortable for the kids!
We upgraded to the Plus when we had our second child as we both needed to carry kids so neither of us were able to carry a daypack. This carrier has the most storage available of all the carriers. If you are going to solo hike with your kids, this is the best carrier for you.
The mesh siding makes it breathable for the summer and having them off your back is far less sweaty than with soft structured carriers.
I like that the sunshade is detachable as it gave the option for sunny days versus the (many) cloudy or forested hikes we had in Washington.
There is an external hydration sleeve so that you don't have to the pack off every time you need to get water.
Considerations for the Osprey Poco Plus
Due to the amazing amount of storage in this carrier, it can get quite heavy if you are using it as a carrier and to store your daypack essentials.
The storage can only be accessed from the back which means you'll need help getting snacks out or you'll need to take it off each time.
It's not super convenient to get kids in and out frequently so this carrier is best for longer hauls as opposed to quick breaks for little hikers. It can especially be challenging to get them in and out with bulky shoes or hiking boots on.
They also have a Poco LT version now which is more compact if you aren't needing as much storage capabilities.
3) KINDERPACK Preschool Carrier – Our favorite KID CARRIERS FOR hiking with PRESCHOOLERS
Kinderpack makes beautiful and comfortable carriers for all ages, but our experience has been with the Preschool sized pack and we have loved it! It is surprisingly comfortable, taking into consideration the weight of the child at this age. We found that the Kinderpack allowed us to push continue doing longer hikes once our kids were hikers. My daughter could do 8+ miles last summer, but my son was still in the 3-5 mile range so the Kinderpack allowed us to hike to our daughter's ability.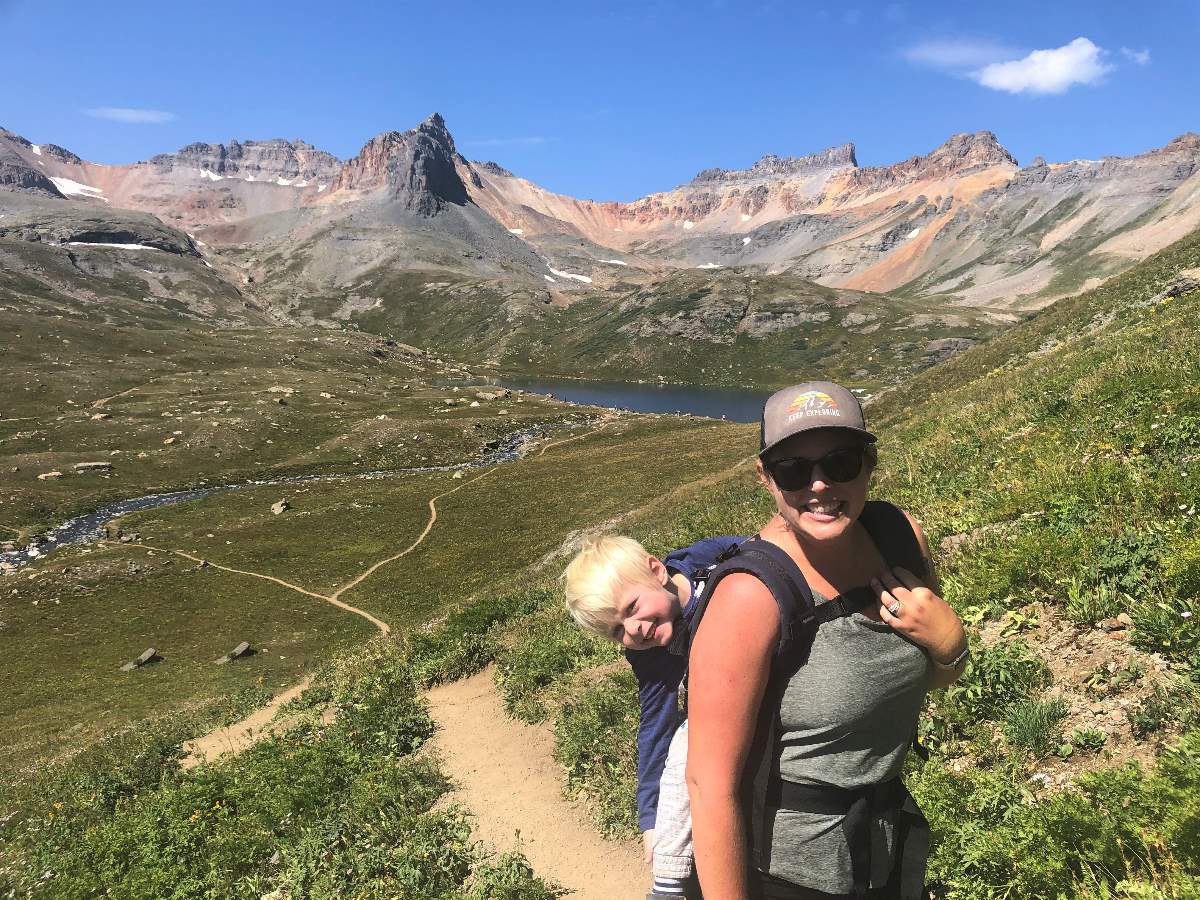 Why the Kinderpack is one of our favorite kid carriers for hiking
Weight capacity (for Preschool Carrier): 35-55 pounds
I find this carrier to be very comfortable, especially for the weight of kids that I am able to carry in this pack.
It can carry kids up to 55 pounds (and can likely carry heavier, but it just depends on your strength!) 😊
I love the shape of this carrier as it molds and forms around the child's bottom, so it fosters a more ergonomic position.
There is a mesh panel that helps with breathability for summer hiking.
They have beautiful artwork designs on their carriers!
Considerations for the Kinderpack
In my experience, this pack works best as a back carry for your bigger kids, which means you don't have the ability to also carry a backpack. This is okay when hiking with a partner, but can pose a challenge with solo hiking.
You will get sweaty—even with the breathable panel since they are on your front or back and making direct contact with your sweaty hiking body.
4) TRAIL MAGIK – Our Favorite KID CARRIERS FOR BACKPACKING
The Trail Magik carrier is newer to market and satisfies a real need in the market. We have only used this carrier for a couple of months, but I am already a huge fan of the innovation and the ease of use! It's positioned as a backpacking carrier, but with a sturdy daypack it can also satisfy the need for short breaks for mini hikers.
Why the Trail Magik carrier is one of our favorite kid carriers for hiking
Weight capacity: 1 year old to 43 pounds
It's unique design uses the backpack as counterweight so it is a minimalists' dream! It is super lightweight and packable (folds down to the size of a waterbottle).
We like it for backpacking as my soft structured carrier was too bulky with a full sized backpack.
We also like it for day hikes when my youngest needs a short break.
Unfortunately, we've had some minor trail emergencies injuries already this season and the Trail Magik carrier has been a lifesaver as we were able to carry our son down safely. Since this is so lightweight, we plan to carry this with us even when the kids can confidently hike without being carried. I see this as an essential emergency item for all parent hikers!  
Having a backup plan for your little hiker is a lot smarter (and safer) than resorting to piggyback or shoulder rides on the trail.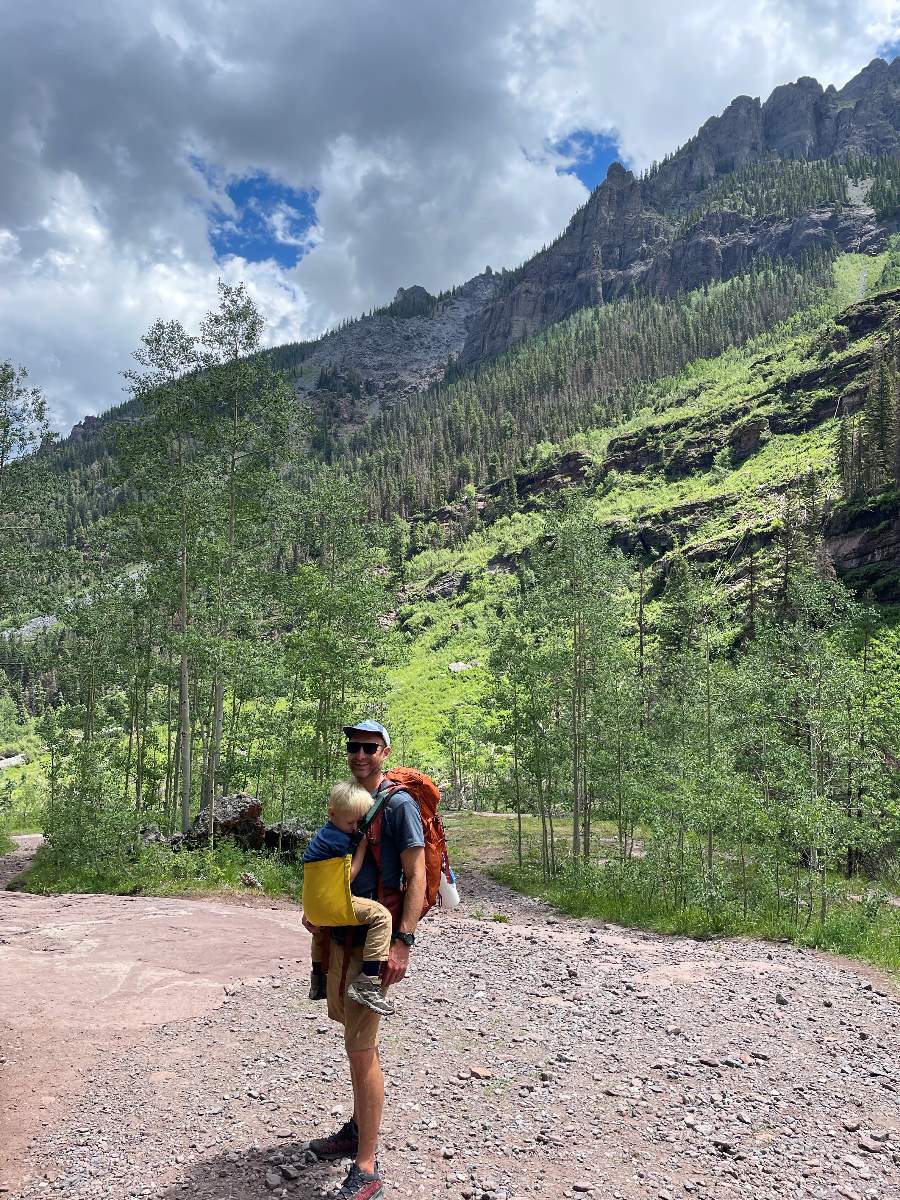 Considerations for the Trail Magik Carrier
When front carrying larger kids, it can be difficult to see your feet so be sure to take extra caution when hiking with bigger kids in a front carry position.
You need to have a sturdy backpack with straps to attach to in order to use this carrier as it doesn't stand alone. I recommend one with a hip belt as well to help distribute the weight.
Helpful videos on Kid carriers for hiking 
I hope this post helps you in selecting the best carrier for your child's stage! Hiking kid carriers have been an investment that has been well worth it! They have continued to make hiking possible, enjoyable, and safe for our family and I hope they can do the same for yours. Below are the links for the products mentioned in this post. Purchasing through our links helps us keep the blog running. I appreciate your support! Happy hiking!