What are the best hiking shoes for kids? This may be the most asked question I get from new hiking mamas. My honest answer: whatever shoes they will wear. Really. My daughter has hiked 8+ miles in old tennis shoes with no socks. She has also hiked in flip flops (don't recommend), sandals, barefoot (also don't recommend), snow boots, water shoes, rubber shoes, rain boots, and hiking boots. I say this not to encourage you to make poor parenting decisions like I do (sometimes), but instead to lower the standards and pressure just a bit. The reason that hiking boots are important for adults is that we are putting weight on our boots and need stability for that extra weight shifting around. Since kids don't weigh as much or carry as much, this is not as much of a factor. However, we want our kids to be safe on the trails so let's talk about the safest and most practical options for hiking shoes for kids.
5 TIPS FOR SAVING MONEY ON HIKING SHOES FOR KIDS
Before I dive into hiking shoe options, I want to address the elephant in the room which is that shoes and specifically hiking boots can be expensive! It's no secret that kid feet grow fast so buying a new pair of hiking boots for every growth spurt just isn't reasonable for most parents. Here are some ways to keep the cost down:
1) Buy one pair of hiking shoes per year
I purchase hiking boots at the beginning of the summer season so that we get the most use out to them before their feet grow. We usually need hiking boots the most in the early hiking season when we aren't "snow hiking" but still encounter some snow on the trails, especially in higher elevations. By the heat of the summer, we are usually transitioning to mostly hiking sandals because we are focused more on hikes that involve water play.
2) Buy used hiking shoes for kids
Hiking boots are typically not worn very often for most kids so used boots are usually in great shape! You can check on your local Facebook Marketplace or Outdoor Gear Exchange for used and discounted options. I also recommend leaning towards gender neutral boots that you can "hand me down" to siblings.
3) Ditch the idea that hiking shoes for kids are necessary
Comfortable tennis shoes will do the trick for most hikes. Tennis shoes are light, easy to get on, and are shoes that they are already used to so you don't run the risk of blisters (or whining about uncomfortable feet). When we buy new hiking boots, we strap on their tennis shoes to the backpack for the first hike just in case they are not feeling comfortable. So far we have been lucky that they haven't needed to wear them in too much (unlike adult hiking boots!).
4) Consider the terrain when purchasing hiking shoes for kids
This is an important factor when choosing hiking shoes in general, but also in saving money as you don't want to purchase shoes that your kids won't wear. More on this below in choosing the right shoe.
5) Wait until they are older
Consider an age when it makes sense for your little hiker to have real hiking boots. It's a big deal when my kids turned five as that's when I splurged on their first pair of hiking boots! If your hiker is still mostly getting carried, put your money towards good boots for mom or dad instead.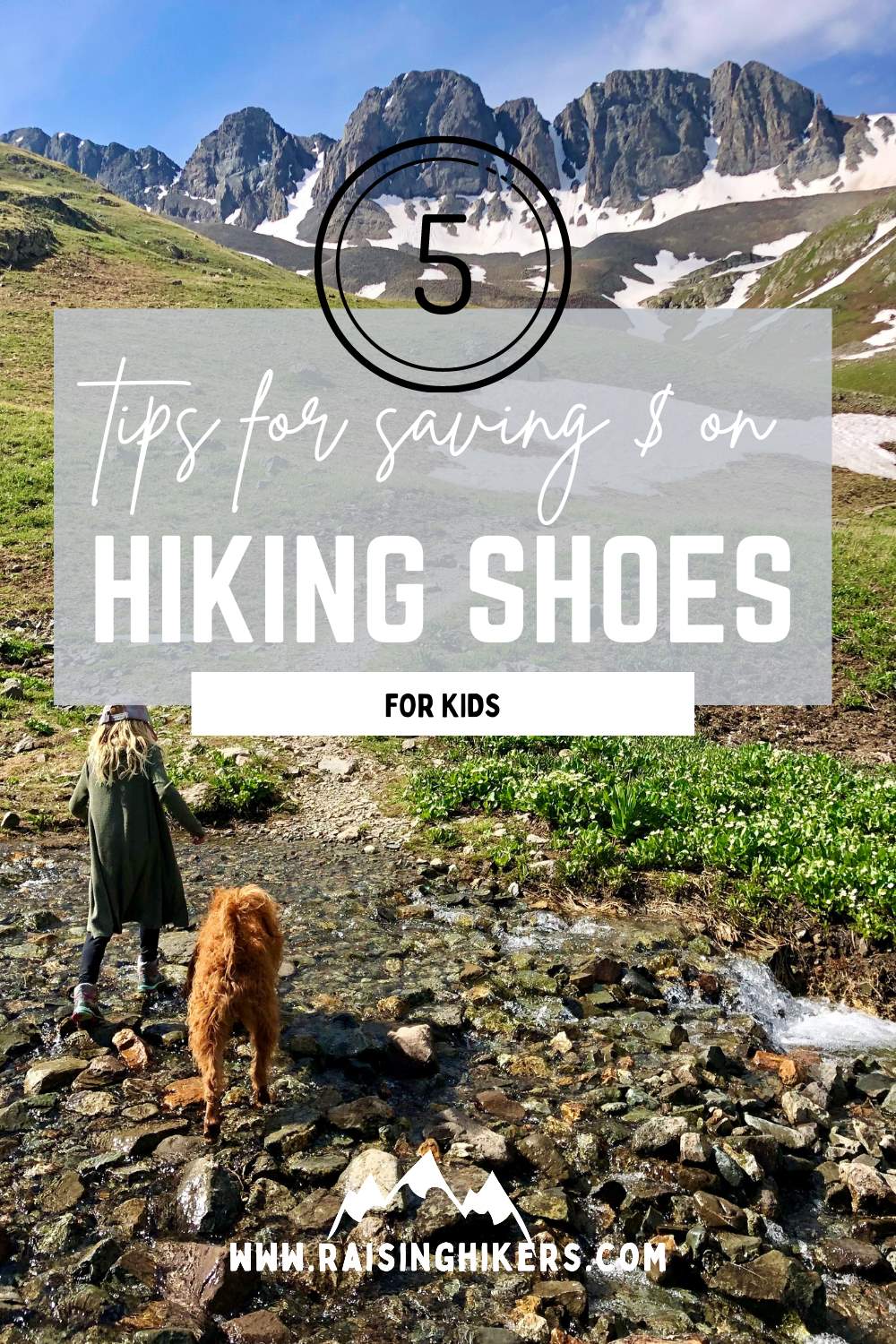 SO, WHAT ARE THE BEST HIKING SHOES FOR KIDS?
When you do decide the time is right for hiking shoes for kids, there a number of factors that go into determining the "best" hiking shoe. The biggest factors are the terrain, season, climate, time of year, and altitude that you will be hiking. I mention altitude because you may encounter snow in the summer at higher altitudes, so summer doesn't always equal dry terrain. Similarly, the climate of the area you will do most of your hiking is an important factor. We lived in Seattle until my oldest was 4 years old. Because most of the hiking was in wet terrain—wet Olympic rainforest, rocky wet Puget Sound—she mostly hiked in rain boots. Now that we live in a dryer and warmer climate in Colorado, we fluctuate between a sturdier hiking boot and a hiking sandal. Below are my favorites based on the following factors.
BEST HIKING BOOTS FOR KIDS
Hiking boots are a great choice for dry, rocky climates like we have here in Colorado. Even in dry climates, we are constantly seeking water to splash in, rivers to cross, or encountering snow in higher elevations so the biggest benefit of hiking boots is that they are waterproof. I don't think there is any point in buying a non-waterproof hiking boot. Just don't do it. Below are my favorite waterproof hiking shoes for kids. I like these options because of the "mid" ankle height. The higher the ankles are in hiking boots, the less chance of water or snow getting into the kid's socks. However, if you go too high they are impossible for kids to put on themselves. These are also relatively light so they don't throw the balance off for lightweight hikers.
The Merrell Moab FST Mid Waterproof Hiking Boot is breathable, lightweight, mid-height, and flexible. These are the boots that my daughter has now that she's advanced to laces. These come in size 11 through size 7 and therefore are a great option for the "bigger" little kids.
The Merrell Moab Speed Low A/C Waterproof Shoes is the equivalent to the above option but for the "littler" little kids as it has an easy velcro strap. These are typically our kids' "first hiking boots" as my 5 year old has these this season and my daughter had these last season. These boots are breathable, lightweight, mid-height, and flexible.
The Keen Targhee Mid Waterproof Hiking Boot is sturdy and breathable. They are not as light (or breathable in my opinion) as the Merrell Moab boot, but they are easier to put on as they have a bungee cord lace. These come in smaller sizes ranging all the way from an 8 kids through a 7 big kid size.  
BEST HIKING TRAIL RUNNER FOR KIDS
There is much debate on hiking boots versus trail runners. We used to be a divided household, until I moved over to the trail runner side for my own personal hiking shoe. I hike in a La Sportiva Bushido II GTX trail runner. The benefit to trail runners is that they are lighter weight, are more versatile (can be worn from the playground to the trail) and are usually more comfortable than the traditional hiking boot.
For kids' trail runners, the Salomon XA Pro 3D Trail-Running Shoe is a waterproof, lightweight, flexible running shoe with great traction for hiking. They are easy for kids to put on with a single pull lacing system and are built to last. These shoes come in size 13 to 6.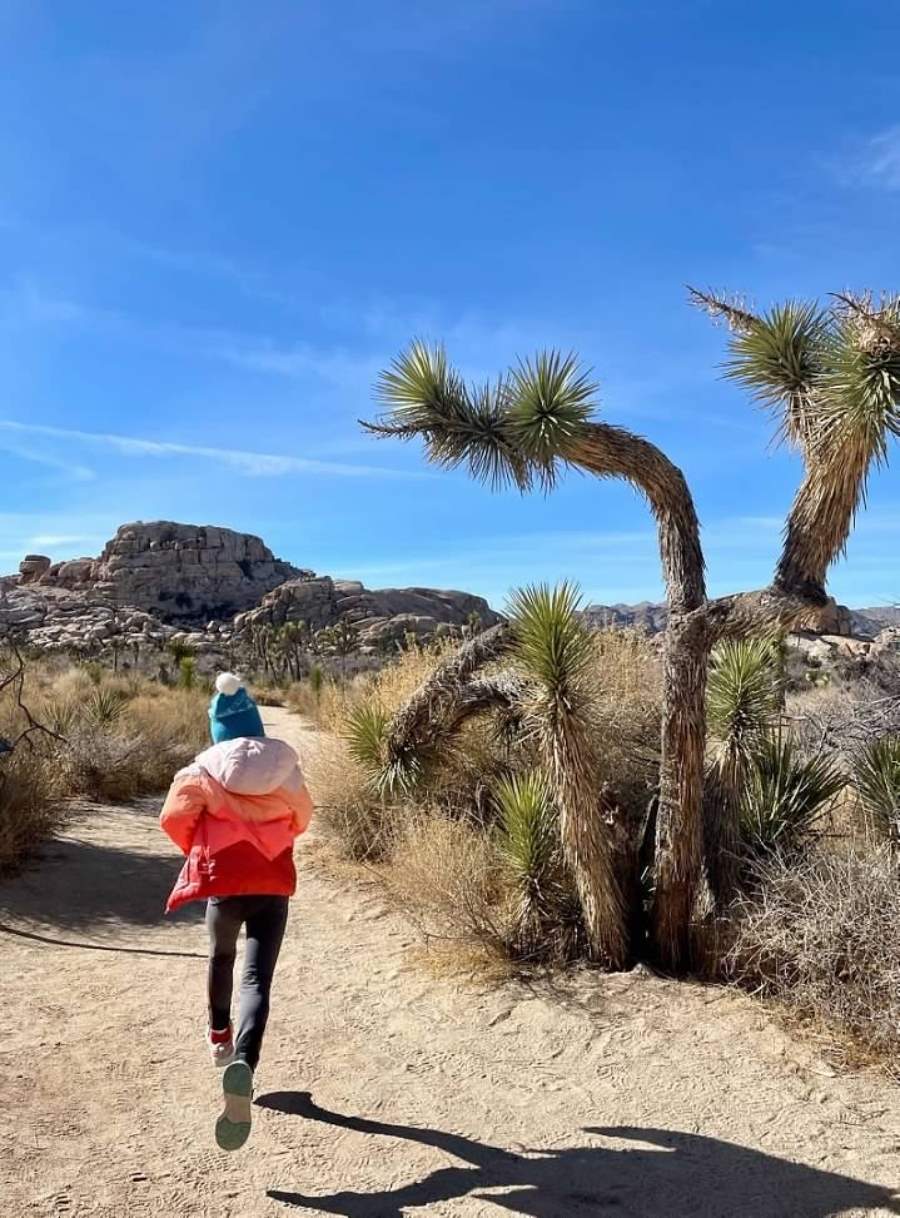 BEST HIKING SANDALS FOR KIDS
Hiking sandals are a great option for summer hikes. I personally have started hiking in my Chacos more this summer, so I am valuing the hiking sandal more than I used to. For a hiking sandal for kids, I am not as big on the Chaco because it's not as easy to get on or adjust the sizing, and the toe is not protected. I look for a sturdy sole with a closed toe that won't trap too much sand or rocks.
The KEEN Newport H2 Sandal is our go-to hiking sandal. It protects the toes, is lightweight, can get wet, and is easy to put in with a bungie lace and a Velcro strap. These are great hiking shoes for toddlers all the way to big kids and are versatile from a park day to a trail day. If you live in warmer temperatures and you can only get one hiking shoes, this is the shoe I recommend. It will get much more use than a traditional hiking boot. Plus, when you hike to a lake like this one, you can be the one to venture out on the log without worrying about your shoes getting wet!
BEST HIKING RAINBOOTS FOR KIDS
Rainboots are often overlooked for hiking but can be a versatile option if you don't want (or need) to buy a hiking boot, but you may encounter some wet or snowy terrain. My kids have hiked in cheaper rainboots like these, as well as nicer ones like Bogs below.
The Bogs Neo-Classic Boot is a sturdy but lightweight rainboot that is insulated so unlike the cheaper ones above, they can double for snow boots.  I prefer Bogs over the stylish Hunter rainboots because they are more breathable, flexible, and easier to get on. The holes on the side for kids to use to pull on are actually genius!
I have linked all REI links here because they have a great return policy and you may find that the fit is not right for your child. It's also super beneficial to go into your local REI to try on shoes and climb around on their shoe testing rocks. No matter what shoes you choose, have fun and be safe on the trails! If you are looking for more gear recommendations, you can check out What to Pack for a Hike With Kids for a peak at what's in our backpack. Happy hiking!