If you're nervously lying awake at 2:30am in your tent in grizzly country on account of said bears, then there's validity to the theory that you might as well get up and go hike in order to become moving bear bait instead of supine bear breakfast.  Well, that is how my Delta Lake sunrise hike experience started—and I am glad it turned out that way because I got to prove my theory while experiencing a mesmerizing sunrise.  This Grand Teton National Park hike begins from the Lupine Meadows trailhead just south of Jenny Lake.  Although Lupine Meadows is accessed via a gravel road that runs for several miles from the Teton Park Road, it is well signed and its parking lot will fill up quickly.  The trail provides access to the steep Surprise and Amphitheater Lakes hike or to the mellower hike to Bradley Lake and Taggart Lakes.  If Delta Lake is your destination, then follow the signs for Surprise Lake and be prepared to exit the trail during the switchback workout (more on that later).
Meet Bryce, the Contributing Author
Bryce is a Contributing Author and the Dad behind Raising Hikers. In his "abundant" free time, he either hikes or does the next best thing, which is planning future hikes. His first backpacking trips were in RMNP where he had the privilege of working one summer during college.  Later he completed a one-month NOLS mountaineering course in the remote Waddington Range in British Columbia.  While starting a career in Washington State he took the alpine climbing and rock climbing courses in the Seattle Mountaineers.  With friends from NOLS and the "Mounties" he summited Forbidden Peak, Liberty Bell, Glacier Peak, and Mt. Rainier, Shuksan, Baker, Hood, Adams, St. Helens, and Shasta.  The births of his children inspired him to take up "safer" pursuits like long-distance backpacking trips in the Canadian Rockies, Sierra Nevada, Wind Rivers, and Glacier National Park.  Right now he dreams of taking Em and Walker to remote backcountry destinations in the San Juan mountains of SW Colorado.  
Delta Lake Sunrise Hike – The Details
My friends and I left Colter Bay Village at 3:00am and were hiking by 3:45am.  With this being early July, sunrise would arrive soon.  So we booked it up the trail without really knowing what we were passing or how quickly we were climbing.  When we came back in the daylight we were surprised to see how steep the trail was and how inviting the surrounding meadows were.  No ordinary headlamp was going to provide the false sense of security that I needed in that spooky darkness, so I led the way with my UCO Tetra 170 lantern in flashlight mode.  I had not used it for hiking before, so I was surprised by how far and how brightly it shone.  What was also surprising was to see at least three other parties descending past us at that early hour. They had large daypacks neatly brimming with climbing gear, so I figured they were exiting from an epic, sleepless rock climb of one of the Cathedral Group summits.  No jealously here – my short bout of fear-riddled tent "sleeping" was far and away more preferable to their glorious adventure (I mean their strenuous, terrifying ordeal).    Honestly, I was thrilled to be remaining on terra firma with good friends in perfect weather with the guarantee of Teton alpenglow if we could maintain our pace and not get lost.  But lost we got, and it is no surprise given the fact that we were climbing through the notorious Delta boulder field in the dark.
That's right, this hike does require some off-trail travel and much of that is on boulders.  The good news is that the route is fairly well marked by cairns.  And the boulders are generally stable and not so massive that they create miniature canyons between one another (Wind River boulders, you know who you are).  But use caution for each step, as I did not test all of them.  In fact, one member of our party suffered a twisted ankle here.  The exit off the main trail is not marked by a sign, but it's on climber's right (north) of the sixth distinct switchback at elev. 8565 ft.  Your switchback tally should start after the trail branches away from the Bradley Lake trail.  Although the Delta Lake trail is unmaintained and unofficial, the start of it does appear well traveled, which is another strong clue to begin your off-trail journey.  This "trail" undulates through low vegetation and some minor obstacles before you break out into the boulders.  As you're climbing the boulder field, generally stay climber's left (i.e., don't drift downward into the trough of the ravine).  We managed to work our way through these challenges over the course of about 45 minutes to arrive at the lake by 5:42am, ten minutes before official sunrise.  Our gambit worked, as we were treated to spectacular color on Grand Teton as well as the glaciers and pillars below it.
As always, the pictures don't do it justice.  Before us was 4,000 sheer feet of orange-pink granite and glacier towering above a turquoise lake, basking in sublime quiet.  It reminded me of the awe I felt when I topped out on the hike to the lake at the base of the Torres del Paine, where everyone was spellbound to the point of silence.  That was a place to worship mountain beauty, and I felt that this was also a moment in a cathedral of alpine splendor.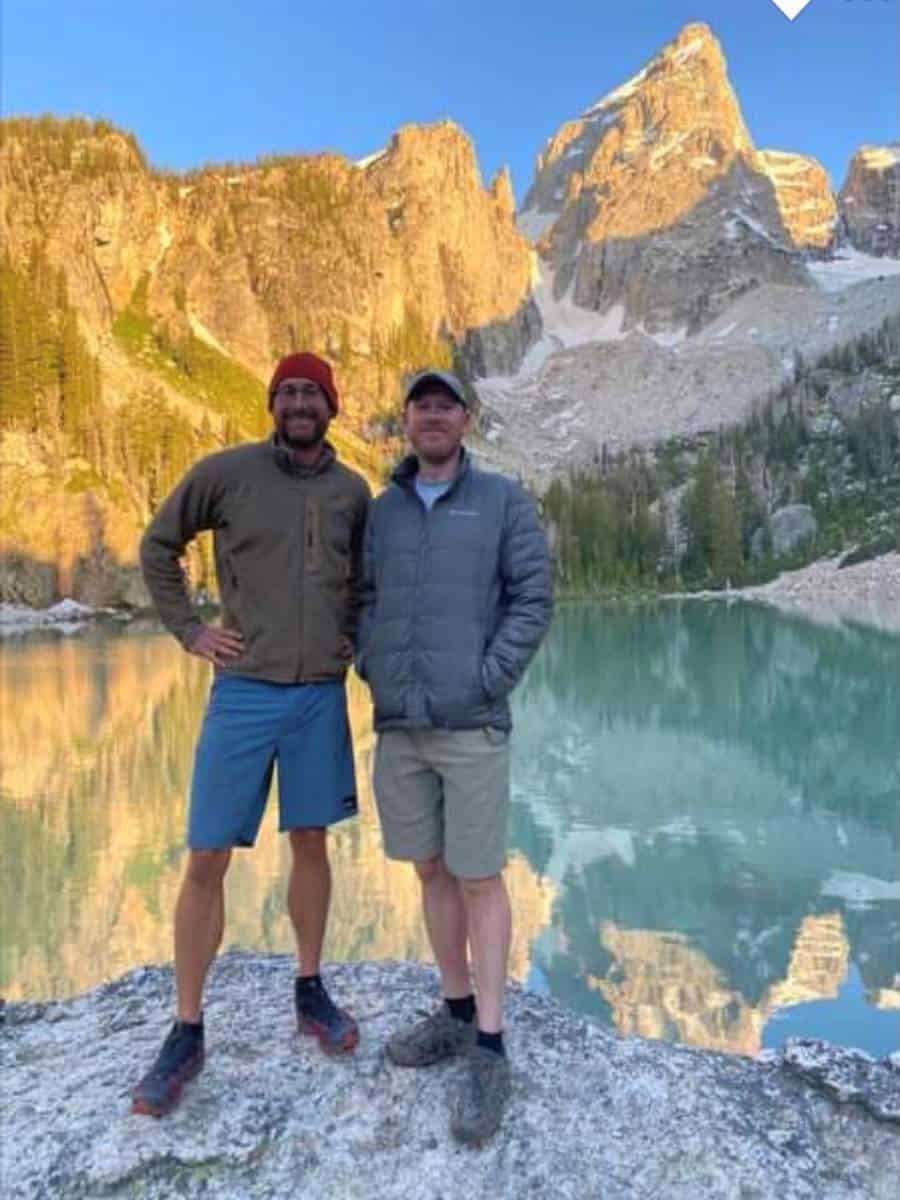 So as you have inferred, the other benefit of starting early was that we had the scene entirely to ourselves.  This was a rare bit of solitude in this most crowded of parks (in contrast to our experience at String Lake the day before when my friend had to park a mile from the trailhead).  I prefer to undertake most of my kid-free day hikes in this manner for the reasons already mentioned, plus it confers the benefits of no traffic to the trailhead and good parking.   I have found that an enhancement to an already rewarding experience is to brew up some coffee on a comfortable rock in this type of light.  And Delta Lake happens to have the perfect such rock.  On the right (north) side of the lake about two minutes counterclockwise around the lake from the outlet stream is a group of boulders that allow access to an island paradise with enough room for several folks.  And here is an important admission about this ritual: it's not real coffee that I bring; rather, it's Starbucks Via mixed with hot water from my JetBoil.   So all the best aspects of Backpacking – coffee, solitude, and sunrise in a gorgeous location – can be enjoyed without the hassle of actually backpacking.   While drinking the coffee we heard a loud, mechanical buzz over our heads and looked up to see what was either a flying squirrel or a drone on a trajectory from the Grand Teton down to the outlet stream of the lake.  The object was moving fast like a drone but I did not see the tell-tale rotors.  It's impossible to fathom a squirrel making such a leap, and it seemed too large to be a rodent.  So it's most likely that we saw a drone despite our failure to glimpse the rotors, and I suspect it was filming a climbing scene on the majestic peaks above.  I share this because it is a reminder that we were in the hallowed, world-renowned climbing territory.
We left the lake at 7:30am and passed some hikers on their way up at the start of the unmaintained trail.  They would have the lake to themselves for only a brief period as there were already lots of people streaming up the trail not too far behind them.  "Early bird gets the worm" kept rattling around my mind as we descended.  What also kept repeating was the need for a celebratory beer, but it was easy to exercise patience given the pleasing views we had of the surrounding meadows, Bradley/Taggart Lakes below, and Jackson Hole to the south.
Back at the trailhead we imbibed breakfast beers and soaked in the Wyoming sun while wondering how many tantrums our kids had thrown during our absence.   What was actually stopping us from taking on another hike before heading back to Colter Bay?   Nothing.  But we returned anyway and regaled our families of flying squirrels and prepared for our long drives back home to the grind of civilization.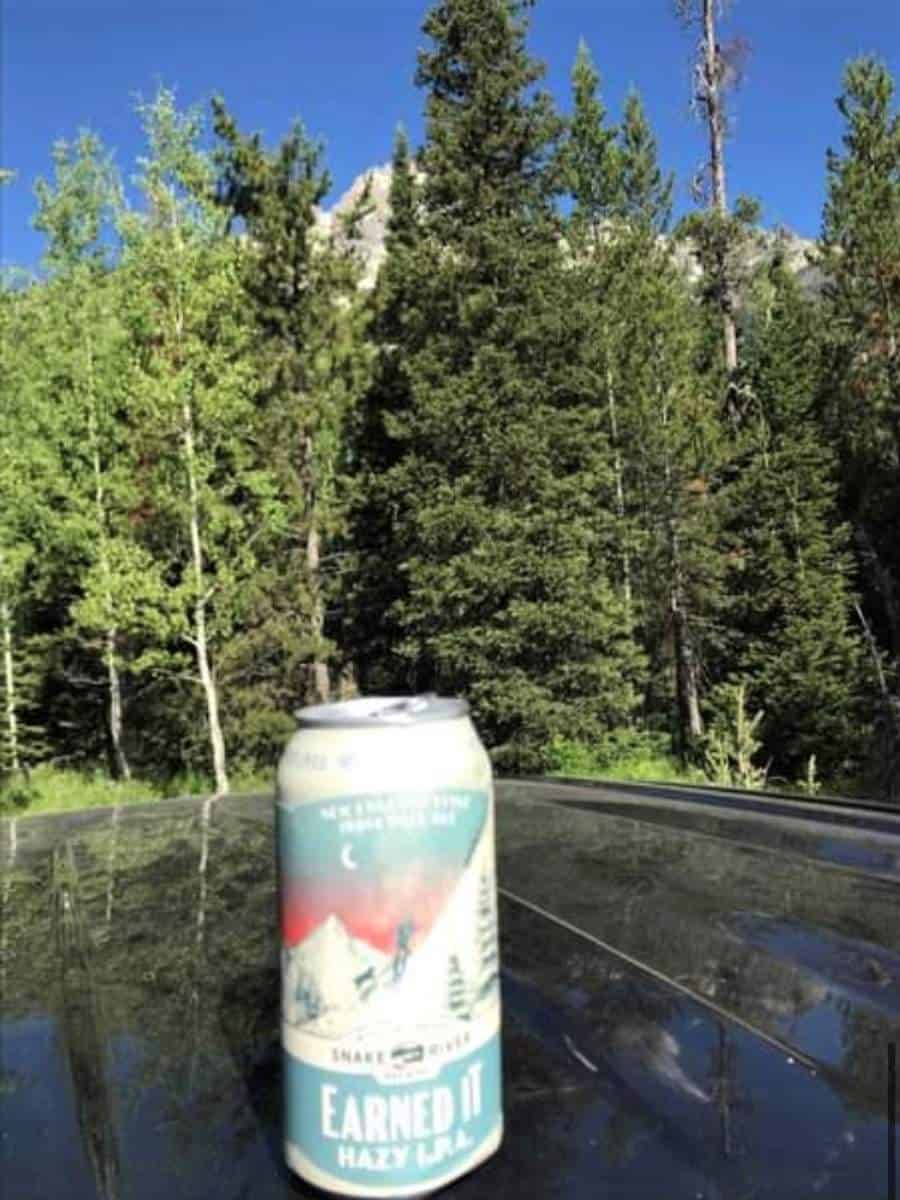 This hike is best if you are camping in the park, so be sure to visit Kristin's post about Camping in Grand Teton National Park as you plan your visit. If you have questions or do this hike, please comment below. Or if you're up for a backcountry experience in the park, read about my thru hike in Grand Tetons in Backpacking the Teton Crest Trail.