Over fall break we had a double dose of Colorado fun. We started the week at Cloud Camp near Colorado Springs and then headed west to Glenwood Springs. You'd think it was Spring Break. Bad mom joke? Moving on. Cloud Camp was the perfect way to start our vacation–it was relaxing, surrounded by nature, and quality family time. Plus, Cloud Camp has the most delicious food (I'm confident I gained 10 pounds) and the unmatched hospitality of The Broadmoor. It felt like the kind of place I could sit all day with a book (and a cocktail) and watch the sunset over Pike's Peak. But alas, we have a 6 and 7 year old who wanted to do "all the things," so that's what we did! I have an epic Cloud Camp itinerary for you that you can pick and choose from, or do it all!
Thank you to The Broadmoor Hotel for hosting us at Cloud Camp, all opinions are my own.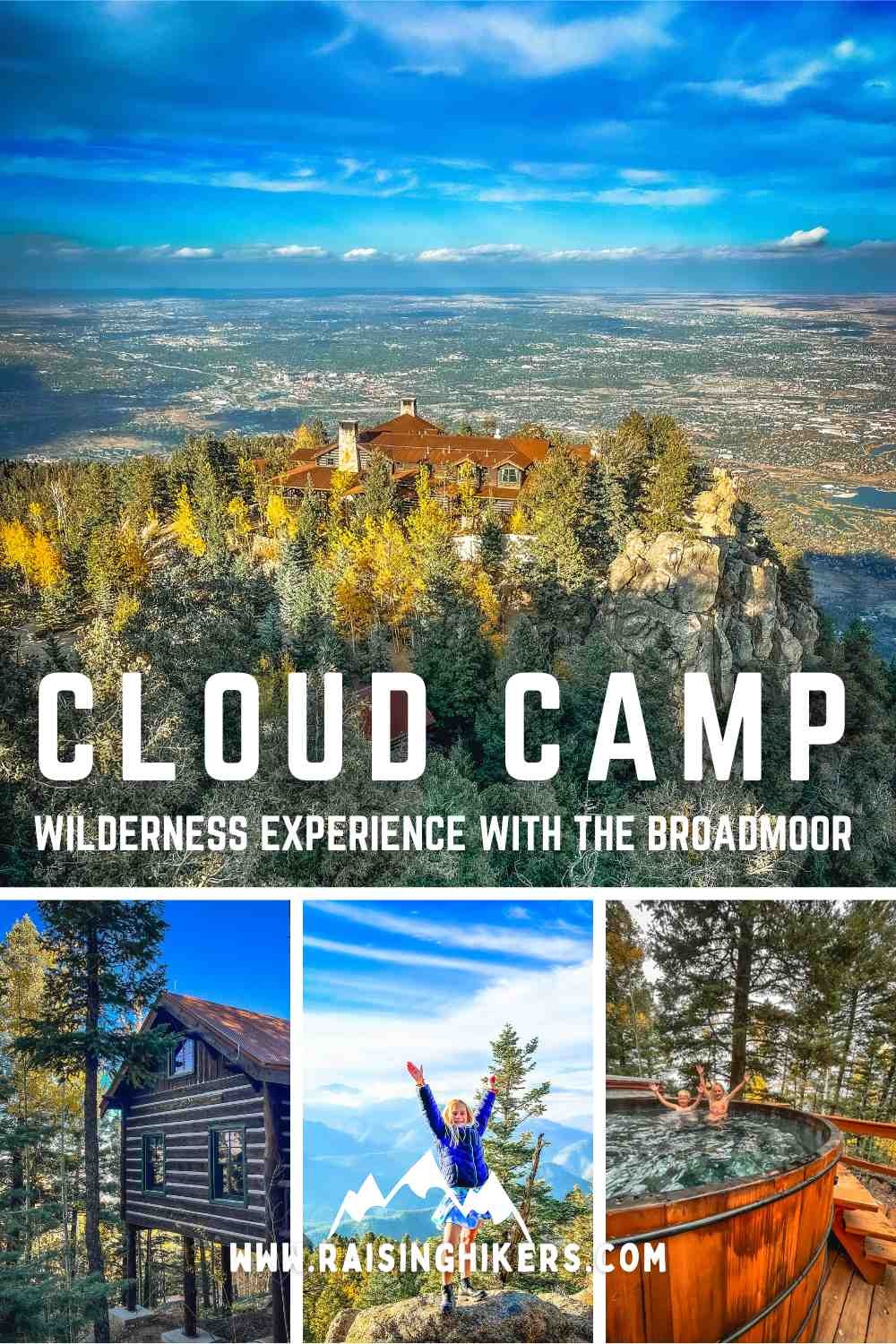 About Cloud Camp
Location of Cloud Camp
Cloud Camp is an All-Inclusive Mountaintop Hideaway. It sits 3,000 feet above The Broadmoor Resort in Colorado Springs, Colorado. It's just 20 minutes from the Colorado Springs Airport or an 1 and a half hours from Denver Airport.  Due to the remote nature of the location, it is closed during the winter, but is open from late April through October. There is limited lodging capacity, so it's time to book now for next season, which opens April 28, 2023!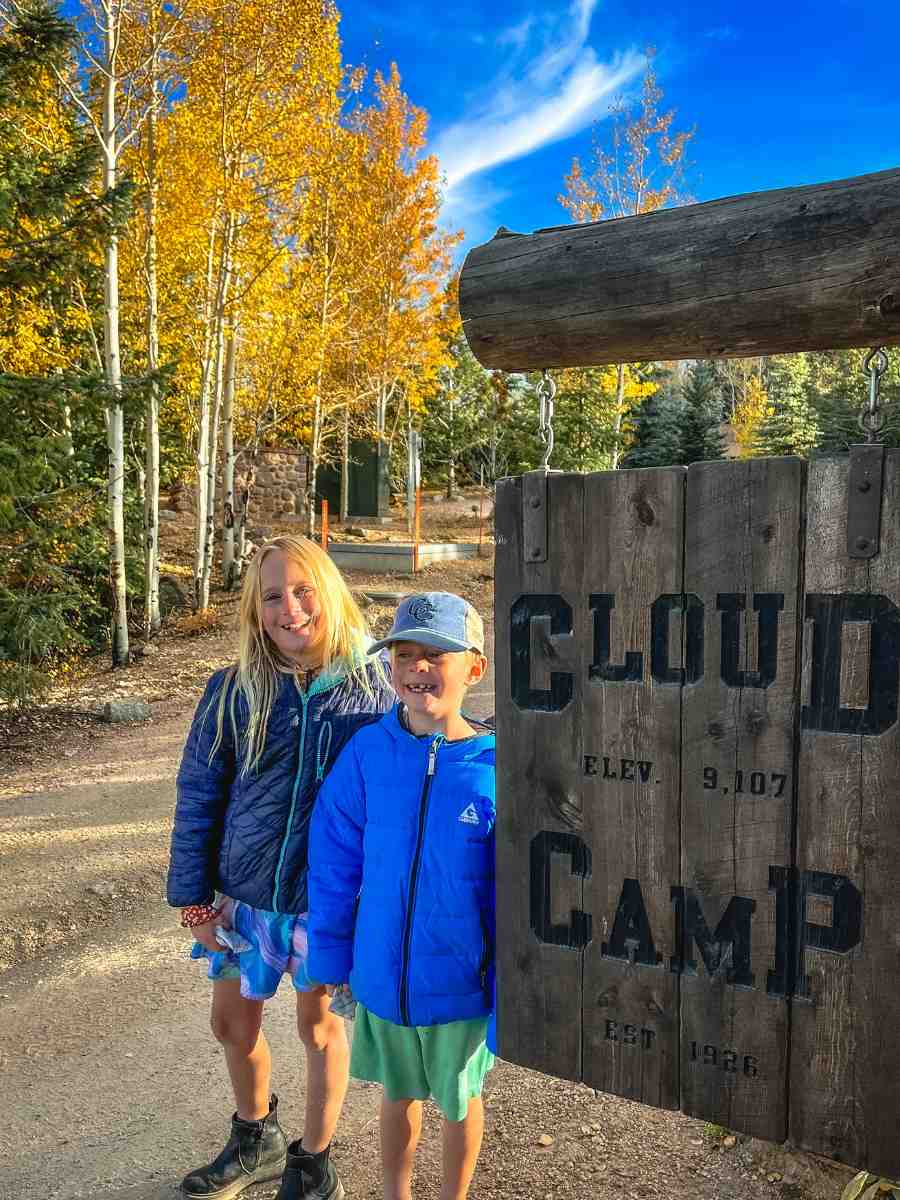 TRANSPORTATION to Cloud Camp
No personal vehicles are allowed on the property, which adds to the remote feeling. All transportation to Cloud Camp is via shuttle from The Broadmoor's South Tower. The only other way to Cloud Camp is via a mule or hiking up 2,000 feet gain. We opted for the shuttle, which is a bumpy ride and you get a true sense of how Cloud Camp sits on the summit of Cheyenne Mountain.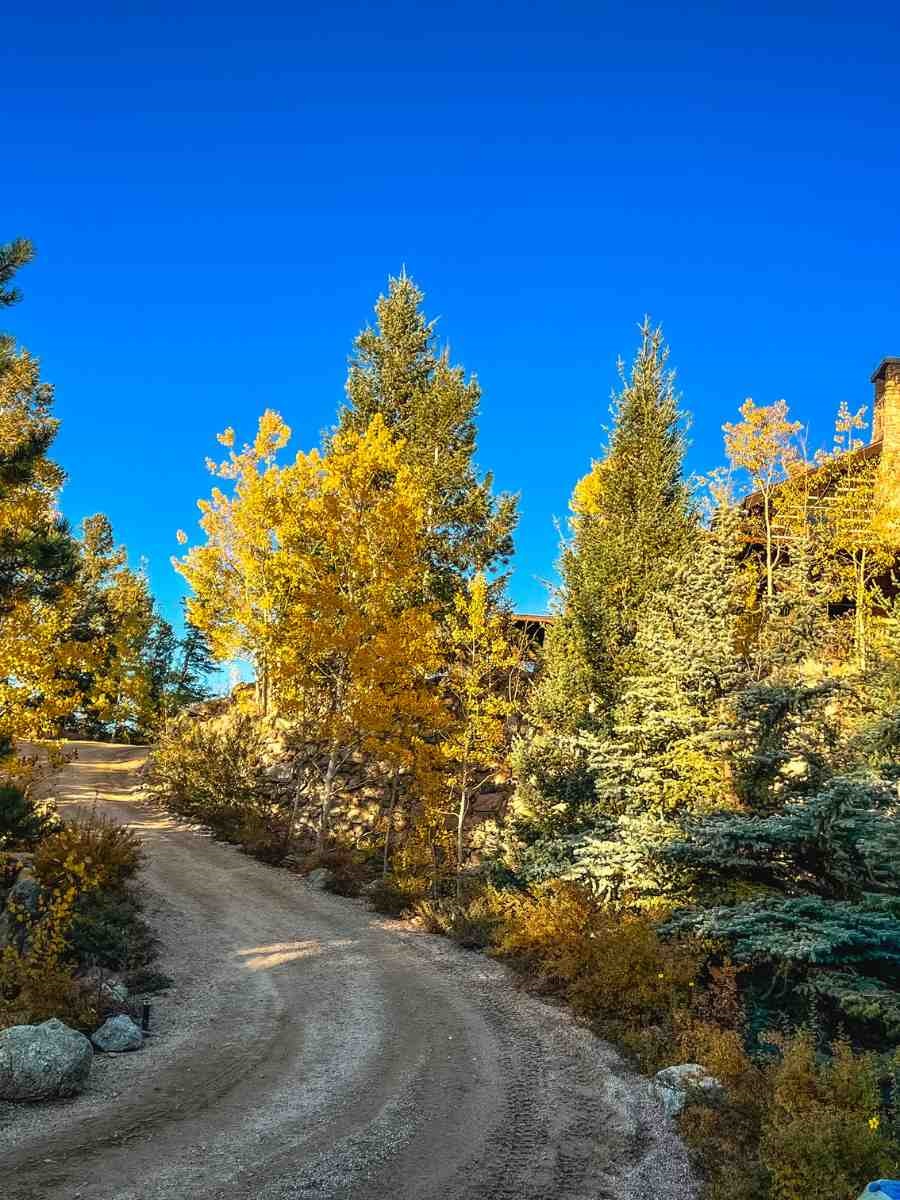 cloud Camp LODGING
While Cloud Camp has a "rustic" vibe, the lodging is impeccably clean, beautifully updated, and thoughtfully decorated. There are 7 rooms in the main lodge, 11 one and two bedroom cabins (which is what we stayed in) and a cozy & unique Fire Tower cabin that is up 150 steps with incredible views and a private 2 person hot tub. 
Food at Cloud Camp
The food at Cloud Camp was a real highlight and a food-lover's dream. Breakfast is a buffet style with delicious proteins, pastries, and fruits. Lunch is a buffet style with soups and sandwiches, and dinner is a 4 (sometimes 5) course meal that is a culinary delight. The menu changes each day and you have options for each course. They have vegetarian options at every meal and are accommodating with any food allergies or sensitivities. They were even kind enough to offer a kids' meal menu to my kiddos who ate the most delicious chicken strips (at every meal!) I've ever tasted! Dining is communal at a long table in the dining hall where we were fortunate to meet wonderful friends by being "forced" to get to know the other guests. It's such a beautiful tradition that reflects the entertaining style of the original owner, Spencer Penrose, from the 1920's. Cloud Camp is all inclusive, which includes their delicious cocktails as well. Just keep in mind that you are at 9,100 elevation so drink lots of water if partaking in the alcoholic beverages (and just in general).
There is SO MUCH to do while at Cloud Camp. We stayed for 3 nights–arriving Friday night and leaving Monday morning. We packed our days on Saturday and Sunday with activities on foot from the Cloud Camp grounds (hiking, mule rides, archery, games, etc) and then went to the Cheyenne Mountain Zoo on Monday. In addition to the ideas that I have listed below from our experience, some other activities that fellow guests did were going to The Spa at the Broadmoor or hire a fishing guide. You can read about my lovely experience at the Spa from my Adventure Mom Getaway at the Broadmoor.  The Cloud Camp concierge will help arrange all of your activities, and any transportation needed. 
1)
Hike from Cloud Camp to Emerald Valley Ranch
Hiking from Cloud Camp to Emerald Valley Ranch is a great day trip. I recommend hiking to Emerald Valley and then arranging a shuttle to bring you back to Cloud Camp. The hike one way is about 6 miles. The first 3 miles are mostly downhill through the forest near Cloud Camp on the McNeill Trail. Then the final 3 miles you gradually climb up on a dirt road (historic Old Stage Rd). Be sure to inform the concierge about your interest in this hike so that they can give you specific trail directions as this is not found on AllTrails. They will also send you with a radio for safety and any other hiking equipment you may need. 
Can you spot the Fire Tower and the flagpole from Cloud Camp lodge from this view?
Plan a little extra time while at Emerald Valley Ranch to go fishing or paddling after a well deserved lunch. We had a blast on the paddle boats and kayaks! EVR is another beautiful Wilderness Experience resort from The Broadmoor!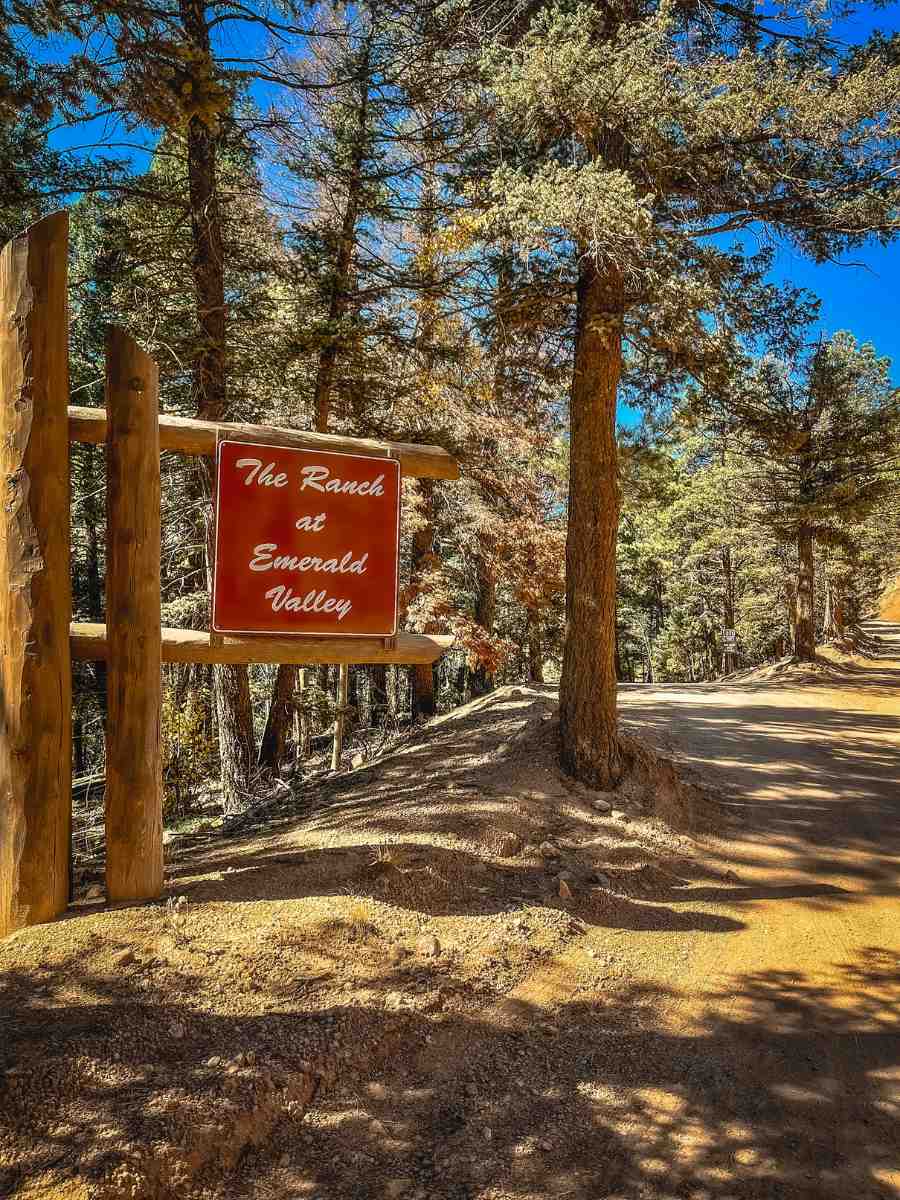 2)
Guided Hikes around the Cloud Camp property
Guided hikes are led by the knowledgeable camp guides each morning and afternoon. We opted for the morning hike to the Boulder Field, which ties in nicely with Archery. The hike was about 1.5 miles where we learned more about Cloud Camp's history and got to climb on boulders with beautiful views. Can you spy Cloud Camp again from this view (now from the other side!)?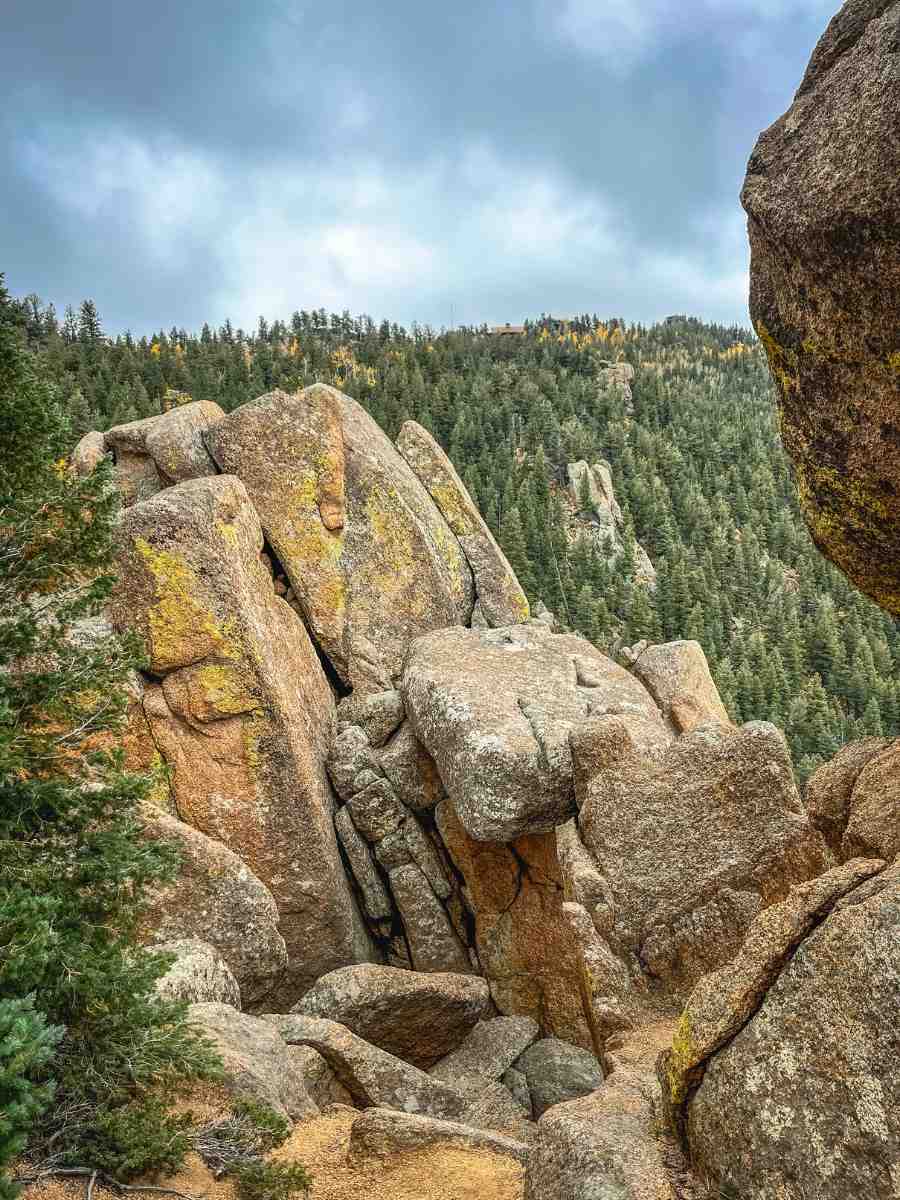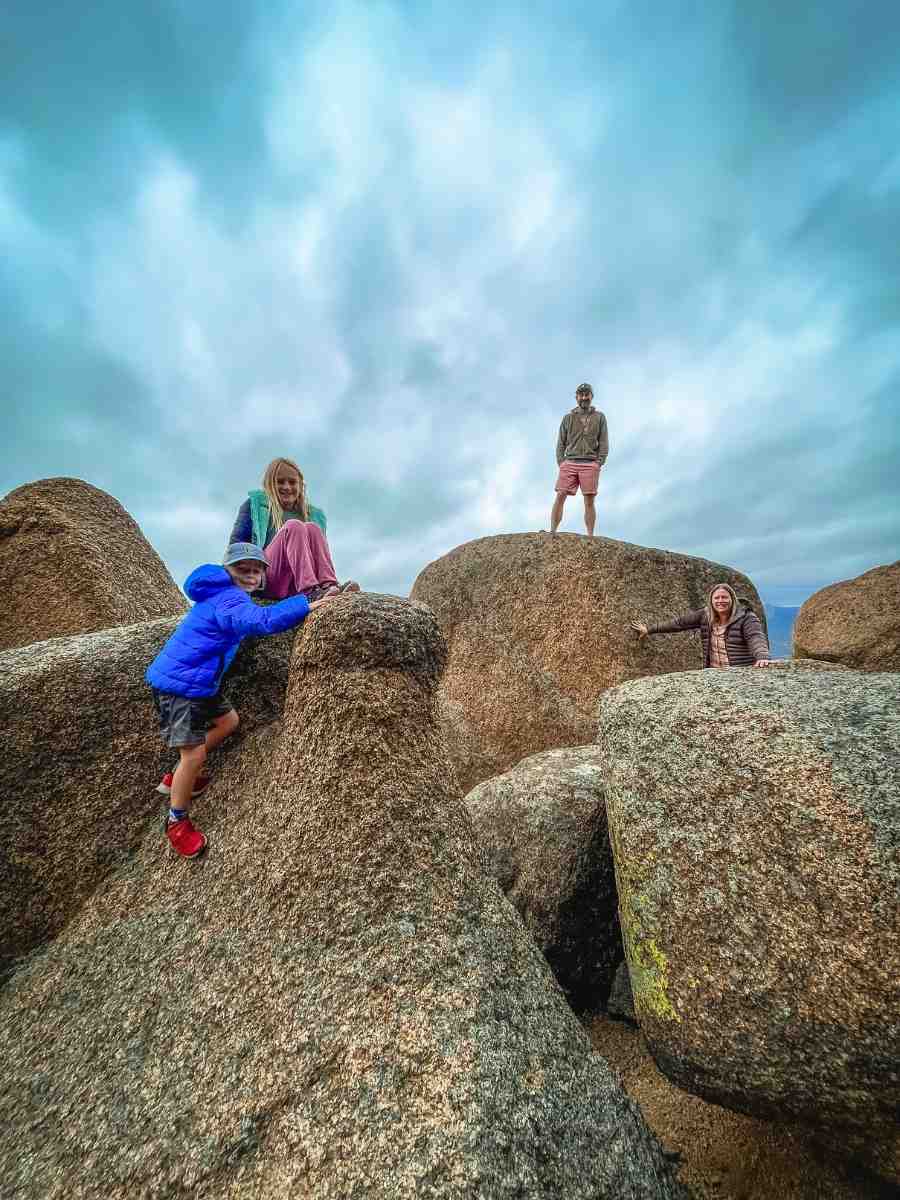 3)
Hike from Cloud Camp to Seven Falls
Seven Falls is a beautiful hike managed by The Broadmoor. We did not hike from Cloud Camp, but did see a sign on the grounds that it was 2.5 miles to the falls. I imagine that it intersects with the trail to Inspiration Point.. Be sure to plan this with the concierge to ensure that you have the best route and are clear and prepared for the mileage and elevation. Another option would be to arrange a shuttle to the trailhead of Seven Falls like we did last here. You can read about our experience here.
Archery at Cloud Camp
After our guided hike, we stopped at the Archery area, where our amazing guide patiently taught the group (including my 6 & 7 year old) how to shoot a bow and arrow. It was most of our first time trying archery so the environment was light and fun. I earned "most improved" and Walker deserved "most determined."
Mule Rides at Cloud Camp
The mule rides were one of the activities that the kids were most looking forward to and it lived up to anticipation. Walker was nervous when we first arrived at the stable, but the mule skinners were patient and allowed him to get comfortable. Once he was on he didn't want to get off!. You do have to be 8 years old to go on the full mule ride, but true to The Broadmoor's hospitality, the team arranged a mule "pony ride" for the kids and even gave them a souvenir horseshoe.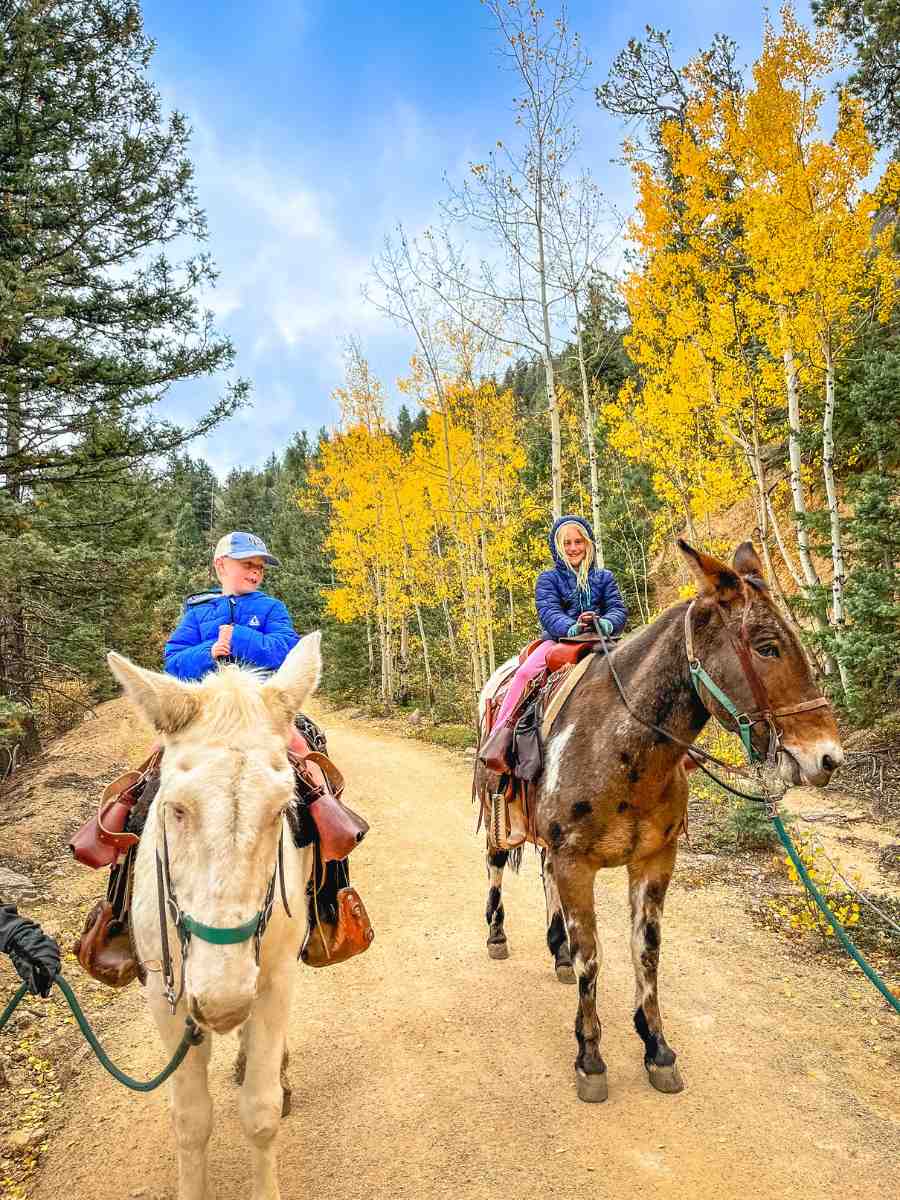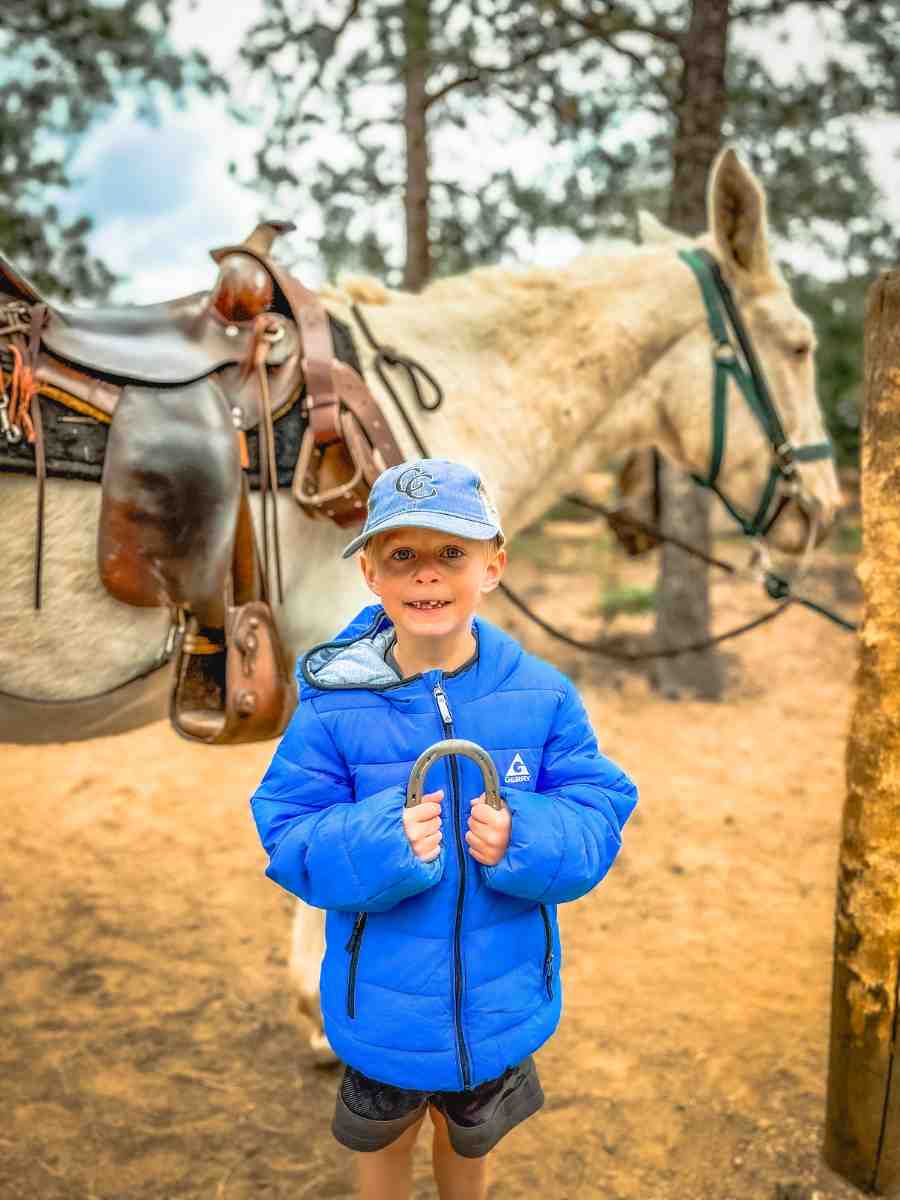 Hot tub at Cloud Camp
Cloud Camp has two shared wooden hot tubs at the end of the cabin row and one small private hot tub at the Fire Tower cabin. While the hot tubs are shared, we were fortunate to have them to ourselves each time we visited–which was in the morning, afternoon, and after dinner. We did a lot of hot tubbing! But how could we not with these views?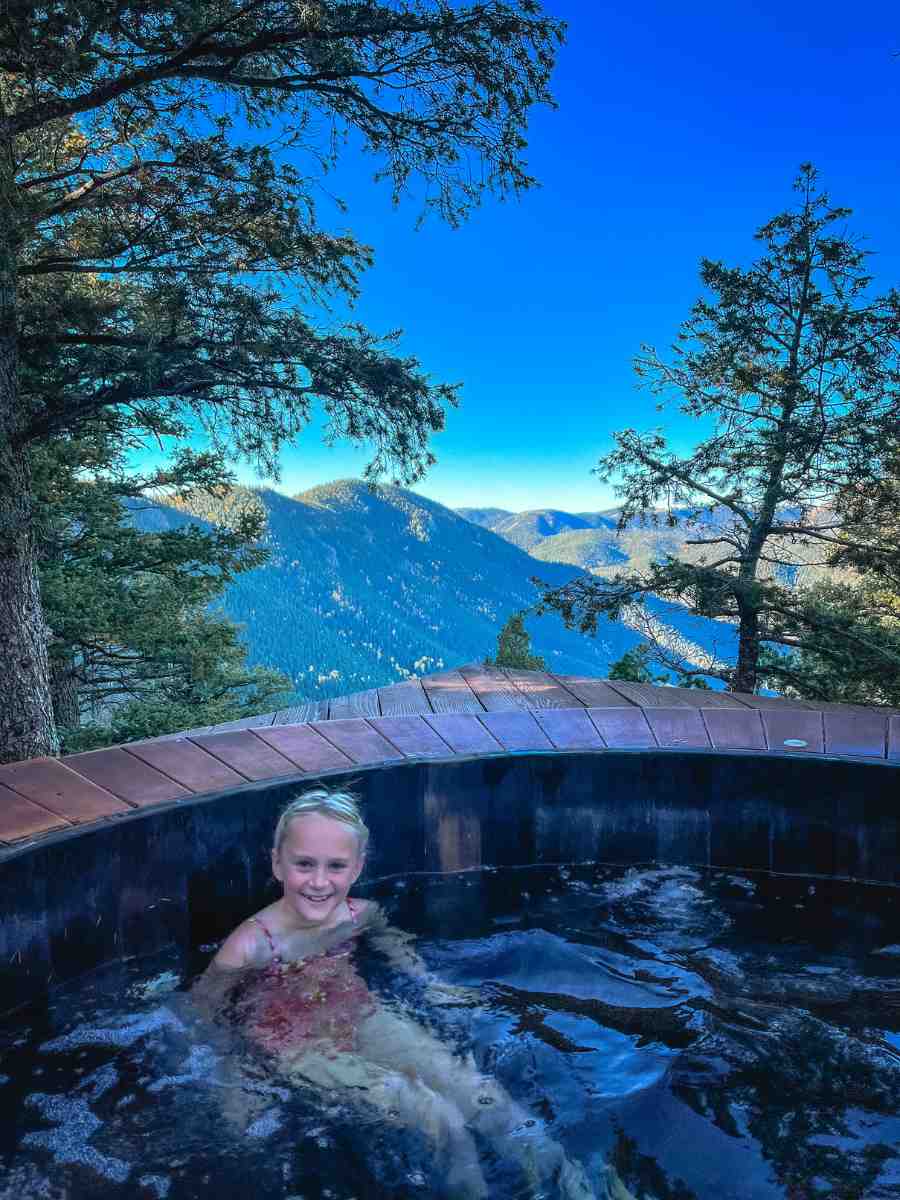 Explore the Cloud Camp grounds
Just walking around the Cloud Camp property is a beautiful activity in itself. We enjoyed knowing what we were going to do in advance so we had a full scheduled itinerary, but still made time to enjoy the property. If you prefer less schedule and more relaxation, these are some low key activities that you can do at your leisure.
1) Walk to the iconic Cloud Camp flagpole
Each night there is a beautiful flag lowering ceremony where you learn history about the property and Pikes Peak. In the day, you can walk over and see it up close. You can also get a better look of the remains of the original flagpole that was struck by lightning!
2)
Climb the Stairs to the fire tower for the best views
Be sure to ask the staff if someone is staying in the Fire Tower suite as this is a private area unless it is not booked. If you are fortunate to see the views from up here, they are unparalleled. 
3)
Play lawn games or run around with Moose, the Cloud Camp dog host
Right outside of our cabin was spikeball, disc golf, cornhole, and other lawn games to keep us entertained. There are also some deck games on the wrap around porch with views of Pikes Peak. 
4)
Roast s'mores at the outdoor fire pit
After dinner, you can request dessert #2 and take it by the fire. The first night it was just us by the fire, but on the second night we were joined by the other guests and it was a great way to socialize. We met a couple celebrating their 2 year anniversary, who was married at Cloud Camp. Can you imagine all of  your guests staying in these cabins and having a full weekend to spend time together? Wedding goals. 
5) Cozy up by the fire in the lodge and play board games
Walker became obsessed with Checkers this weekend, and we also played a lot of Uno while warming up in the lodge or in between courses at dinner. 
6)
Relax in a Hammock
In another life, I would have spent hours reading a book in this hammock.
Daytrip to Cheyenne Mountain Zoo
When taking the shuttle from The Broadmoor Resort to Cloud Camp, you pass right through the Cheyenne Mountain Zoo. You can even see the giraffes and the rhino as you drive by, and in our case had to stop for a peacock crossing the road. So naturally, we had to plan to visit before we left the area. It is so easy to pair the zoo with a Broadmoor stay as the shuttle drops you off and picks you up right in front. We had a blast–feeding giraffes and birds, and getting up close to lions and bears. This zoo is one of the most interactive and intimate that I have ever been to.  On weekends and in the summer, there is even a ski lift chair that takes you to the top of the park for amazing views. Be prepared for a lot of walking and hills!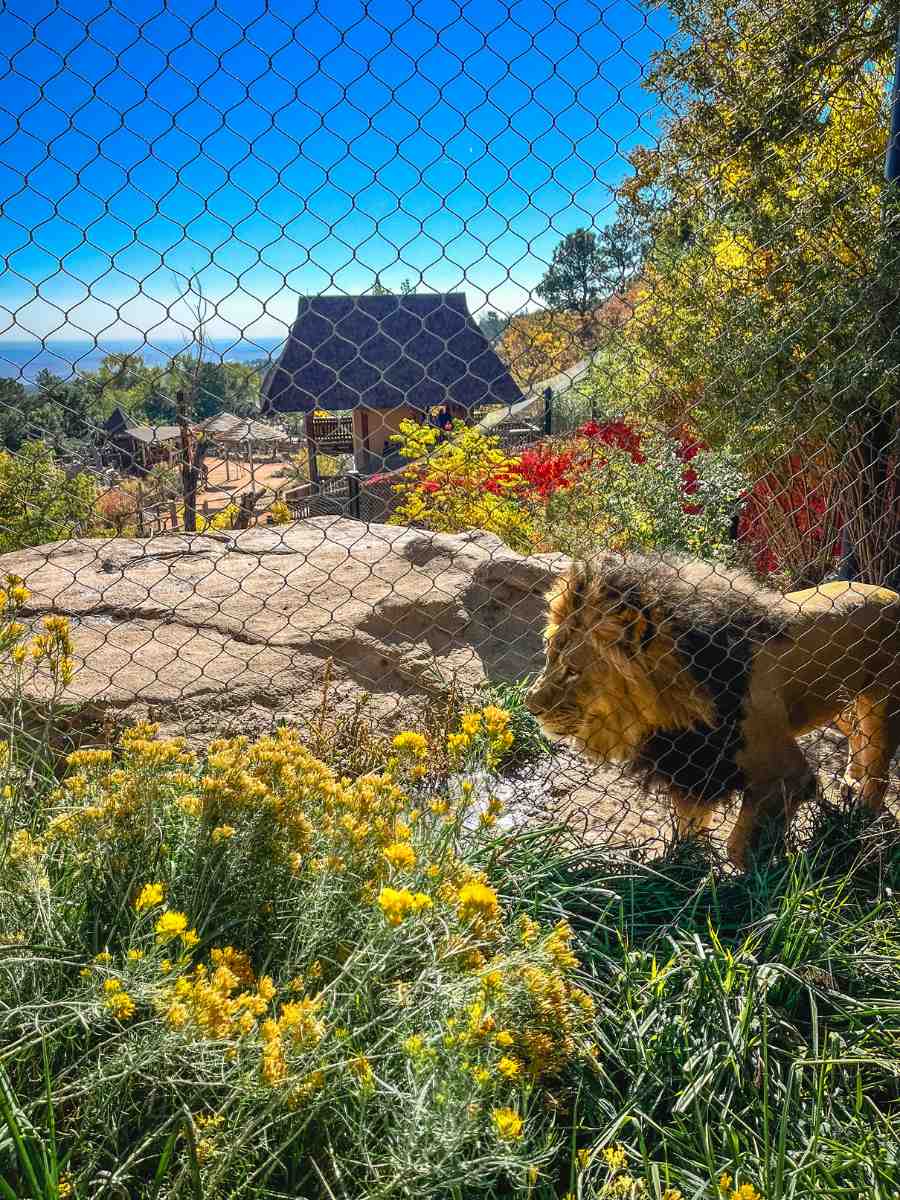 Soaring Adventures
While we didn't do Soaring Adventures on this trip (because the kids are not quite old enough), I was fortunate to experience this last year on an Adventure Moms trip to the Broadmoor. If you are looking for the true Broadmoor Wilderness Experience, this should be included in your itinerary!
OVERALL EXPERIENCE ON OUR FAMILY STAY AT THE BROADMOOR'S CLOUD CAMP 
Our overall experience at Cloud Camp was a dream! Every detail from the cozy lodges to the daily activities were executed flawlessly and took all of the planning out of our hands. We would love to come again, especially when the kids are old enough to do the zipline adventure course. And one day I would love to take a mom & dad getaway and stay at the Fire Tower Cabin. And DO NOTHING!  This weekend is one that I will cherish for a long time. While there is WiFi up there, you still feel disconnected and so far away from the "real world." A bit of going back in time, a bit of slowing down time, and a lot of beautiful memories.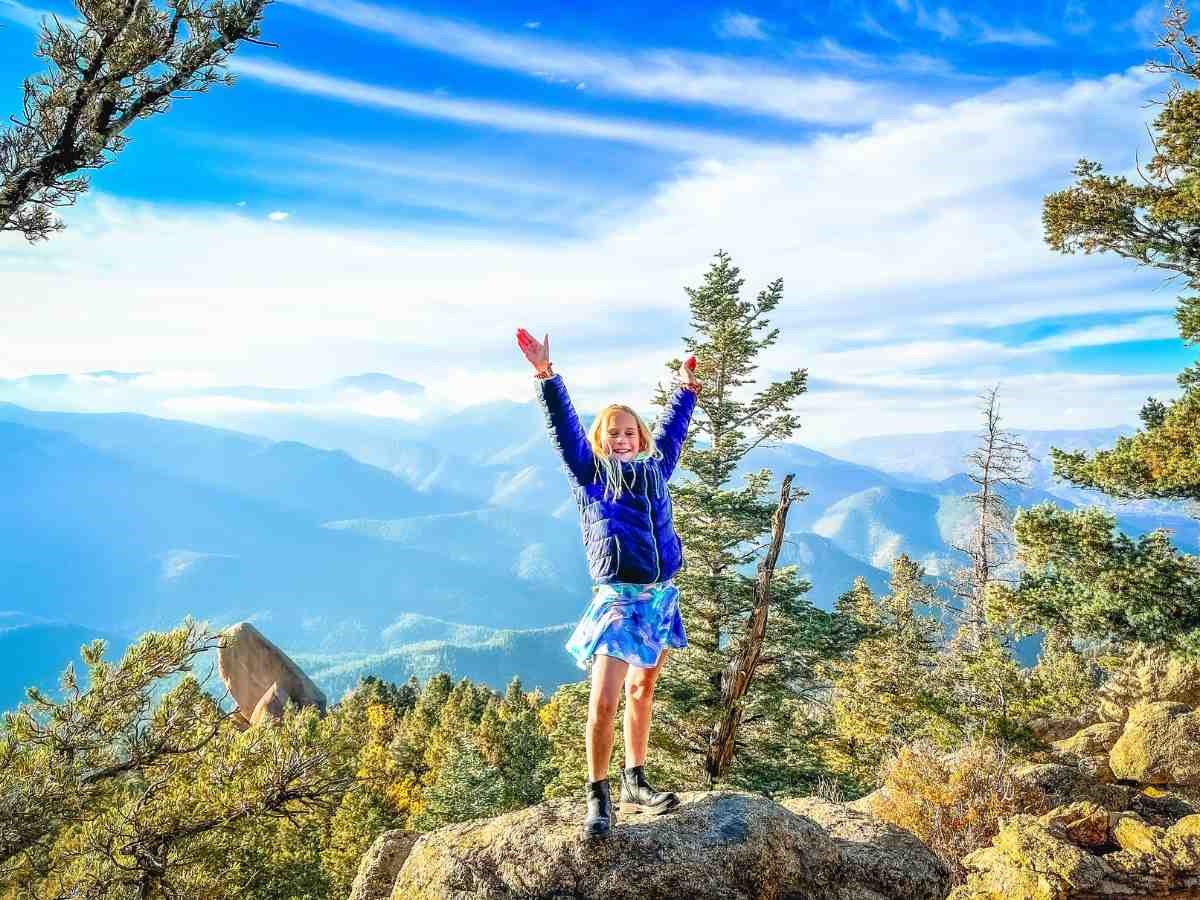 A few tips for staying at the Broadmoor's cloud camp 
Drink plenty of water! The resort is at 9,100 feet elevation so stay hydrated to avoid altitude sickness

Pack warm jackets, even if the forecast calls for nice weather. Since you don't have your car, you can't just run back and get the things you left.

Wear comfortable shoes. You will be doing a lot of walking, even just from the cabins to the main lodge. The dress code is casual for meals and activities. 

Lean on the knowledgeable concierge before and during your stay. It can be overwhelming to decide between all of these fun options, so call and speak with them to design the perfect trip for you!

Be sure to watch the sunset.