With Earth Day approaching this month, we've had fun sharing some ideas on how to celebrate Earth Day with the kids over on Raising Hikers' Instagram. From planting a garden to picking up trash on the trails, there are so many ways to show Mother Earth some love on Earth Day and every day! One huge impact we can have on the planet is supporting local pollinators. To learn more about what this means, we took a Sunday funday fieldtrip out to the Butterfly Pavilion, Colorado's largest butterfly house and first standalone invertebrate zoo in the world!
Thank you to Local Hive™ for sponsoring this blog post. All opinions are my own.
VISITING THE BUTTERFLY PAVILION NEAR DENVER
If you have a creature-loving kiddo, this is an amazing outing! The Butterfly Pavilion is located in Westminster, just 15 minutes from Denver. They are currently open for operation 7 days a week from 9a-4p on a timed entry reservation system, so be sure to get your tickets in advance. For information on their COVID-19 preparedness, their FAQ's do a great (and accurate) job explaining what you can expect during your visit!
CRAWL-A-SEE-EM EXHIBIT AT THE BUTTERFLY PAVILION
This place is full of amazing facts! Did you know that 97% of the species on Earth are invertebrates? Did you know that one out of every three bites of food eaten worldwide is a result of pollinators? I did not! These were just a couple of the amazing facts we learned on this adventure! Immediately upon entering, the kids were enthralled with the Crawl-A-See-Em exhibit that houses dozens of creatures hiding in their natural habitats.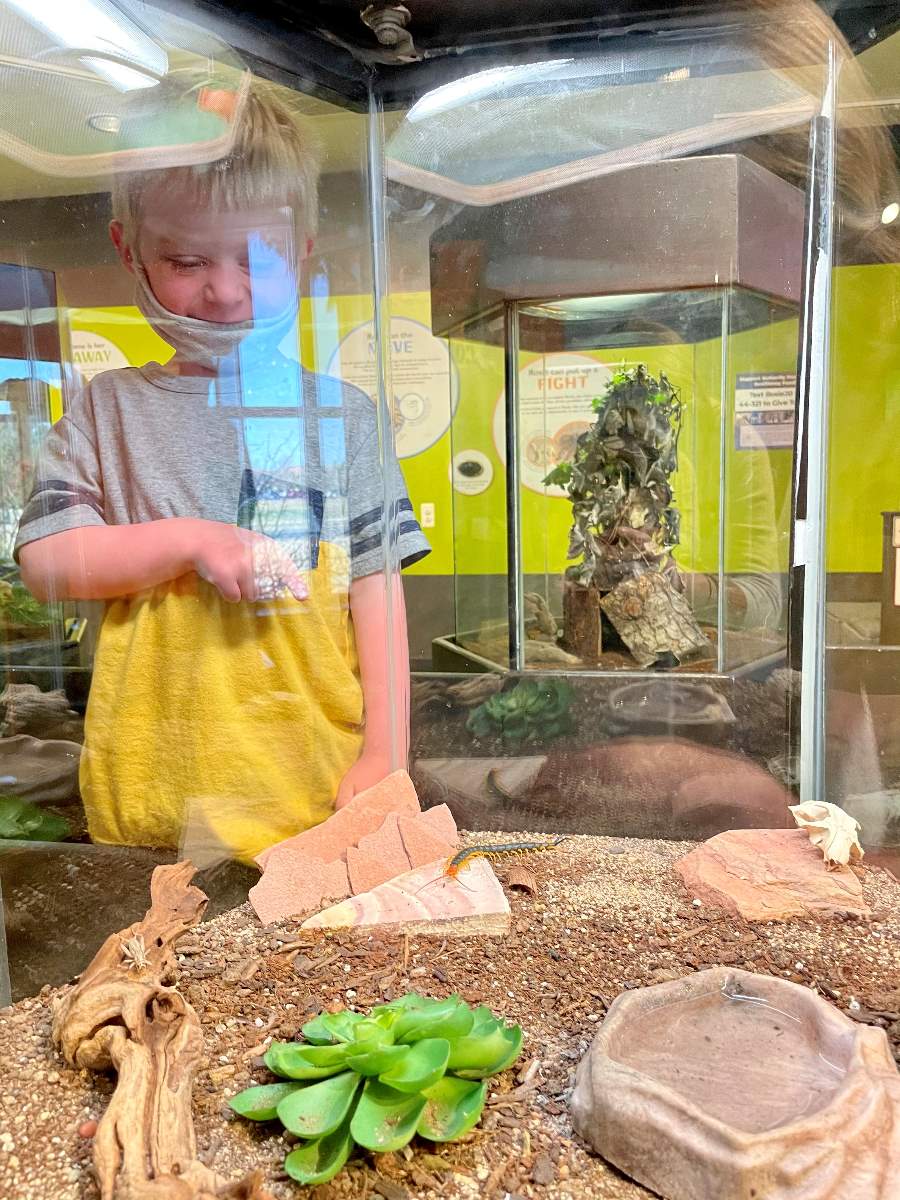 This exhibit is where the famous Rosie the Tarantula is on display. To limit contact between guests for COVID-19 precautions, we were not able to hold her on this visit. Let's be honest, I wasn't too sad about this, but I'm sure the kids would love to go back to get this experience in the future! We were still able to view Rosie behind the glass, which was close enough for me!
In addition to the creepy crawly beetles and spiders, in the Crawl-A-See-Em exhibit, this is also where you can see the bees at work! You get an up-close view of a beehive and can watch the bee counter tally number of bees exiting the beehive to the outdoors. I could have sat at this exhibit watching the bees buzz around all afternoon.  These bees actually made the Butterfly Pavilion varietal of Local Hive Honey! How cool is that?!
WATER'S EDGE EXHIBIT AT THE BUTTERFLY PAVILION
This exhibit was a surprise as I didn't think about seeing underwater invertebrates! The kids enjoyed this hands-on exhibit as they were able to touch a sea star, a black sea hare slug, and a horseshoe crab. My four-year-old let out a very loud gleeful giggle after touching the sea slug. This was one of his highlights!
WINGS OF THE TROPICS EXHIBIT AT THE BUTTERFLY PAVILION
As expected per the name of the zoo, this is the main attraction and what our crew was most excited about. We spent the majority of our time wandering through the indoor tropical rainforest.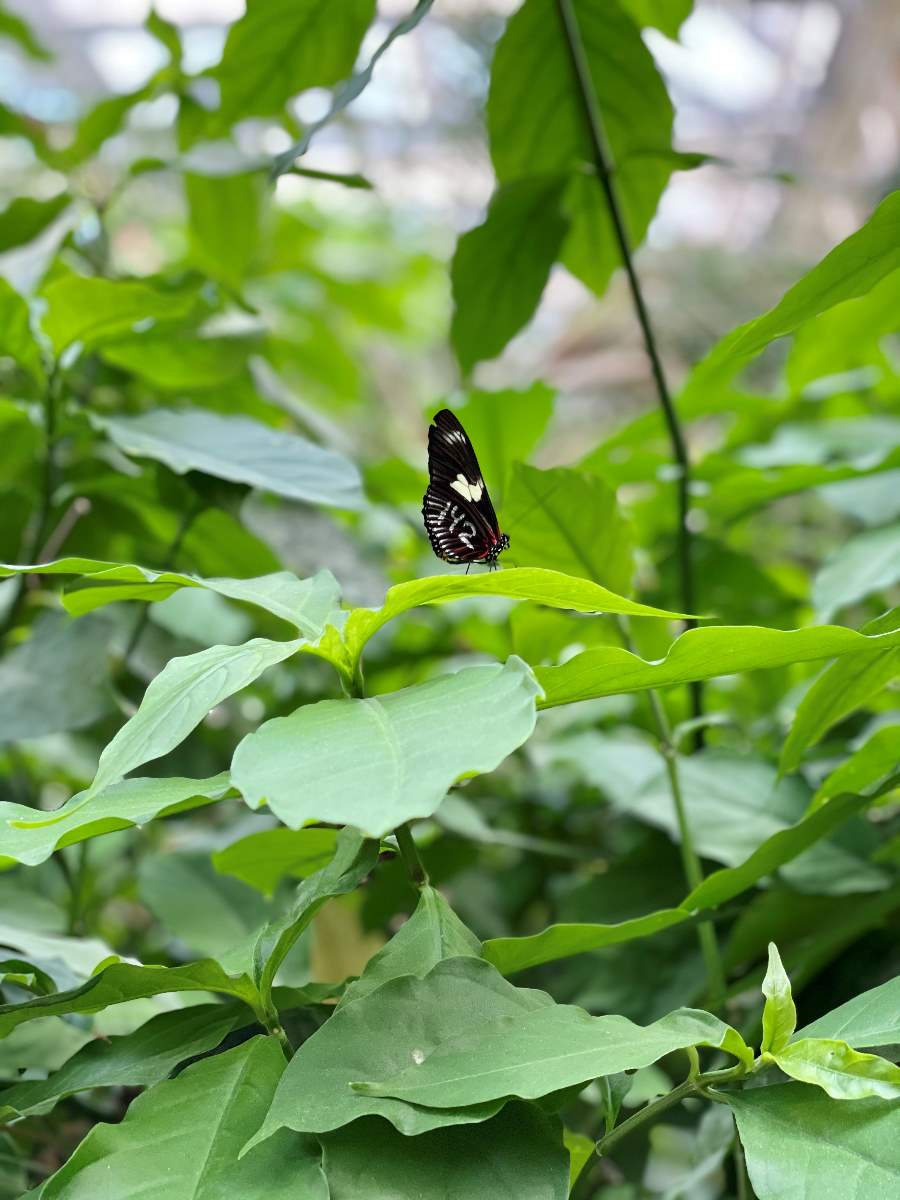 This exhibit houses 1,600 free-flying butterflies and while you are not allowed to touch the plants or winged species, you may get lucky enough to have them land on you like we did!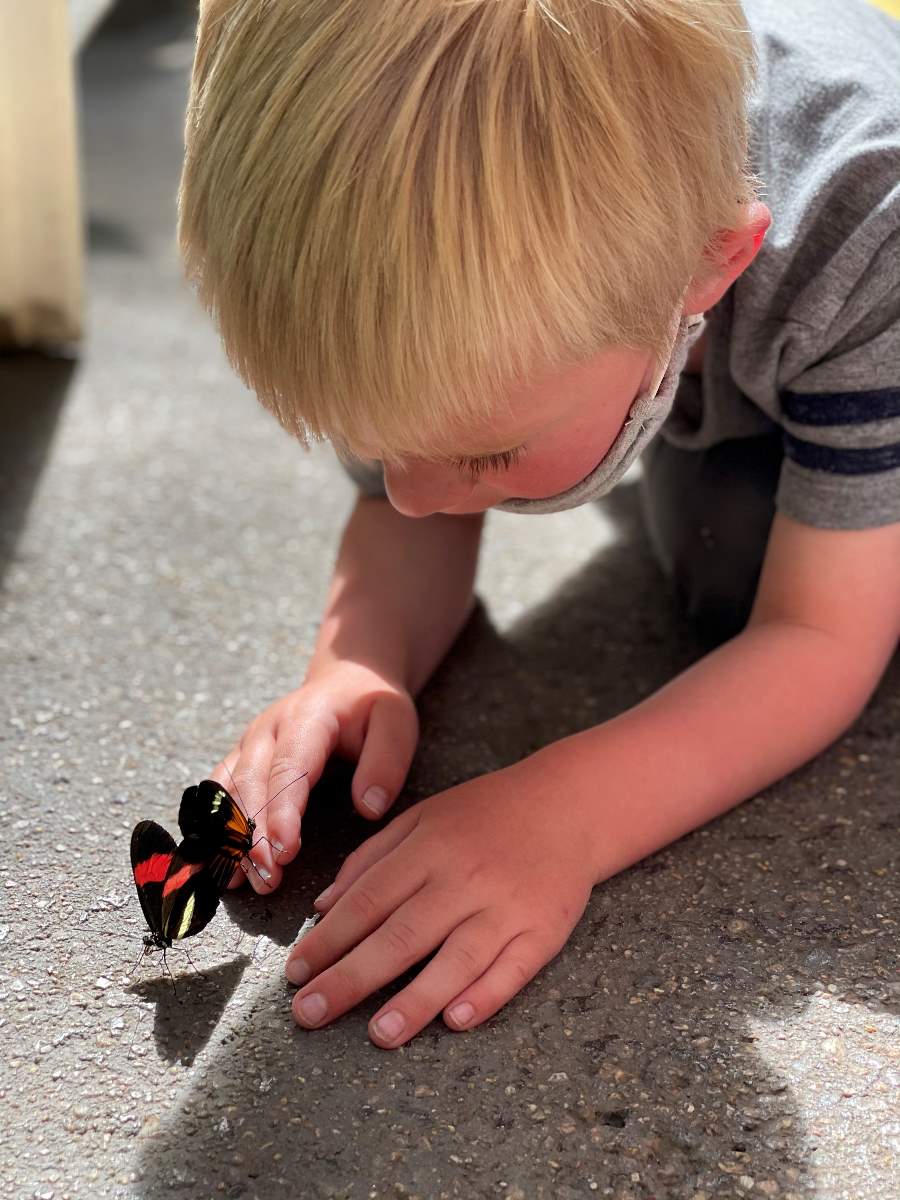 COLORADO BACKYARD EXHIBIT AT THE BUTTERFLY PAVILION
We visited the Butterfly Pavilion with our friends who are moving to Colorado, so this exhibit was a fun display of the ecosystem diversity that Colorado has to offer from the alpine and mountains to the prairies, deserts, and wetlands.
It has been awhile since my kids have played in an indoor play space, so this was a fun treat! We felt confident in the safety precautions the Butterfly Pavilion was taking by closing this exhibit every 45 minutes for cleaning and sanitation. This was a great way to really tucker the kids out before heading home. And of course, we loved the cute vintage camper set up!
OUTDOOR GARDENS AND NATURE TRAILS
Our crew was pretty exhausted after the excitement of the Butterfly Pavilion so we didn't spend too much time wandering the nature trails. However, we did spend a few minutes enjoying our butterfly shaped lollipops from the gift shop while watching the prairie dogs.
HOW TO SUPPORT & PROTECT POLLINATORS
As we consider ways to celebrate Earth Day, learning about how to support pollinators is a critical piece in protecting our Earth. Just by visiting the Butterfly Pavilion, you are supporting the Pollinator Action through Conservation and Education (PACE) initiative. Pollinators are critical in the reproductive process of native plants and the food that we eat. Unfortunately, bee and butterfly populations are declining so the work that PACE is doing to restore pollinator habitats and increase awareness is so important!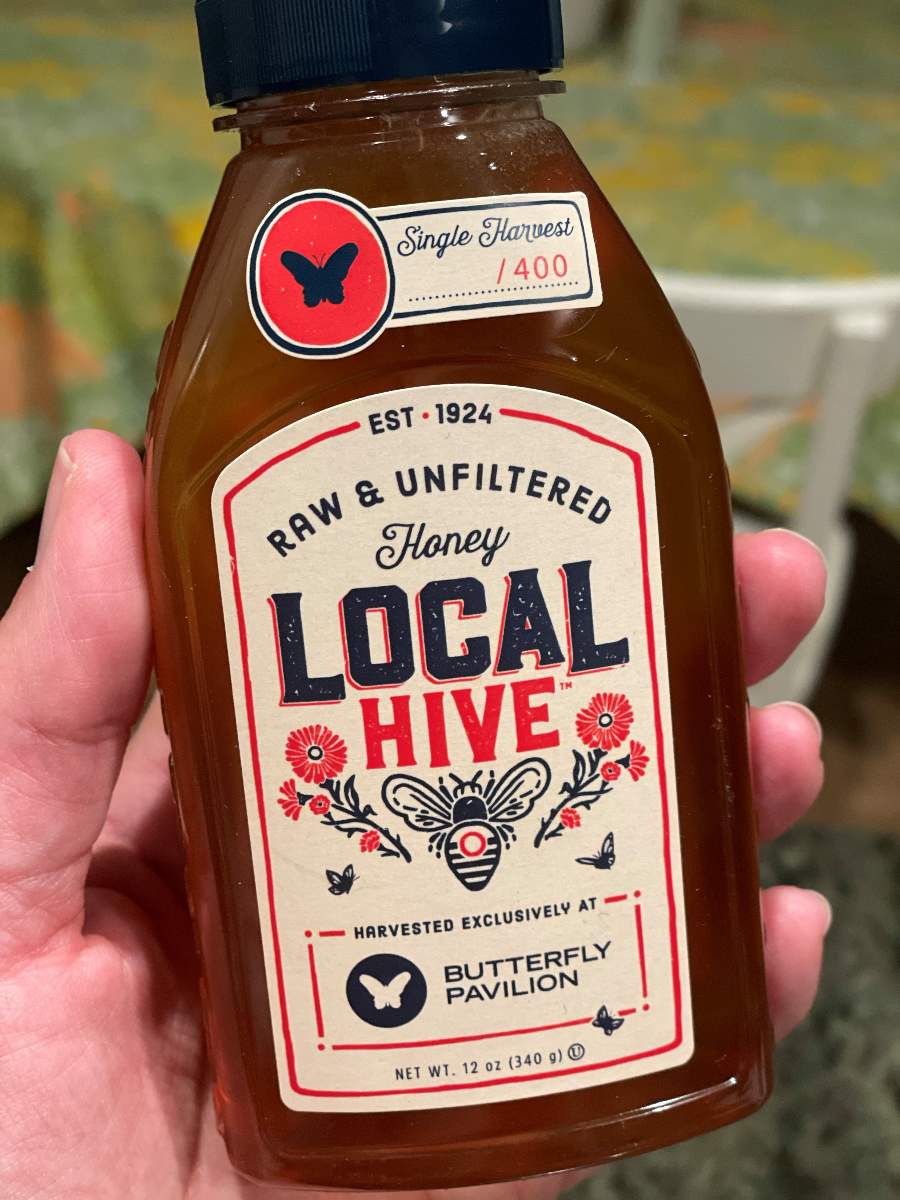 Another way to support PACE is by purchasing the delicious Local Hive Honey! Local Hive Honey is based just an hour away in Greeley, Colorado and is aligned with the same mission of promoting pollinators and sustainable bee farms.  A portion of the proceeds from every bottle of Local Hive Honey goes to support PACE. This raw and unfiltered honey, including the special edition bottles that are made from bees right at the Butterfly Pavilion, can be purchased at the gift shop on your way out or on-line.
You can also donate directly to the Butterfly Pavilion and Pollinator Action through Conservation and Education Initiative here.
Driving Directions to the Butterfly Pavilion
From Denver, head north on I-25 for 5 miles. Exit 217A to US-36 West toward Boulder and stay on US-36 W for 7 miles. Exit W 104th Ave and turn right. In 0.3 miles turn right at the first street, Westminster Blvd and the parking lot will be on your left.
Tips for visiting the Butterfly Pavilion near Denver
Be sure to reserve your tickets in advance!
All guests over 11 are required to wear masks, though we had our young kids where masks as well and found that most others did too.
Butterflies are attracted to bright colors so if you are hoping for a butterfly to land on you, consider wearing red, yellow, pink, orange or purple!
Wear layers as it gets warm and humid inside the Wings of the Tropics exhibit.
Tickets are $13 for adults, $11 for seniors, $9 for children ages 2-12, and free for kids under 2! There are significant discounts for members.
Don't be shy in asking the exhibit staff questions about what you are seeing—we found everyone we talked with to be friendly, knowledgeable and informative.
I hope you have as much fun as we do at the Butterfly Pavilion! Be sure to drop me a note below if you plan to go and what your favorite exhibit is!
If you are looking for more fun ways to celebrate Earth Month as a family, consider going on a Denver area hike!