With World Water Day coming up this month (March 22nd), I thought it would be fun to engage the kids in a conversation about the importance of fresh and clean water. We are so fortunate to have access to this precious resource! One way to celebrate and educate your kids about water is to explore your local watershed. Lucky for us, a lot of the Denver-metro area water comes from the Strontia Springs Dam at the head of Waterton Canyon on the South Platte River, which happens to be a beautiful recreation area near our house. Given the spring like weather this past weekend, it was the perfect day to pair water education and a Waterton Canyon bike ride! This trail is shared by hikers, runners, mountain bikers, strollers, and horses so this review can be used for any of these recreational activities.
WATERTON CANYON BIKE RIDE (OR HIKE!) WITH KIDS
Miles: 9 miles, although it can be made into a 1 mile, 3 mile, or 6.5 mile hike
Elevation gain: 312 feet (though if you continue on just beyond the dam, there is an increased elevation gain). We stopped at the Bighorn Sheep Rest Area.
Difficulty: Moderate
Type: Out and back
Time: 1 hour and 20 minutes of moving time, and almost 2 hours and 25 minutes of total time on the trail, including snack and lunch breaks.
Dog friendly: No, dogs are NOT allowed on this trail due to the bighorn sheep and other wildlife habitat.
Bathrooms at trailhead: Yes, and bathrooms along the trail as well
Picnic tables at trailhead: Yes, and covered and uncovered picnic tables along the trail
Stroller Friendly: Yes! It is a bumpy dirt road (not paved), but it is relatively flat so sturdy stroller tires (and possibly wheelchair tires) can make it.
Cost: Free
Waterton Canyon is located in Littleton, Colorado, about 30 minutes from downtown Denver. We have hiked this path before but have never made it to the Strontia Springs Dam (since it's 6.5 miles in!). Since we were determined to make it to the dam this weekend, we decided we needed to be on wheels. While we saw a few awesome families out there with kids on bikes for the whole ride, we knew that this distance is just beyond what our kids are capable of today so we busted out our Bike Trailer for our 4 year old and our Tag-a-long Bike Trailer for our 6 year old (who wanted to feel like she was actually riding). Having kids so close in age, we have found these two trailers to be enablers for outside bike adventures. We also ditched our double stroller long ago and went all in on the Burley Trailer as our main stroller as well. On neighborhood walks it also doubles as a scooter hauler, so it's been a solid purchase with many uses!
THE ROUTE FOR waterton canyon bike ride or HIKE
Once you decide whether you are hiking, bike riding, and which type of setup (kids bike themselves, shotgun seat for the little ones, trailers for the big kids, horses, etc….so many options!!), this bike ride or hike is very straightforward. The parking lot does get full, so I recommend starting this hike or ride early to beat the crowds. You will enter the trail at the start of the Colorado Trail, across the street from the parking lot. I would say it is actually more of a service road than an actual mountain biking or hiking trail, but it is scenic enough to still be worth it! The width of the "trail" also makes it nice as I am usually not a fan of sharing the trail with bikers when I am hiking (and vice versa), but this trail has plenty of room for everyone!
The trail winds along the South Platte River for the entire bike ride, which is what makes this ride so scenic. It's relatively flat with a steady incline, and then all downhill on the way back. Less than a mile in, you will see large pipes overhead. You can stop and read about how these pipes actually merge across the river to form one big pipe, called Conduit 20. This conduit pulls water from the South Platte River to the Marston Reservoir, and then to homes across the Denver-metro area. At 1 mile, you will reach the Highline Canal Conversion Dam. This is a great spot for a snack and potty stop (if needed) as there are restrooms and picnic tables. If you can make it a half a mile farther, I prefer the stop at the picnic tables near the river where you can skip rocks and hang out a bit. This makes for a nice turnaround spot if you are seeking a ~3 mile hike.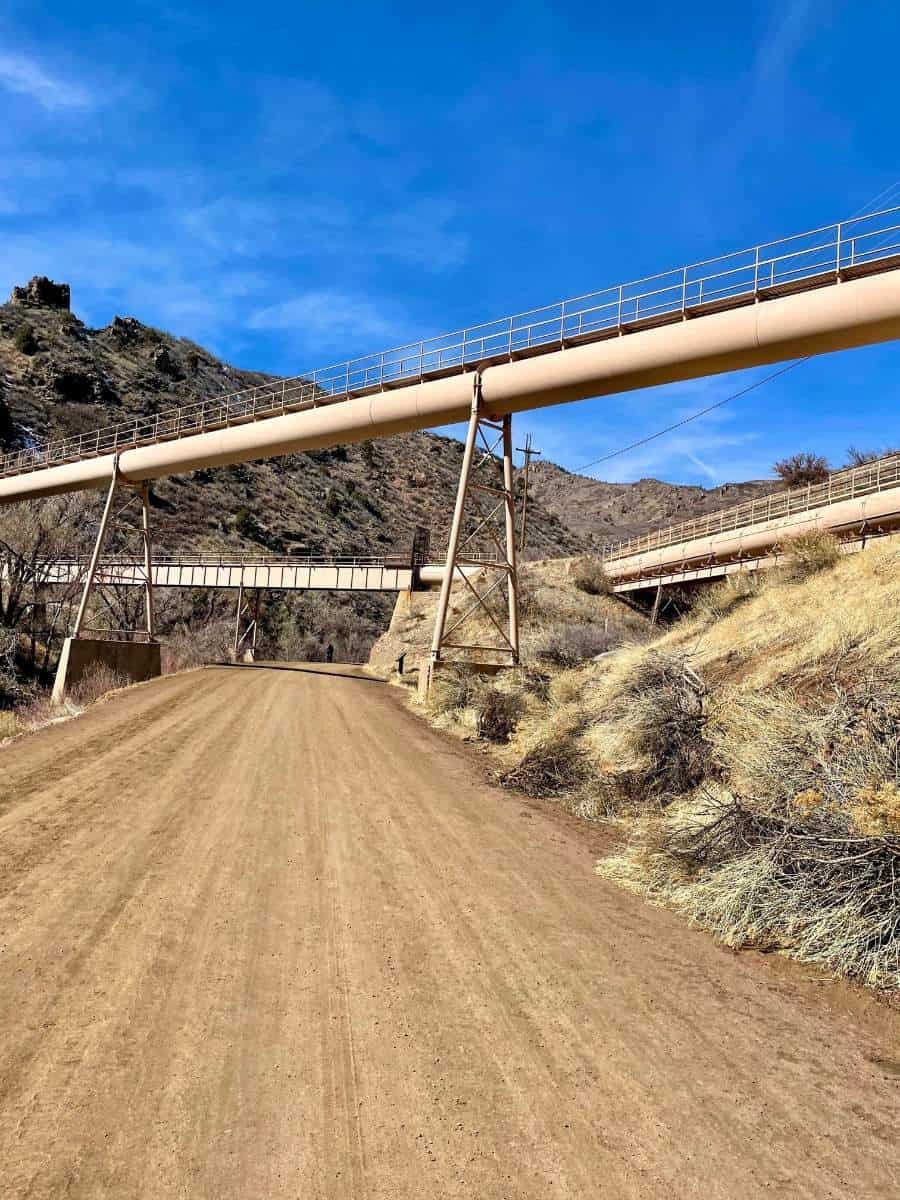 I recommend pressing on a bit further to 3.3 miles (6+ roundtrip), where you'll get to see the more impressive Marston Diversion Dam. This was a fun stop for the kids to listen to the water and learn about how the conduit uses gravity to help the water reach the treatment plant.
After the Marston Diversion Dam, the trail traffic starts thinning out as there are fewer hikers in this section. I highly recommend pushing on (which is where the bikes come in handy), since this section is even more scenic and beautiful. While we weren't lucky enough this time, keep your eyes peeled for bighorn sheep throughout this hike — we have seen them on previous hikes in this section. You will cross the Mill Gulch Bridge at around 4 miles and then the final section has a steady incline for the final push.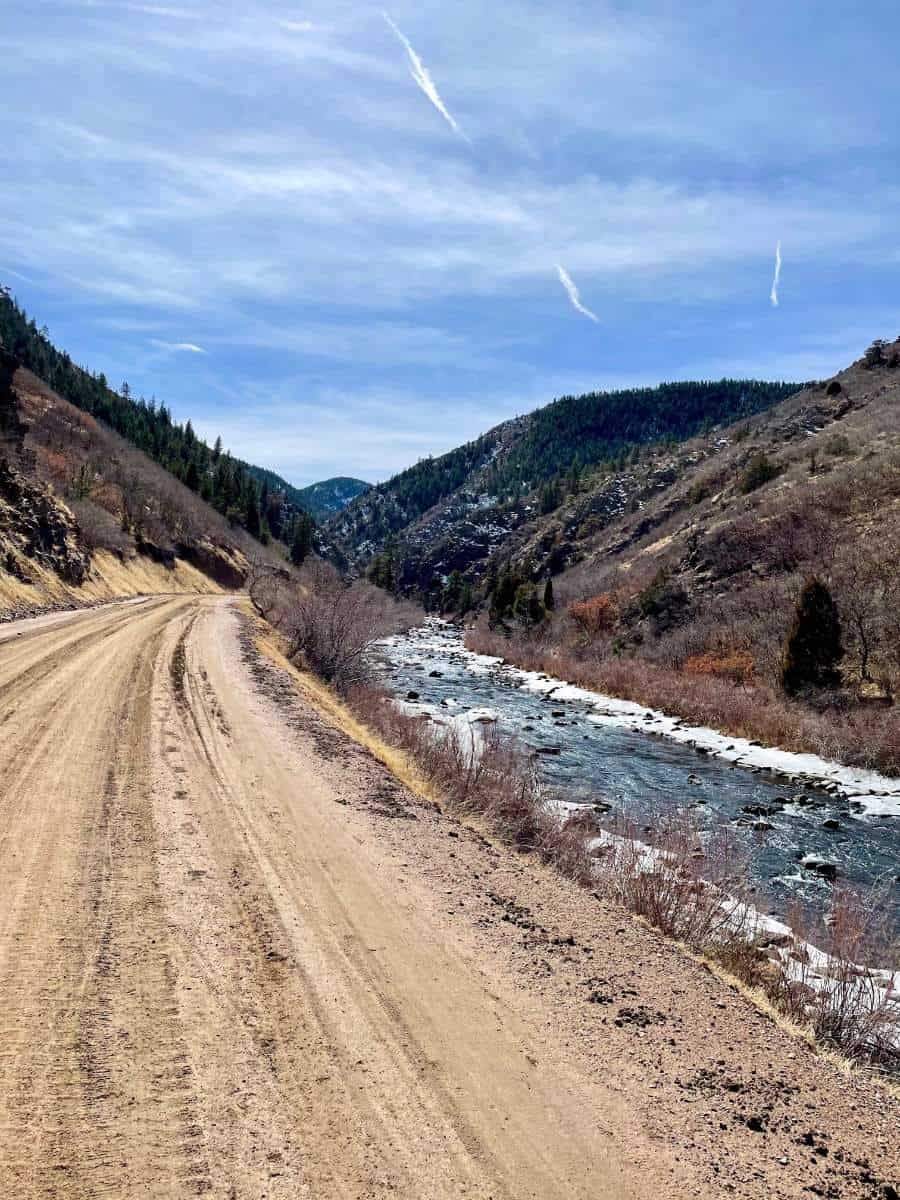 THE DESTINATION OF THIS WATERTON CANYON BIKE RIDE
Just after the 6-mile marker (there are actual markers along the trail which is so nice!), you will reach the main attraction—the dam at the Strontia Springs Reservoir. This dam was not flowing for us, but it looks amazing with the full water flowing. We plan to return to this bike ride in the spring to try to catch this sight. I believe you can ride or hike just a bit further to see where the path continues onto the Colorado Trail, almost 500 miles to Durango!
Like most, we planned Strontia Springs for our turnaround spot. There are picnic tables here at the dam, but we turned around and headed back to a picnic table called Rattlesnake Rest Stop about 1.5 miles down the path. As you can imagine, the ride down (all completely downhill) is a blast! We flew down the mountain, with only one little stop to throw rocks on the frozen river.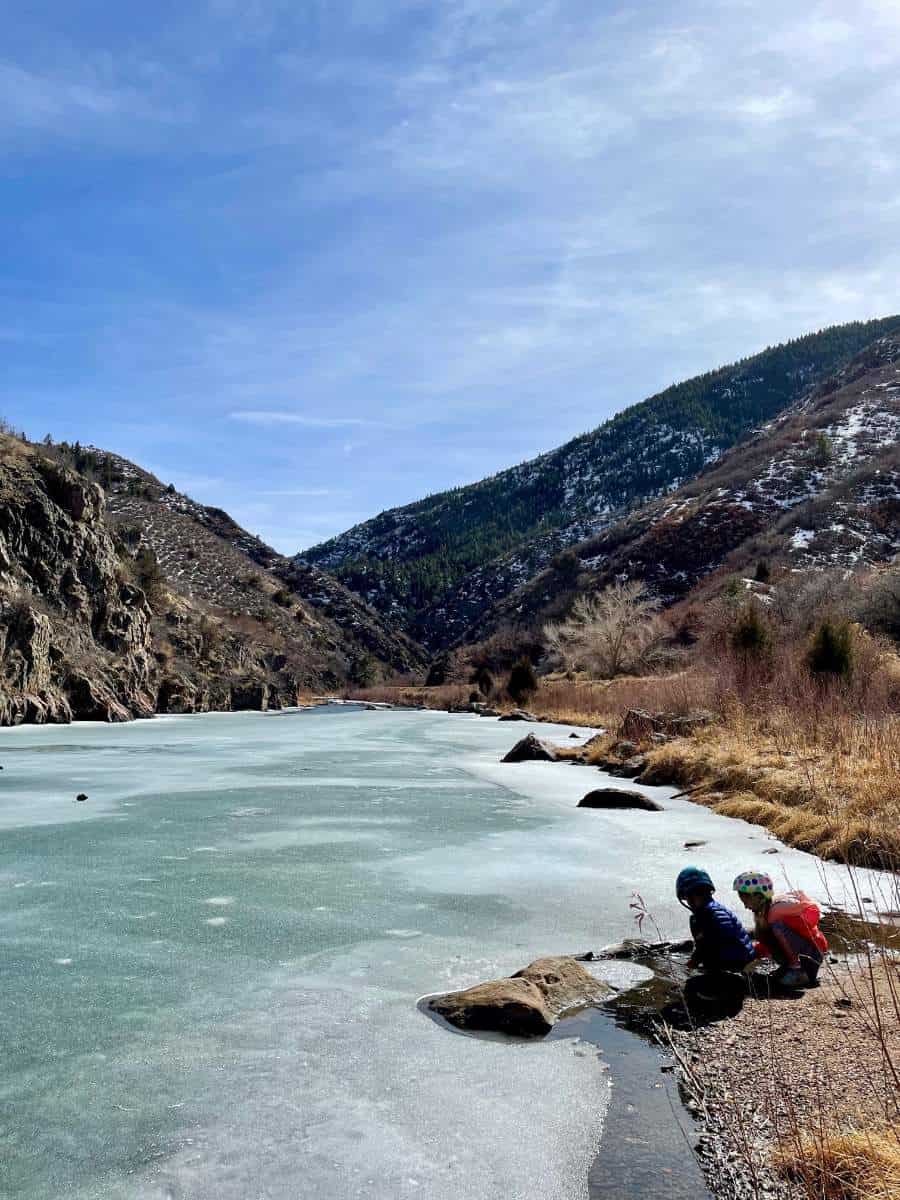 HOW THIS WATERTON CANYON BIKE RIDE STACKS UP
Pros
Well maintained flat & wide road still feels "wild" enough to call it a hike or for mountain bikes
Easy elevation gain
Good option for a year round hike in all seasons as it's easily accessible
Close to Denver
Beautiful canyon scenery
Lots of different options for turnaround points (make it a 1 mile hike, 3 mile hike, 6 mile hike, 12 mile hike, or 500 mile hike!!)
Great spot for a picnic with plenty of tables and bathrooms along the trail
Water entertainment with the river all along the trail the entire way
Great for fishing!
Multiple dams to see water flowing, with opportunity for education
Lots of wildlife to see including bighorn sheep, mule deer, and birds
Cons
Heavily trafficked, crowded trail
No dogs allowed
Bumpy ride in some portions
Minimal shade so this hike or bike ride can get warm. Be sure to bring hats and sunscreen!
WAS THIS WATERTON CANYON BIKE RIDE WORTH IT?
Yes! I love this trail for biking! After doing this on foot as a hike and now on bikes, I much prefer it on bikes. The amount of people is a bit overwhelming on foot, but on bikes you can zoom on by and make it far enough to get beyond the crowds. On bikes, you can get to the Strontia Springs Dam without it being an all-day hike.   
WOULD I GO BACK TO THIS WATERTON CANYON BIKE RIDE?
Yes! Since we biked this trail in the winter, I will plan to go back again in the spring in hopes to see the Stronta Springs dam flowing.
DRIVING DIRECTIONS TO WATERTON CANYON FROM DENVER
From Denver, head south on US-85 toward Santa Fe Drive for 10 miles. Merge onto CO-470 W on your right. Continue on CO-470 W for 3 miles and take exit 14 for CO-121 S towards Wadsworth Blvd and turn left. Continue for 4 miles and then turn left onto Waterton Rd. Turn left into the second parking lot on your left. The trailhead is across the street to your right.  
LOOKING FOR MORE DENVER KID HIKES?
When we are seeking an easy yet beautiful outing, our favorite Denver kid hike is the Trading Post…
Today we were seeking a "forest hike" within an hour of Denver, Colorado and we found just the…
While spring is around the corner, I am still trying to embrace the winter in Colorado and all it…

Learn more about World Water Day here. I hope you have fun learning more about your local watershed and if you are local to the Denver area, I hope you make it out for a Waterton Canyon Bike Ride! Drop your questions or feedback below, I look forward to hearing from you. Lastly, sure to check out The First 5 Things to Teach Your Kids About Hiking before hitting the trail! Happy hiking and biking!