Since moving to Colorado, we have become enamored with the beauty of the San Juan Mountains in the summer. It's a trek to get there (like 6+ hours each way), but in our first summer in Colorado, we visited the area three separate times. We camped at Molas Lake to hike the Ice Lakes Basin Trail (sneak peek on that in my 8 Epic Day Hikes post), spent 4th of July in Ouray, and camped in Lake City to attempt the kids' first 14er in American Basin. We have a couple more epic hikes and camping trips planned there this summer—even a family backpacking trip! But summer is still 4 months away and we just could not wait that long to get back to that area. So, we planned a quick winter getaway this weekend to see the San Juan Mountains in the winter and attempt our first time skiing with kids at Purgatory Ski Resort in Durango. We are by no means experts in this area as we have now taken them skiing once, but I would deem our adventure an overall success, so I want to share some of our considerations and what worked for us for our kids first time skiing. I found there are many parallels to skiing with kids and hiking with kids. It's physically demanding, planning and packing is important, and there will be meltdowns!
DECIDING IF THE KIDS SHOULD SKI OR SNOWBOARD FOR THEir FIRST TIME
I will preface that I do not know how to ski! I think this is important because I know most parents who are teaching their kids to ski are experts (or competent) skiers to begin with. I personally know how to snowboard, and Bryce is the skier in our family. I used to be a snowboard instructor for a winter season at Washington's Steven's Pass when I was "young and cool," but we only recently took skiing and snowboarding back up since moving to Colorado—because that's what you do in Colorado! Since we are raising Colorado kids, we figured it was a good time to get them introduced to the mountain sports. However, since we are a divided household (skiing versus snowboarding, Blue Bell versus Tillamook, Pilsner versus IPA) we had to decide whether the kids should ski or snowboard for the first time.
My dad likes to tell the story that he forced me to learn how to ski before I was allowed to snowboard, and that was the reason that I got the Steven's Pass snowboard instructor job. While I would like to attribute the position to my epic snowboarding skills, there is some truth to my dad's reasoning. On the application, they asked whether you would be willing to teach both skiing and snowboarding and I answered yes. I had to ski down the bunny hill in my interview (which I had not done in roughly 15 years), but I harnessed my "pizza" skills that I learned all those years ago and passed the test….barely. But I got the job! I believe that snowboarding is a little easier to learn once you have the foundation of skiing. I also think skiing is easier to learn and harder to get good at, while snowboarding is harder to learn but easier to get good at. Given this logic, we decided to start the kids on the "easier" sport and then let them choose whether they would like to learn snowboarding in the future.
when to take kids skiing for the first time
As far as how old kids should be when they first get on skis, this is going to depend on your lifestyle and how much you plan to ski. I see some tiny shredders out there who are on skis at 2 years old, but for us Walker at 4 years old (and Emerson being almost 6 years old) was the right time. We wanted our kids to have a decent level of body control and understanding before we started them on skis. As far as stamina, we could tell the difference between our 4 year old and 5 year old. Walker was done much sooner than Emerson and was content playing in the snow while Emerson kept going. Depending on the age, you may take a different approach to the first time skiing.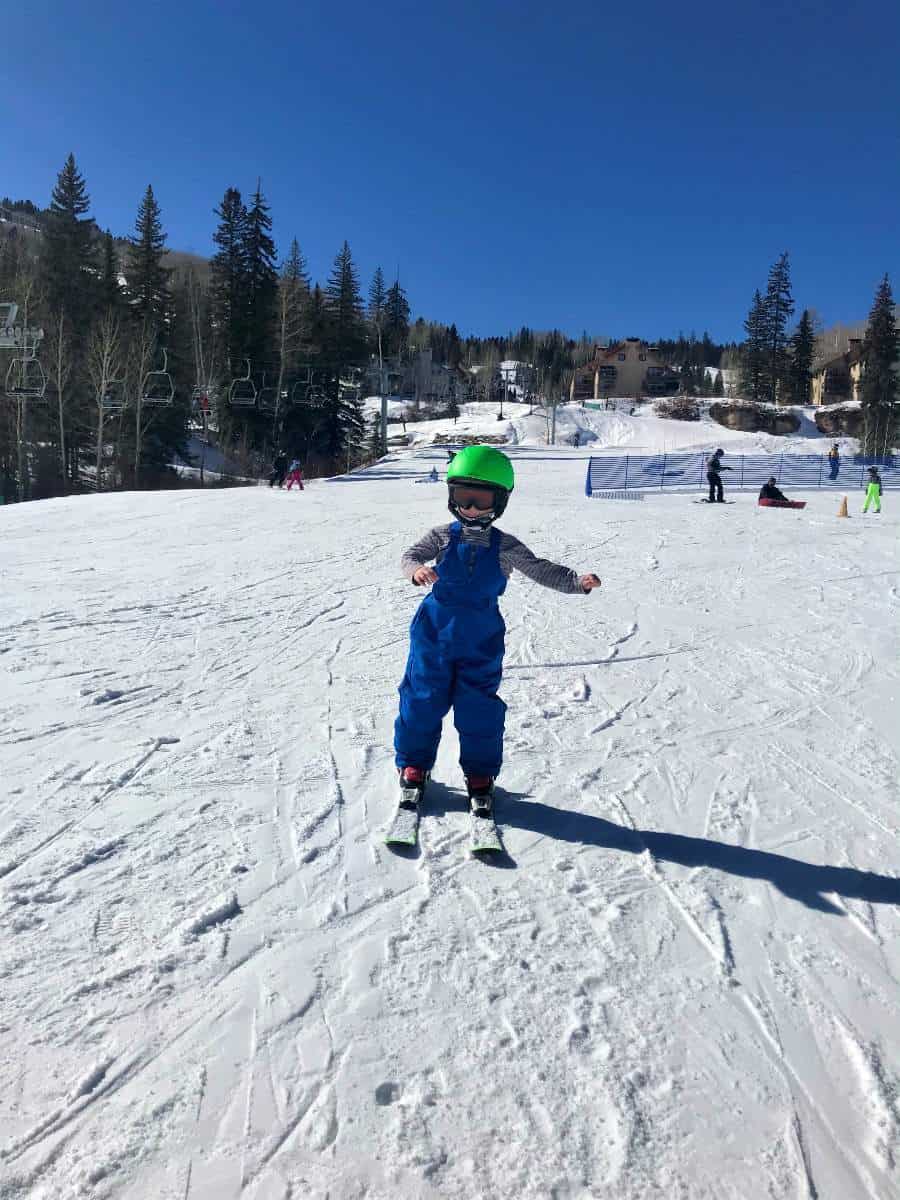 WHERE TO GO FOR YOUR KIDS FIRST TIME SKIING
Location is important when deciding to take the kids skiing for the first time. Even though it was a far drive, we chose Purgatory Ski Report for a few reasons:
SIZE OF SKI RESORT
We wanted a smaller resort where we could park closer to the slopes. If you've skied before, you know that walking from the car to the ski slopes is one of the worst parts of the experience. I am a snowboarder for this exact reason! Ski boots just feel terrible to me. I know they have made advances since I have skied, but they are still not a comfy walking boot! Plus, proximity to the car is important in case you forgot something and need to run back.
AMENITIES
For the kids first time, we wanted a small slope with a magic carpet as opposed to the lift. Bryce and I were not going to be skiing with them on this first time so a flat hill that we could run alongside of them was an important consideration.
Ski school consideration is important as well! We chose to do the magic carpet ourselves for the first time as our goal for this trip was to get them comfortable with the gear before we invested real money in ski lessons. I absolutely think ski lessons are worth it, so now that we have had a successful day one, we are ready to put them in lessons so this is a consideration for the resort. We framed it that if they passed day one with Mommy and Daddy they were allowed to do ski lessons!
Keep in mind that you may need to take frequent breaks, so a ski hill that has a warm area to rest and a lodge to eat in may be helpful in deciding where to take the kids skiing. Of course, COVID makes that a little more difficult, so again the proximity to the parking lot may be even more important than the amenities. One "amenity" we considered was that Purgatory had a tubing hill right next to the ski slope so if we failed miserably, we could always just go sledding!
PRICE
We went into the kids' first day on skis with low expectations, so paying for a ticket for the kids' first day was not something we wanted to do. In my mind, there was a good chance we wouldn't even get the boots on and would have to scrap the plan altogether so the price point for us was FREE. The good news is that there are a lot of free options out there! Kids get a free season pass at Purgatory, so that checked the box for us. Another free option is a nearby park (if you live near snow). We seriously considered teaching the kids to ski for the first time on a neighborhood park hill and we would be willing to still do this on the next snow day as I think the more practice they get with little money and time investment, the better!
10 TIPS FOR YOUR KIDS FIRST TIME SKIING
1) Have patience. I don't know about you, but if I am in a rush or have somewhere to be at a certain time, the kids feel it and take about 300% longer to do anything. Our approach with this ski day was to have a "we've got all day" kind of vibe. Which we did. We had no plans and there was no timeline or expectations on how long we would be out there or when we needed to wrap up. It turned out that Emerson ended up skiing until they shut down the bunny slope at sunset!
2) Celebrate the falls. Emerson was nervous about falling so I showed her some videos of kids falling ahead of time so she could see that it's a regular occurrence when learning to ski, and nothing to be afraid of. When she fell for the first time, we high fived and made a big deal about what an awesome fall that was. It seemed to work as the next time she fell, she looked at me and said "did you see how cool that fall was?" We also like to talk about "what's the worst that can happen?" when we are scared about trying something new. For skiing, the worst that could happen (on this very flat bunny slope) was that they would fall would have to get their skis back on.
3) Practice getting in and out of skis on their own. This skill would provide them a lot of independence on our little magic carpet slope, so we practiced this a lot and tried not to do this part for them. We also let them shuffle around on their own on the flat as much as possible as opposed to pulling them along.
4) Set a realistic goal. If this is the first time your kids are putting ski boots on their feet, set the bar low. There is no rush for them to be "skiers" on day one. We talked in advance that our goals were just to get the kids comfortable having the gear on their bodies, getting in and out of the skis, understanding the concepts of making a "pizza" wedge to slow down and "french fry" skis to speed up, staying safe, and trying to have fun. The last thing we wanted was to scar them by pushing them too hard or having them be afraid.
5) Go when it is warm or sunny. I know weather is out of our control, but I think that the temperatures and the sunshine significantly contributed to our success. As with hiking and most outdoor activities, cold temperatures add some logistics and can make for fussy kids. Also, the sunshine added to the positive, laidback parenting attitude which really helped as well.
6) Start on a small hill where you can run beside them. There were definitely other approaches out there this weekend and there is no "right way"—parents on skis with the kids between their legs, parents standing at the bottom watching their kids, and parents running along side of their new skiers. We did the latter and that worked really well for us as the kids were able to have independence, but knew we were there if we needed them. Bryce brought his skis with him in case we needed to try approach number 1, but he ended up changing into his shoes shortly into the day.
7) Rent skis in advance. The more time you can save on the mountain for actual ski time, the better. Making kids wait in line, try gear on, and then have the energy to go out on the mountain may be too much. We were happy we had our gear with us and could head straight to the bunny hill when we arrived.
8) Wear the right warm gear. Even in "warmer temps," this is the snow, so planning in advance on how to keep your kids warm is important. Cold kids are miserable kids! You can check out Emerson's tips on dressing for a winter hike, as there are a lot of similarities when going skiing. Our motto for snowy weather is "no skin showing!" The critical pieces are:
9) Bring lots of snacks, bribes, and water. This is our M.O. on hikes as well, and it really helps! We brought lunchables  so we could have a picnic when they got tired and had plenty of snacks in our backpack if they got hungry or needed a break. We didn't end up needing bribes or incentives (shockingly!), but we did have our hike bribe bag in case we needed to reinforce a successful trip down the hill with a chocolate chip.
10) Bring extra gear and an easy way to carry it. If you've read my post on what to pack for a hike with kids, you'll know that the key to success if having extras of crucial items. Mom brain is real in my household so having extra items packed in advance means the chances of us having one of each item increases! For skiing, bring extra mittens, socks and gloves. If you are hanging at the bottom of the bunny hill for day one like we did, I recommend bringing extra comfy snow boots as well so that they can walk back to the car in comfort. We had our backpack packed in advance and then brought one of those large blue IKEA bags to put all of the "stuff" in to make it easy to carry. We also saw some parents lugging stuff on a sled, which was a genius idea!
WHAT DID NOT GO WELL FOR OUR KIDS FIRST TIME SKIING
Let's be honest, with every rosy picture there are about 10 tough moments with kids. This was not a walk in the park. Surprisingly, the boots did not pose as much discomfort as I expected. However, the goggles did! I get it. The goggles push down on your nose and make it hard to breathe. I just had to remember that all of this gear is very new, and to have patience with their gear meltdowns. Besides, getting used to the gear was our main goal for this trip. With it being a sunny day for us, the goggles were important for their little eyes so we just waited, empathized, and loosened them and tightened them however many times they needed.
When learning new things, I find that my children's personalities are accentuated. For example, my 6-year-old daughter is very determined, strong-willed, and wants to be good at things right away. She doesn't like when she is new to something and doesn't yet have the skills. At some point in the day, she was frustrated that she wasn't able to turn and she took the skis off and stomped down the mountain yelling "skiing is stupid!". This was a low parenting moment as I tried to pretend that I wasn't super embarrassed. Whose kid is that anyway??? But in all seriousness, this was just a moment that she had to get through. I had to stay calm and continue to tell her that she is a brand-new skier and learning hard things takes time, practice, and perseverance power. I also reiterated that we could stop at any point and call it a great day. If she was frustrated or tired, we could be done and go get some hot chocolate. Of course, I also threatened that if she yelled at me like that again, there would be no hot chocolate (because let's be real, parenting is HARD and I'm no Mary Poppins). But luckily—and yes, I think it was luck and her personality not any parenting magic—she wanted to stick with it and by the end of the day it was "skiing is fun" instead!
I hope these tips help you have a "successful" time taking the kids skiing, whatever that might look like for your family! Mostly, I hope you have fun and enjoy this new experience with your kids!