This past weekend we spent time in the San Juan Mountains skiing—a much different experience than in the summer. We choose to drive over to Southwest Colorado as opposed to the I-70 corridor popular ski resorts because the San Juan Mountain area continues to be my favorite place to vacation in Colorado—in every season! With the ski season winding down and spring on the horizon, I am getting more and more pumped about our summer adventures. We have a handful of hikes planned for this area that I cannot wait to share with you! In the meantime, I will reminisce about our favorite hike (and one of Colorado's most popular hikes) in the San Juan Mountains—Ice Lakes Basin. If you are considering hiking Ice Lakes Basin with kids, I am here to tell you it is possible and it is worth it!
Before I dive in, it is important to mention that due to the "Ice Fire" in October 2020 this trail is currently closed for safety from fire related hazards like fallen trees, rocks, and boulders. The most recent update states that the Forest Service will work to clean up the hazards in the spring with a plan to re-open July 31st. Before planning this hike, be sure to check the Forest Service website regarding the current closure status and whether this trail is open for recreation. There has also been rumors of this hike requiring a permit system in the future due to the popularity, so be sure to know before you go.
Ice Lakes Basin – Ice Lake and Island Lake Loop 
Miles: 8.5 miles
Elevation gain: 2700 feet
Difficulty: Difficult
Type: Lollipop loop
Time: 4 hours and 13 minutes of moving time, and just over 6 hours of total time on the trail, including many snack breaks, photo stops, and a lunch break at Ice Lake.
Dog friendly: Yes!
Bathrooms at trailhead: No! Please practice Leave No Trace principles – including packing in and packing out and disposing of human and dog waste The bathrooms located near the parking lot are for paying campers only.
Picnic tables at trailhead: No
Stroller Friendly: No
Cost: Free
Map: I recommend the Nat Geo Topographical Map for this hike and other amazing hikes in the San Juan Mountain.
The route for ICE LAKES BASIN– FIRST STOP ICE LAKE
Ice Lakes Basin is accessed at the Ice Lakes Trailhead near the South Mineral Campground in Ophir, Colorado near Silverton. Detailed directions can be found at the end of the trail guide. Start from the parking lot and head towards Clear Creek. You will start climbing immediately as you enter the thick forest. At 0.5 miles you will cross Clear Creek via pile of logs and can see the view of a waterfall in the distance above. You will continue climbing mostly in the trees, but will be treated with occasional views of the mountains towering above.
You will continue at a steep incline through switchbacks until you finally break free from the trees at about 2.1 miles. This is a strenuous stretch (can you tell on my face in that first photo?). Carrying a 4 year old is not helping—but is made possible thanks to my Kinderpack!
 At this same point, which is around 11,200 feet, you will come to a fork. When we visited, we took the fork to the left to see Ice Lake first. We did this because with young kids, this route will give you the payoff of Lower Ice Lake Basin in the case that you are not able to make the full loop. We had a family with us who turned around at Lower Ice Lake and they were pleased with the views, the meadows, and the wildflowers. However, if you are confident that you will make the full loop, I recommend turning right at the fork and visiting Island Lake first. This way you are looking down at Ice Lake and get to see it for more of your hike. I will describe the route turning left since this is what we did, but reverse the details as necessary if you choose to visit Island Lake first.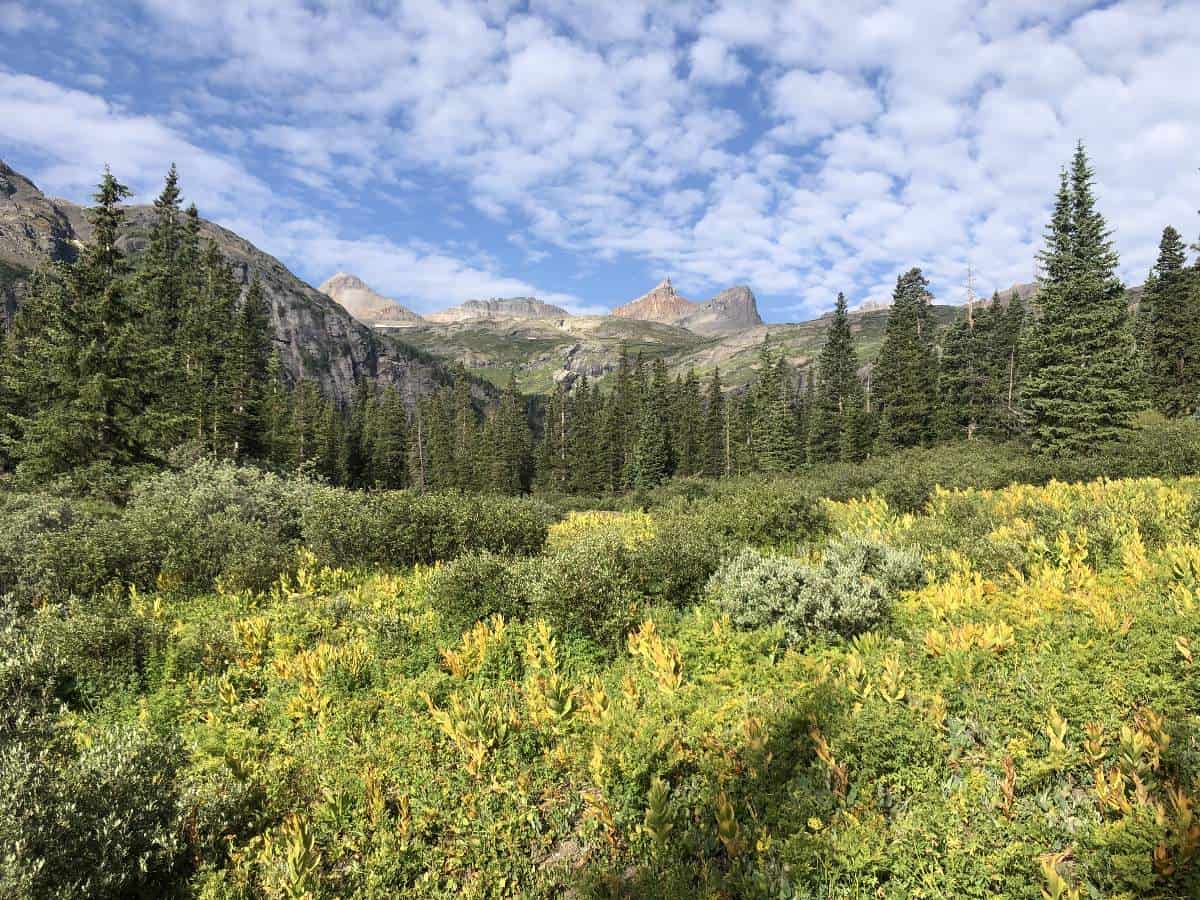 After the fork you will start approaching Lower Ice Lake Basin. This is a nice flat(ish) stretch for the next half mile to Lower Ice Lake, which you can see from above. If hiking with kids, this is a natural turn around point (2.5 miles) if you are looking to make this a shorter hike. However, the further you go from here, the more scenic and beautiful it becomes. This picture of my kids running through the wildflowers in the lower basin may be my favorite of all time and will hopefully urge you to press on!
At the head of the lower basin, around 3 miles, you cross a stream before starting the switchbacks out of the lower basin into the upper basin. The stream was flowing pretty good in August, so expect your shoes or boots to get wet crossing here. This is the view looking back to the lower basin as you start your climb.
You will climb very steep switchbacks in alpine tundra for a half a mile and at 3.5 miles will (finally) reach the the upper basin. You've made it!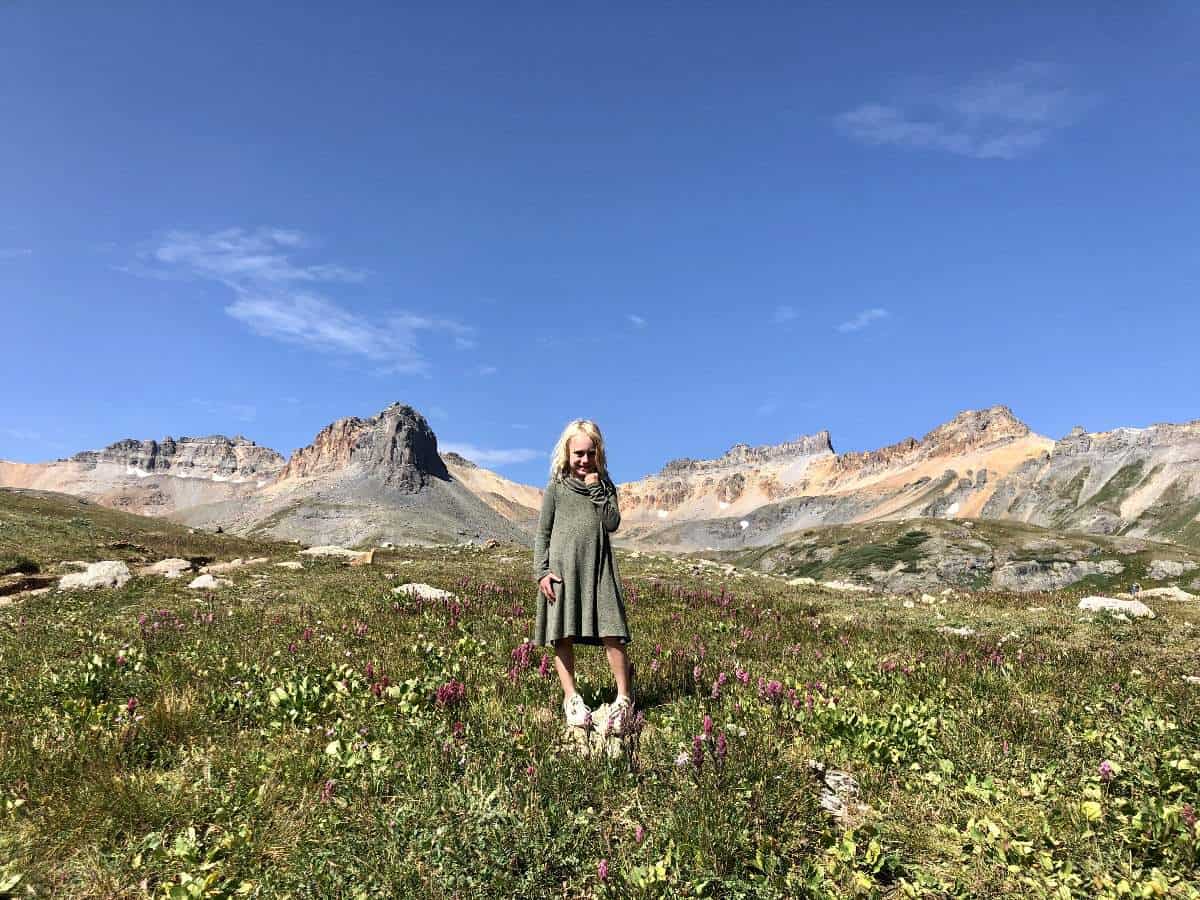 At 3.75 miles, you will reach Ice Lake. My favorite moment of this hike was Walker seeing the lake for the first time and running towards it yelling "it looks like a rainbow!!" He was not wrong. Reaching this lake was one of the most beautiful sights I have ever seen. The color of the tan, green, and wildflower covered jagged 13ers reflecting off of the bright, blue green water is just magnificent.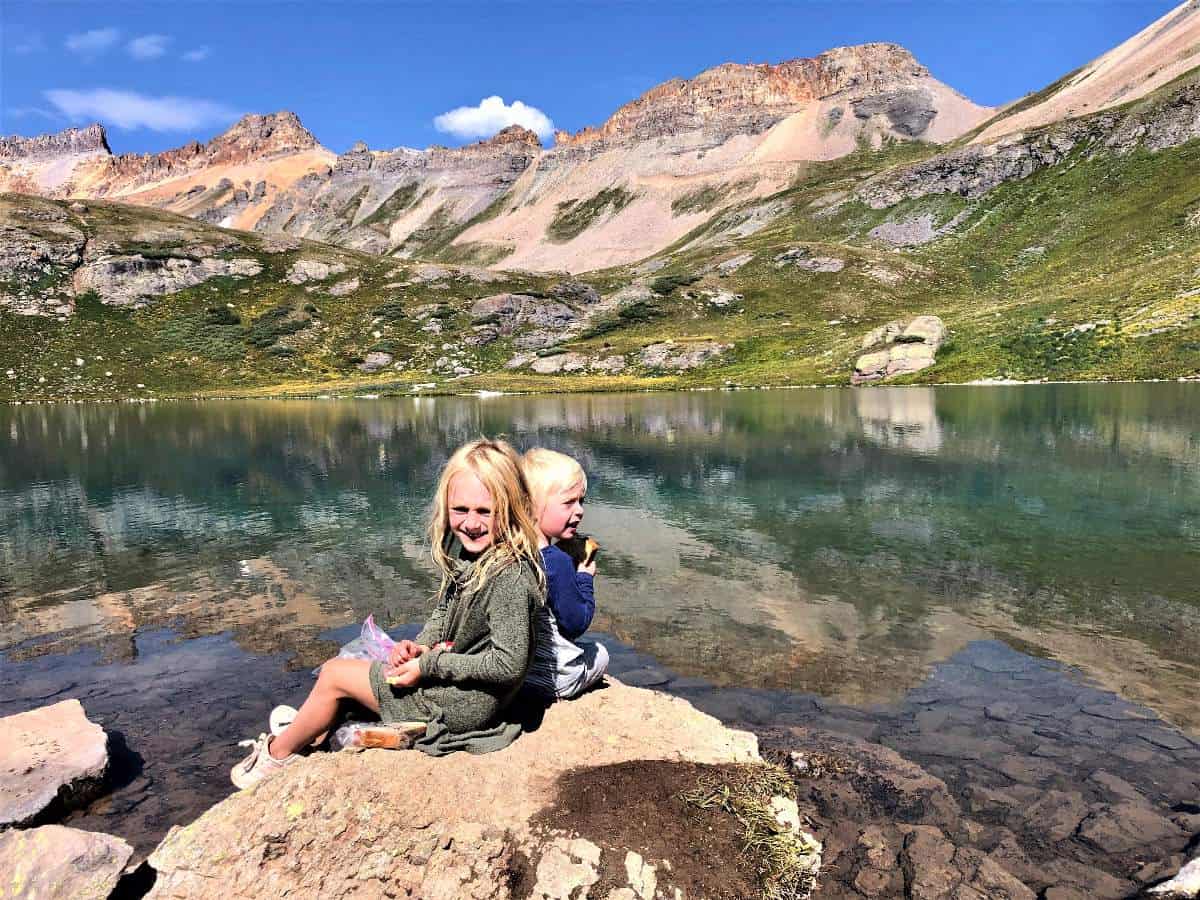 This lake is the real showstopper, so if you turn around here and head back it will be a well earned 7.5 miles. We had planned to turn around here but after the excitement of the lake, my daughter wanted to press on. One option is to take a side trail to Fuller Lake that sits behind Ice Lake. I hear this is a less trafficked lake so is a great option if you are looking for more solitude. If you can only make one other stop, my recommendation is to continue to the loop to Island Lake.
CONTINUING ON THE ICE LAKES BASIN ROUTE – FINAL STOP ISLAND LAKE
As you head away from Ice Lake towards Island Lake, you cross over the stream again and through more wildflowers. We just could not get enough of these flowers!
You will then climb a steep narrow trail that hugs the side of the mountain, with views back to Ice Lake behind you.
At the same time, you look ahead into the valley where you started and get the sense of how far (and high) you have come! That is Lower Ice Lake in the Lower Ice Lakes Basin below.
Right after this photo was taken, around 12,300 feet, we reached a sketchy spot where there is moderately loose rock in a steep section. You have to climb a bit so be sure to either carry kids or keep them near in this section. There are no pictures because I was being a nervous mama. After you pass that section you can breathe a sigh of relief because you are almost to the top!
After approximately ¾ of a mile and 130 more feet of gain from Ice Lake, you will reach Island Lake at 4.5 miles and 12,400 feet. I don't think we hit the lighting quite right on this lake — perhaps the clouds were blocking the sun. I have seen some spectacular photos of Island Lake, but the color when we saw it was not as stunning. Nonetheless, it made for a beautiful stop for a snack and some jumping pictures to celebrate making it to the top.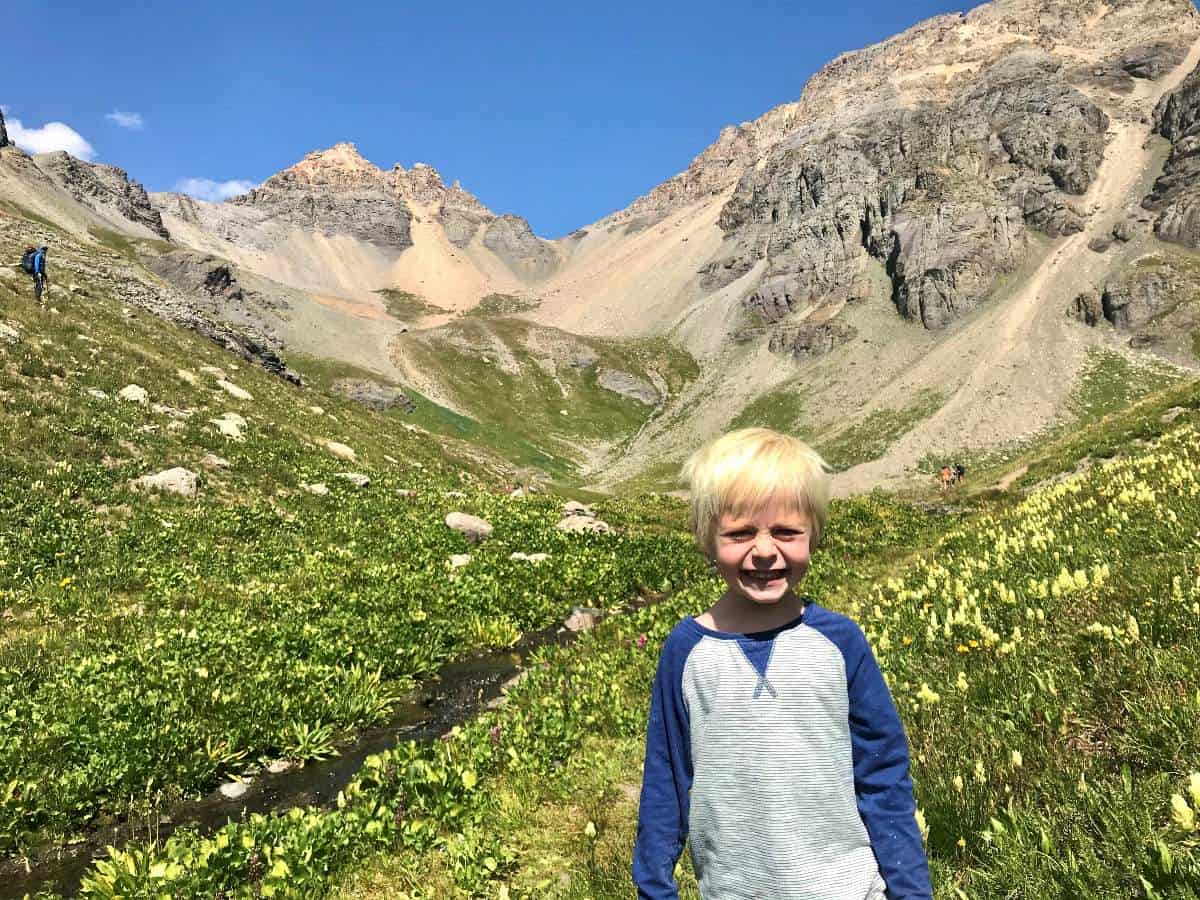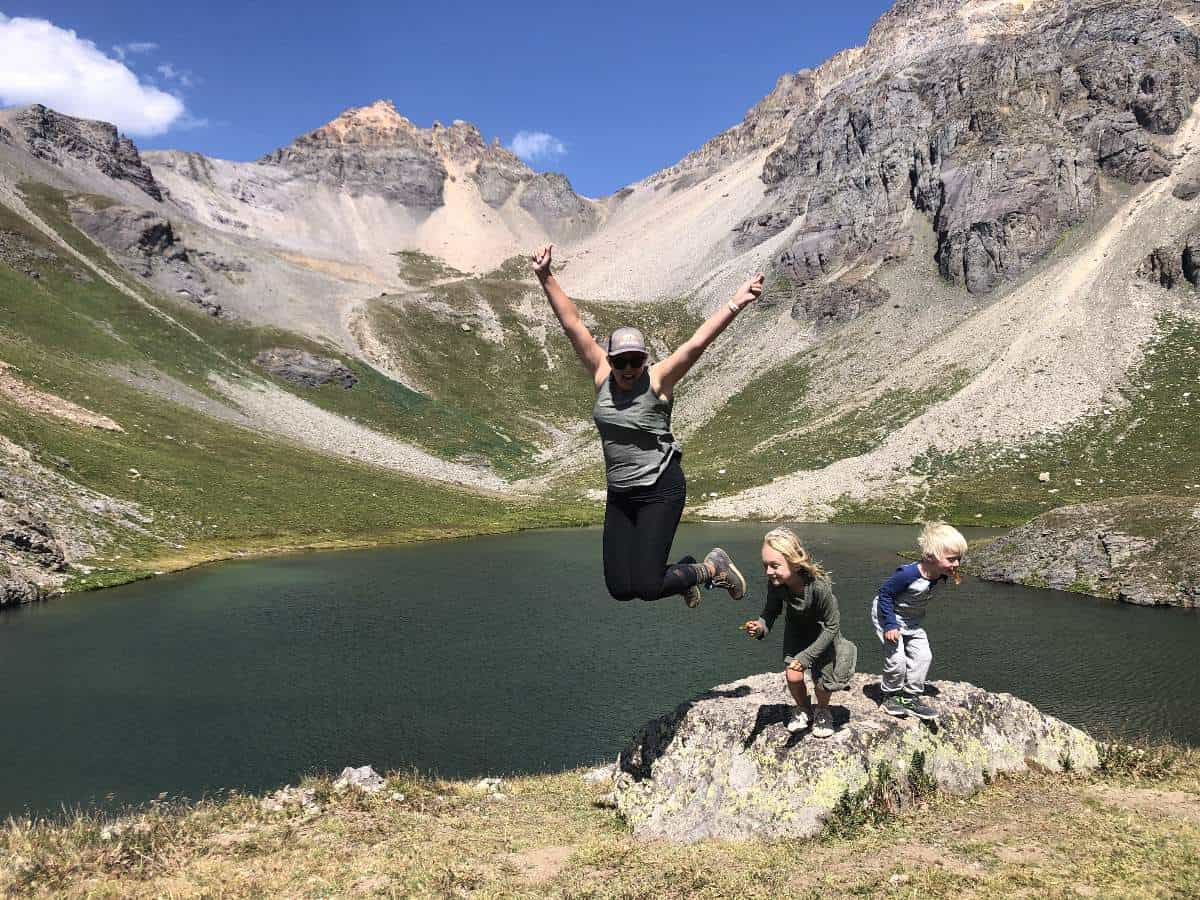 After Island Lake, it's all downhill…but there are still beautiful views the whole way down!
HOW ICE LAKES BASIN STACKS UP AGAINST OTHER COLORADO HIKES
Pros
360-degree epic views
Surrounded by breathtaking 13ers
Wildflowers galore
Stunning colors, especially at the lakes
Wonderful variety for kids—waterfalls, meadows, creeks to cross, lake destinations
Great workout and sense of accomplishment at the top
Loop hike which helps with dispersing the crowds
Cons
Heavily trafficked, which really only matters for the parking since the trail is plenty long enough to space out and the loop makes it where you aren't encountering many people while on the hike itself—just at the lakes.
Strenuous hike at high elevation, which can be challenging for little hikers and for parents carrying kids. This was at the end of hiking season for us, so I was feeling strong, but this is the type of hike I would consider training for, see my Training Plan for Hiking Season –Build Strength for Carrying Kids on Your Back.
I have no idea how badly this area was impacted by the fires, so this is something to consider when choosing this hike. I will be curious to read trip reports once it opens back up in the summer.
WAS HIKING ICE LAKES BASIN WORTH IT?
Yes, absolutely! This was my very favorite hike of the season and one of my favorite hikes we have done as a family. It was so incredible to see our 5 year old hike the entire time and witness her be so proud of herself!
WOULD I GO BACK TO ICE LAKES BASIN?
Yes! We got the lighting the colors just right on Ice Lakes, but the clouds were rolling in by the time we made it to Island Lake so the color of the water doesn't pop as much as I have seen in some pictures. I would like to do the hike again going to Island Lake first and then down to Ice Lake.
TIPS FOR HIKING ICE LAKES BASIN WITH KIDS
Start early! This is a very popular trail and the parking lot fills up by 7am. The forest service or sheriff will issue parking tickets for illegal parking along the road or in the meadows. If you don't get an early enough start, please consider choosing a different hike.
This is a full day hike, so be sure to check out what to pack for a hike with kids so you have all of the essentials.
Assuming that the trail can be cleared from hazards by late July, this hike is best planned for end of July through August in hopes to see it covered by wildflowers.
This hike is extra challenging given the elevation, especially if you are not acclimated to the Colorado mountains. It starts at 9,727 feet and tops out at 12,436 feet—a 2709 feet gain, without the side trip to Fuller Lake which can add another mile and another 400 feet.
Because most of the hike once you reach the upper basin is above the treeline, there is very little shade or shelter from weather. Storms can move in quickly, so watch the weather reports and go early as afternoon storms are more likely.
Due to limited shade, be prepared with hats, sunglasses, and sunscreen.
There is no water at the trailhead so bring water purification so you have plenty of water on the trail. All water should be treated for giardia.
PLEASE practice Leave No Trace principles – including packing in and packing out and disposing of human and dog waste
Teach your kids these first 5 things about hiking before you hit the trail!
LODGING & CAMPING NEAR ICE LAKES BASIN
If you are able to camp at South Mineral Campground, that is obviously going to give you the best parking and the least crowds as you can start earlier. However, since there are only 26 first come first served campsites, I am not up for that level or pressure and stress.   There is also dispersed camping along Mineral Creek, which looks appealing.  However, the recent forest fire in the area may have impacted this.  We prefer to camp at our favorite campground Molas Lake Campground, which touts itself as being the "Most Scenic Campground in Colorado" and I agree! It is 30 minutes from the trailhead.
Alternatively, you can stay in the town of Silverton or a bit further south near Purgatory Resort, 1 hour from the trailhead, if you want to mix in other fun summer entertainment like an alpine slide, alpine rollercoaster, and the perfect hot tub to soak after this 3,000 foot gain hike. See this video for a teaser on how awesome this place is in the "off season."
DRIVING DIRECTIONS TO ICE LAKES BASIN FROM SILVERTON, COLORADO
From Silverton, the closest town, head North on Highway US-550 (also known as the Million Dollar Highway) for 2 miles. Turn left on Co Rd 7/Forest Road 585, just after mile marker 72. Continue on this road for 4.5 miles and the parking lot will be on the right.
Let me know what you think of this hike in the comments below! Is it on your list, are you interested, have you done it? I hope you LOVE it like I do! If you are looking for more epic hikes like this, read 8 Epic Day Hikes for your Bucket List. Spoiler alert, this hike makes the list!