February has arrived and love is in the crisp mountain air. I will admit, I am not big on Valentine's Day. Bryce and I usually do cards for each other and at best a date night out. I do love Valentine's candy though, so I am in favor of the holiday only for those Dove dark chocolate hearts. Somewhere along the way as parents, Valentine's Day has become a holiday for the kids. But today I am going to bring back the romance and spread some love with a few gift ideas. If you are looking for outdoorsy Valentine gifts that your mountain lover will appreciate, here are a few suggestions. Some are romantic gifts, and most are just downright practical (in case you have a practical Valentine like I do)—plus a couple of non-material gift ideas too!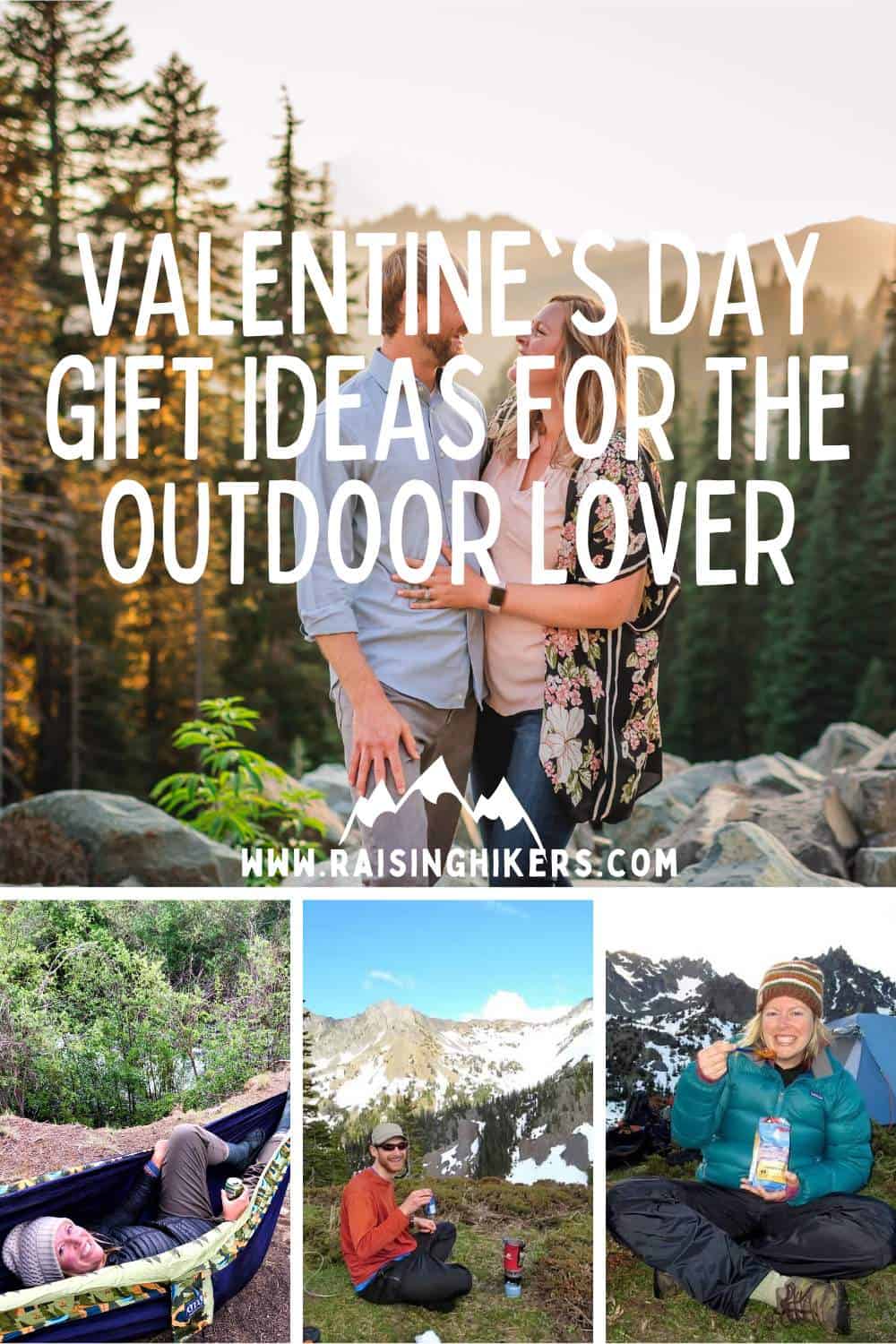 ROMANTIC OUTDOORSY VALENTINE GIFTS
1. Kelty Loveseat Camp Chair: For snuggling up close by the fire during your camping trips.
2. ENO DoubleNest hammock: You can envision cuddling up in this double hammock on your camping trips—but it will realistically end up being a giant swing for the kids. At least it will give you a few minutes of uninterrupted conversation, so that's the REAL gift!
3. Yeti tumblers or Tallboy Insulators: For some romantic campfire cheers once the kids finally fall asleep in the tent or camper.
4. National Park Puzzle: We tried to become puzzlers during quarantine and it didn't stick. This was the one puzzle we completed. It was awesome quality time though, so it would make for a great Valentine's Day gift!
5. Mr & Mrs camping mugs: Okay, now I'm getting cheesy, but these are cute! I like that design, but this seller has more his & his and hers & hers options available too.
6. Solar Powered String Lights: Step up the romance factor on your camping dinners with string lights, plus they are practical too!
7. Outdoor portable fire pit: Cozy up by the fire in your backyard or at the campsite. We like having this propane pit as a backup in case there isn't a firepit at our site or open fires are  not allowed (Colorado burn bans are a thing we are getting used to!). We bought this for camping but have used it so much more just in the backyard!
8. Foam roller and Epson salt: Gift a post-hike pamper session! Throw in a massage and this falls under the romance category. This Epson salt bath foam is super bubbly if you want to step it up a notch.
9. National Geographic Map: This is a fun way to plan for your next hiking vacation together. Or make it a romantic and sentimental gift by framing an enlarged wall map of one of your favorite hikes together. All the heart eyes!
PRACTICAL OUTDOORSY VALENTINE GIFTS
10. Merino Wool Buff: These were great for winter hiking, even before COVID. Now they are an easy way to recreate responsibly and be a considerate hiker when on the trails (while staying warm!).
11. Winter glove liners: I just lost my gloves over the weekend (hint, hint, Bryce if you are reading this list), so I'm adding these because extra gloves are always smart to keep in the car or your daypack.
12. Uco Tetra Lantern & Phone Charger: Bryce loves this thing. There are not many products he has that he calls by their full names. This is one of them.
13. JetBoil: This is a trusty backpacker necessity that we even use car camping.
14. Wrightsocks: We both love these as they are great anti-blister hiking socks. Or Smartwool socks for men and women. I warned you I would be practical. I can never have too many Smartwool socks.
15. Women's Trucker Hat: Socks and hats are the way to my heart.
16. Sawyer water filter: Our trusted filter that removes pathogens and microplastic from water in the backcountry.
17. CNOC 2L water bag: This one mates with the Sawyer water filter mentioned above, and doesn't get damaged as easily as the cheap bag that comes with the Sawyer. You can squeeze this one to accelerate filtering without worrying about holes forming.
18. Headlamp: This is one of those practical gifts that should be kept in every day pack.
19. Solar Battery Charger: This has saved me on a couple of camping trips, since my phone is my camera.
20. Bear Vault: If your mountain lover is heading to bear country at all this year, this is a must have.
21. Subscription to Backpacker or Outside Magazine: It can be like Valentine's Day every month when it arrives!
22. Mountain House Freeze Dried Food: Bryce and I bonded early on our shared love for Mountain House lasagna. You can make it a romantic gift by setting up a fireside outdoor dinner after the kids go down. But keep it easy with the main course being "lasagna" out of a bag. 😊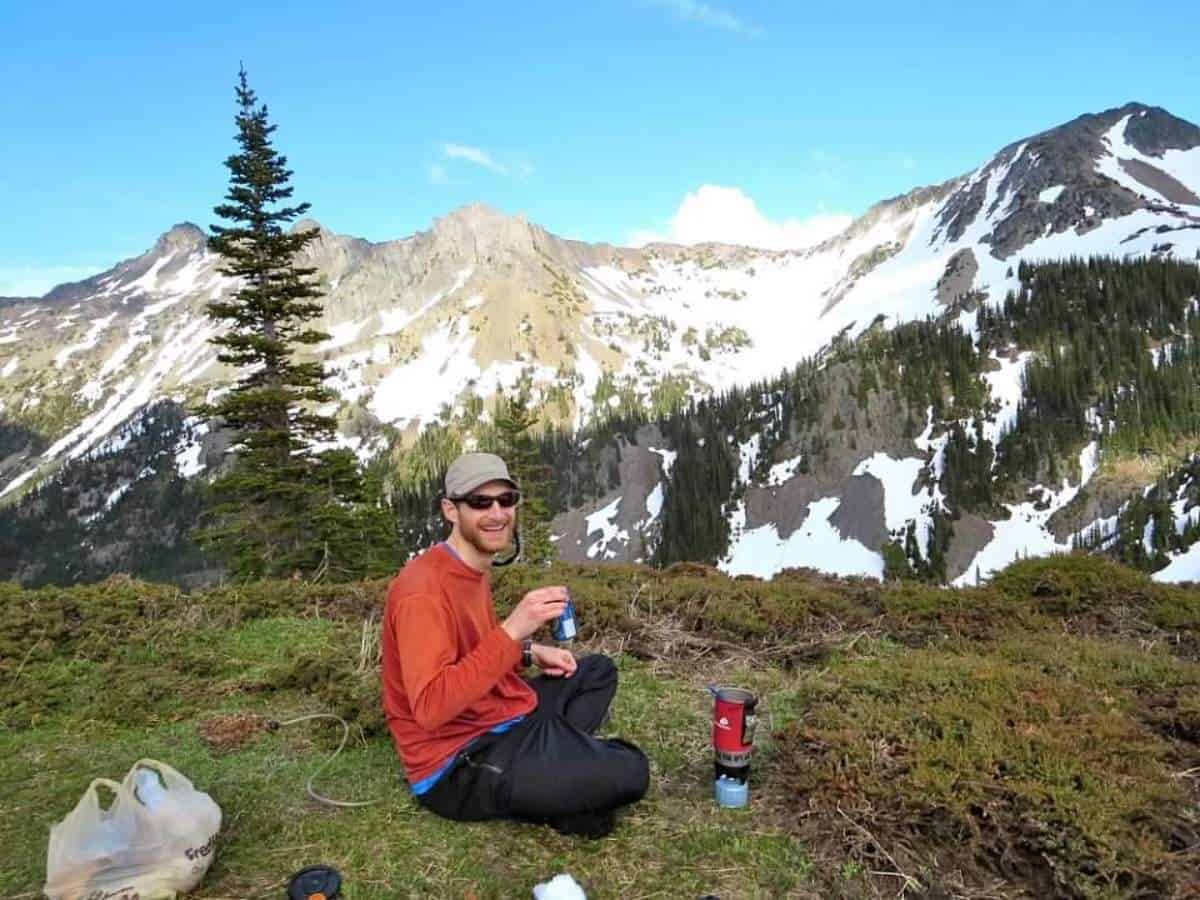 NON-MATERIAL OUTDOORSY VALENTINE GIFTS
23. Gift a planned hike together without the kids (if possible) or give your Valentine a solo hike while you take the kids for the day.
24. REI Co-op Membership: If your Valentine isn't already a member, this is a great gift that provides annual dividend on your REI spending, access to the member garage sale, and easy returns.
25. Consider donating to an outdoor charity on your mountain lover's behalf. Here are a few organizations to consider:
Check out our Amazon and Etsy shopping lists for more outdoor gift ideas!