Since we are forced to be inside much of the week due to our full time jobs, we are usually seeking some outdoor time on the weekends. We don't have much planned in the wintertime (unlike our jampacked camping & travel schedule in the summer), so we get to be a bit more spontaneous and explore some local outdoor sites in Colorado. The weather was beautiful today, so we took the opportunity to venture to a little gem down near Colorado Springs, which was recommended to us by Emerson's Kindergarten teacher (we love her and her encouragement to raise outdoor kids!!). While this intro is starting out rosy and positive, I should mention now that I was agitated and on edge for much of this hike, due to fellow hikers ignoring the signs and disrespecting this fragile land. So, while I want to share about the details Paint Mines Interpretive Park hike, I also want to take the opportunity to share some tips on being a responsible and respectful hiker—particularly in this historic area.
PAINT MINES INTERPRETIVE PARK – GREEN TRAIL HIKE
Miles: 4 miles
Elevation Gain: 495 feet
Type: Figure 8 Loop
Difficulty: Easy
Dog-friendly: No
Bathrooms at trailhead: Yes
Cost: Free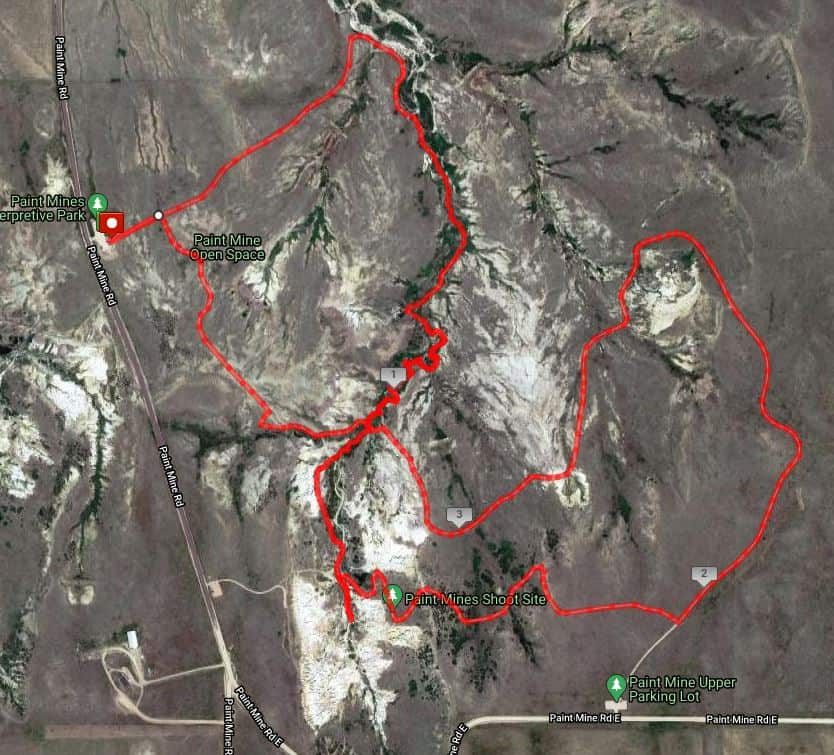 Paint Mines Interpretive Park is named for the colorful clays that were collected by Indigenous American people to make paint, stone tools, pottery, and bricks. The paint mines have evidence of human life as far back as 9,000 years ago! This area is a geological and cultural wonder and should be treated as such. I felt as though I was walking through an outdoor museum. There are unique rock formations such as badlands, breaks, gullies, and hoodoos (funky clay spires). They were formed by weathered and eroded granite from Pikes Peak, which can be seen from the distance.
While the paint mines are the main attraction of this hike, they are only a very small portion of the 4 miles. The hike starts out in the open plains and winds around what feels like a sandy creek bottom until you reach the first rock feature, about 1 mile from the trailhead. These initial rock formations are bright white and looked beautiful against the deep blue Colorado Sky. This is where my stress level started to rise as many kids and adults were venturing into the rock formations and even climbing on top of the rocks. From the very beginning of the hike, there are signs warning of the fragility of the sandstone and clear instructions NOT to climb or hike on the rocks and to stay on the trails. I'll be honest, I was a little passive aggressive at times and talking loudly to my kids about how "we are not allowed to climb on the rocks as we want this land to be preserved so others can enjoy it for years to come." I hope my message was getting across to those around us.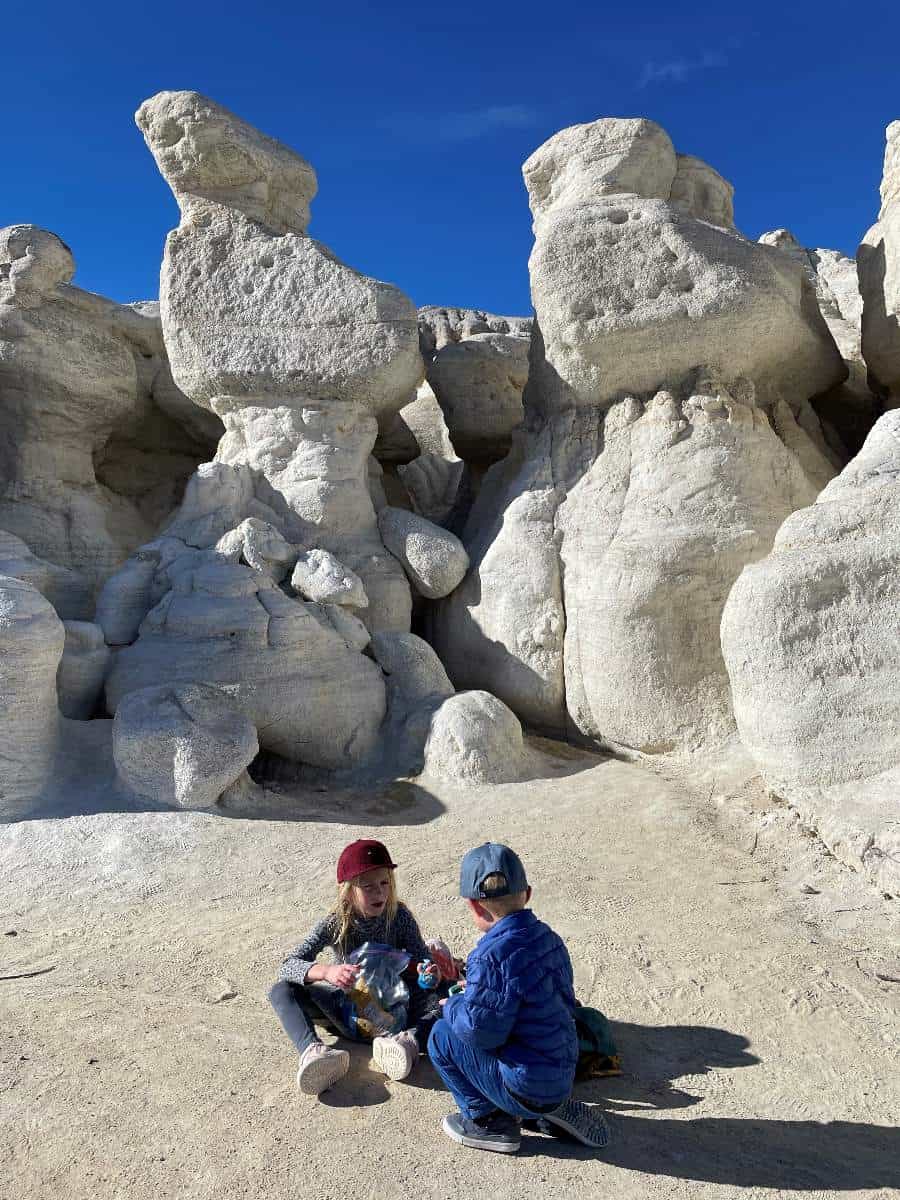 After having a snack with the white rocks behind us, we continued on to rejoin the Green Trail and headed towards the main attraction of the brightly colored paint mines. While the walls were beautiful, it was difficult to relax and enjoy the scenery with so many people breaking the rules and disrespecting the area. The signs were clear, yet many people continued to climb on the rocks in order to get their Instagram worthy photo. Because of this, we didn't spend as much time in this area as I would have liked. I just had to get away from it or I was worried my anxiety would get the best of me and I would end up lashing out on a stranger. Despite my recount of the day, it really is a beautiful place!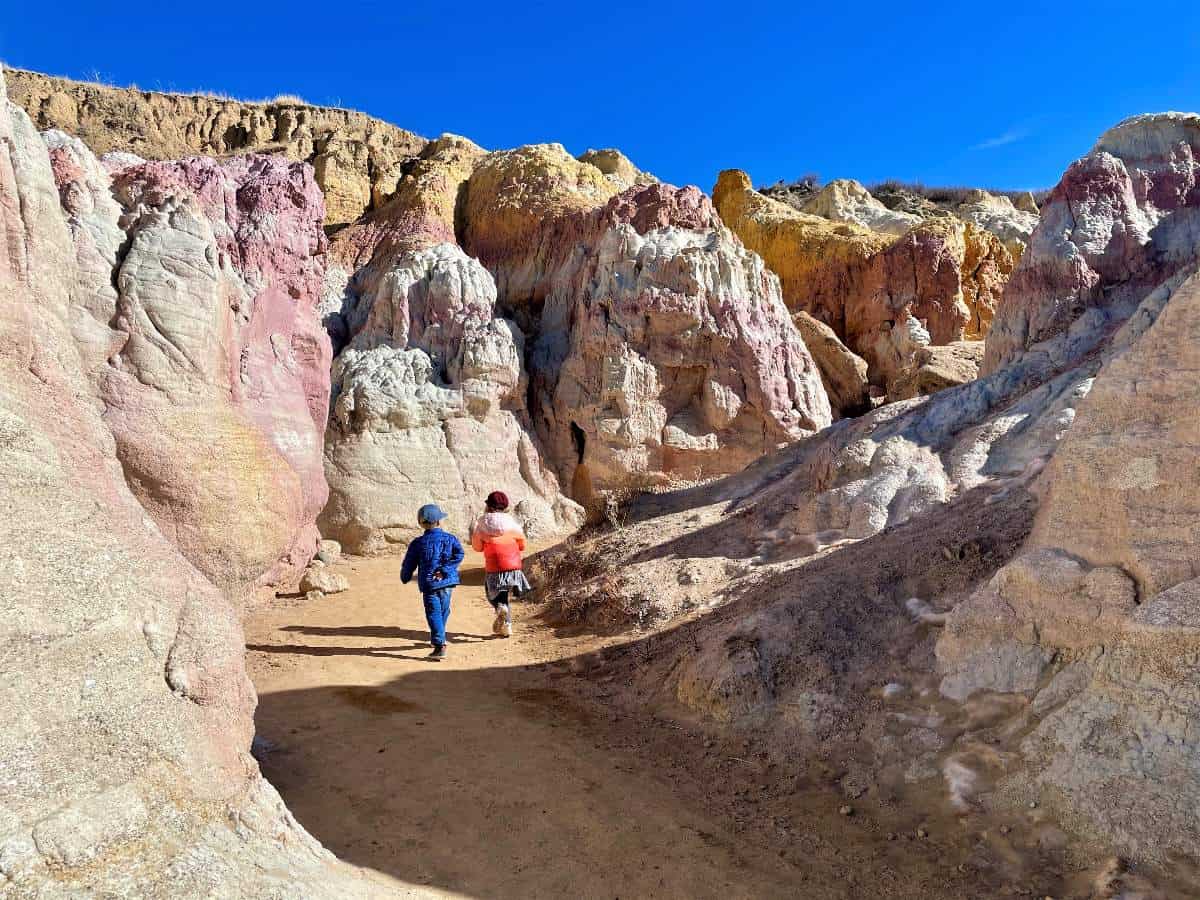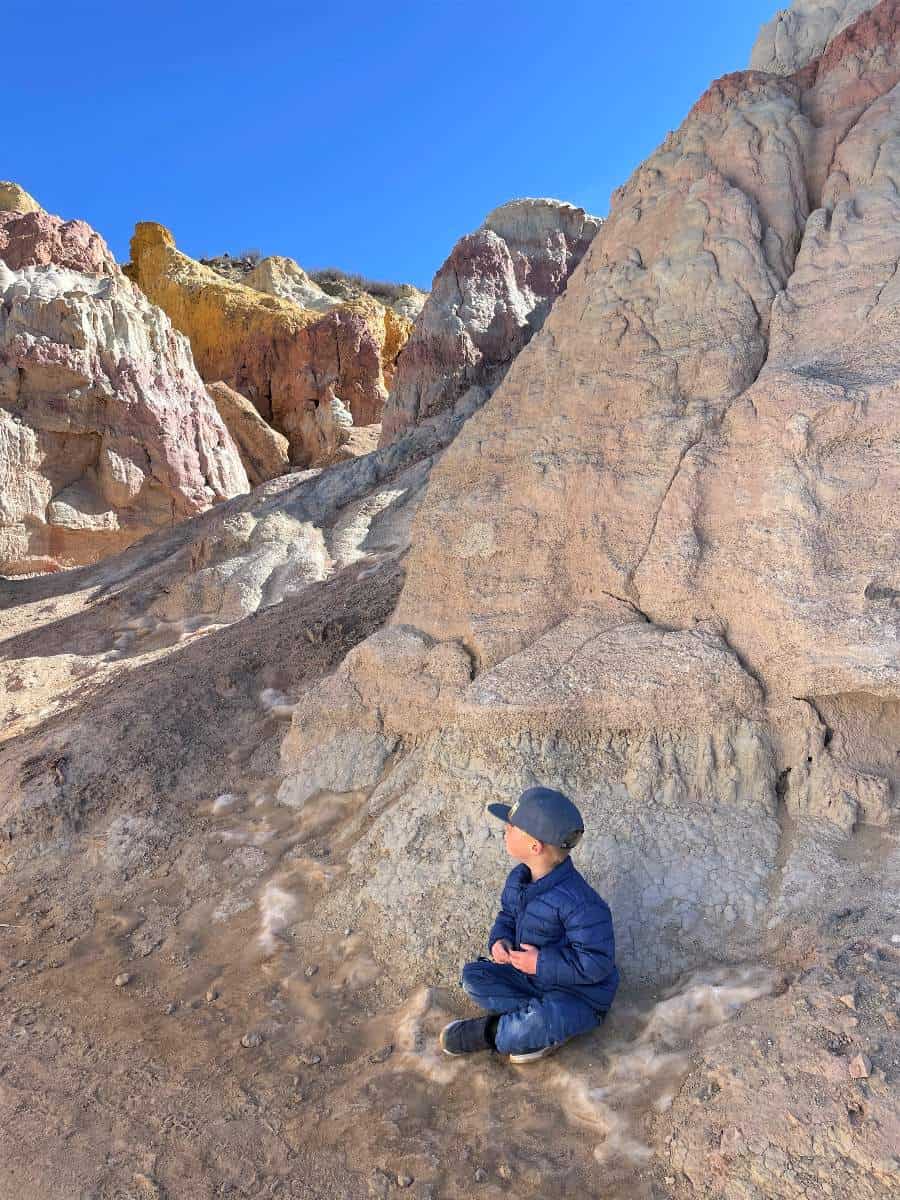 We headed up a steep portion of the Green Trail away from the paint mines and towards the windmills to the east. I felt like I could finally exhale away from all of the people and enjoy the sunny day. We encountered very few people on this portion of the hike as it seems that most people either park close to the mines and don't do the hike itself, or make it a shorter out and back as opposed to doing the full loop. I was glad we did the full loop, since it was such a nice day and we wanted to make the most of our excursion, given the 1.5 hour drive from South Denver.
Once you get to the top of the plateau that overlooks the wind turbines (at around mile 2), take a left. The trail then descends in a winding manner, which was a nice break since I had Walker in my Kinderpack for much of the uphill sections. The kids (and Bryce) had fun running on the trail and pretending to have aerodynamic windmill arms that lift them up like an airplane. This section continues on for 1.2 miles until you cross the original trail to complete the "figure 8." At this point, you are on the final stretch towards the trailhead.
PAINT MINES INTERPRETIVE PARK OVERVIEW
Unique rock formations
Views of Pikes Peak from a distance
Nice alternative to the mountain ranges and allows for off season outdoor opportunity
Learning opportunities about the history, culture, and geology of the land
Heavily trafficked
Much of the hike is in wide open plains without much variety
Limited shade
Possible exposure to wind gusts
You may experience people disrespecting the area, which can cause your blood to boil!
Yes. I was glad to see it, as Paint Mines Interpretive Park was on my local Colorado bucket list. It was a beautiful day and it was nice exercise (once I was able to chill out after being frustrated with fellow hikers).
No. After experiencing this hike, I think that this area should restrict access and should not as have as many visitors. Given this, I'm hesitant to even share our experience here, but I am hoping that after reading this post you'll go with the intention of giving the rock formations space and admiring the beauty from the trail.  
RULES THAT MUST BE FOLLOWED IF YOU ARE VISITING PAINT MINES INTERPRETIVE PARK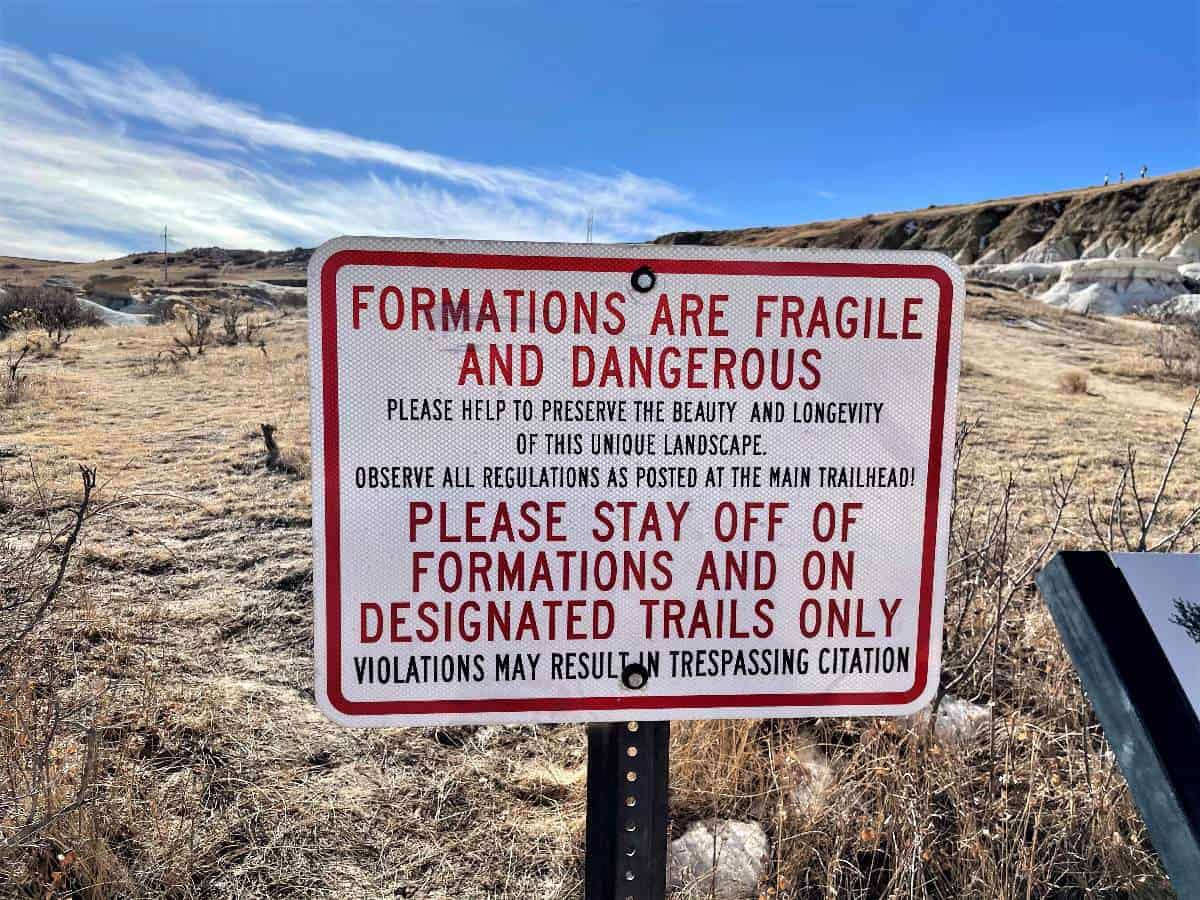 Stay on designated trails at all times
Absolutely no climbing or scrambling on Paint Mine formations
No exploring into the Paint Mine caves
No dogs, horses, or bicycles are allowed in the park
All plants, rocks, minerals, and artifacts must remain in the park
Obey all signs throughout the park
Wear a mask
Socially distance
Driving Directions to Paint Mines Interpretive Park from Colorado Springs. Take Highway 24 east for 31 miles. Turn right on Yoder St/N Calhan Hwy for 0.7 miles. Turn left on Paint Mines Road, which is a dirt road but well maintained. After 1.4 miles, the main parking lot will be on your left and has a large Paint Mine sign at the entrance. The park has a few different access points. We chose to park at the main trailhead as we wanted to hike to the rock formations, but if you are not interested in the full hike, you can actually park right above or right beyond the rock formations themselves. In this case, continue on past the main parking lot. I will also mention that the main parking lot is currently undergoing construction (in January 2021), but parking was available along the road.
If you visit Paint Mines Interpretive Park, let me know in the comments below! I hope you have a better experience with people following the rules and treating this area with the respect it deserves. If you want a set of trail rules to teach your kids before you hit this (or any) trail, see The First 5 Things to Teach Your Kids About Hiking. Remember, it's our very important job to raise the next generation of responsible, respectful, educated hikers!